Ever pondered the seamless operations of top-tier restaurants that manage bustling crowds and yet maintain impeccable service? The answer frequently lies in the behind-the-scenes arsenal of tools they deploy. At the heart of this toolkit is the 7shifts login, a portal that unravels the intricacies of adept employee scheduling. 
Within the ever-evolving and fast-paced realm of restaurant management, ensuring fluid team communication and strategic shift distribution can be a herculean task. Yet, 7shifts stands out, offering solutions tailored to these challenges. By streamlining processes and fostering transparent communication, 7shifts has solidified its position as an indispensable asset in the restaurant industry.
Benefits of Using 7shifts for Restaurant Staff Scheduling
In the bustling realm of restaurant management, ensuring smooth operations while keeping staff content is a juggling act. The key? Effective staff scheduling. Enter 7shifts, a tool revolutionizing how restaurants approach this pivotal task. Here's a closer look at its myriad benefits:
Efficient Employee Management:
In the world of restaurant operations, staffing isn't just a numbers game. It's a nuanced puzzle, taking into account each worker's expertise, personal preferences, and availability. It's about ensuring that your best sous chef is scheduled on your busiest nights or that two team members who work brilliantly together share shifts. With the 7shifts platform, restaurant managers have an intuitive tool at their fingertips, simplifying the challenge and allowing them to craft a schedule that capitalizes on every employee's potential.
Labor Cost Reduction:
Every restaurant operator understands the delicate balance between staffing needs and labor costs. Overschedule, and profits diminish; underschedule, and service suffers. 7shifts brings to the table real-time insights into sales and labor metrics, empowering operators to make informed decisions. This ensures optimal staffing that keeps unnecessary overtime in check and strictly adheres to labor laws, protecting both the restaurant's bottom line and its reputation.
Improved Team Communication:
Every restaurant has tales of the chaos unleashed when a staff member forgets a shift or doesn't show up. Such incidents can ripple through the service, affecting customer experience. 7shifts addresses this head-on with features like immediate staff availability checks and easy shift trades. These tools keep the entire team in the loop about any changes, fostering a sense of responsibility and ensuring everyone is on the same page regarding upcoming shifts.
Integration Capabilities:
Modern restaurant operations often involve a myriad of tools, from payroll software to inventory management systems. 7shifts recognizes the need for cohesive integration amongst these platforms. It offers seamless integration capabilities, ensuring that whether you're pulling data from timesheets, checking inventory, or processing payroll, everything flows smoothly in a unified system, reducing discrepancies and enhancing efficiency.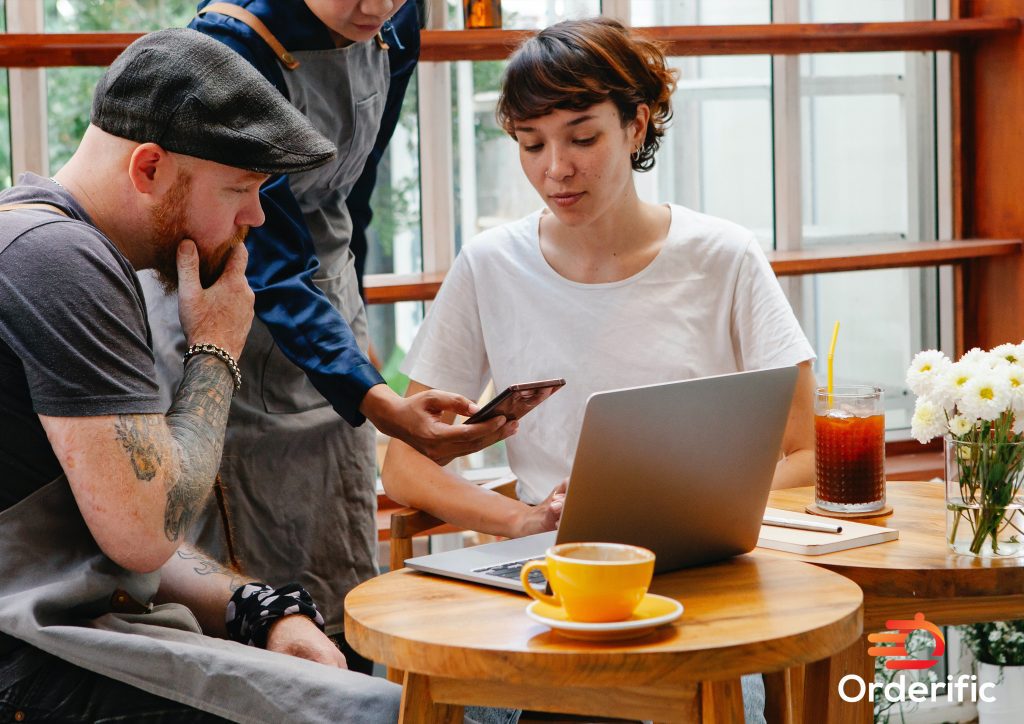 How to Implement 7shifts for Optimal Staff Management
Navigating the world of restaurant management often involves embracing technology to streamline processes. One such technology that stands out is 7shifts. As you prepare to integrate this robust scheduling tool into your operations, it's essential to do it right. Here's a comprehensive guide to ensuring optimal staff management using 7shifts:
Start with Training:
Every tool is only as good as its user. It's crucial that every member of your team, from senior restaurant managers to the fresh recruits, comprehends the intricacies of the 7shifts app. Holding training sessions or workshops can facilitate this, ensuring everyone is comfortable and confident in utilizing the platform to its fullest potential.
Set Clear Guidelines:
Consistency is the backbone of smooth operations. Setting forth clear, unambiguous guidelines ensures there's no confusion. Whether it's detailing the process for trading shifts, outlining the protocol for time-off requests, or establishing rules for peak hours, having a standardized approach prevents miscommunication and misunderstandings.
Integrate Other Tools:
In the age of digitalization, restaurants often employ multiple tools for various aspects of operations, from inventory management to customer feedback. To ensure a seamless flow of information and processes, integrating these tools with 7shifts is paramount. This holistic approach ensures all systems communicate effectively, offering a bird's eye view of your operations at all times.
Tips for Maximizing Efficiency with 7shifts' Scheduling Software
Navigating the intricacies of restaurant staff scheduling can be quite the task. But with tools like 7shifts, much of the guesswork is eliminated. To truly leverage the power of this scheduling software, certain best practices can enhance its utility. Here are a few handpicked strategies to get the most out of 7shifts:
Stay Proactive:
In the ever-evolving realm of technology, resting on your laurels isn't an option. It's pivotal to keep the 7shifts software updated, ensuring access to the latest features and improvements. Additionally, periodic training sessions can help the team stay abreast of these new functionalities, ensuring the tool is used to its maximum potential.
Analyze Data Regularly:
Numbers don't lie, especially in the restaurant industry. 7shifts offers a wealth of data, from labor metrics that highlight staffing costs to insights on staff preferences. Regular analysis of this data not only gives you a pulse on your operations but also illuminates areas for optimization. It allows for informed decisions that can improve efficiency and staff satisfaction.
Encourage Open Communication:
A tool is only as good as the feedback it receives. Creating an environment where team members feel at ease voicing their opinions or sharing feedback about the scheduling process is crucial. This feedback loop can reveal on-ground challenges or areas of improvement that might not be evident at the managerial level. Such open channels of communication can help refine the scheduling process, ensuring it aligns with both managerial goals and staff preferences.
Real-Life Success Stories of Restaurants Using 7shifts
In the heart of New York's bustling culinary scene and extending to quieter corners of the culinary world, there are tales of transformation, all pointing back to a single catalyst: 7shifts. The software has not just been a mere scheduling tool but a game-changer for many establishments, big and small.
Consider a quaint diner nestled in Brooklyn, a favorite among locals. Struggling with escalating labor costs, they turned to 7shifts. Within a month, there was a noticeable 5% reduction in their labor expenditure, a considerable savings for any restaurant. The platform's ability to match staffing with real-time demand played a pivotal role.
Moving to Manhattan, there's a chic café known for its artisanal pastries. However, unpredictable no-shows from staff threatened its reputation. With 7shifts, the café revamped its communication strategies. Result? A significant reduction in absenteeism, ensuring customers always walked into a fully staffed establishment.
Conclusion
In the whirlwind realm of the restaurant industry, where every minute counts and each decision can impact the bottom line, having the right arsenal of tools becomes imperative. Amidst this hustle and bustle, 7shifts emerges as a beacon of order and efficiency. Designed meticulously to declutter the often complex process of employee scheduling, it also prioritizes clear and effective team communication.
By integrating 7shifts, restaurants can transition from reactive management to a more proactive approach. This not only paves the way for smoother daily operations but also fosters a positive work environment. The end result? A motivated team ready to provide exemplary service and customers who leave with smiles, eagerly awaiting their next visit.
In case you want more content like this, visit Orderific right now!
FAQs
What is 7shifts and how does it work?
7shifts is a dedicated scheduling software tailored for the restaurant industry, offering tools for employee scheduling, team communication, and more.
Is 7shifts suitable for all types of restaurants?
Absolutely! Whether you're running a small café or a large dining establishment, 7shifts caters to all.
Can 7shifts help with employee time-off requests?
Yes, the platform allows team members to submit their availability and time-off requests, simplifying the scheduling process.
How does 7shifts handle shift swaps and replacements?
7shifts offers a user-friendly interface for employees to request shift trades, ensuring managers are always in the loop.
Is it easy to integrate 7shifts with other restaurant management tools?
Certainly! 7shifts supports integration with several other tools, ensuring a unified platform for restaurant operations.