If you're looking to explore some delicious Alaska food, then look no further. With its abundance of diverse local ingredients and rich cultural heritage, this region is bursting with flavor! From salmon cooked in unique traditional ways to delectable desserts made from native fruits and berries – discover all the wonderful flavors that make up true Alaskan cuisine. Take your taste buds on a culinary journey as we explore famous food from Alaska!
Introducing Alaska Food
Are you eager to explore a world of unique and enticing flavors? Your culinary adventure awaits in the realm of Alaskan cuisine! Renowned for its pristine seafood selection, robust meats, and a symphony of aromatic herbs and spices, Alaskan food embodies a delightful fusion of traditional indigenous tastes and contemporary culinary artistry.
From savoring the succulence of halibut to indulging in the richness of reindeer sausage, relishing wild berries' juicy bursts, or savoring the allure of smoked salmon, Alaskan cuisine promises an unforgettable treat for your palate. Embark on a gastronomic voyage and uncover the myriad of exquisite dishes that the captivating Last Frontier proudly presents.
Special And Popular Alaska Food is Known For
1. Reindeer Sausage
Alaska's allure stretches far and wide, celebrated for its breathtaking landscapes and unparalleled wildlife. Yet, amidst this natural grandeur, a culinary delight captures both locals' and visitors' hearts: reindeer sausage. Crafted from reindeer's flavorful, lean meat, this distinctive sausage has etched itself into Alaska's gastronomic identity. It graciously accompanies regional treasures like smoked salmon and wild berries, earning its rightful place at local festivals and gatherings.
What sets reindeer sausage apart? It boasts abundant protein with lower fat content compared to its counterparts, all encased in a delectable, slightly gamey profile that harmonizes exquisitely with an array of spices. Whether you're a seasoned Alaskan or a newcomer, indulging in reindeer sausage is an essential voyage into Alaskan culinary culture.
2. King Crab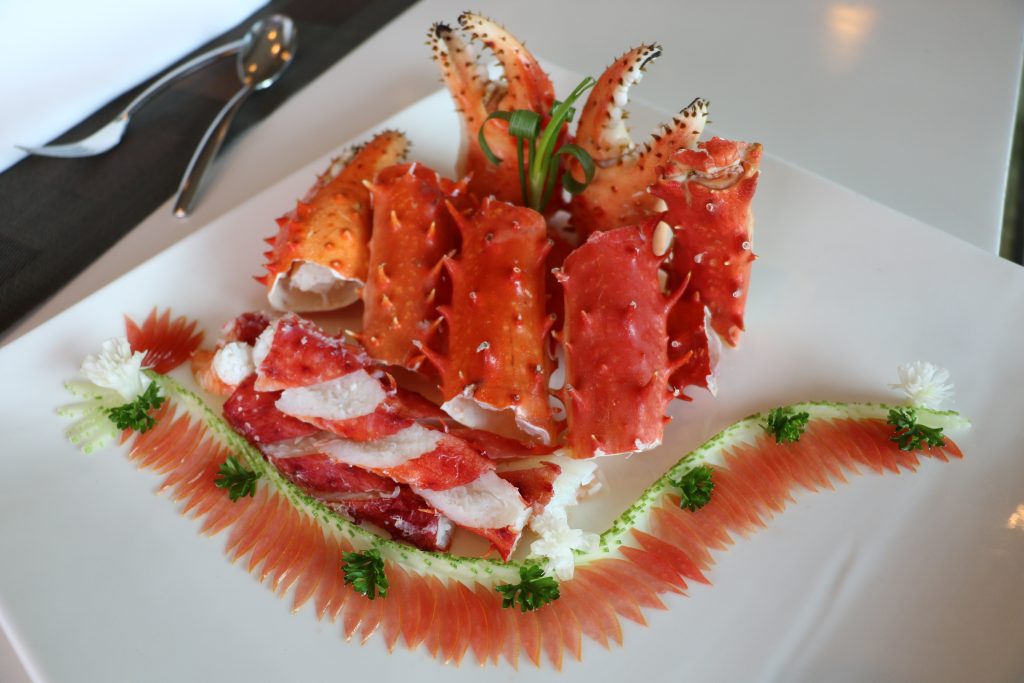 When it comes to delectable seafood, Alaska undoubtedly stands out for offering some of the world's finest. Among its culinary treasures, the king crab takes the spotlight – a delectable and highly coveted delicacy that seafood aficionados can't resist. These colossal crustaceans are a genuine marvel and are prominently featured in top-notch eateries worldwide.
Whether you savor the king crab boiled, grilled, or accompanied by a velvety butter sauce, one thing remains certain: the experience promises to gratify even the most refined palate. Should you ever find yourself in the northernmost reaches of the United States, embracing this exquisite treat is a must. Immerse yourself in Alaska's culinary brilliance and relish the king crab's remarkable taste.
3. Yak Meat
In the realm of distinctive and renowned Alaskan delicacies, there's an unexpected contender that might catch you by surprise: yak meat. Amidst the well-celebrated ranks of king crab and salmon, yak meat has quietly secured its place as a local treasure. Its allure lies in its remarkable tenderness and a flavor profile that gracefully dances between the realms of beef and bison.
Over time, this hidden gem has garnered increasing attention, captivating the palates of the adventurous and the health-conscious alike. Whether you're a culinary explorer on the hunt for novel experiences or intrigued by Alaskan culinary traditions, embarking on a journey to savor yak meat is worth considering.
4. Fish And Chips
Alaska's culinary heritage boasts a standout delicacy: fish and chips. This timeless favorite has delighted generations of both natives and tourists alike. The dish entails perfectly cooked, crispy fried fish paired with thick-cut potato fries, often accompanied by tangy tartar sauce or malt vinegar for a satisfying flavor combination.
What elevates the fish in Alaska to a realm of its own is its freshness, sourced directly from the teeming waters encircling the state. Enhanced by local chefs' artistic seasoning and breading techniques, this culinary delight encapsulates the essence of Alaska's gastronomic customs. Unsurprisingly, fish and chips have seamlessly woven into Alaska's culinary tapestry, embraced by all seeking an authentic and delectable experience.
Alaska Food Snack
1. Alaskan Oysters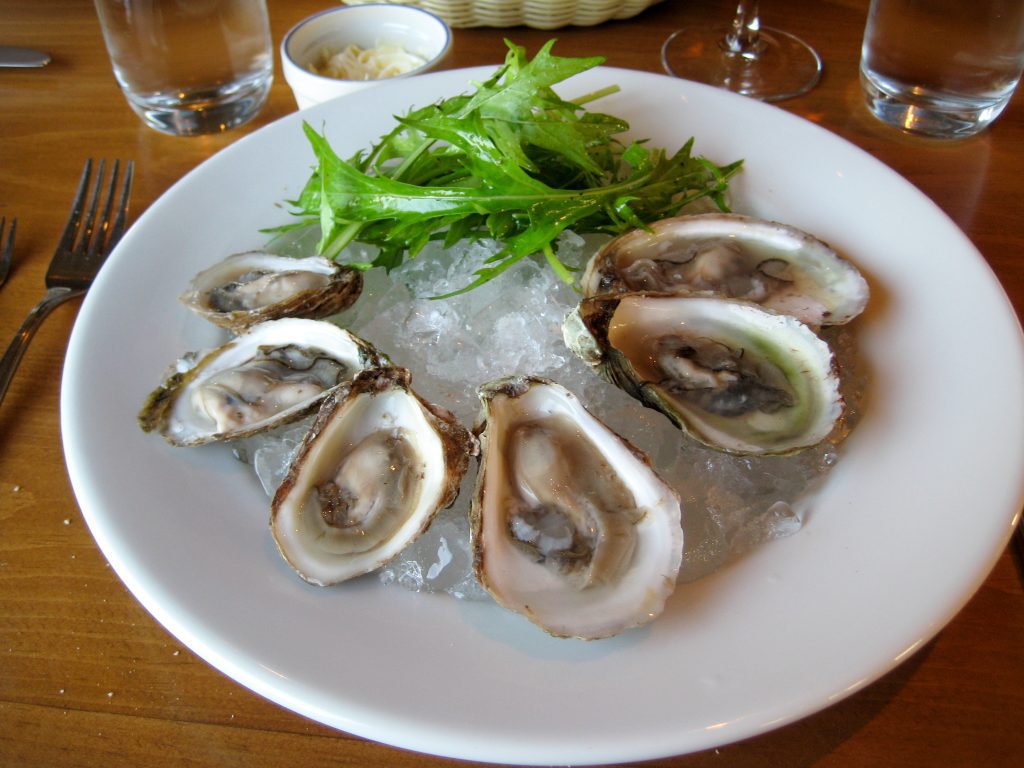 Discover the exquisite culinary wonders of Alaska through its seafood treasures, with Alaskan oysters standing out as an absolute must-try delight. Emerging from the frigid embrace of Alaskan waters, these oysters possess a distinct and captivating flavor profile. Whether enjoyed au naturel or prepared through various culinary techniques, they present an irresistible indulgence for all.
Beyond being a delectable snack, these oysters offer a nutritional powerhouse, boasting rich reserves of essential minerals, protein, and zinc. Elevate your gastronomic journey with the sublime experience of savoring Alaskan oysters – a decision sure to gratify both your palate and well-being.
2. Fry Bread
When thoughts turn to delectable Alaska snacks, fry bread emerges as an instant favorite. This culinary delight has entrenched itself as a local staple and now boasts a global following. Fry bread, a simple yet irresistible treat, knows no time bounds, fitting seamlessly into any part of the day. Crafted by immersing dough in hot oil, it magically transforms into a crisp, fluffy pastry through the alchemy of deep-frying.
Adornments for this delicacy are as diverse as they are delicious—ranging from the simplicity of enjoying it as is to an array of sweet or savory toppings like luscious honey, vibrant jams, fresh-picked berries, indulgent cheese, savory bacon, and more. A delectable exploration of fry bread is essential for anyone seeking an authentic experience of Alaska's snacking culture.
3. Muktuk
Muktuk, also referred to as whale blubber, stands as a distinctive culinary delight deeply intertwined with the essence of Alaska. With its roots tracing back to the region's indigenous communities, this traditional delicacy has graced palates for centuries. The Inuit people, recognizing its significance, deem it a vital nourishment that imparts strength and vitality during the unforgiving winters.
To create muktuk, the process involves slicing the skin and blubber of a bowhead whale into bite-sized pieces, which are then presented in their raw state. While the concept of consuming raw blubber might not immediately appeal to everyone, numerous Alaskans attest to its luscious, almost buttery flavor and the nourishing advantages it offers. For those with a penchant for culinary exploration or an adventurous spirit, sampling muktuk emerges as an undeniably captivating encounter while traversing the landscapes of Alaska.
Alaska food: Desserts And Sweet
1. Wild Berries
In the untamed landscapes of Alaska, a delightful treasure awaits wild berries that lend themselves to an array of delectable desserts and confections. Among these natural gems are cranberries, blueberries, strawberries, and raspberries, each boasting distinct flavors and textures. Alaska's bountiful wild berry harvest owes its existence to the state's favorable growth conditions, characterized by extended daylight hours and generous rainfall. 
Unsurprisingly, these berries have carved a significant niche in local gastronomy. A tapestry of culinary delights spun from wild Alaska berries includes velvety jams, tantalizing pies, inviting crisps, and even their incorporation into ice cream. Should fortune guide you to Alaska's embrace, take advantage of the chance to savor these exquisite pleasures.
2. Akutaq – Eskimo Ice Cream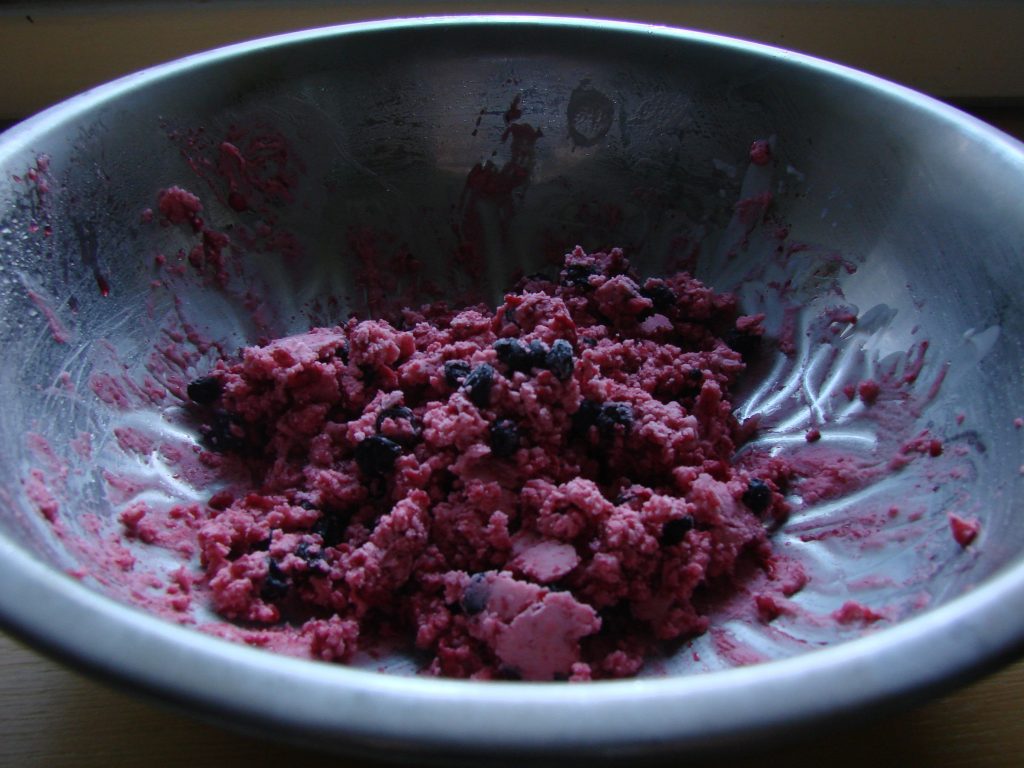 In the realm of Alaska's dessert offerings, one distinctive delicacy stands out in a league of its own – Akutaq, affectionately referred to as Eskimo ice cream. Departing from the conventional ice cream we're accustomed to, this luscious delight boasts a foundation crafted from animal fats, typically sourced from seals or walruses. Complemented by an array of ingredients like succulent berries, sugar, and occasionally even fish, the end result is an opulent, velvety concoction that seamlessly balances sweetness with savory notes.
Beyond its delectable flavor profile, Akutaq carries profound cultural significance within Alaska's Native communities. Stretching back through centuries, it has been cherished as a treasured indulgence during festive occasions and communal gatherings. Passed down through the annals of generations, the recipe itself is a testament to the enduring legacy of tradition. So, if you find yourself embarking on an Alaskan adventure, make it a point to partake in this singular dessert, and relish not only its exceptional taste but also the intertwined narrative of the state's remarkable heritage.
Conclusion
Alaska's culinary heritage is unique and special compared to the rest of America. With seafood like king crab, salmon, and oysters, game such as reindeer sausage or yak meat, snacks like fried bread or muktuk, and desserts centered around wild berries and akutaq – a type of Eskimo ice cream – Alaskans truly enjoy a range of foods unlike anywhere else in the world.
Whether now living in Alaska or having just visited on vacation, who wouldn't appreciate going home with some reindeer sausage? Everyone has their own unique and delicious culinary experiences to enjoy while visiting the Last Frontier. For even more information about food from other countries or all around the United States, be sure to read more Orderific blogs for informative content!
FAQs
Q. What is traditional Alaska food?
Ans. A traditional Alaskan dish is Akutaq, also known as Eskimo ice cream, which incorporates animal fats, berries, and sometimes even fish.
Q. Is seafood prominent in Alaskan cuisine?
Ans. Yes, seafood is highly prominent in Alaskan cuisine, with local specialties including king crab, salmon, and oysters.
Q. Can I try local game meats?
Ans. You can try local game meats in Alaska, such as reindeer sausage and yak meat.
Q. Are there vegetarian options available?
Ans. Yes, vegetarian options are available, especially dishes that utilize Alaska's rich harvest of wild berries and other plant-based ingredients.
Q. Where can I find Alaskan food festivals?
Ans. Alaskan food festivals are held throughout the state, with notable ones including the Great Alaska Seafood Cookoff and the Sitka Seafood Festival.