Welcome, food enthusiasts and restaurateurs! There's an undeniable magic about appetizers. They're the culinary drumroll of a dining experience, setting the stage for the main course. Choose the right ones and you can captivate your guests before the entree even hits the Appetizers for Restaurants.
From bite-sized delights to tantalizing dips, appetizers can truly make or break a dining experience. Whether it's a flavor-packed bruschetta or a creamy spinach and artichoke dip, the best appetizers for restaurants are those that leave your customers eager for more. Read on as we explore appetizers that not only stimulate the palate but also elevate the entire culinary journey.
Tease Guest Palates with Enticing Restaurant Appetizers
When it comes to appetizers, presentation is key. The first bite should awaken the senses and leave a lasting impression on your guests. That's why it's important to choose appetizers that not only taste amazing but also look visually appealing.
One popular choice for restaurants is charcuterie boards. These beautifully arranged platters of cured meats, cheeses, fruits, and nuts are perfect for sharing and offer a variety of flavors and textures. Not only do they make for an eye-catching appetizer, but they also pair well with a glass of wine or a cocktail.
For seafood lovers, oysters are a go-to appetizer that never fails to impress. Served on ice with lemon wedges and mignonette sauce, these briny delicacies are sure to tease the taste buds and set the tone for a luxurious dining experience.
Examples of the Best Restaurant Appetizers
Let's dive into specifics and highlight some of the best restaurant appetizers that have proven successful in enticing guests and setting the stage for an unforgettable meal. These mouthwatering starters are more than just a prelude to the main course – they can steal the show! 
Nachos – A Flavorful Fiesta on a Plate
Nachos have been a beloved appetizer for decades and good reason. This dish hits all the right notes – crunchy tortilla chips, savory ground beef or shredded chicken, gooey melted cheese, and fresh toppings such as tomatoes, jalapenos, and cilantro. Not only are they perfect for sharing, but they're also highly customizable and can cater to various dietary restrictions.
Buffalo Chicken Wings – The Perfect Combination of Spice and Tang
Another classic appetizer that has stood the test of time is buffalo chicken wings. These crispy, tangy, and spicy bites are a crowd favorite and are often served with blue cheese or ranch dressing for dipping. They're perfect for pairing with an ice-cold beer and watching sports, making them a popular choice for casual dining restaurants.
Potato Skins – A Savory and Satisfying Delight
Potato skins are a hearty and satisfying appetizer that never fails to please. The crispy potato shells are loaded with toppings such as bacon, cheese, green onions, and sour cream, making for a delicious and indulgent starter. And let's not forget about the leftover mashed potatoes that can be transformed into fluffy potato pancakes or gnocchi – talk about maximizing ingredients!
Bruschetta – Crunchy, Cheesy Crostini
Bruschetta is a classic Italian appetizer that has become a staple in many restaurant menus. The simplicity of this dish is what makes it so delicious – crispy toasted bread, savory garlic, creamy mozzarella cheese, and fresh diced tomatoes and basil. Not only does it taste amazing, but it also looks beautiful on the plate.
Crab Cakes – Breadcrumbs, Sweet Crab Morsels, and Refreshing Vegetables
Crab cakes are a luxurious and sophisticated appetizer that is perfect for seafood lovers. These crispy bites are made with succulent crab meat, breadcrumbs, herbs, and spices and can be served with tangy remoulade sauce or a zesty lemon aioli. They may be small in size, but they pack a powerful punch of flavor.
French Onion Dip – Creamy, Gooey, and Decadent
Last but certainly not least, we have French onion dip – a classic and beloved appetizer that is perfect for any occasion. This creamy and indulgent dip is made with caramelized onions, rich sour cream, and savory herbs and spices. Served with crispy chips or fresh vegetables, it's the ultimate comfort food appetizer.
Meatballs and Marinara — Mama Mia Induced Mania
Who doesn't love a good meatball? These juicy and flavorful bites are perfect for sharing and can be served in a variety of ways. Whether it's smothered in marinara sauce, served on a bed of spaghetti, or paired with creamy mashed potatoes, meatballs are a hearty appetizer that never fails to delight.
What's the Difference Between Appetizers, Starters, Small Plates, and First Course
While the terms "appetizers," "starters," "small plates," and "first course" may seem interchangeable, there are subtle differences between them. Appetizers are typically small dishes served before the main course to stimulate the appetite. Starters are similar to appetizers, but they can also be a soup or salad that is served as an initial course before the main meal.
Small plates are typically shared dishes that can be served as either an appetizer or a main course. Lastly, the first course is the initial dish in a multi-course meal and can consist of a soup, salad, or other small dish.
Aperitifs – Elevating the Pre-Dinner Experience
Before we wrap up, let's not forget about aperitifs – the perfect drink pairing for appetizers. Aperitifs are alcoholic beverages that are meant to be enjoyed before a meal to stimulate the appetite. Popular choices include vermouth, sherry, and Campari. A well-paired aperitif can enhance the flavors of your appetizer and create a complete dining experience for your guests.
Coursing Meals: The Art of Timing and Balance
Last but not least, let's talk about the art of coursing meals – the process of strategically timing and balancing dishes throughout a multi-course meal. Appetizers are just one piece of this puzzle, but an important one nonetheless.
When planning your menu, consider how each dish will complement and build upon the next. For example, you may want to start with lighter appetizers and gradually move towards heavier dishes, or you may want to alternate between hot and cold dishes. By thoughtfully coursing your meals, you can create a well-rounded dining experience that leaves your guests satisfied and impressed.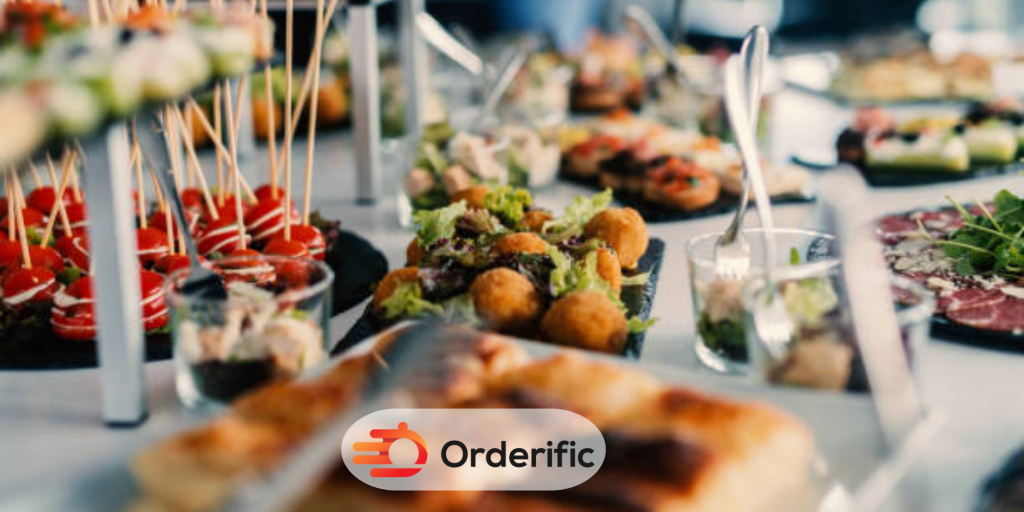 Conclusion
Appetizers are the unsung heroes of restaurant menus – they set the tone for a memorable dining experience and leave a lasting impression on your guests. From classic favorites to creative and unique dishes, the possibilities for appetizers are endless. Use this guide as inspiration to elevate your restaurant's menu with irresistible starters that will have your customers coming back for more. Bon appétit!
Click here for more flavorful and tasty content with Orderific. To start experiencing the great benefits Orderific can bring to your business, click here now. Try Orderific!
FAQs
What role do appetizers play in enhancing the dining experience?
Appetizers are the first impression of a dining experience and can set the tone for the rest of the meal. They also stimulate the appetite and can add variety to a menu.
How can restaurants create appetizers that cater to diverse tastes?
Restaurants can offer a variety of appetizers, including vegetarian, gluten-free, and dairy-free options.
Are there trends in appetizer offerings across different types of restaurants?
Yes, there are some common trends in appetizer offerings across different types of restaurants.
What creative approaches can restaurants take when designing appetizer menus?
Restaurants can get creative by offering unique twists on classic appetizers, incorporating international flavors, and using local and seasonal ingredients.
What are some ways to pair appetizers with aperitifs for an enhanced dining experience?
Pairing appetizers with aperitifs involves considering the flavor profiles of both the food and drink.