Converse, an iconic name in the footwear world, is celebrated for its blend of style and comfort. Over the years, they've not just retained their charm but have also evolved to meet diverse needs. Venturing beyond their classic designs, Converse introduced non slip shoes, catering especially to professionals seeking safety alongside style. 
Whether you're navigating bustling restaurant kitchens or hospital corridors, these shoes promise a grip as strong as their fashion statement. So, if you're looking for footwear that doesn't slip up in fashion or function, Converse non slip shoes could be your ideal match!
Introduction to Converse Non Slip Shoes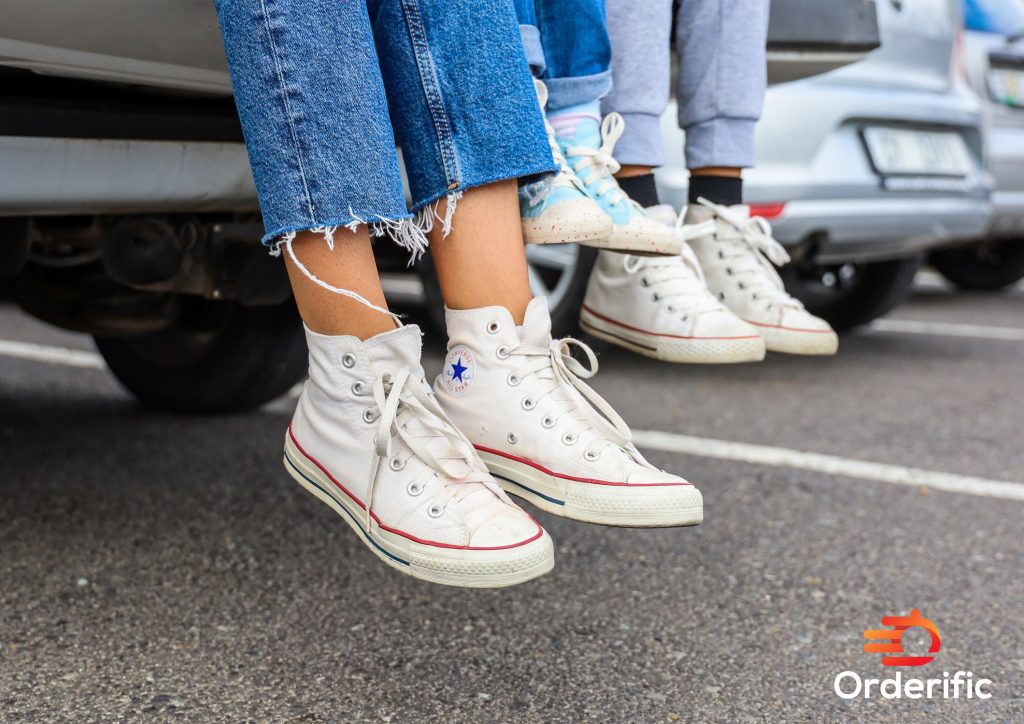 Navigating slippery terrains with ill-fitted footwear can feel like treading on thin ice – a risky dance with the unpredictable. Recognizing this challenge faced by many, Converse has upped its game. By marrying its legacy of the timeless Chuck Taylor design with cutting-edge slip-resistant technology, Converse offers a blend of fashion and function. 
Imagine the classic sneaker aesthetic, now backed by a sole designed to grip, even on the most treacherous terrains. It's no longer just about looking good; it's about confidently striding forth, knowing that each step on any surface is secure. With Converse's non slip range, say goodbye to those heart-stopping slips and slides.
Understanding Non Slip Technology
How Non Slip Shoes Work
Stepping onto slick floors or wet terrains can sometimes feel like a tightrope walk, especially with the wrong footwear. This is where non slip shoes, including the lineup from Converse, come into play. They're meticulously crafted to establish an optimum grip between the ground and the shoe, minimizing skids and slips.
The magic lies in the sole's construction, typically utilizing specific rubber compounds known for their exceptional traction abilities. This ensures every step is stable, even when the ground beneath begs to differ.
Types of Non Slip Soles
Diverse situations call for diverse solutions. While the term "non slip" is a broad one, there are specialized soles for varying needs. Some shoes might have gum rubber soles, which are revered in the hospitality sector for their stickiness and durability.
On the other hand, the more robust rubber outsoles cater to a range of professional settings, providing security without sacrificing comfort.
Testing and Certification Standards
A claim is only as good as its proof. It's essential that non slip shoes aren't just touted as safe, but they're proven to be. This is where stringent testing and certification come into the picture. Through a series of controlled tests, often simulating the slipperiest of situations, these shoes are put to the challenge.
It's only after passing these rigorous examinations that they earn the 'non slip' title. So, when you're on the hunt for that perfect pair, remember to look for these certifications as a seal of genuine safety.
Choosing the Right Converse Non Slip Shoes
Determining Your Workplace Needs
Every work environment poses unique challenges. For some, it might be the unpredictable spills of a bustling restaurant kitchen, while for others, it could be the incessantly busy corridors of a hospital with the occasional fluid mishap. It's pivotal to take a moment to evaluate the specific hazards and demands of your workplace.
Are you often on your feet, making quick turns and stops? Or perhaps you're navigating areas prone to wetness and spills. By gaining a clear understanding of what you're up against daily, you can narrow down your choice of shoes that are tailored to those specific needs.
Evaluating Converse Non Slip Shoe Features
It's easy to get fixated solely on the non slip aspect of a shoe, but there's so much more to consider, especially when aiming for long-term wear. Yes, grip is paramount, but what about the comfort that ensures your feet aren't screaming for relief by the day's end? Think about cushioning that softens every step you take, or the arch support that maintains foot health.
Moreover, the design of the tread pattern can play a significant role. A well-designed tread can amplify the shoe's grip, especially on surfaces like tile or polished wood. When selecting your Converse non slip shoes, ensure you're looking at the complete package, balancing both safety and comfort.
Caring for Your Converse Non Slip Shoes
Cleaning and Maintenance Tips
Every pair of shoes, especially ones that prioritize safety, deserves a routine cleaning regimen. With your Converse non slip shoes, you'd want to steer clear of the allure of the washing machine, despite its convenience. Instead, opt for a gentle hand-cleaning method using mild soap and water.
Harsh chemicals can break down the integrity of the shoe, especially the rubber sole that provides the essential non slip feature. After cleaning, rather than placing them directly under the sun or near heaters, let them air dry in a cool, shaded place. This ensures the materials don't degrade, and your shoes maintain their shape.
Replacement and Repair Options
Even the sturdiest shoes will wear out over time, especially if they are your daily companions. It's essential to perform regular inspections, particularly focusing on the sole. If you notice significant wear, reduced grip, or any damage that could compromise the non slip capability, it's probably time to consider a replacement.
However, minor issues might just require a quick repair. Some shoe repair shops can replace or reinforce certain sections, especially the sole, to prolong the shoe's life.
Enhancing Comfort and Longevity
Comfort isn't just a luxury; it's essential, especially if you're spending long hours on your feet. To amplify the comfort of your Converse non slip shoes, consider investing in good quality insoles or orthotic inserts. These can provide additional arch support and cushioning. Furthermore, specialty socks, particularly those designed for work environments, can wick away moisture and reduce foot fatigue.
A combination of these comfort-enhancing measures not only ensures your feet remain pampered but also extends the life of your Converse shoes, ensuring they remain a trusty companion for many steps to come.
Buying Converse Non Slip Shoes
Where to Buy
When considering a purchase as essential as safety footwear, knowing where to buy is crucial. Specialty footwear stores often have knowledgeable staff that can guide you through the selection process. Moreover, these stores often allow you to try on multiple pairs, ensuring the best fit.
Trusted online platforms can also be a convenient alternative. With the rise of digital shopping, reputable brands have made their mark online, providing a plethora of options at your fingertips.
Authenticity Matters
With popular brands like Converse, there's always a risk of counterfeits. It's vital to ensure the authenticity of your purchase, as counterfeit shoes might not offer the same level of safety and comfort. Check for brand hallmarks, quality of materials, and consider purchasing directly from Converse's official website or authorized dealers.
Doing Your Homework: Reviews and Recommendations
In today's digital age, potential buyers have an advantage – the collective experience of others. By reading reviews and seeking recommendations, you can gauge the performance, durability, and comfort of the shoe in real-world conditions. Reviews can offer insights that might not be evident in product descriptions.
Fit is Key
Even the best shoe won't serve its purpose if it doesn't fit well. Ensure you know your size, and if you're shopping online, refer to size guides. Remember that the right fit isn't just about length, but also width and arch support. A shoe that fits well can prevent foot fatigue and potential workplace injuries.
Conclusion
The realm of footwear is vast, but few brands manage to seamlessly blend functionality with timeless appeal the way Converse does. With their non slip shoes, Converse has once again proven its dedication to its patrons by prioritizing safety without sacrificing aesthetic allure. Imagine navigating a wet, slippery sidewalk, or the freshly mopped floors of a bustling restaurant. With Converse non slip shoes, such challenges are transformed into effortless strides, making daily hurdles feel like a walk in the park.
In case you want more content like this, visit Orderific right now!
FAQs
What are Converse Non Slip Shoes and how do they work?
Converse non slip shoes combine the classic Converse design with slip resistant technology, ensuring maximum grip on slippery surfaces.
What are the advantages of wearing Converse Non Slip Shoes?
Beyond style, they provide added safety in environments prone to slippery surfaces, helping prevent potential accidents.
What kind of industries and occupations benefit from wearing Converse Non Slip Shoes?
Industries such as healthcare, hospitality, and any environment where surfaces can get wet or oily can greatly benefit from these shoes.
How do I choose the right Converse Non Slip Shoes for my workplace needs?
Evaluate the hazards of your workplace, the type of sole needed, and any additional comfort features to find the perfect pair.
What kind of features and technologies should I look for in Converse Non Slip Shoes?
Look for a rubber sole with excellent slip resistance, good arch support, and comfort features like cushioning.
How do I care for and maintain my Converse Non Slip Shoes?
Clean them regularly, avoid exposing them to harsh chemicals, and inspect the sole periodically to ensure it's still in good shape.