Welcome to the beautiful world of au jus sauce! Imagine sinking your teeth into a prime rib, its flavors amplified by the rich, savory essence of au jus. This isn't just a sauce; it's a game-changer. It transforms your routine roast beef into a gourmet experience and your dip sandwich into a culinary adventure. So, what is au jus sauce made of, you ask? This magical potion is concocted from beef drippings and broth, with a hint of Worcestershire sauce for that extra zing. Every bite laced with this sauce will transport you to a cozy Italian eatery where comfort meets sophistication. Now, let's dive deeper into the realm of au jus, exploring the secrets of a homemade au jus recipe and how it turns ordinary beef into the star of your dining table. Join us as we embark on this flavorful journey!
What is Au Jus?
Au jus, a term borrowed from the French, translates to 'with juice.' This 'juice' isn't just any liquid but an elixir that elevates meat dishes to a whole new gastronomic level. It's the magic potion one didn't know they needed until they've experienced its transformative power.
A simple yet sophisticated brew, au jus, is primarily made of beef drippings. Think of it as the essence of the meat, capturing all its flavors in a concentrated form. Add to this a good quality beef broth, and the foundation of the au jus sauce is laid. But here's the twist: the Worcestershire sauce. A dash of it adds zing, making the au jus sauce a compelling blend of savory, tangy, and a hint of sweetness.
The brilliance of au jus sauce lies in its versatility. Whether it's a prime rib or a classic roast beef, an Italian beef sandwich, or a dip sandwich, a touch of au jus sauce turns the meal into a feast. The richness of the beef, the tang from the Worcestershire sauce, and the delicate balance of flavors make every bite a culinary delight.
In the realm of sauces, au jus stands apart. It's not thick or overpowering but light and flavorful, complementing the meat without masking its flavors. Relish it with your favorite beef dish; the experience is akin to a symphony, where every note and ingredient plays its part to perfection. Truly, au jus isn't merely a sauce; it's an experience, a memory, a warm embrace long after the meal.
What Is AU Jus Sauce Made Of?
Au jus sauce, the enchanting elixir of the culinary world, is a symphony of simple, flavorful ingredients. As the name suggests, 'au jus' is 'with juice,' the juice being the essence of succulent, pan-seared beef. Let's wander through the process:
The journey of au jus sauce begins with beef drippings, a concentrated distillation of the meat's character. These drippings are the soul of the sauce, encapsulating the robust, earthy flavor of prime, juicy beef.
Then comes the beef broth, a hearty addition that provides the sauce with depth and backbone. Imagine the succulence of slow-simmered beef, its flavors permeating the broth, creating an infusion that dances on the palate.
A splash of Worcestershire sauce follows, bringing a tangy surprise. The secret ingredient adds excitement, enhancing the taste with vinegar, molasses, and spices.
Finally, a hint of roast beef is added, allowing the sauce's flavor profile to soar even higher. The roasted notes of the beef harmonize with the other components, resulting in a crescendo of taste that's hard to resist.
This concoction of beef drippings, broth, a dash of Worcestershire sauce, and the essence of roast beef make up the au jus sauce. It's a dip for your sandwich, a gravy for your prime rib, a companion to your Italian beef. It's the magician behind an easy au jus recipe, an au jus gravy, or a homemade au jus.
In essence, au jus sauce is a celebration of flavors, an affirmation of the culinary art. It's a testament to the magic that can occur when simple ingredients come together in perfect harmony. The result? A gastronomic masterpiece that can transform a meal from ordinary to extraordinary.
Homemade Au Jus
An undeniable joy springs from creating your au jus sauce. Picture this. You're in your kitchen, the aroma of roast beef wafting through the air. It's a comforting scent, the promise of a meal drenched in love.
You watch as the beef sizzles in the pan, its juices pooling. These aren't just beef drippings; they're the foundation of your homemade au jus. It's the beginning of an enthralling culinary journey that starts with simple, humble ingredients.
Next, the beef broth is poured. It merges with the drippings, a harmonious blend of robust flavors. The sauce bubbles gently on the stove, its scent permeating the room. It's reminiscent of a cozy Italian eatery, where each dish is crafted with heart and soul.
Then, the Worcestershire sauce is introduced, a zesty interlude in this symphony of flavors. It adds a tangy spark, a surprise element that takes the au jus from delicious to unforgettable. This is the secret to an easy au jus recipe – a touch of the unexpected, a hint of excitement.
The final flourish is the essence of roast beef. It brings everything together, the perfect finale to your au jus mix. It's a testament to the magic of cooking, of transforming basic elements into something extraordinary. This is the essence of a homemade au jus, an experience as rewarding as the taste of the sauce.
Ultimately, you have a warm and inviting pot of au jus gravy. It's a testament to the magic of simple ingredients and the joy of cooking. It's not just a sauce but an experience, a delicious memory you've crafted with your hands.
What Is the Difference Between AU Jus and Gravy?
A common question often arises: what sets au jus apart from gravy? They both accompany delectable meat dishes, yet they're distinct culinary creations.
First, consider the texture. Au jus sauce, light and delicate, envelops the meat in a thin, flavorful layer. It's a subtle whisper of taste, enhancing the meat's essence rather than overshadowing it. Contrastingly, gravy asserts itself on the palate. It's thick, hearty, and filled with robust undertones. It not only complements the meat but also stands tall on its own.
Next, delve into the ingredients they're made of. Au jus sauce is a brotherhood of beef drippings and beef broth with a splash of Worcestershire sauce. Its beauty lies in its simplicity. On the other hand, gravy is a more complex concoction. It's a roux mixed with meat drippings and seasoned to perfection. Its richness often comes from adding cream or milk, adding a velvety touch.
Finally, the preparation sets them apart. Au jus is a swift, straightforward process. The ingredients merge, simmer, and voila, the sauce is ready. Gravy, however, requires careful attention. It begins with a roux, a slow process demanding a watchful eye.
So, whether you're seeking the simplicity of an au jus recipe or the hearty comfort of gravy, each brings its unique charm. And remember, the joy lies not just in the taste but also in the act of creation. The sizzle of beef, the simmer of the sauce, and the aroma wafting through your kitchen are all part of the culinary experience.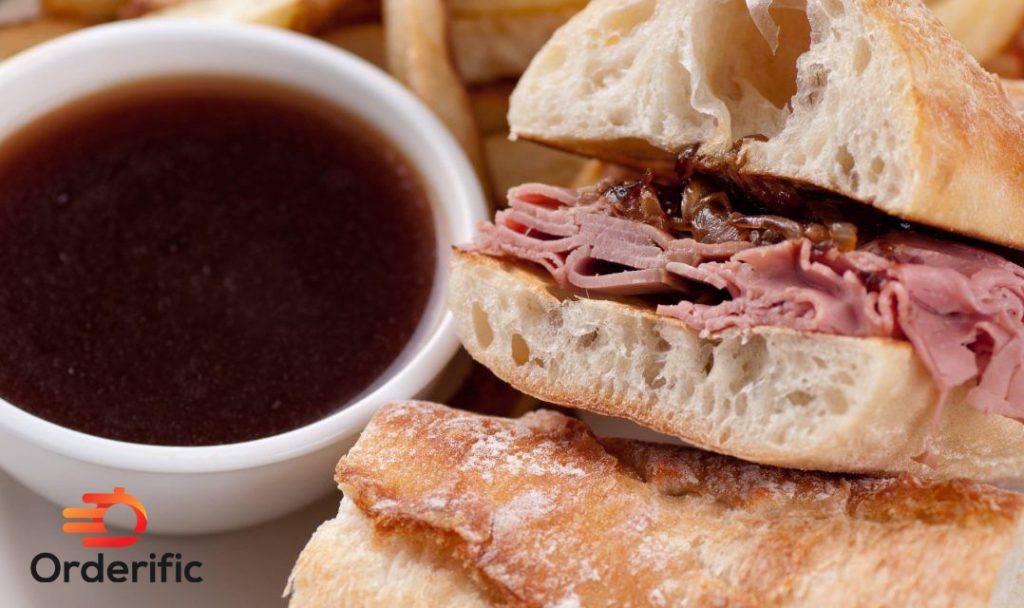 Roast Beef
Imagine this. A plate of roast beef au jus arrives at your table. The aroma is captivating, a heady mix of succulent beef and rich au jus sauce. It's more than a meal; it's an experience.
Each slice of roast is perfectly cooked and tender to the touch. The meat is so soft it practically falls apart on the fork. The beef is lightly seasoned, each spice adding a subtle layer of complexity. But it's the au jus that takes center stage.
This isn't just a sauce; it's a symphony. The simmering beef broth, the robust beef drippings, and the tangy Worcestershire sauce come together in perfect harmony. Essentially, it's a pool of liquid gold, an elixir that transforms a humble roast into a gourmet delight.
As your fork cuts through the beef, it's bathed in the au jus. The rich, savory sauce seeps into the roast, amplifying its natural flavors. Your first bite is a revelation. It's a dance of textures and flavors, a balance of savory and tangy, warm and comforting.
Roast beef au jus is more than a dish. It's a voyage of culinary discovery, a testament to the art of cooking. It's a celebration of simple ingredients coming together in extraordinary harmony. And as the last bite disappears from your plate, a sense of satisfaction washes over you. Your journey with roast beef au jus is complete, but the memory of the taste lingers on, a delightful echo of a meal well enjoyed.
Red Wine Substitute in Au Jus
Imagine a situation where your au jus recipe calls for red wine, but more must be in sight. Fear not; a simple kitchen staple comes to the rescue.
Surprisingly, it's your trusty beef broth. This humble ingredient steps up to the plate, becoming more than just a base for your au jus sauce. It morphs into a perfect red wine substitute, never letting you miss a beat in your culinary rhythm.
Suddenly, your beef broth is not just a supporting actor but a star performer. It has the robustness to back up the other flavors in the sauce, providing depth and complexity. Its umami-rich characteristics enhance the savory notes, mimicking the richness red wine would have added.
Next, add a splash of vinegar. This little trick imparts the tangy note that wine would typically provide, balancing the richness of the beef and broth. It may not be wine, but it will surely win over your palate!
In this dance of flavors, your red wine substitute does more than fill in. It shines, enhances, and beautifully complements the symphony of au jus sauce. It's proof that even the ordinary can become extraordinary with creativity.
Key Points to Remember
In pursuing culinary perfection, creating au jus sauce demands a keen eye, an intuitive touch, and a curious palate. The journey is as rewarding as the destination, with each step revealing surprising flavors and textures. Here are a few essential tips for creating the perfect au jus sauce:
Embrace the drippings: The heart of Au jus sauce lies in the beef drippings. These fragrant jewels are pure flavor, capturing the essence of the meat. So, always appreciate their power to turn a good sauce into an unforgettable one.
Choose your broth wisely: The broth forms the backbone of the sauce. A high-quality beef broth will deliver a deep, complex flavor profile, enhancing the sauce's richness. Always choose quality over convenience when selecting your broth.
Balance the flavors: Worcestershire sauce brings an exciting tang to the mix, but remember, moderation is key. A splash is all it takes to infuse the sauce with a zing, adding a vibrant layer of flavor.
Respect the meat: Including roast beef in the recipe adds to the depth of the au jus. This ingredient is not merely a garnish; it's a flavor enhancer. Use it to elevate your sauce to new culinary heights.
Take your time: Creating au jus sauce isn't a race. It's a slow, indulgent process. Allow the ingredients to mingle, the flavors to infuse, and the sauce to simmer to perfection.
Crafting au jus sauce is more than a task; it's a journey of exploration and discovery. Each ingredient plays a crucial role, and each step is an essential part of the process. With these tips, you're well on your way to creating an au jus sauce that will leave your taste buds dancing with delight.
Conclusion
Venturing through the realm of au jus sauce, we've unraveled its magic. The symphony of flavors that answer what is au jus sauce made of is simple yet profound. The enchantment lies in the humble ingredients – beef drippings, beef broth, a splash of Worcestershire sauce, and a hint of roast beef. Together, they translate into an irresistible gastronomic experience. Just as Orderific transforms the restaurant industry with increased revenue and improved user experience, au jus sauce transforms your meal from ordinary to extraordinary. So, indulge in the grandeur of au jus sauce and let its magic weave a culinary tale that will leave you longing for more. For more information on Orderific, schedule a FREE DEMO today.
FAQs
What is the traditional method for preparing au jus sauce, and what types of meats is it commonly paired with?
Traditional au jus is made from beef drippings and broth and is commonly paired with roast beef, prime rib, and sandwiches.
Can you suggest variations or flavor enhancements to the classic au jus sauce recipe to complement different dishes?
Add red wine for depth, fresh herbs for aroma, or a squeeze of lemon for a tangy kick to complement seafood dishes.
In which culinary traditions is au jus sauce a prominent feature, and how has its usage evolved?
Au jus sauce is prominent in French and American cuisines, and its usage has evolved from roasts to sandwiches and dips.
Are there vegetarian or plant-based alternatives to traditional au jus sauce that provide a similar depth of flavor for non-meat dishes?
Yes, vegetable broth can replace beef broth, and soy sauce or tamari can add umami flavor to vegetarian au jus sauce.