The magnetic charm of au jus sauce has enraptured food enthusiasts for countless generations. This savory elixir, with its profound depths of flavor, has the power to transform mundane meals into gourmet experiences. Roast beef sandwiches ascend to newfound heights, and prime rib dinners sing with richness when kissed by au jus. 
But is it its storied past, the orchestra of carefully curated ingredients, or the diverse culinary applications that grant it such prestige? For the uninitiated, or even the curious gourmand, yearning to delve deeper into the wonders of this sauce, this extensive guide promises a flavorful expedition.
What is Au Jus Sauce?
Delving into the heart of French gastronomy, we stumble upon "au jus," eloquently meaning "with juice." This isn't just any juice, but the precious, flavorful nectar that meat, predominantly beef, secretes during its cooking journey. Contrary to the dense consistency of gravies or broths, au jus stands out as a light, translucent liquid, yet its flavor profile is robust and unmistakably meaty.
Its magic lies in the amalgamation of these natural meat juices with select herbs and spices. A bite into the renowned French dip sandwich, dripping with this liquid gold, or any dish graced by its presence, showcases the unparalleled richness and depth of au jus sauce.
Ingredients in Au Jus Sauce
Crafting the perfect au jus sauce is akin to composing a melodious tune. Each ingredient, like a note, plays a unique role, culminating in a harmony that tantalizes the taste buds. But what are these core components that breathe life into this classic sauce?
Meat Broth
Imagine a sturdy stage set for a grand performance. That's what meat broth is to au jus – its foundational base. Predominantly, beef broth, painstakingly extracted from slowly simmered beef bones and meat chunks, is the preferred choice. It infuses the sauce with a profound, meaty essence that defines the soul of au jus.
Herbs and Spices
In the culinary orchestra of au jus, herbs and spices are the dynamic performers. Essentials like garlic powder, salt, and black pepper not only add layers of flavors but also accentuate the meaty undertones. These ingredients amplify the sauce, gifting it the revered zestiness that makes au jus a star in many dishes.
Optional Ingredients
Like special guest artists in a concert, these ingredients aren't always present but significantly elevate the composition when they are. Some chefs sprinkle in a dash of Worcestershire or soy sauce to heighten the flavor profile. Moreover, the addition of red wine can add a velvety richness, introducing a luxurious note to the classic au jus narrative.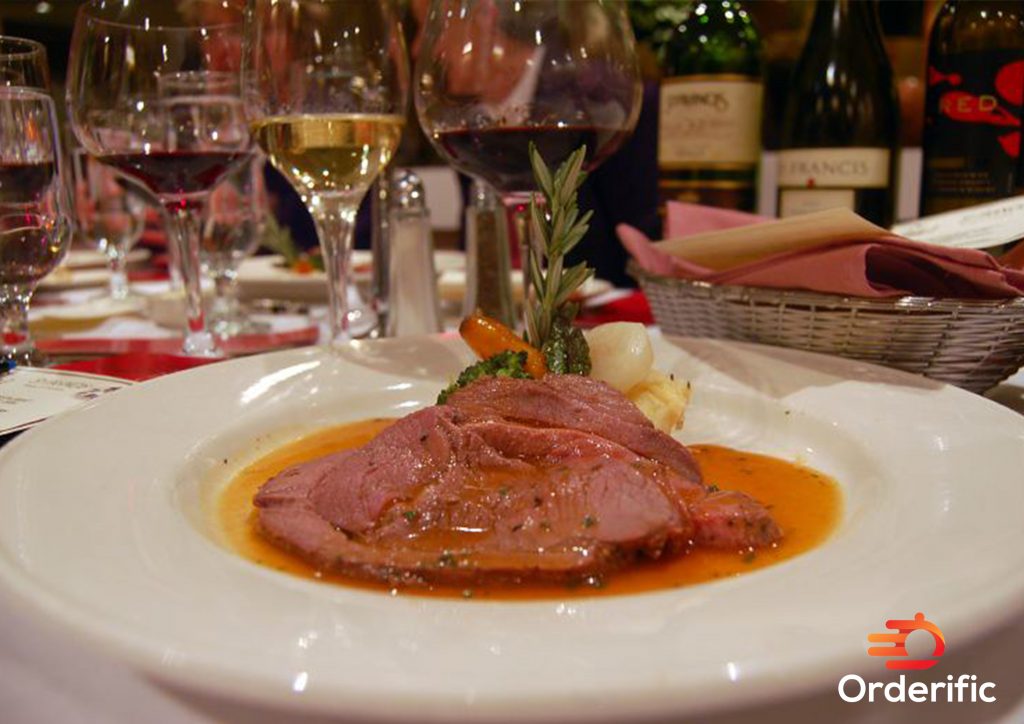 How to Make Au Jus Sauce
Starting with the essence of any meaty dish – the pan drippings – is pivotal. These drippings, rich with flavors developed during roasting, form the core of au jus sauce. Once collected, transfer them to a saucepan and place it over medium heat. Now, blend in beef broth, creating a beautiful fusion of liquid gold. Infuse this mixture with a handpicked selection of herbs and spices, tailoring it to your taste preferences.
For the adventurous souls, a touch of red wine or Worcestershire sauce can further elevate the depth of flavors. Gently simmer the concoction, allowing the ingredients to marry and produce that iconic taste. And there you have it, a bowl of freshly prepared, tantalizing au jus sauce, beckoning you to dive in, be it for a luscious drizzle or an indulgent dip.
Uses for Au Jus Sauce
The limelight often falls on the iconic French dip sandwich when discussing au jus sauce, painting a delicious portrait of meaty goodness soaked in the savory liquid. However, the applications of this culinary gem span far beyond just that. Picture a succulent pot roast, with its gravy richly infused with au jus, or thin slices of roast beef, waiting to be dunked into this flavorful dip.
Envision a perfectly cooked prime rib, its flavors amplified when drizzled with the au jus essence. In essence, au jus is not just a sauce; it's a transformative element, adept at turning any meat dish into a gourmet masterpiece.
Variations of Au Jus Sauce
Au jus, with its profound depths of flavor, is already a marvel in its classic form. However, the beauty of this sauce lies in its adaptability. While the traditional version is revered, venturing into its numerous variations can lead to delightful culinary discoveries.
Wine Au Jus:
Dive into a sophisticated version of au jus by introducing red wine. This blend not only deepens the color but also injects a rich, velvety undertone. It's an elegant twist, bringing a balance of acidity and fruitiness, making every bite a luxurious experience.
Mushroom Au Jus:
For those who appreciate the earthy charm of mushrooms, this variation is a treat. Incorporating sautéed mushrooms transforms the au jus into a rustic delight, introducing an added layer of texture and an unmistakably earthy aroma that perfectly complements the meatiness.
Onion Au Jus:
The allure of caramelized onions lies in their sweet, mellow notes. When integrated into the au jus, they introduce a delightful sweetness, creating a harmonious blend of savory and sweet. This version is a testament to how a simple ingredient can revolutionize the flavor profile of a classic sauce.
Conclusion
Dipping into the world of au jus sauce is like opening a chapter of rich culinary history, where each drop narrates tales of tradition and flavor. This sauce, characterized by its straightforward ingredients yet profound taste, exemplifies the beauty of culinary simplicity.
Regardless of whether the kitchen is your second home or a new territory, this guide serves as the compass, directing you through the nuances of creating this timeless concoction. With insights and tips, it ensures that mastering this classic sauce becomes a delightful journey, accessible and rewarding for chefs and beginners alike.
In case you want more content like this, visit Orderific right now!
FAQs
What is the origin of au jus sauce?
Tracing its roots back to French cuisine, au jus is a testament to the beauty of culinary simplicity.
Can you make au jus sauce without meat broth?
While meat broth is traditional, vegetable broth can offer a vegetarian alternative for those who don't want to eat meat.
What kind of meat is best for making au jus sauce?
Prime rib and roast beef are among the top contenders, but any meat with drippings can work.
Is au jus sauce gluten-free?
Traditionally, yes. However, always check ingredient labels or ask when dining out, as different recipes may include gluten.
How long does au jus sauce last in the refrigerator?
Stored properly, it can last up to 3-4 days.Storing it for longer than that is not really recommended.
Can you freeze au jus sauce?
Yes, for longer storage, freeze the sauce in airtight containers or freezer bags and just heat it up before serving.