Welcome to the future, where augmented Reality (AR) is reshaping the bar scene. Imagine strolling into your favorite watering hole only to be greeted by a digital menu that comes to life right before your eyes. You point your smartphone, and cocktails dance in 3D, each with a crisp description and a tantalizing visual. The AR technology offers an immersive shopping experience, transforming your usual night out into a surreal adventure. This isn't a scene from a sci-fi movie. It's the Reality that forward-thinking bars are now embracing. The innovation continues beyond impressive visuals but enhances the customer experience. Retail industries, including bars, leverage AR to offer an unforgettable, immersive shopping experience. Let's dive deeper into this augmented reality-infused era and explore what it means for the future of bar hopping.
Augmented Reality Overview
Augmented Reality, or AR, is a transformative technology yet intimately familiar. It takes our world and elevates it, adding layers of digital interaction that engage and delight. At its core, AR superimposes computer-generated images onto our view of Reality, creating a composite view that augments the real world. It's more than just a gimmick; it's a wholly immersive experience designed to draw us in and elevate our everyday interactions.
For consumers, this means shopping becomes an adventure. With AR, you're not just browsing; you're exploring. You're not just a customer but a participant in an immersive experience. On the other hand, retailers benefit from the increased engagement and connection AR fosters. AR technology isn't merely about selling more; it's about enhancing the customer experience, making it memorable, engaging, and uniquely personal.
One of the leading examples in the retail industry is IKEA Place, an AR app that allows customers to visualize how furniture would look in their space. This AR experience goes beyond enhancing online shopping; it revolutionizes it.
So, what does this mean for bars with digital menus? It means a mixed reality where your favorite cocktail can virtually appear on your table before you even order it. It represents an augmented reality shopping experience beyond the physical menu, captivating your senses and inviting you into a richer reality. That's the promise of AR, and it's already here, altering our perception of Reality, one immersive experience at a time.
Augmented Reality Definition
Take a moment. Imagine your world seamlessly blending with the digital, forming an immersive reality. This is the essence of Augmented Reality (AR). It's a fascinating journey where the lines blur between what's real and what's computer-generated. By overlaying digital information on real-world elements, AR enhances our perception, enticing us into an immersive experience.
AR isn't just a static experience, though. It's interactive, allowing users to manipulate computer-generated enhancements in their real-world environment. You're no longer a passive observer. With AR, you're an active participant, thrust into a captivating reality that's rich, engaging, and profoundly personal.
AR isn't about escaping Reality but rather enhancing it. On-screen objects take on their own life, coexisting with the physical world. The result? A mixed reality that leaves a lasting impression.
With AR, shopping becomes more than a transaction; it's an experience. Retail, especially online shopping, is revolutionized. AR enables customers to interact with products in a whole new way, breaking down the barriers of traditional retail.
In essence, AR is a bridge. It connects the digital and the physical, blending them into an immersive, engaging, and constantly evolving Reality. The magic of AR lies in its capacity to create experiences that are as rich and textured as our physical world but with a digital twist. Whether a night out at a bar or a simple shopping trip, AR promises to transform the mundane into the extraordinary.
So, what is Augmented Reality? It's not just a technology; it's a gateway to a new dimension of experience. It's a journey into a world where Reality is just the beginning.
How Does Augmented Reality Work?
At its heart, augmented Reality is a blend of digital and physical worlds. It starts with the lens of a device, like your smartphone. The camera captures the world around you, acting as your eyes. It's here where AR's magic begins.
From capture, the information travels to a processor, the device's brain. Here, the software identifies the objects in the view. It gauges spaces, surfaces, and boundaries, painting a digital canvas of your physical world.
Then comes the exciting part: augmentation. The AR system superimposes 3D images onto the user's real-world view. It's as though digital entities have broken free, stepping into our Reality. They're not just flat, static holograms. They're dynamic, moving, and interacting with their environment, like actors on the world's stage.
Now, the user is ready to interact. AR is a dialogue, not a monologue. It's an immersive shopping experience, a virtual try-on in a retail store, or a lively digital menu in a bar. The AR app alters the scene based on user input, all in real-time.
Finally, the device displays the augmented view. Here, the mixed Reality comes to life. It's your world but enriched, engaging, and enticing, pulling you into an immersive experience.
That's how AR works. It's not just a technology; it's a transforming experience. It is a dance between the real and the digital, a symphony of the senses, and a revolution in customer experience. It's the future and here, inviting us all to step into a new dimension of Reality.
What is Mixed Reality, or Augmented Reality vs Virtual Reality?
Mixed Reality (MR) is an exciting blend of the real and virtual worlds. Imagine standing in your room, reaching out, and interacting with holographic objects. Now imagine these objects responding to your touch as if they were real. That's mixed Reality for you: a fascinating fusion of real and virtual.
Distinguishing between augmented Reality (AR) and virtual Reality (VR) is crucial. While both are immersive technologies, they offer different experiences. AR enhances your actual environment, overlaying digital elements onto your real surroundings. Picture AR as a layer of magic draped over your everyday world.
Virtual Reality, on the other hand, transports you to a different realm. VR immerses you entirely in a computer-generated world. It's about total escapism, whisking you away from the real world into a digitally crafted one.
The key difference here? Presence. In AR, you remain in your world, enriched with digital elements. VR, conversely, whisks you away, immersing you in a different world altogether.
So, where does MR stand in this spectrum? Mixed Reality is the bridge connecting AR and VR. MR lets digital and physical objects coexist and interact in real time. It combines the best of both AR and VR, creating spaces where physical and digital objects live and interact together.
Imagine a virtual dinosaur strolling around your room, knocking over furniture as it moves. That's mixed Reality: a new level of interaction where the digital entities are aware of and can interact with their physical surroundings.
MR is a powerful tool in the retail industry, especially in online shopping. With mixed Reality, customers can see how a product looks and fits in their environment, providing an immersive shopping experience like never before.
What is Augmented Reality Used for in the Industry?
In the rapidly evolving tech landscape, augmented Reality (AR) is a beacon of transformation. Imagine gazing through a lens that paints the world around you with a layer of digital magic. This is AR, a bridge between the physical and the digital. Here's a glimpse into how industries are leveraging AR:
Retail: Augmented Reality is revolutionizing the retail industry. Shoppers no longer merely browse products; they experience them. Try on clothes virtually, place furniture in your home, or watch a digital menu come alive. This immersive shopping experience redefines consumer engagement, making shopping an adventure.
Real Estate: AR breathes life into blueprints and floor plans. Potential buyers can virtually walk through properties, explore spaces, and even decorate rooms. It's a powerful tool, turning imagination into an immersive reality.
Education: AR takes learning beyond textbooks. Students can explore historical events, delve into complex scientific concepts, or travel to far-off galaxies—all in their classroom. It's a dynamic and engaging method, making education an immersive experience.
Healthcare: AR is a game-changer in medicine. Surgeons use AR for precision in complex procedures, while medical students use it for interactive learning. It's a tool that enhances accuracy, boosts learning, and saves lives.
Tourism: Immersive tours, interactive maps, informative overlays—AR is transforming tourism. Travelers can explore destinations, learn about landmarks, and navigate cities in an entirely new way. It's a journey into a rich, engaging reality.
In essence, AR is not just a technology—it's a new dimension of experience. It's a tool that enriches our world, engages our senses, and captivates our imagination. From retail to healthcare, AR is paving the way for a future where Reality is just the beginning.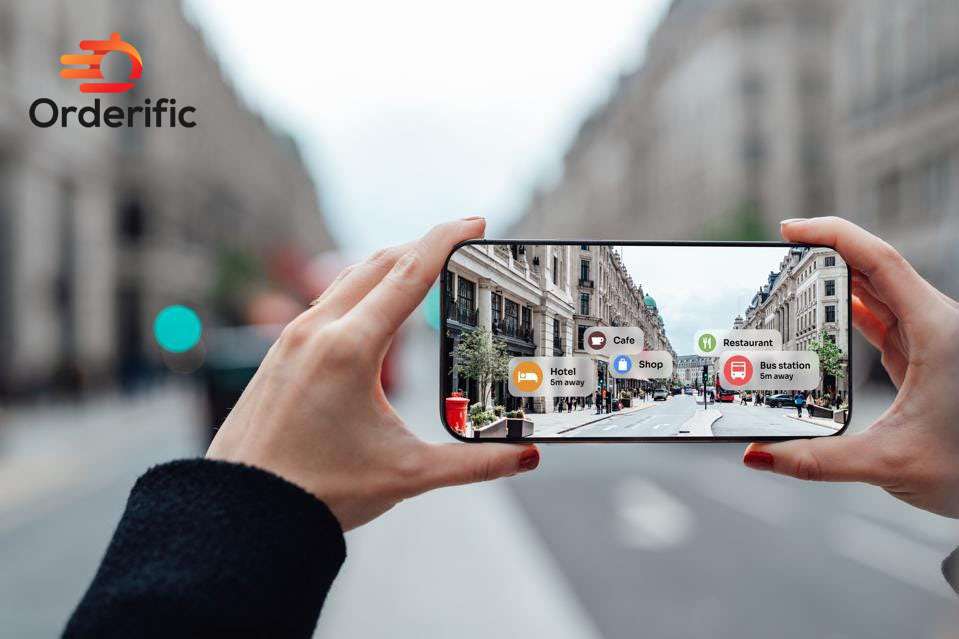 Benefits of Augmented Reality in Manufacturing
In the heart of the industry, a revolution is underway. A technological marvel known as Augmented Reality (AR) is transforming manufacturing. With AR, factories become stages for a dance of digital overlay and physical Reality, a symphony of data and human ingenuity.
Efficiency and Precision: Imagine workers, guided by AR overlays, performing tasks with unprecedented clarity and precision. Each step, each movement, punctuated by the rhythm of efficiency, paints a picture of productivity. This is AR streamlining workflows, breathing life into the mechanical heartbeat of the industry.
Training and Skill Development: Now, think of a novice worker stepping into the factory. With AR, a world of knowledge unfolds before them. Hands-on training transforms into an immersive journey, fostering skills and cultivating experience. It's a testament to AR's potential as a powerful tool for skill development.
Maintenance and Repair: Envision a machine, its innards laid bare through the lens of AR. Technicians approach repairs with newfound understanding, guided by the digital ghost of machinery. This is AR demystifying complex processes, turning daunting tasks into manageable ones.
Safety and Compliance: Picture a factory, alive with the hum of machinery. Now, add a layer of AR, highlighting safety protocols and compliance guidelines in real time. This is AR ensuring safety, its digital touch safeguarding human lives amidst machines.
Collaboration and Communication: Lastly, imagine a team scattered across continents, collaborating in real-time via AR. Boundaries blur, distances shrink, and the factory floor becomes a global stage. This is AR bridging gaps, nurturing connectivity, and fostering teamwork.
Augmented Reality is more than a technology. It's a conduit, a bridge between the digital and the physical, infusing warmth and human touch into the cold precision of manufacturing. It's the future, and here, we are painting a new reality in the heart of industry.
Conclusion
As we have explored, the future of digital menus in bars is transformative, thanks to Augmented Reality (AR). Imagine immersing yourself in an ethereal blend of the digital and physical, where your favorite cocktail virtually appears before your very eyes. With AR, Orderific breathes life into your bar experience, turning an evening out into a delightful sensory journey. Beyond offering an enriched experience to customers, AR also paves the way for restaurant owners to enhance revenue, cut operational costs, and gain greater control. It's not just about technology; it's about bringing warmth, engagement, and a human touch to the bar scene. Schedule a FREE DEMO today for more information on how Orderific is pioneering this revolution. Remember, with AR, Reality is just the beginning.
FAQs
How does augmented reality technology enhance user experiences in various applications?
Augmented Reality enhances user experiences by creating immersive, interactive environments and providing real-time information overlay in various applications.
What industries have embraced augmented Reality for innovative solutions?
Retail, education, healthcare, tourism, real estate, and manufacturing are leveraging AR for innovative solutions.
What challenges and opportunities are associated with augmented reality development?
Augmented reality development presents challenges like high costs and technological limitations while offering opportunities like enhanced user engagement and immersive experiences.
How can businesses utilize augmented Reality for marketing and engagement?
Businesses can utilize augmented Reality for marketing by creating immersive, interactive advertisements to engage customers in new ways.