Step into the future of shopping with augmented reality (AR). Imagine strolling through supermarket aisles, guided by an interactive, immersive shopping experience. With AR, your grocery list comes alive. Products pop out with vital info, reviews, nutritional facts, and even cooking tips. No more guessing games or label-reading marathons. AR technology, seamlessly integrating with your online shopping habits, breathes life into your retail endeavors. Suddenly, shopping becomes more than a mere errand; it's an engaging journey. AR applications like "Ikea Place" promise to revolutionize customer experience, transporting the retail industry into a mixed reality. Sound too futuristic to be true? Well, hold onto your shopping cart! Because AR is transforming your supermarket experience right here, right now. Welcome to the new era of immersive shopping.
What is Augmented Reality?
In essence, augmented reality (AR) is a technology that enriches our physical world by overlaying digital information onto real objects. Yet, it's more than just tech jargon. AR brings a dash of enchantment to your everyday retail experience, making shopping more interactive, informative, and immersive. Picture this: you're in a supermarket, your smartphone in hand. You launch an AR app, and suddenly, the scene changes.
The cereal aisle transforms into a vibrant display of interactive data. Nutritional information, customer reviews, and recipe suggestions all hover around products in real time. It's the power of online shopping, united with the tangibility of a brick-and-mortar store. This fusion creates an AR shopping experience that's rich, engaging, and fun.
AR doesn't stop at product information. It brings a new level of personalization to the retail industry. You can visualize furniture in your home with IKEA Place or try on clothes virtually. The boundaries between online and offline shopping blur, offering customers a unique, mixed reality experience.
In the realm of AR, the customer is king. Their feedback shapes the immersive shopping experience, ensuring it's tailored to their needs. Retailers, too, realize the benefits, gathering vital insights about customer behavior and preferences. Indeed, AR technology isn't just shaping the future of the retail industry; it's sculpting a new era of immersive, customer-centric shopping.
How is Augmented Reality Different From Virtual Reality?
Although both are immersive technologies, augmented reality (AR) and virtual reality (VR) provide distinctly different experiences. VR takes you into an entirely artificial world, effectively shutting out your physical environment. It's immersive, yes, but a solitary journey. AR, on the other hand, embraces your surroundings. It builds upon reality, not replaces it.
Imagine wearing a VR headset. You're swarmed by digital imagery, disconnected from your tangible world. It's enchanting immersive, but devoid of the familiar. Now, picture-scanning the cereal aisle with an AR app. Suddenly, digital data dances around tangible products, enticing your senses. It's your supermarket but amplified.
In the retail industry, this distinction carries significant implications. VR may offer a dazzling, isolated adventure, but AR intertwines the digital and physical realms. It retains the human touch, the warm buzz of the shopping experience. Customers don't just shop; they engage, explore, and interact. They're not just consumers; they become co-creators of a mixed reality.
In conclusion, AR and VR are both transformative forces in the retail world. However, its AR, with its blend of digital information and real-world interaction, offers a more engaging, personal, and ultimately, human shopping experience.
Experiencing the Full Immersion of VR and the Augmentative Power of AR
Virtual reality (VR) immerses you in an artificial world, detaching you from your physical surroundings. It's as though you've slipped into a captivating digital realm filled with wonders unseen. It's a solitary journey, yet intensely immersive.
Imagine strapping on a VR headset. Instantly, you're transported to a virtual landscape teeming with digital wonders. It's a fascinating escape, but you're alone, cut off from your familiar world.
On the other hand, augmented reality (AR) enhances the world around you. It overlays your physical environment with interactive digital data. Think of it as a digital filter, tastefully sprinkling your reality with engaging enhancements.
Picture this: you're in your favorite supermarket, smartphone in hand. You launch an AR app, and suddenly, your surroundings come alive. Nutritional information, customer reviews, and product recommendations dance around the aisles. It's your everyday shopping trip, but now it's more engaging, informative, and personal.
While VR uses immersive technology to deliver a fully digital experience, AR brings a unique twist. It infuses your tangible world with digital magic, creating an enriching mixed reality. It's still your world, but it's been significantly augmented, ultimately delivering a more personalized, human shopping experience.
AR and VR: A Study in Portability and Equipment
Imagine slipping on a VR headset. Immediately, you're transported into a virtual universe, isolated from the physical world. It's an undeniably immersive experience, yet one that requires bulky equipment. VR's need for headsets, sensors, and sometimes even gloves can be a drawback, especially for those seeking a more casual interaction.
Now, picture a different scene. You're in a supermarket, smartphone in hand. You tap open an AR app, and suddenly, your surroundings are transformed. Nutritional information, customer reviews, and personalized product suggestions dance around. You are not in a different universe, but instead, your familiar shopping environment has been enriched with digital data. This is the power of AR. It delivers an immersive experience from the device most of us carry.
AR's portability significantly enhances its appeal. Unlike VR, it doesn't require heavy-duty equipment. You only need a smartphone and an AR app to unlock a new shopping experience. AR doesn't replace reality but augments it, infusing every shopping trip with an engaging, digital twist. And the best part? It's all available at your fingertips. Welcome to the era of portable, accessible, and genuinely immersive AR shopping.
More People Can Experience AR than VR
Undeniably, AR has a broader reach than VR. Notably, it's due to the simplicity of its requirements. One needs only a smartphone, an almost ubiquitous device in our modern world. Consequently, AR becomes accessible to anyone with a pocket-sized screen.
Picture this: you're wandering down the supermarket aisle, your trusty smartphone cradled in your hand. With one tap, your mundane shopping trip transforms. Suddenly, the aisle teems with floating data – nutritional info, customer reviews, and personalized product suggestions. It's not some otherworldly experience reserved for the tech-savvy; instead, it's an accessible magic that brings life and color to your everyday retail ventures.
Moreover, the tangible benefits of AR extend beyond wide accessibility. Retailers and customers alike reap the rewards of this immersive technology. It offers a powerful avenue for businesses to understand and cater to customer needs. Simultaneously, it empowers customers, permitting them to enjoy a personalized, engaging shopping journey.
Indeed, AR brings a digital twist to the familiar, enhancing reality rather than replacing it. It's a testament to how immersive technology can be weaved seamlessly into our lives, making the shopping experience not just a chore but an adventure. So, strap in because the AR revolution is not just for the tech elite but for everyone. Welcome to the era of truly democratic, immersive shopping.
Types of AR Applications
Enter the exciting realm of augmented reality (AR) applications. It's a world where technology and imagination fuse, creating experiences that intrigue, engage, and mesmerize. Indeed, the journey through the types of AR applications is a feast for the senses, a thrilling blend of the tangible and digital.
Marker-based AR. Picture this: your smartphone scans a QR code, and suddenly, a 3D model springs to life on your screen. It's as if the marker has opened a portal, inviting you to peer into a digital dimension. This is Marker-based AR, a bridge between the physical and virtual worlds, breathing life into inanimate markers.
Markerless AR. Now, imagine an AR experience unbound by the need for markers. You're in a furniture store, your smartphone in hand. You point it at a vacant space in your living room, and voila! You're visualizing a couch right there in your home. Markerless AR empowers you to augment your surroundings with no markers required.
Location-based AR. Picture yourself exploring a new city, your smartphone guiding your way. As you point it at landmarks, historical facts, restaurant reviews, and local stories pop up on your screen. This is Location-based AR, a digital tour guide enriching your travels with information and interactive experiences.
Projection-based AR. Lastly, envision a future where digital projections interact with physical surfaces. A light point dances on your tabletop, responding to your touch and transforming the character into an interactive playground. This is Projection-based AR, turning the world into a canvas for digital interaction.
Indeed, these types of AR applications reveal the captivating potential of augmented reality. Whether Marker-based, Markerless, Location-based, or Projection-based AR, we're looking at a future where our physical and digital worlds seamlessly blend.
The Magic of AR in E-commerce
The e-commerce sector has found a magic wand in augmented reality (AR). Picture this: you're comfortably seated at home, smartphone in hand. A few taps on your device, and you're transported to a digital storefront. It's your personal, virtual shopping center brought to life by AR. Here's where it gets thrilling!
Suddenly, your living room transforms into a fitting room. With a mere swipe, you're trying on outfits, experimenting with styles, and checking out how they look. In a flash, you're in a furniture store, visualizing that chic coffee table in your space.
What's more, AR doesn't limit you to visual trials. Ever wondered how that swanky new speaker sounds? AR lets you experience it, too. You're not just seeing products; you're experiencing them, feeling their impact on your space and life.
AR in e-commerce is not just about convenience; it's about connection. It's about bringing the shopping experience to you, making it personal, interactive, and real. It's a blend of comfort and curiosity, exploration and excitement.
Moreover, AR promises an inclusive, universal shopping experience. Whether you're tech-savvy or a novice, young or old, AR sweeps everyone into its enchanting realm. It's not just a technological marvel; it's a democratic revolution in retail. This is the charm of AR in e-commerce, a magical merger of digital and physical, and a new era of immersive shopping.
So, welcome to this fantastic journey of AR in e-commerce. It's your retail therapy amplified. Your shopping expedition is enriched. And the best part? It's just a tap away. Here's to the future of shopping: personalized, immersive, and incredibly human.
How E-commerce Businesses Are Using Augmented Reality
Imagine navigating your favorite online store, your eyes scanning through countless items, each one more enticing than the last. Suddenly, your shopping experience elevates from merely browsing to an interactive journey, brought to life by augmented reality (AR). E-commerce businesses are embracing this transformative technology, providing a sensory-rich shopping experience that is as remarkable as it is relatable.
Virtual try-on solutions. Picture this: you're eyeing a pair of chic sneakers. Rather than guessing your fit, AR allows you to try them on, ensuring they suit you virtually. In essence, your living room metamorphoses into a fitting room, all from the comfort of your couch.
Preview placement. Imagine contemplating a new sofa for your living room. With AR, you can visualize exactly how it fits into your space, eliminating the guesswork and sparking joy in your shopping experience.
Interactive user manuals. Have you ever needed help with deciphering a user manual? AR transforms this tedious task into an interactive guide, simplifying assembly and turning a chore into a delightful digital adventure.
Social media filters. Think of your favorite social media platform. Now, imagine trying on various makeup looks or hairstyles with the help of AR filters before making a purchase. It's a fun, personal, and engaging way of shopping.
Indeed, augmented reality infuses e-commerce with a delightful dose of digital magic. It's not just about buying; it's about experiencing, engaging, and enjoying. Welcome to the era of immersive e-commerce, where your shopping journey is personalized, interactive, and unequivocally human.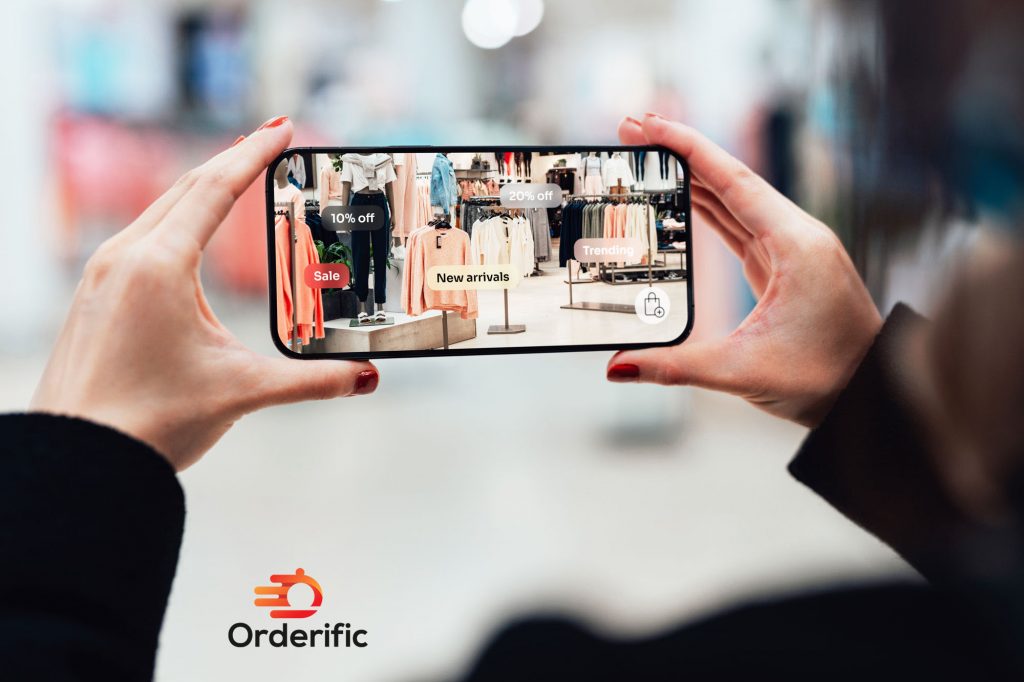 Augmented Reality Can Help Grow Your Store
If you're a store owner, get ready for a transformative shift. Augmented Reality (AR) is not just a fleeting trend; it's a game-changer. Step into a world where technology uplifts the shopping experience. Be warned, it's a journey filled with wonder, excitement, and endless possibilities.
Initially, you might feel awestruck by the technological marvel that AR is. But soon, it becomes an integral part of your business narrative. Bask in the joy of seamless digital integration. Marvel at how AR empowers your customers, granting them the power to visualize, interact, and deeply connect with your products.
Picture this: a customer explores your online store. Suddenly, their browsing transforms into a sensory-rich journey. The immersive power of AR lets them virtually touch, feel, and try your products. It's not just shopping; it's an enchanting adventure where each product tells its tale.
But the magic of AR doesn't stop at customers. It extends to you, the store owner. AR offers valuable insights into customer behavior and preferences. These nuggets of information help you curate a more personalized, engaging shopping landscape.
Indeed, AR has the potential to transform your store from a mere shopping destination into a digital wonderland. It's a thrilling blend of technology and human connection. A realm where products come alive, and customers become explorers.
So, brace yourself for the AR revolution. Your store will not just grow; it will evolve, transform, and burst into an exciting new era of immersive shopping.
Increase Customer Engagement
Augmented Reality (AR) takes customer engagement to new heights. Imagine this: one tap on your phone, and the shopping aisle comes alive. You're no longer a shopper but an explorer, navigating a digital landscape rich with data. Suddenly, every product tells a story. Nutritional information, customer reviews, and personalized suggestions materialize at your command.
More than a technological marvel, this is a sensory experience, engaging sight, touch, and imagination. Each interaction, powered by AR, immerses you in a vibrant, digital world. A world that infuses shopping with wonder, curiosity, and discovery.
Moreover, AR doesn't transport you to a far-off digital realm. It enhances your current environment, making the familiar extraordinary. This is the essence of customer engagement in the era of AR. It's truly immersive, utterly engaging, and remarkably human. Welcome to the future of customer engagement, where technology and human connection meld seamlessly.
Reach New Customers
Step into the exciting world of Augmented Reality (AR). It's more than a tool; it's a gateway to new customers worldwide. Imagine this: you're a shopper scanning the digital marketplace. Suddenly, an AR-enabled store catches your eye. You're intrigued and drawn to the immersive, interactive experience it offers.
As you navigate the digital aisles, you're not just a shopper. You're an explorer, a witness to the seamless blend of technology and human touch. But the experience doesn't end there. The AI learns from your behavior, curating a personalized shopping journey just for you. The blend of technology and human touch isn't just engaging; it's captivating, drawing in new customers daily.
This is AR's power:
Bridging the gap between businesses and consumers.
Creating a global marketplace that's immersive.
Engaging and deeply human.
So, welcome aboard. Welcome to the future of retail, where every shopping trip is an adventure.
Reduce Returns
Augmented Reality (AR) is transforming the retail landscape, notably reducing product returns. Imagine this: you're browsing an online store. You spot a stunning dress. Rather than relying on mere images, AR lets you virtually 'try on' the outfit. You see how it fits, how it looks against your complexion, and even how it moves with you. It's a personal fitting room on your digital device.
AR's magic lies in its precision. It showcases products in accurate sizes and shapes, eliminating the guesswork. No more ill-fitting clothes, no more clashing colors. You experience the product before purchase, minimizing the chance of returns.
Moreover, AR's immersive power breeds confidence. You're not just buying; you're living the product. This connection reduces post-purchase doubts, further mitigating returns.
Indeed, AR is a win-win scenario. It enhances customer experiences while reducing operational costs for retailers. Welcome to the future of shopping, where returns diminish and satisfaction surges.
How to Bring Augmented Reality to Your E-commerce Store
Venturing into the captivating world of Augmented Reality (AR) in e-commerce is an exhilarating journey. It's akin to stepping into a digital wonderland, where the shopping experience transforms into an interactive adventure. Suddenly, your online store is more than a mere marketplace; it's a vibrant, sensory-rich landscape where every product tells a story.
Enthralling as this journey is, it begins with three crucial steps:
Clarify Your Business Objectives: Start by identifying your goals. Are you aiming for increased customer engagement, or is reducing returns your primary focus? Knowing your objectives is key to tailoring an effective AR strategy.
Identify Augmented Reality Tools You Would Like To Use: Next, explore various AR tools available. Whether it's virtual try-on solutions or interactive user manuals, choose the tools that align with your objectives.
Market Your New Tool: Lastly, spread the word. Utilize social media platforms, email newsletters, and SEO to showcase your new AR capabilities and attract customers to your immersive shopping experience.
Indeed, integrating AR into your e-commerce store is a journey of discovery. It's the future of shopping, where technology and human touch blend seamlessly to create an engaging, personalized, and incredibly human shopping experience.
Conclusion
In conclusion, augmented reality (AR) is not just a technology; it's a revolution in the supermarket industry. It's transforming the mundane task of shopping into an immersive, interactive adventure. By infusing our daily routines with a blend of digital wonder and human touch, AR redefines what it means to shop. Suddenly, supermarkets become sensory-rich landscapes, alive with information, interaction, and intrigue. AR doesn't just streamline shopping; it enriches it, enhancing our connection with products and creating an incredibly human shopping experience. As we enter this exciting new era, platforms like Orderific lead the charge, integrating world-class tech to make life easier for restaurant owners and customers. For those eager to immerse themselves in this AR revolution, Orderific invites you to schedule a FREE DEMO today.
FAQs
What is augmented reality, and how does it enhance the shopping experience?
Augmented Reality (AR) overlays digital information in the real world, making shopping interactive, immersive, and personalized.
Provide examples of how AR technology is currently used in immersive shopping experiences.
AR technology is used for virtual try-ons, previewing furniture placement in a room, interactive user manuals, and social media filters.
What challenges might retailers face when implementing augmented reality solutions for consumers?
Implementing AR presents challenges in terms of technical requirements, cost, user acceptance, and data privacy issues.
How can AR be leveraged to bridge the gap between physical and online shopping experiences?
AR bridges this gap by providing interactive and immersive online shopping experiences, mirroring the physical store environment.