Do you love the smell of freshly baked pizza? Are you a fan of traditional Italian thin-crust slices, woodfired pizzas, and other delicious variations? If so, get ready to discover something new – Backdoor Pizza in southern Utah! Nestled in the shadows of majestic red-rock terrain lies an unexpected surprise for all foodies and pizza lovers alike. Whether it's takeout or curbside pickup, let's explore what makes Backdoor Pizza such an amazing hidden gem.
The Backstory of Backdoor Pizza in Utah
BackDoor Pizza's journey through the heart of Southern Utah is a tale of culinary passion and community connection. What began as an unconventional venture soon turned into a local sensation. Chris Tamplin and his dedicated team embarked on a unique endeavor, using the power of social media to bring people together over a shared love for pizza.
In the early days, BackDoor Pizza found its roots within the confines of Chris Tamplin's own home. Harnessing the potential of Instagram, they revolutionized the concept of dining out by allowing eager patrons to secure their spots online. A remarkable aspect of their approach was their initial reliance on donations, emphasizing inclusivity and accessibility.
As the Southern Utah summer unfurled its scorching heat, BackDoor Pizza sought refuge within the sheltered confines of the MoFACo indoor market. This temporary haven marked the beginning of a more structured phase in their journey. Yet, it was only the precursor to their "permanent" abode, nestled within the St. George Downtown Farmers Market. Here, customers were granted the privilege to pre-order their pizzas through Instagram. A convenient solution that mirrored the contemporary dining experience.
The Menu at Backdoor Pizza
BackDoor Pizza's culinary artistry is a testament to the fusion of local excellence and creative innovation. With an unwavering commitment to sourcing local ingredients, Chris Tamplin curates a gastronomic journey that celebrates the region's bounty. Brought to life at the astonishingly high temperatures of 900 to 950 degrees Fahrenheit. Their pizzas thus undergo a metamorphic process in just ninety seconds.
Among their repertoire of delectable creations, "The Forester" stands out—a captivating reinvention of the classic mushroom pizza. This masterpiece boasts homemade crème fraîche, vibrant kale, and oyster mushrooms sourced from nearby Bishop Farms, enhanced by the zesty notes of lemon pepper and garlic oil. For the conscientious diner, BackDoor Pizza offers an array of vegan delights epitomized by "The Besto." This pizza marries the richness of pesto sauce with the creaminess of cashew ricotta cheese. Thus also complemented by juicy tomatoes and the satisfying bite of vegan sausage.
1. Signature Pizza Combinations
The essence of Backdoor Pizza's culinary artistry is embodied within their Signature Pizza Combinations. Each masterpiece is a symphony of flavors. Thus skillfully intertwining unexpected ingredients to craft a medley of tastes that leaves patrons yearning for more.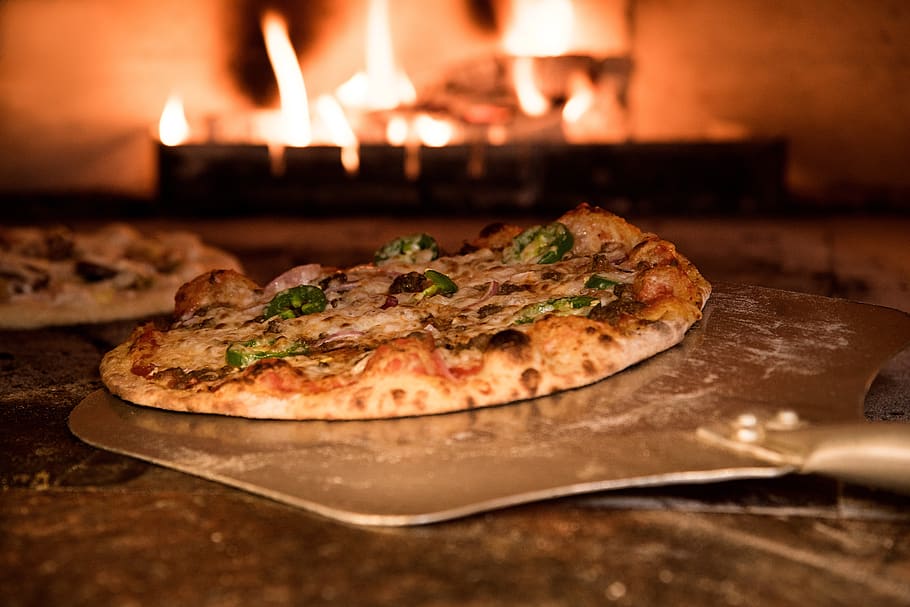 The "Pesto Pear" pizza is a tantalizing melody of elements. The house-made pesto harmonizes with velvety mozzarella and aged parmesan. While the delicate sweetness of Bartlett pears dances alongside the lively notes of red onions. All this is accompanied by the satisfying crescendo of roasted pistachios, creating a harmonious composition that lingers on the palate.
In contrast, the "Heat Wave" pizza sparks a sensory explosion. The spicy marinara orchestrates a fiery rhythm, accented by the richness of molten mozzarella and the spirited performance of zesty pepperoni. The bold jalapeños add a daring interlude, only to be tempered by the soothing cadence of honey, resulting in a culinary sonnet that reflects Backdoor Pizza's unwavering commitment to pushing the boundaries of conventional pizza, crafting innovative and unforgettable experiences with every slice.
2. Build-Your-Own Pizza Options
For those who relish the role of the maestro behind their meal, Backdoor Pizza graciously offers the Build-Your-Own Pizza options. Customers can curate their own culinary symphony, starting with a foundation of hand-tossed dough and selecting from an array of fresh, high-quality toppings and sauces. This personalized approach ensures that every pizza is a unique expression of individual taste, a canvas where imagination knows no bounds.
3. Appetizers and Sides
Beyond the realm of pizza, Backdoor Pizza extends its creative prowess to appetizers and sides. Among the offerings, roasted chicken wings take center stage, embodying the perfect balance of crispy exterior and succulent, flavorful meat. These tantalizing wings offer a fitting prelude to the main event and are a testament to Backdoor Pizza's dedication to delivering a holistic dining experience.
4. Drinks and Desserts
The journey at Backdoor Pizza doesn't end with the final slice. The menu features a selection of drinks and desserts to complement the gastronomic adventure. Whether it's a refreshing beverage to quench your thirst or a sweet treat to round off the meal, the array of drinks and desserts provides a satisfying conclusion to the culinary escapade.
What Makes Backdoor Pizza So Special?
Nestled in the heart of Southern Utah, BackDoor Pizza stands as a testament to the vision of a skilled chef who transformed his own backyard into a canvas of culinary excellence. The founder, Chris Tamplin, hailing from a background of high-end restaurants, embarked on a journey to reimagine dining as a universal experience. BackDoor Pizza's essence lies in its exceptional approach—a fusion of casual charm and gourmet finesse. With an ambiance that invites relaxation and conviviality, it has become a haven for those seeking a distinct departure from the conventional.
What sets BackDoor Pizza apart is not just its idyllic location but also its culinary philosophy. Chris's culinary ingenuity thrives on blending the finest ingredients with creative innovation, leading to flavor combinations that surprise and delight. By meticulously sourcing local produce from esteemed establishments such as Bishop Farms, Rise Garden, and Heirlooms Only, BackDoor Pizza not only ensures top-notch quality but also pays homage to the bountiful agricultural riches of Utah.
As Chris eloquently puts it, the pizzeria's mission goes beyond mere gastronomy; it's about celebrating the land, culture, and people that shape the region. By striving to craft a unique "Utah-style pizza," BackDoor Pizza echoes the sentiment of creating an experience deeply rooted in the local spirit. This dedication transforms every bite into an exploration of Utah's culinary heritage, making BackDoor Pizza a destination where authenticity and innovation intertwine to craft an exceptional dining encounter.
What Customers Are Saying About Backdoor Pizza
Backdoor Pizza has garnered a predominantly favorable customer review, with accolades centering around the exceptional pizza quality and the inventive interplay of flavors. Enthusiastic patrons frequently commend the uniqueness of the taste combinations. However, a few observations have surfaced, indicating that the restaurant's popularity sometimes translates to bustling activity and longer wait times, particularly during peak hours.
How to Find Backdoor Pizza
 Backdoor Pizza is nestled in the vibrant city of St. George, Utah. It beckons to those seeking an exceptional culinary adventure. To discover this hidden gem, prospective customers can embark on a virtual journey by visiting Backdoor Pizza's official website or navigating their engaging Instagram page. 
Here, a world of information unfolds, providing insights into the restaurant's tantalizing offerings, upcoming pop-ups, and exciting events. Through the lens of technology, patrons can anticipate their culinary escapade, staying connected to the latest updates and embracing the anticipation of savoring delectable dishes crafted with care and creativity.
Wrapping Up!
In its entirety, Backdoor Pizza extends beyond the realm of culinary indulgence, evolving into a heartfelt tribute to community bonds, the essence of local harvest, and the transformative essence of gastronomy. At its heart, it weaves a narrative of ardor, ingenuity, and resilience that effortlessly elevates the dining affair to extraordinary dimensions. So, when your journey brings you to the landscapes of this Southern Utah town, seize the opportunity to embark on an unparalleled epicurean odyssey that Backdoor Pizza unfailingly promises.
As we wrap up, remember that Backdoor Pizza's offerings stretch beyond the plate, embodying a celebration of life's vibrant tapestry. Stay tuned to our blog for immersive explorations into the realms of cuisine, travel, and lifestyle. Here at Orderific, our commitment is to provide you with captivating and insightful content that both sparks inspiration and enriches your understanding. For more riveting reads akin to this, delve into our collection of other Orderific blog posts. Together, we continue to unravel the diverse and intricate narratives of global culinary experiences, one plate and one story at a time.
FAQs
Q. Where is Backdoor Pizza located?
Ans. Backdoor Pizza is located in the city of St. George, Southern Utah.
Q. What are the hours of operation for Backdoor Pizza?
Ans. The hours of operation are based on appointment. Visit their website for more.
Q. Is Backdoor Pizza a sit-down restaurant or takeout only?
Ans. They offer both seating and takeout options to cater to all customer preferences.
Q. What kind of pizza does Backdoor Pizza serve?
Ans. They serve an array of pizzas with creative, locally-sourced ingredients and a fusion of culinary styles.
Q. Does Backdoor Pizza have gluten-free or vegan options?
Ans. Yes, they cater to diverse dietary preferences, offering both gluten-free and vegan pizza options.
Q. How much does a pizza from Backdoor Pizza cost?
Ans. The cost varies depending on the ingredients and size chosen by customers. Approximate costs are between $10 to $17.