Are you eager to elevate your baking skills to new heights? Do you want that bakery-style perfection with every bite but just don't have the right tools? High-quality bakery equipment is essential for successful bakers. With superior materials and well-crafted pieces, these products will make a real impact on your results. 
Get ready to achieve deliciousness in every dish and gain confidence in each recipe. Whether it's mastering complex bread shaping or producing perfectly baked goods time after time – discover why high-quality bakery equipment is the secret ingredient for success!
What Equipment is Needed to Start a Bakery?
Starting a bakery can be a delicious dream come true, but knowing the necessary equipment to get started can be overwhelming. Beyond the initial investment of renting a commercial kitchen or storefront, every baker needs several essential tools.
Here's a general list of equipment you might need:
Ovens:
Convection ovens
Deck ovens
Rack ovens
Rotary ovens
Mixers:
Planetary mixers
Spiral mixers
Horizontal mixers
Work Tables and Counters:
Stainless steel worktables for dough preparation
Display counters for showcasing baked goods
Baking Pans and Trays:
Various sizes and shapes of baking pans and trays
Mixing Bowls and Utensils:
Mixing bowls
Spatulas, whisks, measuring cups, and spoons
Refrigeration Equipment:
Walk-in refrigerators for ingredient storage
Reach-in refrigerators for perishable ingredients
It's a good idea to research and consult with experts in bakery equipment to make informed decisions about which equipment suits your bakery's requirements.
Ultimate Equipment List for a Bakery
Good bakery equipment plays a pivotal role in the creation of exceptional baked goods. From the first kneading of dough to the final presentation of a delectable pastry, the quality of equipment directly influences the outcome. Precision mixers ensure thorough blending, yielding consistent textures and flavors. Efficient ovens evenly bake, achieving the perfect rise, crust, and crumb.
Reliable proofing equipment aids in achieving the desired dough fermentation. These tools enhance productivity and empower bakers to elevate their artistry, transforming simple ingredients into mouthwatering masterpieces.
In the world of baking, investing in top-notch commercial bakery equipment isn't just about functionality; it's a commitment to crafting unforgettable experiences that delight the senses and leave a lasting impression on all who savor the creations.
Bakery Kitchen Equipment
Here are five high-quality bakery kitchen equipment recommended by chefs:
Bakery Machine Equipment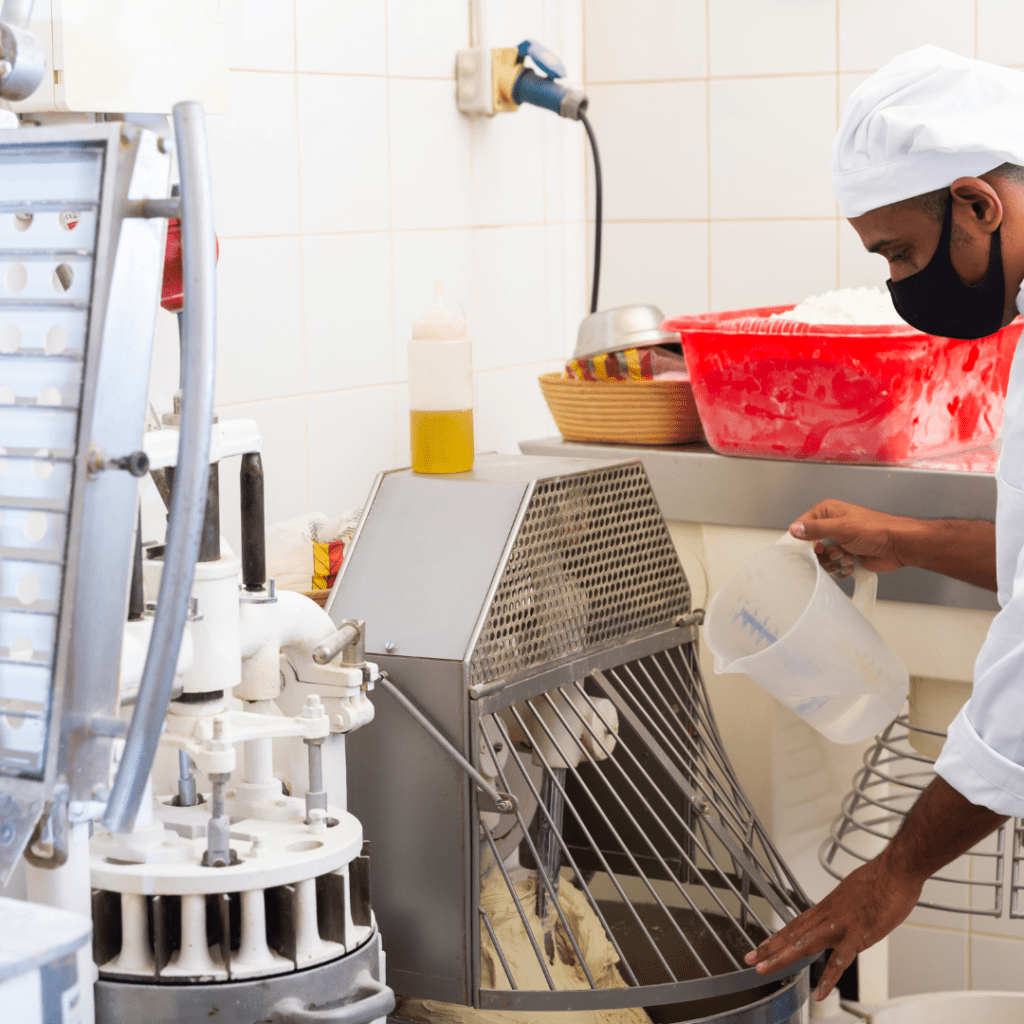 Here are five high-quality bakery machine equipment recommended by chefs:
Chefs and professionals highly recommend these bakery machine equipment options in the culinary industry for their performance, durability, and efficiency.
Bakery Safety Equipment
Bakery safety is paramount to ensure a safe working environment for both staff and customers. Here are five high-quality bakery safety equipment recommendations often recommended by chefs and experts:
Fire Extinguishers – Fire extinguishers are a crucial safety tool in any bakery. They can quickly suppress small fires before they escalate. Look for extinguishers that are appropriate for different types of fires, such as Class A (wood, paper), Class B (flammable liquids), and Class K (cooking oils).
Cut-Resistant Gloves – Chefs often recommend cut-resistant gloves for bakery staff who handle sharp tools and blades. These gloves provide an extra layer of protection against accidental cuts while cutting dough, slicing bread, or working with knives.
Non-Slip Mats – Non-slip mats are essential for preventing slips and falls in areas prone to wet or greasy floors, such as around sinks, ovens, and workstations. They provide better traction, reducing the risk of accidents.
Personal Protective Equipment (PPE) – PPE includes items like aprons, hairnets, and appropriate footwear. Aprons protect clothing from spills and heat, hairnets prevent hair from falling into baked goods, and slip-resistant footwear enhances safety on slippery surfaces.
First Aid Kits – A well-stocked kit ensures prompt attention to injuries. They should include bandages, antiseptics, adhesive tape, scissors, and other essential supplies.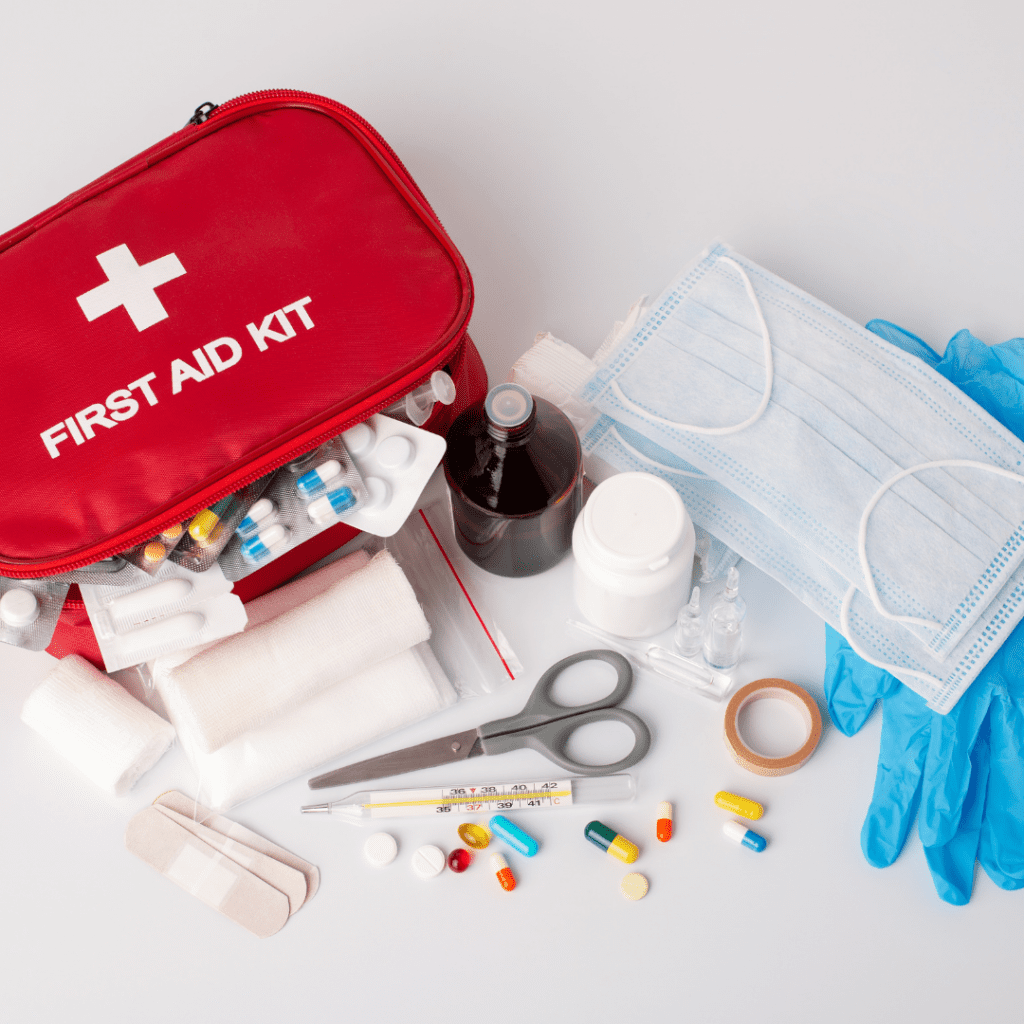 Remember that proper training in using safety equipment and implementing safety protocols is equally important. Regular safety drills, clear signage, and ongoing education about best practices can contribute to a safer bakery environment.
3 Things to Consider Before Buying Equipment for Bakery
When acquiring bakery equipment, it is crucial to meticulously evaluate various factors to guarantee well-informed decisions that align with your bakery's requirements and objectives. Here are three vital aspects to contemplate:
Type of Bakery and Baked Goods – The bakery you plan to establish will heavily influence the right equipment you need. Are you focused on bread, pastries, cakes, or a combination? Different baked goods require specific equipment. For example, a bakery specializing in artisan bread may require high-capacity ovens and dough mixers, while a pastry-focused bakery might need specialized equipment like sheeters and convection ovens.
Space and Layout – Evaluate the available space in your bakery and plan a layout that optimizes workflow and safety. Consider the dimensions and power requirements of the equipment you're considering. Ensure there's enough space for equipment, workstations, storage, and movement. Proper spacing can lead to efficient production and prevent accidents.
Budget and Long-Term Costs – Your budget will play a significant role in determining the equipment you can afford. Beyond initial costs, factor in ongoing expenses such as maintenance, repairs, energy consumption, and any additional accessories or attachments. It's often wise to invest in high-quality equipment that may have a higher upfront cost but is more durable and reliable in the long run, reducing maintenance and replacement costs.
Taking these considerations into account will help you make informed decisions when selecting equipment for your bakery, setting the stage for a successful and efficient operation.
Wrapping Up!
In conclusion, equipping your bakery with the right tools is crucial to success. From powerful stand mixers to safety-oriented equipment, every piece plays a significant role in streamlining operations and ensuring the safety of your team.
Share your experiences with these pieces of equipment in the comments below. Your insights could be invaluable to other aspiring bakers. And do check out other Orderific blogs on managing a successful business on our website!
FAQs
Q. How Much Does Bakery Equipment Cost?
Ans. Bakery equipment costs vary widely, depending on size and type.
Q. What Is the Most Important Equipment in a Bakery?
Ans. The oven is typically the most important bakery equipment.
Q. How Much Money Does it Take to Start a Bakery?
Ans. Based on scale and location, starting a bakery can cost from $10,000 to $50,000 or more.