Deciding to start a bakery is the journey's first step, but choosing the right bakery name is a milestone. While bakers pour love into their creations, a bakery's name holds the essence of that love and the unique identity of the business. 
A catchy bakery name can be a game-changer. It can set a shop apart from the rest and create a lasting impression on customers. Delve into the art of choosing that perfect name that makes everyone's sweet tooth tingle with anticipation.
Bakery Names Generator – How to Use for Naming Ideas
Finding the right bakery name is like discovering the perfect recipe; it demands a mix of creativity, relevance, and significance. For those who find this a tad challenging, a bakery name generator can be a convenient tool. Here's a guide on how to wield this tool effectively: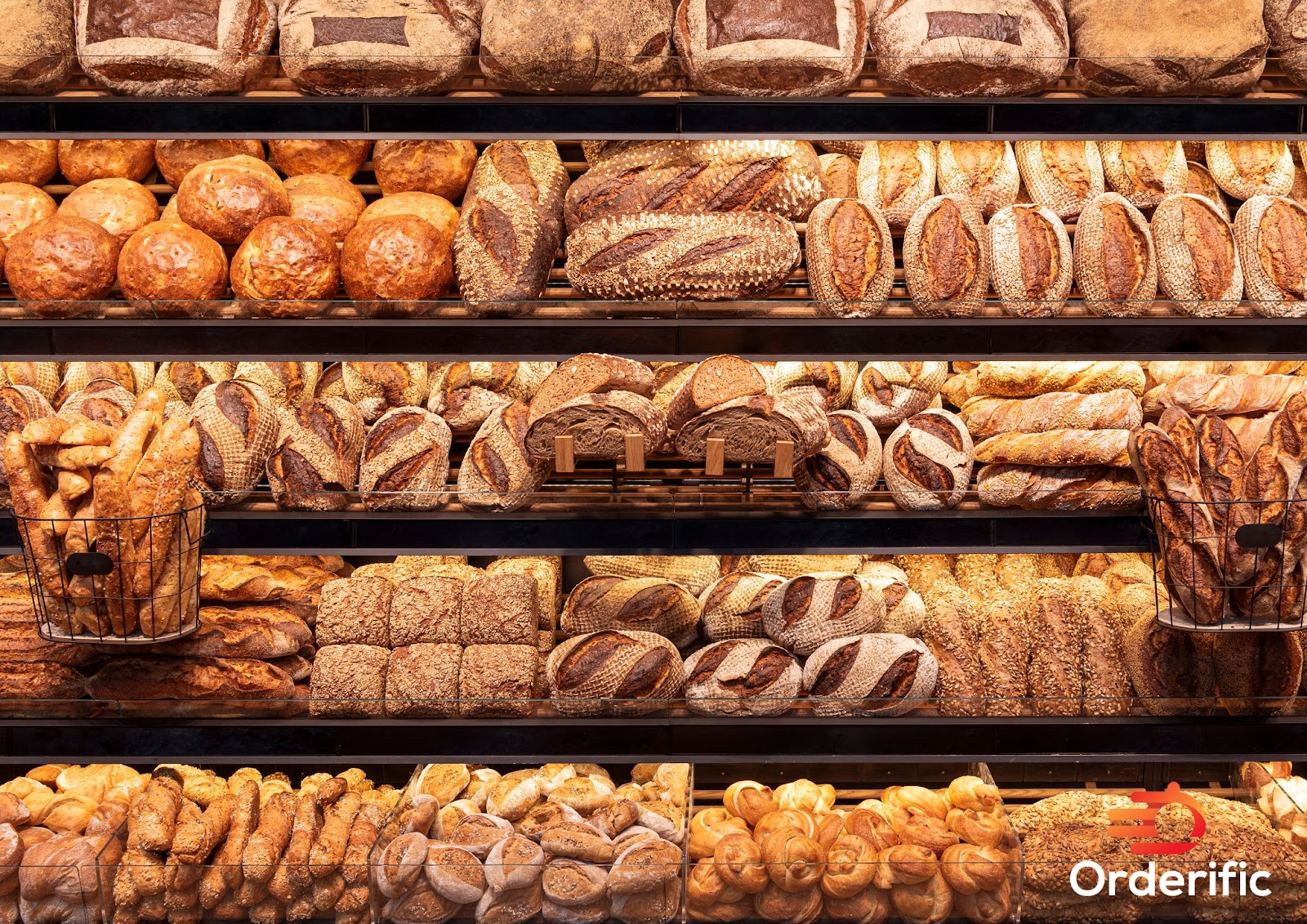 Create Bakery Keyword List:
When launching a bakery, your name will play a pivotal role in conveying your brand's ethos, style, and offerings. Before diving into the world of naming, you must first lay the foundation by curating a list of keywords that echo the heart and soul of your bakery. Let's break down how to form this crucial list:
Define Your Unique Selling Proposition (USP):
What makes your bakery stand out from the crowd? Perhaps it's your artisanal bread, gluten-free options, or your commitment to using only local ingredients. This USP will help you narrow down terms that are representative of your brand. For example, if you specialize in organic ingredients, words like "natural," "wholesome," or "organic" might top your list.
Delve into Descriptive Adjectives:
Consider adjectives that describe the feel, taste, and atmosphere of your bakery. Words like "cozy," "artisanal," "vintage," or "luxurious" can evoke a particular sentiment even before a customer walks through your doors.
Explore Your Bakery's Offerings:
Naturally, the products you offer can be a rich source of keywords. "Sourdough," "muffin," "pastry," "cupcake," and "tart" can all be part of your keyword reservoir. Sometimes, inspiration comes from the most simple sources.
Think About Your Target Audience:
Who do you imagine frequenting your bakery? Health-conscious individuals? Families? Young professionals? Identifying your target demographic can help you tailor your keyword list. For a younger crowd, terms like "trendy," "modern," or "hipster" might resonate, while a family-oriented bakery might lean towards words like "homestyle," "traditional," or "family."
Consider Geographic or Cultural Significance:
If your bakery is influenced by specific cultures or is located in a noteworthy area, weave that into your keywords. "French," "Mediterranean," or even a local landmark or street name can tie your bakery to a specific locale or cultural heritage.
Play with Alliteration and Rhymes:
Sometimes, the catchiest names come from words that flow well together. "Perfect Pastries," "Baker's Boulevard," or "Tart Town" can be both fun and memorable. Just say it out loud, and if it rolls off the tongue nicely, you've got it!
Generate Bakery Names:
Once you have your bakery keyword list in hand, the real fun begins: brainstorming a variety of potential bakery names. The goal here is to think broad and wide, letting your creative juices flow. Here's how you can effectively generate bakery names:
Combining Keywords:
Start by pairing different keywords from your list. For instance, if "artisanal" and "bread" are on your list, you might come up with "Artisanal Bread Haven" or "Bread Artistry." Combinations can be made from anything!
Play on Words and Puns:
Puns can be a delightful way to make your bakery name memorable. With keywords like "flour" and "flower," you might think of a name like "Flourish Blooms Bakery" or "Bread Blossoms".
Consider Your Offerings:
If your bakery has a signature product, you might want to incorporate it directly into the name. For instance, if you're renowned for your croissants, "Golden Croissant Creations" might be fitting.
Incorporate Your Story:
Every business has a unique story. Maybe it's a family recipe that sparked the bakery idea or a passion for sustainable baking. Names like "Heirloom Oven" or "EcoBake Delights" can speak volumes.
Use Alliteration:
Alliteration makes names catchy and easier to remember. Pairing two keywords that start with the same letter, like "Pastry Paradise" or "Baker's Bliss," can be effective. The sky's the limit, basically. 
Check for Name Availability:
As you come up with potential names, do quick searches to see if they're already in use. This will save time and avoid potential legal issues down the line. All you have to do is open your internet browser and type in the name you want.
Get Feedback:
Once you have a shortlist, don't hesitate to ask for opinions. Friends, family, or even potential customers can offer valuable insights. Sometimes, a name might sound great in your head, but feedback can provide a different perspective.
Think About the Future:
Choose a name that allows for growth. If you name your bakery "Just Brownies" but later decide to expand into cakes and pastries, the name might become restrictive. This is why you simply need to look into the future before deciding.
Ensure It's Pronounceable:
Your bakery name should roll off the tongue easily. If customers struggle to pronounce it, they might hesitate to recommend it to others. Perhaps steering clear of foreign words and languages is a good idea.
Trust Your Instincts:
While it's crucial to think logically and consider the factors above, sometimes the best names come from a gut feeling. If a name resonates with you and aligns with your bakery's brand and essence, it's worth considering.
Review and Edit Names Ideas
After generating a plethora of bakery names, the next crucial step is to refine and edit your ideas. This process will ensure that your selected name stands out, is memorable, and conveys the right message to potential customers.
Here's a step-by-step guide to help you in the reviewing and editing process:
Filter Out Similar Names:
Begin by eliminating any names that sound too close to existing bakery or business names. This will help in avoiding potential trademark conflicts and customer confusion. You want to be unique!
Reflect on Your Brand:
The name should encapsulate the essence of your bakery. Does it convey warmth, luxury, nostalgia, innovation, or family tradition? If a name doesn't align with your brand's values and vision, it might be wise to cross it off the list.
Test the Name Out Loud:
Say the names out loud. How do they sound when spoken? Names that are difficult to pronounce or don't have a pleasant ring to them can be reconsidered. It needs to sound confident and bold. To you, at least, right?
Check the Initials:
Consider the acronyms or initials of the potential names. Ensure they don't unintentionally spell out anything inappropriate or misleading. This can put you into a lot of trouble later on.
Gauge Public Opinion:
Test your shortlisted names with a diverse group – friends, family, potential customers. Their feedback can provide insights into first impressions and potential misinterpretations.
Visual Test:
Consider how the name would look on signage, business cards, or your website. A great name isn't just heard; it's seen. Think about typography, colors, and logo integration. Play around with all these elements first.
Sometimes, words can have meanings in different languages or cultural connotations. Ensure that the name doesn't inadvertently convey an unintended message. This may lead to confusion among certain customers.
Digital Footprint Check:
In today's digital age, ensure that your bakery name (or a close variation) is available as a domain for a website. Also, check its availability across major social media platforms. You don't want that kind of competition, correct?
Flexibility for Future Growth:
Ensure that your name remains relevant even if you expand your offerings or scale your business. A name too specific can be limiting, and it can prevent you from growing your business in the foreseeable future.
Trademark Search:
Lastly, conduct a thorough search to ensure your chosen name isn't trademarked. You don't want legal troubles down the line. This is probably the most important when it comes to legal matters and finance.
Select Final Bakery Brand Name:
Selecting the final name for your bakery is a culmination of all your brainstorming, research, and feedback gathering. This is not just a name; it's a representation of your brand, your dream, and your passion for baking. The process, akin to presenting the final dish after hours of preparation, should be approached with careful consideration. Here's how to make that final selection:
Shortlist Your Favorites:
From the edited list, choose your top three to five favorites. These should resonate most with the brand image you want to project and the emotions you wish to evoke in your customers.
Revisit Your Brand Vision and Mission:
Align the shortlisted names against your bakery's vision and mission. Which name encapsulates them the best? A bakery focusing on organic ingredients might benefit from a name that evokes nature and authenticity.
Emotional Resonance:
Does the name stir any emotions? A bakery's name, much like its aromas, should evoke feelings of warmth, comfort, joy, or nostalgia. We all have that special one we like to visit frequently. Make yours a place like that.
Versatility:
Consider the versatility of your chosen name. If you plan to expand your bakery or diversify into different baked goods, ensure the name will still be relevant and representative.
Feedback Loop:
Re-gather your trusted group and seek their opinions on your shortlisted names. Sometimes, fresh perspectives can offer clarity. Hearing other people's opinions will help you decide much more easily. 
Visual Representation:
Imagine the name on bakery signage, packaging, and promotional materials. Consider designing a mock logo for the top names to see which one stands out the most visually. Think of the fonts and colors.
Availability Check:
Before finalizing, recheck the availability of the domain name, social media handles, and especially the trademark status. It's essential to ensure that your bakery name is legally available.
Gut Instinct:
Lastly, trust your gut. You've done the research, sought feedback, and visualized the name in multiple scenarios. Which one feels right? Go with the one that feels the most natural to you.
Trademark Your Bakery Name:
Protecting your bakery name is akin to sealing a freshly baked pie; it ensures that your creation remains yours alone. Trademarking your bakery's name grants you exclusive rights to use it and prevents others from using a name confusingly similar to yours. Here's a step-by-step guide on how to trademark your bakery name:
Preliminary Search:
Before initiating the trademarking process, conduct a preliminary search on the U.S. Patent and Trademark Office's (USPTO) online database. This step helps determine if a similar trademark already exists. If there's a match, you may need to reconsider your chosen name.
Determine Appropriate Class:
Every trademark is categorized under specific classes. For bakeries, it's usually under the "Restaurant Services" or "Bakery Goods" categories. Ensure you choose the class that accurately represents your business.
Prepare a Detailed Description:
When filing for a trademark, you'll need to provide a clear and concise description of your services. This might include a list of your main products, the style of your bakery (e.g., patisserie, bread-focused, cafe-style), and other relevant details.
Provide a Specimen:
The USPTO typically requires a specimen that shows the bakery name in use in commerce. This could be a photo of your bakery's signage, a screenshot of your website, or labels and packaging bearing the bakery's name.
Complete and Submit the Application:
Once all the preparatory steps are done, you can proceed to fill out the trademark application on the USPTO website. Make sure to review all details thoroughly before submission.
Pay the Filing Fee:
The USPTO requires a fee when submitting a trademark application. The cost can vary based on the method of application and the number of classes you're applying under. Prepare your budget accordingly, so as to avoid any inconvenience. 
Monitor the Application:
After submission, you can monitor the status of your application online. The USPTO might communicate with you regarding any issues or clarifications needed. Either way, make sure you monitor your application regularly.
Respond Promptly:
If the USPTO sends an "Office Action Letter" asking for further information or pointing out issues with your application, respond as promptly and thoroughly as possible. Read all about it in the link above. 
Maintain Your Trademark:
Once approved, maintain your trademark by using it consistently in your business operations. You'll also need to file specific maintenance documents periodically so as to keep everything updated. 
Reserve your Bakery Domain Name:
In today's digital age, having an online presence is crucial for any business, and your bakery is no exception. Reserving a domain name ensures you have a dedicated virtual space where customers can learn about your products, place orders, or simply get to know your brand. Here's a roadmap to reserving your bakery domain name:
Start with Research:
Before you settle on a domain name, research to see if your preferred name is available. Websites like GoDaddy, Namecheap, or Bluehost offer search functions to check domain name availability.
Stick to Simplicity:
Your domain name should be easy to spell, pronounce, and remember. Avoid using numbers, hyphens, or any other characters that might confuse customers. This will be a good long-term decision.
Choose the Right Domain Extension:
While .com is the most popular and recognized, there are many domain extensions available nowadays. For a bakery, you might consider ".bakery" or ".cafe," though these are less common and might not be as instantly recognizable.
Consider SEO (Search Engine Optimization):
Including keywords related to your business, like 'bakery,' 'cakes,' or the specific city or area you're located in, can improve your website's visibility on search engines. You will basically reach a higher number of potential customers.
Act Quickly:
Good domain names are snapped up fast. If you find that your desired domain is available, don't hesitate to purchase it. Even though it may leave you in doubt, this is definitely a good way to go.
Think Long-Term:
Choose a name that you'll be happy with for years to come. Rebranding later can be costly and time-consuming. Basically, you will be forced to do it all over again, and you might end up regretting your business decisions.
Protect Your Brand:
Consider registering variations of your domain name to prevent competitors from registering something too similar. For example, if your bakery is called "Sweet Delights," you might register both "SweetDelightsBakery.com" and "SweetDelightsCafe.com."
Ensure Privacy:
When registering, opt for domain privacy protection if it's offered. This service (often offered at an additional fee) hides your personal information from being publicly visible in the WHOIS database, protecting you from potential spam or unsolicited contact.
Set Up Automatic Renewal:
The last thing you'd want is to accidentally lose your domain because you forgot to renew it. Setting up automatic renewal ensures your domain remains yours year after year.
Consider Hosting:
While your primary concern might be the domain name, you'll eventually need a hosting service if you plan to set up a website. Some domain registrars offer hosting services as well, so consider bundling these services if it's convenient and cost-effective.
Conclusion
Embarking on a bakery business adventure is not just a journey into the world of flavors, textures, and aromas but also into the realm of branding, identity, and memorable experiences. The significance of selecting the perfect name cannot be overstated, as it's much more than just a label; it becomes the heartbeat of your brand, resonating with every customer who walks through your doors. 
Whether you lean towards whimsical names like "Nutty Creations" to showcase your expertise in nut-infused delicacies or opt for a more magical allure with monikers like "Cake Lair", the chosen name becomes an embodiment of your bakery's ethos, spirit, and offerings. It's the first impression, a lingering aftertaste, and the story that customers share with their friends.
So, as you knead the dough of your budding enterprise, allow the naming process to ferment naturally, drawing inspiration from every corner. Take your time, immerse yourself in the creativity, and select a name that's not only catchy but also echoes the passion, craftsmanship, and delectable artistry of your bakery.
In case you want more content like this, visit Orderific right now!
FAQs:
1. How do I create a unique bakery name?
Creating a unique bakery name involves a blend of creativity, relevance to your offerings, and understanding your target audience.
2. Is a bakery a good business?
Yes, a bakery can be a lucrative business, especially if it offers a unique product or experience that attracts and retains customers.
3. How much money do bakery owners make?
On average, small bakery owners might earn between $30,000 to $50,000 a year, while owners of larger establishments or those in prime locations might earn six figures.
4. Are bakeries profitable?
Yes, bakeries can be profitable. However, like any business, profitability depends on effective management, quality products, ideal location, and excellent customer service.
5. How do you price baked goods?
Pricing baked goods involves considering the cost of ingredients, labor, overheads like rent and utilities, packaging, and desired profit margin.