Introduction
Welcome to a world where the bar menu offers an exciting fusion of culinary delights and well-crafted beverages. Taste buds are delighted with crispy fries, perfectly seasoned and served with a twist of lime for an unexpected kick. Juicy pork is lovingly basted and slow-roasted to perfection. Seafood offerings feature succulent shrimp and flavor-packed roasted corn, while the creamy goodness of mozzarella and cheddar cheese selections can be indulged in. Health-conscious individuals will find our fresh lettuce and cherry tomato salad, served with a light, tangy garlic, and cilantro dressing, a must-try. The drink selection includes smooth, cold brews of selected beers and delicate notes of white wine to quench every thirst. So, guests can sit back, choose their favorite dish, and prepare for a gastronomic journey like no other.
What Are Well Drinks?
Well drinks, often called 'house drinks,' are a standard feature on bar menus. They typically consist of a selection of affordable spirits mixed with simple mixers. A guide is provided if one wonders how to pair these well drinks with the culinary offerings.
For instance, a simple vodka tonic pairs well with crispy, golden-brown fries. The carbonated drink complements the savory nature of the fries, seasoned with a unique blend to enhance their flavor. Another option is pairing slow-roasted, succulent pork with a classic whiskey on the rocks. The smoky notes of the whiskey harmonize with the rich, juicy pork, creating a delightful blend of flavors.
In case of any concerns regarding food allergies, it is advisable to consult the staff. They are available to assist with information about potential allergens in the dishes, ensuring a safe and flavorful dining experience. So, guests are encouraged to make their choices and embark on a journey of mouth-watering food and expertly crafted drinks.
How To Order Well Drinks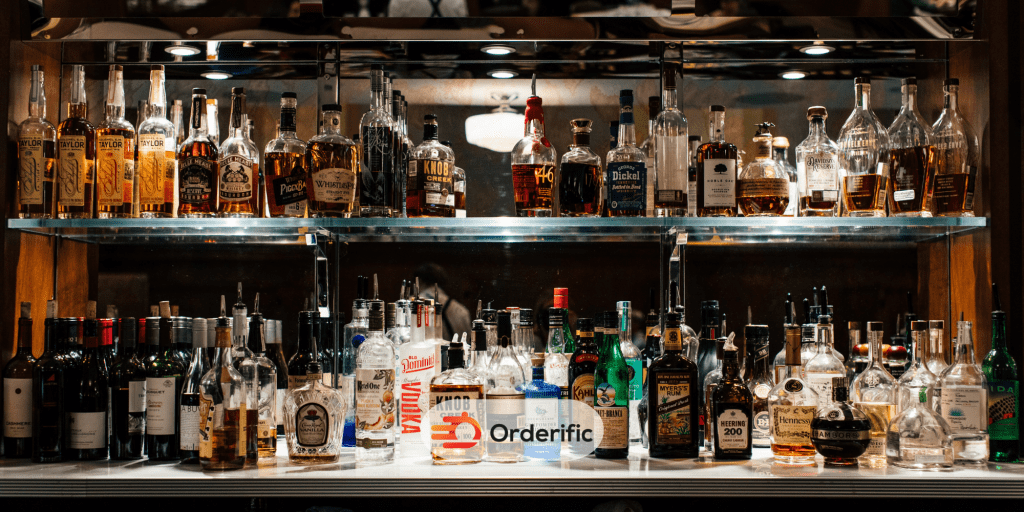 Ordering well drinks is an uncomplicated process. Customers only need to specify their preferred spirit and mixer, such as "whiskey with soda" or "gin and tonic". The bartenders skillfully mix the drink to perfection. The essence of finely crafted glass can be found in its simplicity. Patrons can relish the delightful fusion of flavors in the well drinks, expertly paired with the exquisite culinary offerings.
The Benefits Of Offering Well Drinks In Your Bar Menu
Versatility: The vast range of well drinks provides a delightful variety for patrons. From vodka tonics to whiskey and soda, there's a well drink to pair with every culinary offering – crispy fries or succulent seafood.
Uncomplicated: Well drinks are straightforward. Their simplicity appeals to a broad array of customers, while the ease of mixing them allows for efficient service even during peak hours.
Ideal for Pairing: The basic yet distinct flavors of well-drinks make them an excellent accompaniment to various dishes. For instance, a gin and tonic can enhance the flavors of a seafood dish, while a whiskey on the rocks pairs well with slow-roasted pork.
Allergen Awareness: The staff knows the ingredients in well drinks and food offerings, making it easier for patrons with food allergies to make safe choices.
Well Drinks List: What To Add To Your Bar Menu
Vodka Well Drinks
The vodka well drinks offered are known for their simplicity and flavorful profiles. Guests can choose from a selection of classics, such as the Vodka Tonic, characterized by its light and crisp taste. This pairs perfectly with the crispy and seasoned fries available. Alternatively, they can try the Vodka Cranberry for a sweet and tart experience, complementing our seafood offerings. Each sip promises a refreshing blend of flavors that creates the ideal accompaniment to our culinary delights.
Gin Well Drinks: Exploring the Bar Menu Options
Their gin well drinks offer a delightful experience for those seeking a unique and aromatic taste. Whether they opt for the classic Gin and Tonic or explore the vibrant flavors of a Gin and Juice, both options perfectly complement the exquisite seafood menu, elevating their culinary adventure.
Rum Well Drinks: A Guide to the Bar Menu Selections
Indulge in the exotic allure of our rum well drinks, the perfect addition to our bar menu. Every sip promises a mini-vacation from a classic Rum and Coke, with its balance of sweet and earthy tones, to a fruity Rum Punch. These drinks pair exceptionally well with our spicy dishes, offering a lovely respite from the heat.
Whiskey Well Drinks
Immerse yourself in the rich, smoky charm of our whiskey well drinks. Savor the robust flavors of a classic Whiskey Sour, or enjoy the enthusiasm of a Whiskey and Soda. With their solid and satisfying notes, these drinks pair wonderfully with our savory meat dishes, creating a perfect harmony of flavors.
Tequila Well Drinks: Navigating the Bar Menu Choices
Indulge in a tantalizing array of tequila well drinks, carefully crafted to perfectly complement our diverse food menu. Discover the invigorating burst of flavors in a classic Tequila Sunrise, or savor the refreshing simplicity of a Tequila and Soda. These vibrant libations flawlessly harmonize with our zesty dishes, elevating the culinary adventure for discerning palates.
Conclusion
The inclusion of a diverse range of well drinks enhances the dining experience for patrons and complements the food selection, resulting in a harmonious blend of flavors that leaves a lasting impression. Furthermore, one can savor the crispness of a vodka tonic paired with crispy fries or indulge in the rich, smoky notes of a whiskey paired with slow-roasted pork. The balanced flavors are sure to tantalize the taste buds. Don't miss out on embarking on a gastronomic journey with the diverse selection of well drinks and culinary delights available. Lastly, If you are intrigued by our offerings and wish to experience this delightful harmony of flavors at your bar, a demo with Orderific can be scheduled. Let Orderific guide you through enhancing your menu offerings and transforming the dining experience of your patrons.
FAQs
What are the common items typically found on a bar menu, besides beverages?
Common items typically found on a bar menu, besides beverages, include appetizers like wings, nachos, fries, sliders, and cheese plates.
Can you provide insights into the best way to design a well-rounded and appealing bar menu?
Sure! A well-rounded and appealing bar menu should be clear, categorically organized, and include diverse options to cater to a variety of tastes.
Are there any popular food and drink pairings that can be featured on a bar menu?
Absolutely! Classic pairings include beer with burgers, white wine with seafood, and whiskey with steak.
How often do bar menus change, and what factors contribute to the decision-making process for menu updates?
Bar menus typically change seasonally, driven by factors like customer preferences, seasonality of ingredients, and the introduction of new beverages.