Welcome! You're about to dive into the world of the Barback. This unsung hero of the bar industry is always on the go, ensuring a seamless, thrilling bar experience. A barback—a bar runner—works tirelessly behind the scenes. They assist bartenders, maintain supplies, and keep the bar area in top shape. From restocking beer kegs and liquor bottles to cleaning glassware and preparing garnishes, their role is pivotal. In the vibrant nightlife of places like New York, a great barback is key to customer service excellence. This guide will help you draft the perfect barback job description, capturing all duties and responsibilities. Ready to tap into this vital role? Let's explore.
How to Write a Barback Job Description
Creating a barback job description requires a blend of precision and creativity. Let's begin by painting a picture of a typical night in the life of a barback. Imagine the buzz and clink of a busy bar. The Barback, often the unsung hero, moves nimbly behind the scenes. Their hands expertly restock beer kegs and liquor bottles while their eyes scan their surroundings for any sign of disarray.
Now, how do we articulate this experience into a job description? Here are some tips:
Start with a Job Summary, providing an overview of the Barback's role. Keep it short but informative.
Next, list Duties and Responsibilities. This should be comprehensive, capturing tasks like maintaining the bar area, assisting bartenders, and ensuring smooth service.
Remember to mention additional tasks such as cleaning glassware and preparing garnishes. Remember, the devil is in the details.
Skill requirements are crucial. Highlight expected skills like customer service and familiarity with bar equipment and menu items.
Finally, provide some context about the location. A barback's role can vary from the bustling nightlife of New York to a cozy local tavern.
This barback job description is more than just a list of tasks. It's a snapshot of a dynamic, vital role within the bar industry. It invites potential staff members to become part of an exciting, fast-paced world. Crafting it carefully will help attract suitable candidates, ensuring your bar never misses a beat.
List of Duties for the Job
Stepping into the shoes of a barback, we find a whirlwind of tasks that keep the bar humming. Each duty is a cog in a well-oiled machine, crucial to ensuring a smooth sailing bar operation.
Restocking: Imagine the symphony of clinking bottles as the Barback replenishes the bar's liquor and beer kegs. This task is central to keeping drinks flowing and customers happy.
Cleaning: With deft hands, the Barback ensures all glassware sparkles, enhancing the customer experience while maintaining hygiene.
Preparation: The slicing of fresh garnishes, another key duty, brings a splash of color and flavor to the bar's menu items.
Maintenance: The Barback keeps the bar area neat and welcoming, swiftly attending to spills or mishaps.
Assisting the Bartender: In a supportive role, the Barback aids the bartender, lending an extra hand during busy hours.
Customer Service: Ensuring a memorable bar experience, the Barback plays a significant role in serving customers, highlighting their importance in the customer service chain.
This list paints a vivid picture of a day in the life of a barback. Each of these tasks, though seemingly ordinary, collectively elevates the atmosphere and functionality of the bar. Excellence in these duties sets apart a good barback from a great one, making the role an indispensable asset in the throbbing heart of the bar industry.
Barback Job Description Sample
Step into the vibrant nightlife world as a crucial part of our team. We are seeking a diligent, observant, and proactive Barback. Your primary role? Ensuring a lively, well-stocked bar area at all times. You'll restock beer kegs and liquor bottles, keeping the rhythm of our bustling bar alive. Your deft hands will keep our glassware sparkling clean, reflecting our commitment to hygiene and customer service. As you slice and prepare fresh garnishes, you'll add color and flavor to our diverse menu items. Your eyes will constantly scan the bar area, swiftly attending to any spills or mishaps maintaining the inviting ambiance our patrons love.
Assisting our bartenders during busy hours is a key duty. Your support will keep service smooth, even on the busiest night in New York. As a Barback, your role extends to direct customer service, ensuring each guest enjoys their visit. You are an essential link in our customer service chain, contributing to the memorable bar experience we strive to provide for every guest.
Your knowledge of bar equipment and proficiency in its use will be invaluable. This role requires strong skills in organization, customer service, and multitasking. Prior experience in the bar industry is a plus but optional. We're looking for a team player ready to dive into the fast-paced world of barbacks. If you're ready to join us, apply today!
Tips for Writing Effective Job Descriptions
A perfect job description is like a lighthouse, guiding potential candidates through the murky waters of job hunting. It shines a light on the responsibilities, expectations, and perks of the role, enticing suitable applicants to steer their career journey towards your company. Here are some tips to make your job description shine brighter:
Precision: Maintain accuracy when outlining responsibilities and expectations. Avoid vagueness and jargon.
Engagement: Craft the description with a blend of professionalism and friendliness. An engaging tone attracts a wider pool of applicants.
Skills: Highlight the essential skills needed for the job. But don't just list them. Paint a picture of how these skills are utilized in the role.
Company Culture: Imbue the narrative with the soul of your company. Let the candidates feel the vibe of your workspace.
Career Progression: Show potential growth paths. Ambitious candidates are drawn to companies that foster growth.
Salary and Perks: If feasible, indicate the salary range and benefits. It's a significant deciding factor for many candidates.
This finely tuned narrative, teeming with details and presented with flair, ensures your job description stands out. Whether the position is a bartender in the heart of New York or a barback ensuring smooth operations, your job description will invite potential staff members to join your team and contribute to your company's success.
Skills and Qualifications for a Barback
Essential Skills
Skill and agility, the Barback's trusted allies, are put to the test in the face of bustling bar crowds. Swiftness in restocking beer kegs, managing liquor bottles, and cleaning glassware becomes paramount. Equally crucial is the ability to multitask, juggling various duties from bar area maintenance to bartender assistance.
Attention to detail, another indispensable barback skill, aids in the seamless running of customer service. This skill ensures the perfect arrangement of menu items, a keen eye on bar equipment, and the preciseness of garnishing drinks. Furthermore, barbacks can spot the smallest signs of disarray, ensuring a neat, inviting bar atmosphere.
Communication, both with staff members and customers, forms the backbone of barback duties. A friendly demeanor and clear, polite expressions can turn an ordinary bar visit into a memorable one for customers. Moreover, teamwork, vital in supporting bartenders and coordinating with bar managers, hinges on effective communication.
Trustworthiness is a quality that shines in the handling of personal information, particularly during cash transactions. Honesty, coupled with a strong work ethic, forms the bedrock of barback responsibilities and contributes to a barback's reputation.
Preferred Qualifications
Previous experience working as a barback or in a similar role in the bar industry can give a barback an edge. Having first-hand knowledge of bar operations, including the rhythm of bar opening or closing procedures, is an added advantage. Familiarity with various types of drinks, from classic cocktails to the latest craft beers, offers a distinct advantage in ensuring customer satisfaction.
Knowledge of health and safety regulations is a valuable qualification. A barback aware of these will not only maintain a clean bar but also ensure a safe environment for staff and customers alike. Training using bar equipment, such as beer keg systems, is a preferred qualification that enables smooth operations.
First aid skills, while not mandatory for a barback job, can come in handy during emergencies, underscoring the importance of safety in the bar industry.
Additional Attributes
A great barback possesses physical stamina, handling the pressures of busy nights and long hours with ease. Additionally, a customer-oriented approach, critical in providing excellent service, can distinguish a barback in the bustling nightlife of cities like New York.
An appreciation for cleanliness and order, reflected in sparkling glassware and a well-organized bar area, speaks volumes about a barback's commitment. Lastly, a willingness to learn and adapt, crucial in the ever-evolving bar industry, is an attribute that sets apart an ordinary barback from a great one.
From the vibrancy of a busy bar to the quiet preparations before opening, the skills and qualifications of a barback are put to the test, shaping the barback job experience into an exciting journey.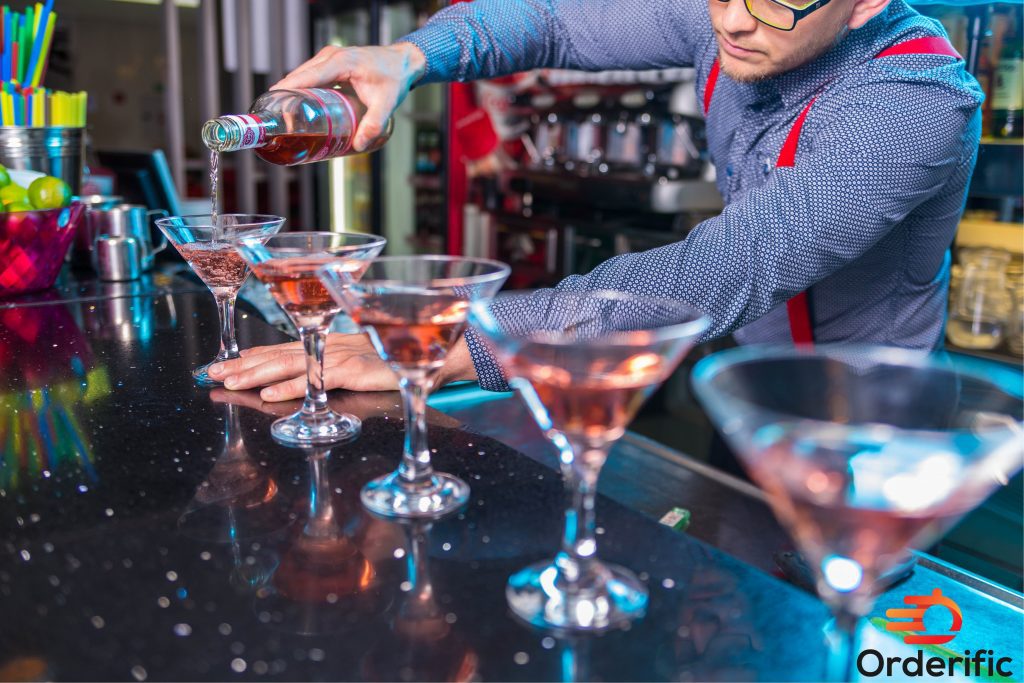 The Role of a Barback in Customer Service
A bustling bar, brimming with lively patrons, isn't the first place one might look for a lesson in customer service. Yet, in this vibrant setting, the unassuming figure of the Barback takes center stage. Often unnoticed, these unsung heroes play a pivotal role in enhancing the customer experience.
From the moment patrons enter the bar, the Barback's influence is evident. With meticulous attention to detail, they maintain a neat and inviting bar area. Each sparkling glass, each well-stocked beer keg, points to their tireless efforts.
Their role continues beyond there. When the bar pulses with patrons and the clock ticks towards closing time, the Barback's true prowess shines through. Their swift restocking of depleted kegs and bottles and their nimble dishware handling ensure service continues, even in the busiest moments.
Interactions with Customers
Beyond their behind-the-scenes contributions, barbacks often interact directly with customers. Their friendly demeanor and clear, polite communication skills turn ordinary bar visits into memorable experiences. The Barback, with its intimate knowledge of the bar and its offerings, can guide patrons through the menu, recommend drinks, and share fascinating insights about the drinks served.
A brief chat with a barback can turn a regular customer into a regular, fostering a sense of community in the bar. Their genuine interest in ensuring customer satisfaction and their readiness to assist significantly enhance the customer's bar experience.
Enhancing the Customer Experience
Ultimately, the measure of a barback's customer service lies in the overall experience they help create. When a patron walks into a well-organized bar and is served promptly with a well-crafted drink in a sparkling glass, it's the unseen efforts of a barback that have come to fruition.
Their ability to anticipate needs, swiftly restocking and cleaning, contributes to service efficiency. To adapt, handling pressure during peak hours ensures the bar's rhythm remains unbroken. Their interactions with patrons, steeped in politeness and warmth, add a personal touch to the customer experience.
The Barback's role may be largely behind the scenes, but their impact on customer service is undeniable. From their meticulous maintenance of the bar area to their direct interactions with patrons, their contributions shape every patron's experience. In the bustling world of bars, the Barback is a vital link in the chain of customer service excellence.
Career Growth and Opportunities for a Barback
Advancement Opportunities
Entering as a Barback, one steps into a world of opportunities. This foundational role is the first rung of a promising ladder in the bar industry. As Barbacks master the art of observation, they gain invaluable insights into bar operations. Each task, from restocking to cleaning, is a stepping stone towards more responsibility.
Gradually, the diligent Barback evolves, displaying proficiency in mixing drinks and engaging customers. This evolution paves the way to the next level: becoming a bartender. This progression, though challenging, is rewarding. A bartender's role offers more significant interaction with customers, providing the joy of creating memorable experiences.
Moreover, the climb continues beyond bartending. Exceptional bartenders, equipped with experience and leadership skills, can rise to managerial roles. Bar management offers an attractive prospect of overseeing operations, making strategic decisions, and leading a team. Undoubtedly, the bar industry abounds with advancement opportunities, offering a fulfilling career pathway.
Career Paths for a Barback
Primarily, a Barback's career path leads to becoming a bartender. Yet, the horizon of opportunities extends beyond that. The skills adopted as a Barback are transferable, proving useful in various roles across the hospitality sector. For instance, a Barback can segue into the restaurant sphere, leveraging its understanding of customer service and operations.
In the beverage sector, a Barback's knowledge of drinks proves valuable. Roles such as a sommelier or brewmaster beckon, providing an avenue to specialize in wines or beers. Additionally, the event management industry can benefit from Barback's expertise in bar setup and operation.
For those with an entrepreneurial spirit, the experience of a Barback can serve as a launchpad. A practical understanding of bar operations, customer preferences, and industry trends equips them to open their bar or pub. This path offers the thrill of creating a unique space, curating a drink menu, and cultivating a loyal customer base.
Lastly, those with a knack for teaching can transition into training roles within hospitality schools or corporate establishments. Here, they get to share their knowledge and experience, shaping the future workforce of the industry.
In essence, becoming a Barback is stepping into a portal of diverse career paths. Whether one aspires to rise within the bar industry or explore related sectors, this journey begins with the invaluable experiences gained as a Barback. The seeds sown in this role can bloom into a rewarding, dynamic career, proving that the Barback's role is indeed a launchpad to myriad opportunities.
Creating a Barback Job Description: A Step-by-Step Guide
Creating a Barback Job Description is akin to crafting a narrative that encapsulates the essence of the Barback role. Every word, every sentence, is a stroke on this canvas of responsibilities and expectations. The emerging picture isn't just a blueprint for potential candidates but a reflection of the company's ethos.
Identify Core Duties: Begin with the central responsibilities – restocking, cleaning, and aiding bartenders. This upfront clarity sets the stage for what's to follow.
Highlight Essential Skills: Agility, multitasking, and attention to detail – spotlight these. Their presence paints a picture of the dynamic barback role.
Outline Preferred Qualifications: Industry experience, familiarity with drinks, health and safety regulations – pen these down. Each qualification adds depth to the barback image.
Describe Additional Attributes: Stamina, customer-oriented approach, willingness to learn – remember these. They breathe life into the job description, lending it a human touch.
Showcase Career Growth: From bartender to bar manager, project the potential growth paths. This panorama of opportunities beckons ambitious candidates, making your job description an inviting beacon in the bustling bar industry.
Engaging, precise, and informative, this step-by-step guide to creating a Barback Job Description weaves a narrative that resonates with potential candidates. It transforms the mundane task of writing a job description into an enjoyable journey, guiding you to attract the ideal Barback for your establishment.
Conclusion
Crafting the perfect Barback Job Description is an art, much like mixing a fine cocktail. Each carefully chosen word, like an ingredient, blends into a rich narrative that captures the essence of the Barback role. Amidst the clinking of glasses and the hum of conversation, this role, as explained in this blog, comes alive. It's a world where agility meets attention to detail, where energy thrives amidst the buzz, and where growth opportunities abound. Similarly, Orderific facilitates a seamless restaurant experience for owners and customers alike. As the Barback ensures smooth bar operations, Orderific provides smooth restaurant operations, focusing on customer experience, revenue boost, and operational cost reduction. For a deeper glimpse into how Orderific can transform your establishment, schedule a FREE DEMO today.
FAQs
What are the responsibilities of a barback?
A barback's responsibilities include restocking supplies, maintaining cleanliness, assisting bartenders, and ensuring smooth bar operations.
How does a barback support the bartender and the bar?
A barback supports by restocking supplies, cleaning the bar area, and serving customers during peak times.
Are physical stamina and multitasking skills important for a barback?
Yes, physical stamina and multitasking skills are critical for a barback due to the demanding nature of the job.
Is experience required for a barback position?
Experience is not mandatory but can be beneficial, especially familiarity with bar operations and knowledge of various drinks.
Can a barback job lead to a career as a bartender?
Yes, starting as a barback often serves as the first step towards advancing to a bartender position.