Welcome to the Barbarian Brewing, where perfect blending and brewing are taken to the next level. At Barbarian Brewery, each step of brewing beer is carried out with controlled precision. With great attention paid to temperature, pressure, pH levels, aeration, and more, it's no wonder their brews are highly sought after by craft beer lovers everywhere. From selecting ingredients through fermentation & aging all the way until the final product is ready for sale! Enjoy discovering unique flavors and aromas that come alive within each handcrafted barrel – you won't be disappointed.
Introduction
Barbarian Brewing, a prominent name in the craft brewing scene, traces its origin to Boise, Idaho. Here, it has etched a unique story in the world of artisanal beer. Founded by James Long and Bre Hovley, Barbarian Brewing emerged onto the scene in 2015 with a passionate commitment to pushing the boundaries of traditional brewing. 
The founders' fascination with historical brewing techniques, unconventional ingredients, and innovative flavor profiles paved the way for the brewery's distinctive identity. From its humble beginnings as a small garage operation, Barbarian Brewing rapidly gained recognition for its experimental approach to brewing. Thus challenging norms and embracing the spirit of creativity.
Over the years, Barbarian Brewing's journey has been one of continual growth and exploration. The brewery's dedication to crafting exceptional beers led to the establishment of its taproom. Here, enthusiasts could directly engage with their unique concoctions. The brewery's commitment to quality, authenticity, and artistic expression has solidified its place in the craft brewing landscape. Thus making Barbarian Brewing a name synonymous with innovation and exceptional taste.
Where is Barbarian Brewing located?
For those with a penchant for exceptional brews, the name Barbarian Brewing likely rings a delightful bell. For the uninitiated, let us introduce you! Barbarian Brewing stands as a microbrewery that has been masterfully crafting innovative and distinctive craft beers since the year 2015.
Now, if you're curious about the geographical enchantment that gives birth to these magical concoctions, unfold your map and set your sights on none other than Garden City, Idaho. Yes, indeed, it is within the welcoming embrace of Garden City that Barbarian Brewing has chosen to establish its abode. Tucked in the heart of the Treasure Valley, this microbrewery has woven itself into the affections of local beer aficionados who hold a deep appreciation for top-notch quality, imaginative flavors, and an ambiance that wraps you in warmth.
So, for those wandering through the region, consider this your golden invitation to partake in the charm of Barbarian Brewing. It is a haven where a perfectly chilled brew awaits to greet you.
Where are Some Other Branches of Barbarian Brewing?
Beyond the confines of their cherished brewery taproom in Garden City, Barbarian Brewing also extends its reach and hospitality to beer enthusiasts with a downtown beer bar that beckons at 1022 W Main St, Boise, Idaho. This urban outpost serves as a testament to Barbarian Brewing's commitment to sharing its innovative creations with a wider audience. 
Nestled within the vibrant pulse of downtown Boise, this beer bar stands as a bastion of flavor and camaraderie. It invites patrons to revel in the artistry of their craft while savoring their exceptional range of brews. Whether you're a curious passerby or a devoted aficionado, this downtown haven offers a space where the spirit of Barbarian Brewing is palpable in every sip. Thus fostering an experience that melds the urban pulse with the craftsmanship of beer.
What does Barbarian Brewing offer?
Barbarian Brewing defies convention, standing as an extraordinary brewery that beckons with daring and captivating flavors. It is certain to enchant even the most discerning palates. From opulent, hop-infused IPAs to invigorating, fruit-laden sours, this brewery embraces fearless experimentation in the realm of taste. The dedicated team at Barbarian Brewing passionately curates a range of meticulously crafted beers. Thus achieving a delicate balance between accessibility and intricate layers of flavor.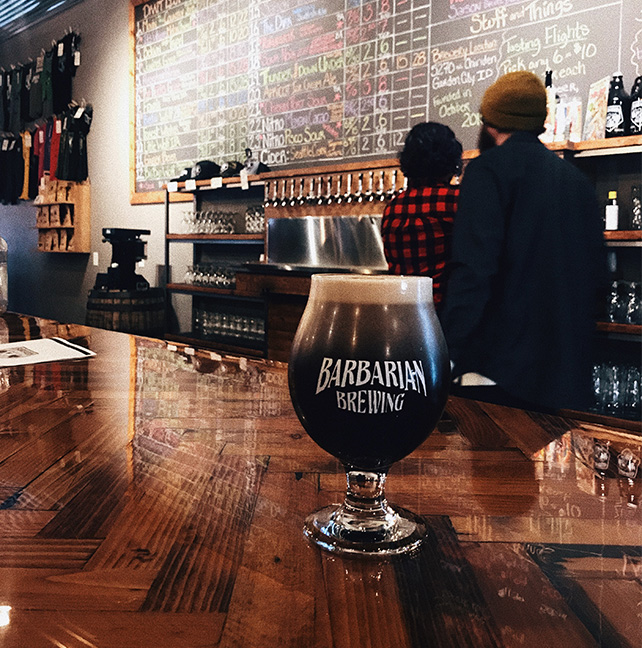 Here is more information on some popular beers from Barbarian Brewing:
Some Competitors
Here are some competitors of Barbarian Brewing –
Ethereal Brewing Co: Nestled in the heart of Kentucky, Ethereal Brewing Co is renowned for its commitment to crafting beers that blend tradition with innovation. With a diverse lineup spanning from classic European styles to experimental ales, they captivate beer enthusiasts seeking both familiarity and innovation.
Imperial Oak Brewing: Hailing from Illinois, Imperial Oak Brewing has made a mark with its emphasis on wood-aged and barrel-aged beers. Their mastery of aging processes yields creations that boast complex flavors, catering to those with a penchant for rich, nuanced brews.
Alistair Reece: Alistair Reece, often lauded for his individualistic approach, is a prominent figure in the craft brewing landscape. Based on his rich experience, his consultancy services bring tailored solutions to breweries, imparting expert insights on recipe development, quality enhancement, and innovative brewing techniques.
Drake's Brewing Co: With roots in California, Drake's Brewing Co has carved a niche with a dynamic range of offerings. From hop-forward IPAs to experimental barrel-aged releases, their portfolio reflects a dedication to both traditional craftsmanship and contemporary experimentation, appealing to a wide spectrum of beer aficionados.
Wrapping Up!
In the grand tapestry of the craft brewing industry, Barbarian Brewing emerges as an irrefutable catalyst of creativity, leaving an indelible imprint with its audacious flavors and innovative brewing artistry. Their unwavering dedication to both skillful craftsmanship and boundary-pushing experimentation redefines the very essence of craft beer, imbuing every visit to their brewery or downtown beer haven with an aura of distinctiveness and lasting resonance.
Irrespective of whether you've trodden the path of a seasoned enthusiast or find yourself as an eager newcomer, Barbarian Brewing's unparalleled array offers an unparalleled voyage into the heart of craft beer's essence. Should your journey lead you to the landscapes of Idaho, a sensory odyssey through their ever-evolving lineup of brews promises an experience that etches itself onto memory's canvas?
Read Orderific blogs for more informative content.
FAQs
Q. Which is the bestselling item of barbarian brewing?
Ans. The bestselling item of Barbarian Brewing is their renowned Little Wolf IPA, known for its balanced hop-infused flavor profile.
Q. What is the top-rated item of barbarian brewing?
Ans. The highest-rated item from Barbarian Brewing is the Balerion The Black Dread IPA, boasting a rating of 4.1 out of 5 on Untappd.
Q. Where can I find the nearest barbarian brewing?
Ans. The nearest Barbarian Brewing can be found either at their original brewery taproom in Garden City, Idaho, or their downtown beer bar located at 1022 W Main St, Boise, Idaho.
Q. Are there any harmful effects of barbarian brewing?
Ans. As with any alcoholic beverage, overconsumption of products from Barbarian Brewing can lead to harmful effects, including alcohol intoxication and potential long-term health issues. Always drink responsibly!