The excitement of charting out holiday plans often brings with it a cloud of concern for pet owners: "What about my beloved canine?" Thankfully, Barkhaus emerges as the beacon of hope. It ensures that while you bask in leisure, your cherished pet revels in luxury too. 
Envision a haven where your dog experiences more than just a stay. A place where each day is only fun escapades. They can mingle with fellow four-legged mates, and rest in plush corners designed just for them. A realm where their comfort is paramount and every wag is a celebration. Intrigued about this canine paradise? Let's explore further!
Welcome to Barkhaus: Luxury Dog Boarding and Daycare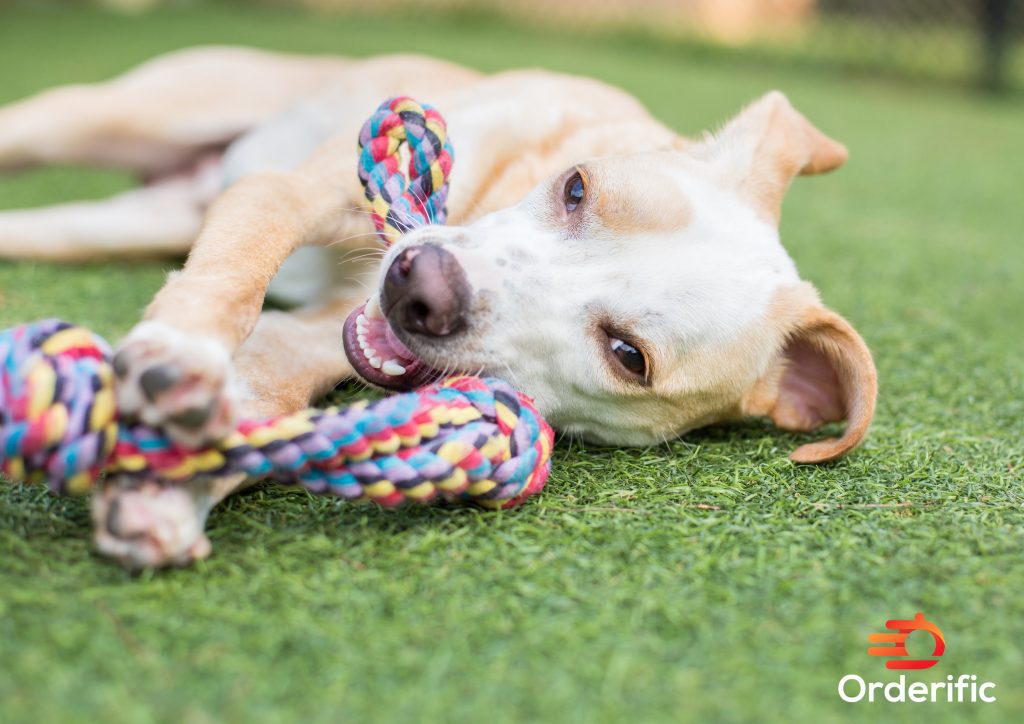 Step into Barkhaus, and you're entering a world where canine care meets unparalleled luxury. Strategically situated in the vibrant pulse of Alexandria, Barkhaus stands as a testament to top-tier dog hospitality. It's far more than a mere boarding house—it's a sanctuary for our four-legged friends, reflecting a blend of affection, meticulous attention to detail, and unparalleled services. 
Whether you seek a fun-filled day of activities for your pet or a longer, lavish stay during your travels, Barkhaus guarantees to exceed expectations, making every moment a memorable one for your cherished companion.
Dog Boarding at Barkhaus: A Five-Star Experience
In the bustling world of pet care, Barkhaus emerges as the epitome of canine luxury. It's not just about providing a space for your dog to stay—it's about granting them a sumptuous holiday of their own.
With meticulously curated facilities and a team driven by genuine affection for animals, Barkhaus ensures that each dog is treated not just as a guest, but as a revered member of the Barkhaus family. Let's delve into the elements that craft this five-star experience.
1. Luxury Suites and Comfortable Accommodations
Each suite at Barkhaus is a masterclass in comfort. Designed keeping canine needs at the forefront, they are spacious, well-ventilated, and fitted with plush bedding. Tailored to echo the warmth of a home, these suites cater to the unique habits and preferences of every dog, ensuring a relaxing, stress-free stay.
2. Playtime, Walks, and Plenty of TLC
A day at Barkhaus is full of invigorating activities. From frolicsome play sessions in safe to refreshing walks that invigorate their senses, dogs are active at all times. And it's not all about physical activity; the team ensures each dog gets its fair share of tender loving care, be it through gentle petting sessions, cuddles, or just a friendly chat.
3. Special Requests and Personalized Attention
Understanding that every dog is unique, Barkhaus prides itself on its bespoke services. Whether it's a particular toy, a specific diet, or a bedtime ritual, the team is always ready to accommodate special requests. This commitment to personalized care ensures that each dog's individual needs are met, crafting an experience that's as close to home as possible.
Dog Daycare at Barkhaus: Fun and Safe Socialization
Every dog parent understands the vitality of socialization for their furry pals. At Barkhaus, not only is this understood, but it's also elevated into an art form. The establishment doesn't merely offer a place for dogs to spend their day.
It provides a sanctuary where they can flourish, make friends, and enjoy a slew of activities tailored to entertain and enrich. The balance between fun and safety is perfect, ensuring peace of mind for the owners and a gala time for the pets.
1. A Spacious and Stimulating Environment
Dogs are creatures of curiosity and energy. Barkhaus offers vast, well-organized spaces filled with stimulating toys and games that challenge and engage their minds. From interactive puzzles to agility equipment, the environment keeps them mentally active and physically agile, ensuring a fulfilled, tired pup at day's end.
2. Socialization and Playtime with Other Dogs
Interacting with their peers is crucial for a dog's social skills and mental well-being. At Barkhaus, play sessions are designed to allow dogs to mingle, play, and establish friendships under watchful eyes. These interactions not only improve their sociability but also provide them with the joyful experience of pure, uninhibited play.
3. Professional Supervision and Care
Ensuring all these activities proceed without a hitch is a team of trained professionals who are as passionate about dogs as you are. Their expertise guarantees that every interaction is monitored, every play session is safe, and every dog gets the care and attention they deserve. Their presence ensures that, no matter the situation, your dog is in the best possible hands.
Plan Your Visit to Barkhaus Today
When it comes to providing your canine companion with the very best, Barkhaus stands as a beacon of excellence. But before you decide to treat your furry friend to this lavish experience, there are a few logistical details to consider.
Knowing where they're located, how to get in touch, and the reservation specifics can make the process smooth and hassle-free. Ready to embark on this journey? Let's lay out the roadmap to ensure your pup's next stay is nothing short of perfection.
1. Location and Contact Information for Barkhaus
Situated in the scenic heart of Alexandria, Barkhaus offers a prime location that's easily accessible. The exact address is 529 E Howell Ave, a locale familiar to many residents. For inquiries, appointments, or just a friendly chat about what they offer, you can reach out via phone or email, both of which are promptly answered by their dedicated team.
2. Reservations and Booking Information
Securing a spot at Barkhaus is a straightforward process. Whether you're looking for daycare, an extended stay, or special care services, it's advised to book in advance, especially during peak seasons.
Their online portal offers a seamless booking experience, complete with availability details and pricing. Alternatively, a quick call can also secure your reservation, and the friendly staff are always on hand to assist with any special requirements or queries you might have.
Conclusion
Your dog is not merely a pet; they're an integral part of your family, sharing moments of joy, love, and companionship. And just like every cherished family member, they deserve nothing but the finest. Barkhaus understands this bond and takes pet care to a whole new level, transcending the ordinary to provide an unmatched luxury experience.
From their attentive staff to their lavish amenities, every detail is for canine contentment. So, the next time travel plans beckon, rest assured that a sumptuous sanctuary, filled with fun and pampering, eagerly awaits your four-legged family member at Barkhaus.
In case you want more content like this, visit Orderific right now!
FAQs
What services does Barkhaus offer?
Barkhaus offers luxurious dog boarding and daycare services, ensuring every dog feels pampered and taken care of.
Is Barkhaus open 24/7?
Barkhaus has specific hours for check-ins and outs; it's best to contact directly for detailed timings.
How can I make a reservation for my dog at Barkhaus?
Reservations can be made either via Barkhaus's official website or by contacting them directly by phone.
What are the accommodations like at Barkhaus?
Barkhaus boasts luxury suites ensuring utmost comfort for your pet. No puppy is left unattended over here.
What is the pricing for Barkhaus services?
Pricing varies based on services and duration; contact Barkhaus for detailed rates on specific types of services.
Is there a minimum age or size requirement for dogs at Barkhaus?
Barkhaus caters to dogs of all sizes; however, for specific age or health-related queries, it's best to consult with them directly.