In today's fast-paced world, finding a haven that offers both the leisurely comfort of a bar atmosphere and the culinary delights of a top-tier restaurant is a rare treat. Bars with food have elegantly bridged this gap. These establishments beckon patrons with the promise of masterfully crafted beverages, be it a chilled craft beer or an aged wine, and the guarantee of a meal that's nothing short of gastronomic artistry. 
Every bite is curated to complement the drink in your hand, ensuring a harmonious blend of flavors and aromas. Rather than being just another pit stop for a hasty drink, these venues promise an all-encompassing experience where the ambiance, the drinks, and the dishes come together in a delightful symphony. This isn't a fleeting moment; it's an indulgent journey of the senses.
The Best Bars with Food – From Casual to Upscale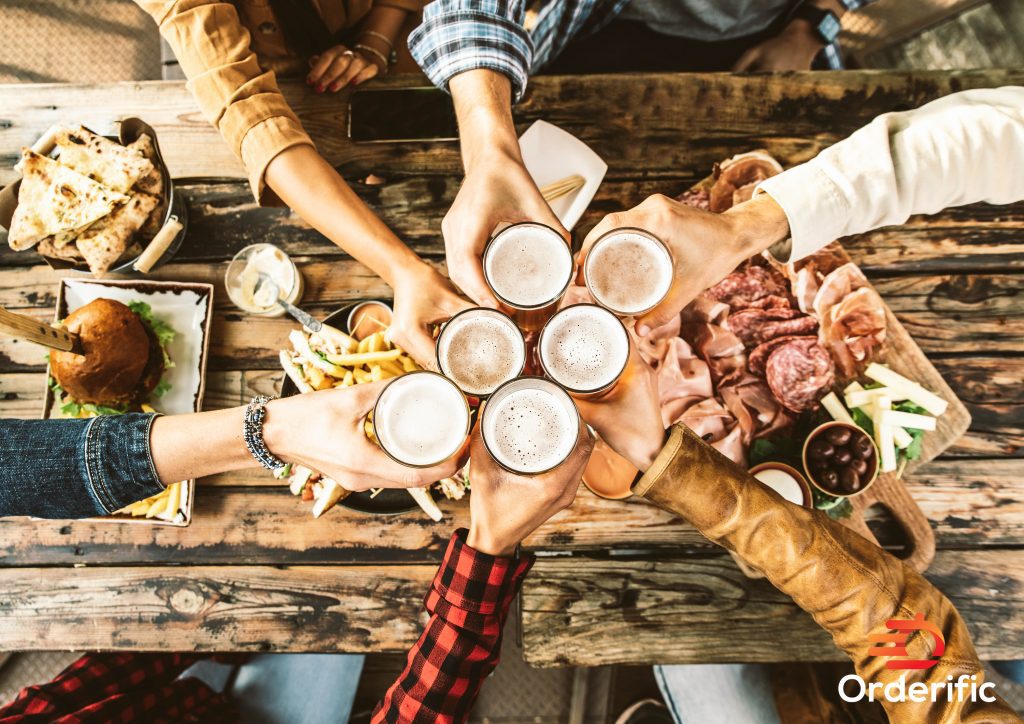 Dive into the world of bars that elevate the drinking experience with their gourmet food offerings. From the laid-back, casual pubs to the glitzy, upscale lounges, the evolution of bars with food has transformed the dining landscape.
Casual Bars with Food
These are the neighborhood joints where everyone knows your name. Imagine walking into a friendly atmosphere with dim lighting, perhaps a live band in the corner, and a menu that boasts of hearty burgers, crunchy chips, or even vegan options tailored to the health-conscious. Places where craft beer flows as freely as the conversation among good friends.
Mid-tier Bars with Food
These establishments strike a balance between the casual and the high-end. Their menu might feature a fusion of comfort foods and some experimental dishes. Craft cocktails, international beers, and a wine list that has been thoughtfully curated are often the highlights. With a more curated ambiance, it's a space that allows for both relaxation and a touch of sophistication.
Upscale Bars with Food
The epitome of luxury and refinement. These bars cater to the elite, those who seek out the finer things in life. Picture a backdrop of elegant interiors, soft jazz playing, and an exclusive menu that features gourmet dishes, often curated by renowned chefs. Seafood, premium cuts of meat, and desserts that are more art than food are staples. The drink list is exquisite, featuring rare wines, aged whiskeys, and craft cocktails made with the finest ingredients.
Regardless of the category, each of these bars with food champions a unique experience. The casual places give you comfort, mid-tier ones promise consistency and quality, while the upscale bars offer an evening of opulence. Each visit, irrespective of the choice, guarantees a fusion of flavors and memories waiting to be made.
The Menu – Delicious Drinks and Delectable Bites
Navigating through the culinary landscape of bars with food can be an adventure, filled with delightful discoveries and surprises. The fusion of spirited drinks and gastronomic wonders brings a unique dining dimension, turning an ordinary night out into an unforgettable experience.
Signature Cocktails
Every good bar prides itself on its unique cocktail concoctions. From the timeless classics to modern twists, these drinks are not just beverages; they're crafted experiences. Imagine sipping on a drink infused with fresh basil, lemon zest, or even a hint of lavender, each element enhancing the overall flavor.
Craft Beers
An ode to the beer enthusiasts, craft beers have found their rightful place in the menu of bars with food. With a wide array of choices, ranging from rich stouts to crisp lagers, there's a brew for every palate.
Wine Selection
For those who prefer the refined flavors of grapes, a curated wine list is essential. From the robust reds to the delicate whites and even the sparkling varieties, pairing them with the right dish can elevate the dining experience.
Savory Bites
Moving on to the edibles, a range of dishes, from quick snacks to hearty meals, graces the menu. Think crispy calamari, spicy chicken wings, or even a gourmet pizza topped with fresh ingredients like mozzarella, red onion, and basil pesto. For those leaning towards healthier options, fresh salads with ingredients like scallions, tomatoes, and vegan cheese might just hit the spot.
Hearty Meals
For those with a bigger appetite, some bars venture into offering more substantial dishes. From succulent seafood platters to perfectly-cooked steaks and even vegan-friendly dishes, these meals promise to satiate and satisfy.
Decadent Desserts
No menu is complete without the allure of desserts. Whether it's cookies paired with a good cup of coffee or more sophisticated offerings like pastries infused with alcohol, ending the meal on a sweet note is a must.
The beauty of bars with food is the vast array of choices they present. It's not just about quenching thirst but also about appeasing hunger. It's an experience where the drink complements the food, and every bite is as memorable as every sip. Whether you're in the mood for a casual snack, a quick bite, or a lavish meal, these establishments cater to every culinary whim, making them a haven for food and drink lovers alike.
The Atmosphere – Cozy and Inviting Spaces to Sip and Savor
Stepping into a bar with food isn't just about quenching thirst and satiating hunger; it's about immersing oneself in an atmosphere that elevates the entire experience. The ambiance of such places is meticulously crafted to ensure guests not only enjoy their meals and drinks but also the environment around them. The atmosphere speaks volumes, sometimes even more than the menu itself.
Lighting
The right lighting sets the mood. Soft, ambient lighting provides a cozy feel, making guests comfortable and relaxed. Dimly lit corners with candlelit tables offer intimate spaces, while brighter sections buzz with the energy of larger gatherings.
Furniture and Layout
The furniture's arrangement and style play crucial roles in defining the bar's character. High stools at the counter for those who prefer to be in the thick of the action, plush booths for groups desiring a more private setting, and comfortable chairs for a laid-back experience.
Décor and Aesthetics
From rustic charm with wooden finishes and vintage memorabilia to sleek, modern designs with clean lines and contemporary art, the décor complements the vibe the establishment aims to convey. Each piece, whether it's a wall hanging or a centerpiece on the table, adds to the narrative.
Music and Acoustics
Background tunes can make or break the ambiance. Whether it's the soothing strains of jazz, the lively beats of pop, or the familiar tunes of classic rock, the music is chosen to enhance the dining and drinking experience without overpowering conversations.
Outdoor Spaces
For those who prefer the open air, many bars with food offer outdoor patios or terraces. Adorned with fairy lights, outdoor heaters, and sometimes even live entertainment, these spaces become a haven, especially on balmy nights.
Community and Staff
While physical aspects significantly influence the atmosphere, the bar's soul lies in its people. Friendly staff who greet you with genuine smiles, bartenders who remember your favorite drink, and fellow patrons who strike up spontaneous conversations – it's the sense of community that truly makes a place inviting.
Events and Special Nights
Themed nights, trivia quizzes, live music sessions, or even craft beer tastings add an extra layer of allure, drawing in crowds and making each visit unique. When a bar with food nails its ambiance, it transcends being just a place to eat and drink. It becomes a sanctuary, an escape, a favorite spot in the city where memories are made.
Private Events and Catering – Host Your Next Gathering at a Bar with Food
When it comes to choosing a venue for private events, bars with food offer an attractive proposition that merges the best of both worlds: exquisite drinks and a culinary experience that tantalizes the palate. Hosting your next gathering at a bar with food can transform an ordinary event into a memorable experience, setting the right tone for the occasion.
Versatility
One of the most significant advantages of bars with food is their versatility. Whether you're planning an intimate birthday celebration, a corporate mixer, or even a casual get-together with friends, these establishments can accommodate a wide range of events.
Tailored Menus
Many bars with food provide customized menus for private events. Imagine crafting a menu that features the establishment's best cocktails, wines, and craft beers alongside gourmet bites, canapés, or even a full-course meal. Every dish and drink can be curated to match the theme or preference of the event.
Atmospheric Advantage
As discussed earlier, bars with food offer a unique ambiance, an environment that is both laid-back and sophisticated. Such a setting can add a touch of elegance to any event, ensuring guests feel relaxed and engaged.
Professional Service
When hosting private events, the level of service becomes paramount. Bars with food pride themselves on their well-trained staff, ensuring your event runs seamlessly. From bartenders crafting signature cocktails to wait staff attending to every guest's need, the professionalism enhances the overall experience.
In-house Entertainment
Many bars with food have in-house entertainment options, from live music setups to DJ booths and even karaoke systems. This saves event organizers from the hassle of arranging external entertainment, ensuring guests have a great time.
Catering Options
For those who love the food at a particular bar but wish to host their event elsewhere, many establishments offer catering services. This allows hosts to bring the unique flavors of the bar to their chosen venue.
Centrally Located
Often, bars with food are situated in prime locations, making them easily accessible for guests. Their central locations often mean better transportation options and even nearby accommodation if required.
Value for Money
Given that you're bundling venue hire, food, drinks, and often entertainment, bars with food often provide packages that offer excellent value for money, where you will feel that your cash was really well spent.
Conclusion
Bars with food have transformed the nightlife and dining landscape. They harmoniously merge the lively ambiance of a bar with the culinary richness of a gourmet eatery. These establishments are more than just destinations; they are experiences. Each visit promises laughter, delightful cocktails, and dishes crafted to perfection.
They cater to both the foodie and the social butterfly in everyone. It's not merely about quenching thirst or satiating hunger; it's about indulging in an immersive experience. As the lines between bars and restaurants blur, the essence of a wholesome evening out shines brightly. So, remember, the perfect evening awaits where your drink and dish meet.
In case you want more content like this, visit Orderific right now!
FAQs
What are bars with food and how are they different from traditional bars or restaurants?
Bars with food seamlessly combine the relaxed environment of a traditional bar with the diverse menu of a restaurant, offering guests a comprehensive dining experience.
What types of food are typically served at bars with food?
Everything from casual snacks like chips and cookies to gourmet dishes such as seafood platters can be found. Menus vary widely based on the bar's theme and clientele.
Are bars with food typically more expensive than regular bars?
Prices can vary, but often the cost reflects both the beverage and the quality of food offered, making it a worthwhile experience.
Are children and pets allowed at bars with food?
While many such establishments welcome families, it's always best to check their specific policies beforehand.
Can I host a private event or party at a bar with food?
Absolutely! Many bars with food have private spaces and offer catering services tailored for events.