In the heart of a bustling bar, amid the resonating clinks of glasses and the rich tapestry of overlapping conversations, stands a figure of allure—the bartender. This individual is more than just a server of drinks; they're the maestro guiding the night's symphony, setting its pace and tone.
Bartending is an art and a craft, merging skill with intuition. It's about conjuring an ambiance, crafting moments, and, most importantly, etching memories in the minds of patrons.
Introduction to Bartending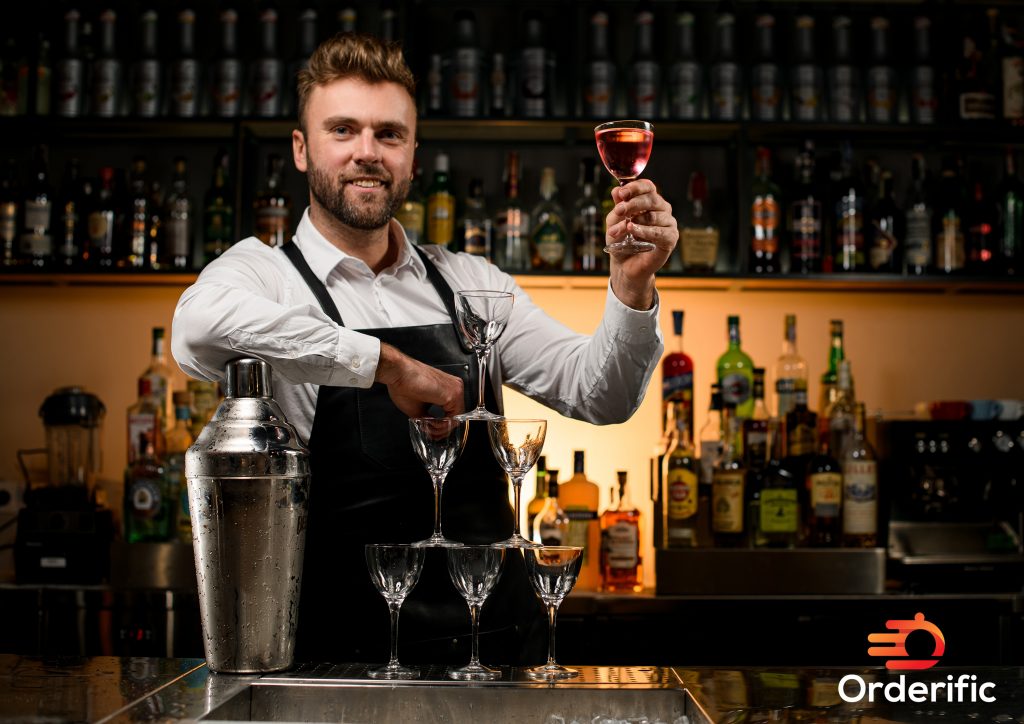 The realm of bartending is a mesmerizing fusion of artistry and precision. At its heart, bartending transcends the simple act of pouring a drink. It's where the bartender's deep knowledge of ingredients marries their meticulous skill, all while being sprinkled with a dash of creativity and panache.
Yet, beyond the gleaming glasses and effervescent bubbles, lies a role steeped in human connection. Bartenders are often the therapists, confidants, and storytellers of the night, offering a listening ear to patrons from all walks of life.
They ensure every customer feels valued, all while maintaining an atmosphere that's both energetic and inviting. Dive deep, and one realizes that bartending is not just a job; it's a craft, a passion, and, for many, a calling.
Skills and Qualifications for Bartenders
1. Essential Skills for Bartenders
Communication Skills: A bartender's role isn't just to serve drinks but to be the heart and soul of the bar. This means engaging with guests, gauging their moods, understanding their beverage inclinations, and creating a rapport that ensures they come back for more.
Physical Stamina: The life behind the bar counter is a bustling one. Bartenders often find themselves juggling multiple tasks, from mixing drinks to handling transactions and, occasionally, diffusing tense situations. Stamina and resilience become vital, especially during peak hours or special events.
Attention to Detail: The difference between a good cocktail and a great one often boils down to the details. Be it getting the measurements right, presenting the drink beautifully, or ensuring the bar inventory is always stocked, a sharp eye can set a bartender apart.
2. Qualifications and Education for Bartenders
Though bartending often values experience over formal education, possessing knowledge in the hospitality industry can provide a competitive edge. Many bartenders take specialized courses that teach them about the intricacies of mixology, the history of beverages, or even the art of pairing drinks with food. 
Some establishments, especially high-end ones, might seek individuals who have a more profound educational background in hospitality or culinary arts.
3. Certifications and Licenses for Bartenders
Navigating the world of alcohol sales and service comes with its set of rules. Many regions require bartenders to be certified, which usually means they've taken a course that teaches them responsible alcohol service. This includes understanding when a guest should be cut off, recognizing signs of intoxication, and being aware of local alcohol laws. 
Additionally, establishments appreciate bartenders who have been certified in food safety, ensuring that any bar snacks or garnishes are handled and served in a hygienic manner.
Responsibilities of Bartenders
1. Customer Service and Communication Skills for Bartenders
At the heart of every vibrant bar is a bartender who knows how to connect with guests. It's not just about pouring drinks; it's about reading the room, gauging moods, and creating an inviting atmosphere. Their role involves actively listening to customer preferences, suggesting drinks that cater to individual tastes, and ensuring that every guest leaves with a positive experience.
In scenarios where patrons might over-indulge, bartenders also play a crucial role in handling situations with tact and ensuring the safety of all involved.
2. Mixology and Cocktail Creation for Bartenders
Behind every beautifully garnished cocktail lies the skill and knowledge of a bartender. Mastery in mixology involves understanding the intricate balance of flavors, the chemistry of ingredients, and the art of presentation. Bartenders often experiment with new blends, infusions, and techniques to keep the beverage menu refreshing and innovative.
Their expertise is reflected when they adapt classic recipes to cater to the specific tastes of customers or when they whip up a signature drink that becomes the talk of the town.
3. Bar Maintenance and Inventory Management for Bartenders
The ambiance of a bar isn't just set by the music or the lighting; it's also about how organized and clean the space is. Bartenders are responsible for ensuring the cleanliness of the bar area, from wiping down counters to cleaning glasses and tools. This also extends to ensuring that all bar equipment is in optimal condition.
Furthermore, managing inventory is pivotal. Bartenders should be aware of stock levels, order supplies when needed, and ensure that there's no wastage. This guarantees that the bar is always ready to serve a wide array of drinks without any hiccups.
Different Types of Bartending Jobs
1. Fine Dining and High-End Bartending Jobs
In the realm of luxury and fine dining, bartenders don the role of connoisseurs. Beyond just mixing drinks, they're expected to have a profound knowledge of vintage wines, exotic spirits, and artisanal ingredients. They may often find themselves discussing the nuances of a particular wine region or suggesting pairings with gourmet dishes.
In such establishments, the bartender's craft is showcased in the elegance of drink presentation, the sophistication of cocktail blends, and the ability to cater to a discerning clientele who value exclusivity.
2. Nightclub and Bar Jobs
Bartending in a nightclub or a bustling bar is like being in the eye of a storm. The environment is energetic, with music, lights, and a crowd looking for a great time. Bartenders here are the life of the party, ensuring quick service, managing large orders, and sometimes even putting on a show with flair bartending techniques.
Their energy and ability to handle stress, all while keeping a smile on their face, is what makes the night memorable for many patrons.
3. Event and Catering Bartending Jobs
Whether it's a beachfront wedding, a corporate gala, or a birthday bash in a rented hall, event bartenders bring the bar experience to diverse venues. They work in sync with event planners, customizing drink menus, setting up mobile bar stations, and often, crafting signature drinks that resonate with the event's theme.
Adaptability is key here, as they might be serving cocktails at a posh anniversary celebration one day and dishing out mocktails at a baby shower the next. The success of an event bartender lies in their ability to seamlessly blend into any event, enhancing the overall experience.
Advancement Opportunities for Bartenders
Every job behind the bar is a stepping stone to greater opportunities, and bartending is no exception. The journey often starts modestly, but with passion, dedication, and the right attitude, it can lead to remarkable professional growth.
1. Starting as a Bar-back or Assistant:
Newbies in the bartending scene often begin their careers as bar-backs or assistants. Their primary role is to support the bartenders, ensuring that everything runs smoothly. This involves tasks like restocking supplies, cleaning glasses, and preparing garnishes. But it's also an invaluable learning experience, offering a firsthand glimpse into the dynamics of a bar.
2. Senior Bartender or Head Bartender:
After gaining some years of experience and proving their expertise, bartenders can move up to become senior or head bartenders. Here, they take on more responsibilities, such as training newcomers, crafting signature cocktails, and sometimes even getting involved in events and promotions.
3. Bar Manager:
This role is a significant leap, as it combines bartending skills with managerial duties. Bar managers oversee the entire bar operation, handling staff schedules, inventory management, supplier negotiations, and customer service. They play a pivotal role in ensuring profitability while maintaining the bar's reputation and service quality.
4. Opening Their Own Establishment:
For those with an entrepreneurial spirit, bartending can be a gateway to owning their bar or cocktail lounge. Drawing from their experience, they can create unique concepts, curate drink menus, and provide an atmosphere that they've always dreamt of.
5. Bartending Schools and Consultation:
Veterans in the field might choose to impart their knowledge by starting bartending schools or offering consultancy services to bars and restaurants. They assist in setting up new establishments, crafting drink menus, and training staff.
6. Competitions and Recognitions:
The world of bartending offers various competitions where individuals can showcase their skills, win accolades, and gain international recognition. Winning or even participating in such events can significantly boost a bartender's profile.
Conclusion
Bartending is more than just a job; it's a journey where passion meets profession, artistry fuses with alchemy, and every shift tells a story. This world offers a mosaic of experiences, from mastering the delicate dance of mixology to connecting with a diverse clientele, each with a unique tale to tell.
It's a realm where creativity knows no bounds, and satisfaction is found not just in crafting the perfect cocktail but in witnessing the joy it brings. As the night draws to a close and the last toast is made, bartenders revel in the knowledge that they've crafted not just drinks but lasting impressions.
In case you want more content like this, visit Orderific right now!
FAQs
What are the responsibilities of a bartender?
At the heart of it all is preparing and serving alcoholic and non-alcoholic drinks to customers, following specific recipes or customer preferences.
What types of bartending jobs are available?
Restaurant bartenders, pub or tavern bartenders, nightclub bartenders, hotel bartenders, event bartenders, cruise ship or resort bartenders, and more.
How can I advance my career in bartending?
Starting as a bar-back or a bartender's assistant, one can progress to a bartender position.
How do I find and apply for bartending jobs?
There are multiple channels to explore bartending jobs: online job boards, networking, local searches and hospitality schools, among others.
What is the earning potential for bartenders?
Bartenders earn a combination of hourly wages and tips. While the hourly wage can vary based on the location and establishment, tips can substantially augment a bartender's earnings.
What are some common misconceptions about bartending?
"It's just a transitional job." Many see bartending as a stop-gap profession, but for many, it's a lifelong and rewarding career.