Welcome, beer enthusiasts! Denver, Colorado – the heartland of craft beer, beckons you. Imagine strolling down tree-lined streets, each corner revealing a new brewery. The sweet, malty aroma of brewing beer is in the air, mingling with fellow beer lovers' laughter and lively chatter. Here is where tradition meets innovation and the result? An astonishing array of unique, flavorful brews. Whether you're a fan of hoppy IPAs, rich stouts, or fruity sours, Denver's beer scene has something for everyone. From the iconic Denver Beer Co. to the experimental Cerebral Brewing, each visit promises a new adventure. So, come along, and let's embark on a tasting journey like no other – diving deep into what makes Denver the best brewery city.
The Craft Beer Scene in Denver
Denver's craft beer scene is a vibrant spectacle, brimming with life. The scent of hop-laden brews wafts through the air, teasing the senses. You will find iconic venues, like the Denver Beer Co., nestled among quaint streets, hinting at the city's rich brewing heritage.
A visit to Cerebral Brewing promises a dash of the unconventional. Here, beer is more than a drink—a work of art. Traditional ales marry inventive flavors, setting the stage for a delightful surprise with each sip.
As you wander, Fort Collins presents another must-visit spot, the New Belgium Brewing Company. It's a nod to the city's brewing prowess, where timeless recipes meet modern innovation. The murmur of conversation, the clink of glasses, the occasional burst of laughter—it's all part of the experience.
Take advantage of the Great American Beer Festival, a testament to Denver's love for beer. The event brings together connoisseurs and novices, fostering a beautiful camaraderie among beer lovers. It's a symphony of tastes and aromas—a celebration of craft beer that genuinely encapsulates the spirit of Denver.
Finally, end your day at the Bruz Beer. A cold brew and a food truck snack make it the perfect way to soak in Denver's enchanting beer scene.
The Best Breweries in Denver
Picture yourself in Denver, a city that's truly a paradise for beer enthusiasts. This bustling city excels in brewing some of the most innovative and diverse beers. Nestled in the heartland of Colorado, each brewery offers an experience as unique as the brews they provide.
Denver Beer Co: A staple in the city's brewing scene, Denver Beer Co excels in crafting an array of beers that cater to all tastes. The lively chatter here further enhances the tasting experience.
Cerebral Brewing: Appreciate the art of brewing at Cerebral Brewing. Here, every sip reveals a delightful surprise, a testament to the creative flair of Denver's brewers.
New Belgium: Located in Fort Collins, New Belgium is a testament to Denver's illustrious brewing history. Timeless recipes meet modern innovation, making every visit a unique experience.
Great American Beer Festival: An ode to Denver's love for beer, this festival is a must-visit for every beer enthusiast. It's a symphony of tastes and aromas, a true celebration of craft beer.
Bruz Beer: End your day at Bruz Beer, the perfect spot to unwind with a delicious brew. Paired with mouthwatering food truck snacks, it's a fitting finale to your Denver brewery adventure.
In Denver, every brewery visit is a sensory journey. The scent of hop-laden brews, the clink of glasses, and the murmur of conversation – it's a magical experience that captivates the heart and soul of every visitor.
Must-Visit Breweries in Denver
Stepping into Denver's must-visit breweries is akin to opening a treasure chest of sensory experiences. The excitement is palpable, and the anticipation builds as you prepare to sample the best brews in town.
Woods Boss Brewing: Tucked away in Denver's heart, Woods Boss is more than just a brewery. Each sip of their exceptional beer tells a story, offering a tantalizing taste of Denver's brewing prowess.
Ratio Beerworks: A beacon for beer lovers, Ratio Beerworks excels in crafting brews that blend tradition and innovation. Every taste is a delightful surprise, encapsulating the creativity of Denver's brewers.
Breckenridge Brewery: Established in 1990, Breckenridge Brewery is a testament to Denver's rich brewing heritage. Its time-tested brews resonate with locals and visitors, offering a comforting familiarity.
River North Brewery: Known for its experimental brews, River North Brewery redefines the beer tasting experience. Every visit promises a delightful adventure for the taste buds.
Great Divide Brewing Company: A must-visit spot, Great Divide Brewing Company is a melting pot of flavors and aromas. Its wide selection of brews pays homage to Denver's diverse beer scene.
In these Denver breweries, it's not just about the beer. The clinking glasses, the murmur of conversations, and the tantalizing aroma of hop-laden brews – it's a symphony of experiences that thrill the senses. Like a well-brewed beer, the city's brewing scene harmoniously blends tradition, innovation, and a sense of community. So, come, immerse yourself in Denver's brewing culture, and embark on an unforgettable journey of taste.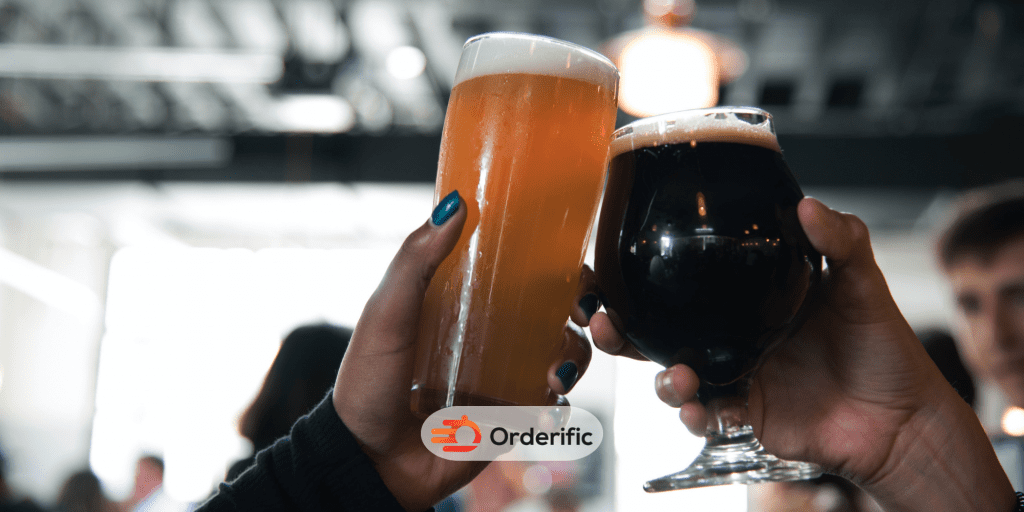 Unique Features of Denver Breweries
Stepping into a brewery in Denver is like entering a vibrant world of flavors, aromas, and stories. Each brewery's unique charm vividly depicts Denver's rich brewing culture.
Innovation and Tradition: Denver's breweries blend time-honored brewing techniques with bold, inventive flavors. At Cerebral Brewing, you'll discover a delightful surprise with each sip, thanks to their creative twists on traditional ales.
Community Spirit: Breweries in Denver are more than just venues for beer tasting. They are lively hubs that foster a sense of community. This is particularly evident during the Great American Beer Festival, where beer enthusiasts gather to celebrate their shared passion.
Stunning Ambiance: Breweries like the Denver Beer Co. and New Belgium offer an ambiance as captivating as their beers. Picture yourself savoring a cold brew amidst rustic, warm interiors, all while soaking in the lively chatter of fellow beer lovers.
Food Truck Culture: Denver's breweries often team up with local food trucks, adding a gastronomic delight to your beer-tasting experience. Bruz Beer is a prime example, where you can pair your brew with mouthwatering snacks from various food trucks.
Sustainable Practices: Many breweries in Denver are committed to sustainability. Take Woods Boss Brewing, which prides itself on its eco-friendly brewing processes.
Each feature makes Denver's breweries stand out, offering a beer-tasting experience as delightful and diverse as the city itself. It's not just about savoring the beer but immersing yourself in a vibrant sensory journey and a warm, welcoming community.
Tips for Enjoying the Denver Brewery Scene
Diving into Denver's brewery scene is akin to an adventure, each moment full of sensory surprises. Here's how you can make the most of this delightful escapade:
Plan Ahead: Denver's brewery scene is incredibly diverse. A bit of research will go a long way. Whether exploring the iconic Denver Beer Co. or trying out Woods Boss Brewing, make sure you know what's on tap.
Don't Skip the Tours: Many breweries, like Great Divide Brewing Co., offer insightful tours. Here, you can appreciate the art of brewing and the story behind each brew.
Taste Diversely: From hoppy IPAs at Ratio Beerworks to unique ales at Cerebral Brewing, Denver's beer scene is a playground for your palate. Make sure to taste a bit of everything.
Hydrate and Eat: Keep yourself hydrated during your beer-tasting journey. Also, the city's breweries often team up with food trucks. So, take the chance to pair your brew with a delicious bite.
Ask Questions: Don't hesitate to engage with the staff. They possess a wealth of knowledge about the brews and are always happy to share the story behind each.
Visit During the Great American Beer Festival: This event celebrates Denver's beer scene. It offers an unparalleled opportunity to sample a wide range of brews and mingle with fellow beer lovers.
Remember, it's not just about the beer. It's about the people you meet, the stories you hear, and the memories you make. So, soak in the experience, and let the city's vibrant brewery scene captivate you.
Winding Up
In conclusion, Denver's rich tapestry of breweries paints a vivid portrait of a city that embraces tradition and innovation, creating a dynamic beer scene that is second to none. Each visit to the best brewery Denver offers is not merely a tasting experience but a sensory journey that engages all five senses. From the delicate clink of glasses at Denver Beer Co. to the tantalizing aromas wafting from the food trucks at Bruz Beer, it's an adventure that leaves a lasting impression. It's more than just the beer; it's the warmth of the community, the stories shared, and the memories created. So, why not enhance your brewery visit with Orderific? Say goodbye to manual tasks and immerse yourself in the experience. For more information on Orderific, schedule a FREE DEMO today. Here's to making cherished memories in the heart of Denver, one brewery at a time.
FAQs
What is the craft beer scene like in Denver?
Denver's craft beer scene is vibrant and diverse, renowned for its innovative brews, community spirit, and rich brewing heritage.
What are some of the best breweries to check out in Denver?
Denver Beer Co, Cerebral Brewing, New Belgium, Breckenridge Brewery, and Great Divide Brewing Company are some of the best breweries in Denver.
Are there any must-visit breweries in Denver?
Yes, must-visit breweries in Denver include Woods Boss Brewing, Ratio Beerworks, and River North Brewery.
What unique features can be found in Denver breweries?
Denver breweries are known for innovation, community spirit, captivating ambiance, food truck culture, and sustainable brewing practices.
What are some tips for enjoying the Denver brewery scene?
Explore a variety of beers, take brewery tours, hydrate, pair brews with food, engage with staff, and attend beer festivals.