As 2023 unfolds in the United States, dynamic shifts in beverage trends are brewing, transforming the drink landscape. Today's consumers aren't just quenching their thirst – they're seeking beverages that resonate with their lifestyle and values. The beverage industry is bubbling with innovation, from invigorating energy drinks to functional beverages packed with nourishing ingredients. This evolution isn't just about flavor but the fusion of health and taste that reflects the changing consumer palette. So, what's stirring in the beverage industry for 2023? Let's dive into the enthusiasm of this industry trend, explore the flavors shaping our beverage consumption, and sample what's hot and happening in this liquid realm. Fasten your seatbelts, beverage lovers – we're setting off on a taste-filled journey.
What Is the Beverage Industry?
The beverage industry, a vital fragment of the vast food and drink universe, is a whirlwind of delightful sensations. Imagine a spectrum of flavors, textures, and aromas spanning the familiar to the exotic. It's an industry pulsating with the rhythm of innovation and tradition, providing a symphony of choices for consumers worldwide. This realm includes a variety of categories, from refreshing soft drinks to stimulating energy drinks, each with a distinct charm to tempt your taste buds.
Intriguingly, it's not just about quenching thirst. It's about an enriching experience enveloped in each sip, each gulp. Today, beverage companies are artfully blending health and taste, catering to the growing consumer demand for functional beverages. Packed with nourishing ingredients, these drinks are more than just a passing beverage trend.
The industry also holds a range of alcoholic beverages, each with a unique story of heritage and craftsmanship to tell. This sector, often painted with strokes of sophistication, offers a kaleidoscope of flavors to suit every palette. The range is vast, from the smoky allure of whiskey to the effervescent charm of champagne.
Moreover, driven by the ebb and flow of beverage industry trends, this sector continuously innovates. New flavors, sustainable packaging, and novel marketing strategies shape beverage consumption patterns. With consumers at the heart of this evolution, the industry stays attuned to their changing preferences.
The beverage industry is a vibrant tapestry of tastes and trends, influenced by consumer behavior and constantly adapting to their evolving needs. It's a universe in a glass, inviting us to explore, savor, and celebrate.
How Much Is the Beverage Industry Worth?
The beverage industry, a sparkling jewel in the crown of the American economy, boasts a staggering worth of $146 billion, serving as a stimulating blend of non-alcoholic and alcoholic delights. Non-alcoholic sales, the lifeblood of this industry, pump around $415 million into the economy each year. Simultaneously, the intoxicating allure of alcoholic beverages contributes about $253 billion annually.
Indeed, the industry's vibrancy is reflected in America's drink of choice. Unpretentious yet vital, the water emerges as the most consumed non-alcoholic beverage, quenching the nation's thirst and accounting for about 51% of consumption. On the other side, the crown of alcoholic beverages is adorned by beer, echoing the nation's love for this frothy delight.
Nevertheless, the industry isn't one to rest on its laurels. Poised on the cusp of continuous growth, experts forecast an annual growth rate of 1.7% until 2027. This growth isn't just a solitary dance but includes the graceful ballet of individual sectors, such as the wine industry. 
The beverage industry is a robust powerhouse, its value echoing the continuous rhythm of innovation, consumption, and consumer preferences. It's a symphony that celebrates the diversity of tastes and the enduring charm of beverages, whether they are meant to invigorate or tantalize our senses. As we glance into the crystal ball, the future of this industry shines bright, promising a journey that continues to engage, surprise, and delight.
Food and Beverage Industry Overview
The food and beverage industry, a gastronomical playground, is a kaleidoscope of flavors, experiences, and innovation. In 2023, it's a symphony where each note reflects the ever-evolving consumer needs, their shifting lifestyles, and their journey of discovery. It's an industry that marries tradition with trailblazing, crafting experiences that nourish, engage, and delight. It's an industry in tune with the rhythm of change, constantly innovating to stay ahead of trends.
At the heart of this dynamic landscape lies thorough market research, the compass guiding businesses toward understanding consumer patterns, enhancing their offerings, and ensuring top-notch quality. This valuable insight paves the way for personalized experiences and the identification of fresh opportunities, allowing companies to take strategic leaps ahead of their competition. Driven by this consumer-centric approach, several key trends are shaping the industry in 2023:
On-The-Go Lifestyles: Catering to the fast-paced existence of the modern consumer, with beverages tailored to their hustle and bustle.
Direct-to-Consumer: Providing consumers with the convenience of doorstep delivery, making their favorite beverages just a click away.
Increased Digitization: Leaning into the digital age for seamless, efficient operations and a heightened consumer experience.
Online Ordering Systems: Embracing the convenience of technology, ensuring the perfect beverage is always within reach.
This journey of taste, tradition, and innovation is the vibrant tapestry of the food and beverage industry. It's a feast for the senses, a celebration of diversity, and a testament to the enduring allure of culinary exploration.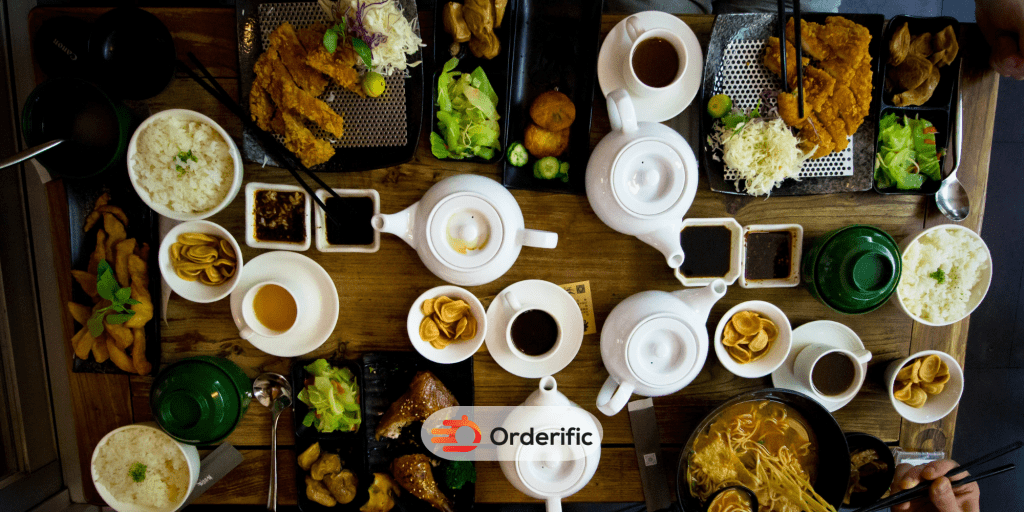 Beverage Industry Trends for 2023
Welcome to the flavorful forecast of the Beverage Industry Trends for 2023, where the future of refreshment is painted in invigorating strokes of innovation and consumer-driven changes. As the calendar pages flip to 2023, we find ourselves on the cusp of a beverage revolution that infuses novelty into tradition and marries health with pleasure. It's a fusion of flavors that thrills the taste buds while keeping pace with our evolving needs and desires.
Here's a sneak peek into the trends that are set to redefine our drinking landscape:
Functional Waters: Quench your thirst while nourishing your body as functional waters rise to the forefront. They're the perfect sip for health-conscious consumers, infused with minerals, vitamins, and other wellness boosters.
Innovative Alcohol Flavors and Mocktails: The world of spirits and mocktails is reimagined with creative blends, surprising flavors, and Instagram-worthy presentations. Cheers to a fun-filled, taste-tingling experience!
Hybrid Beverages: Why settle for one flavor when you can enjoy a blend? Hybrid beverages merge your favorites into an exciting new taste sensation, satisfying the craving for diversity.
Various Coffee Formats: From cold brews to coffee pods, the magic of coffee is being served in enticing new formats, catering to your every mood and preference.
Plant-Based and Dairy-Free Alternatives: Vegan, lactose intolerant, or just exploring new options? Plant-based and dairy-free alternatives are shaking up the beverage sector, giving you freedom of choice without compromising taste.
Sugar Reduction: Healthier, lower in sugar, yet just as delicious. Drinks are getting a sugar makeover, balancing sweetness with wellness.
CBD Beverages: Relaxation is just a sip away with CBD-infused drinks. They're the latest buzz in the beverage industry, offering a calming experience in every drop.
Embracing Sustainability in the Beverage Industry
In our quest for refreshment, it's easy to overlook our choices' environmental impact. Yet, in 2023, the beverage industry no longer looks the other way. Welcome to the era of sustainable beverages, where drinking responsibly takes on a whole new meaning.
Imagine holding a bottle, knowing it was born from a commitment to the planet. It's more than just a drink; it symbolizes change. Each sip affirms a decision made by beverage companies to prioritize sustainability. From responsibly sourcing ingredients to embracing eco-friendly packaging, industry leaders spearhead initiatives to lessen their environmental footprint.
The shift begins with the ingredients. Picture vast fields, bathed in sunshine, where crops grow undisturbed by harsh chemicals. These constitute the heart and soul of your beverages, grown in harmony with nature. The story doesn't end there, though.
Next, consider the packaging. Visualize holding a bottle, its label proudly declaring it's made of recycled materials. It's a tangible testament to the industry's dedication to waste reduction and resource conservation. This approach isn't a mere trend. It's becoming the industry's new standard, driven by the conscious choices of consumers like you.
This is a refreshing chapter in the beverage industry's journey. It's about more than quenching thirst—it's about nourishing our planet. So, the next time you relish your favorite drink, remember: it's a toast to a more sustainable future. After all, every drop counts.
The Future of Beverage Industry: Predictions and Insights
The beverage industry is poised for thrilling twists and turns as we enter the new year. Take a moment, close your eyes, and imagine a world where every sip tells a story. It is a story of evolution, innovation, and, most importantly, transformation. Time is a resourceful bartender, always ready to mix a fresh cocktail of trends and tastes. Are you eager to sample the future of beverages?
Each year unfurls a new chapter, where consumer preferences are the protagonists, and beverages are their faithful companions. The industry's crystal ball gleams with exciting predictions, revealing a future that's as vibrant as a tropical punch. As we enter this future, let's keep our taste buds primed for novelty and our minds open to innovation. After all, the future is a blend of the unexpected and the exciting.
Picture this: A sunny afternoon, you're lounging, savoring the refreshing zing of a plant-based drink. Or imagine a chilly evening, the warmth of a novel coffee variant seeping into your senses, the aroma enveloping you in a comforting embrace. This is not just a beverage—it's an experience, a moment, a memory.
That's right, the beverage industry of the future isn't just about quenching thirst. It's about creating meaningful experiences and forming delightful connections. It's about weaving a tapestry of tastes, textures, and traditions. So, brace yourselves. The future is brewing, promising a flavorful journey that will tickle your senses and delight your soul.
Conclusion
As we bid farewell to 2023, the refreshing waves of beverage trends leave us quenched and intrigued by the innovation on the horizon. Orderific, committed to making life easier for restaurant owners and customers, stewards this industry's evolution. It embraces the captivating dance of tradition and novelty, infusing it into every transaction. Orderific ensures the rich tapestry of beverage offerings is just a click away, making drinks a delightful experience rather than a mere necessity. These taste trends are brimming with potential and promise a flavorful future where every sip tells a unique tale. For more information on Orderific, schedule a FREE DEMO today!
FAQs
What are the latest trends in the beverage industry, and how do they impact consumer choices?
The latest trends include functional waters, innovative alcohol flavors, hybrid beverages, and plant-based alternatives, all catering to diverse consumer preferences.
How do cultural and health trends influence beverage preferences?
Cultural and health trends significantly influence beverage choices, steering consumers towards healthier, sustainable, and culturally diverse options.
What innovations are driving the evolution of beverage trends?
Innovations in packaging, flavor combinations, health-focused ingredients, and technology-driven accessibility drive beverage trends.
How can businesses stay ahead by adapting to changing beverage preferences?
Businesses can stay ahead by continually researching consumer trends, embracing innovation, and offering personalized, high-quality products.