Immerse yourself in a world where every sip is an adventure. Imagine the chewy texture of tapioca pearls meeting the velvety richness of expertly brewed tea. Boba Bliss Cafe takes this beverage artistry to the next level, turning simple ingredients into a symphony of flavors. For those who cherish boba, this cafe is nothing short of paradise. 
Offering an array of concoctions, from the timeless classics to inventive blends, every visit becomes an exploration of taste. Beyond just quenching thirst, Boba Bliss Cafe serves up moments of joy, making each bubble tea indulgence a memory to cherish.
Explore a Wide Range of Bubble Tea Flavors at Boba Bliss Cafe
The world of bubble tea is vast, colorful, and filled with an array of flavors that tantalize the taste buds. Boba Bliss Cafe is not just another boba shop; it's a sanctuary for those who see bubble tea not merely as a drink, but as an experience.
With a curated menu that journeys from the heartwarming classics to avant-garde mixtures, this cafe is where tradition meets creativity. Whether you're a boba aficionado or a curious newbie, prepare to embark on a journey of discovery, sip by delightful sip.
1. Classic Flavors: The Tried-and-True Bubble Tea Options
At the heart of the boba universe lie the classic flavors, those that have stood the test of time and trends. Boba Bliss Cafe pays homage to these iconic selections, ensuring they're crafted to perfection.
With a balance of sweetness, creaminess, and the iconic chew of tapioca pearls, drinks like the signature black tea or the rich milk tea showcase the essence of what boba is all about. Every sip takes you on a nostalgic journey, a reminder of why these drinks have captured hearts globally.
2. Unique Blends: Bubble Tea with a Twist
In the evolving world of bubble tea, innovation is key. At Boba Bliss Cafe, they take it up a notch, blending unconventional ingredients to craft drinks that surprise and delight. Fancy a splash of apple juice in your tea? Or perhaps the vibrant mix of strawberry and basil? These unique concoctions, often inspired by global flavors or even customer feedback, ensure that there's always something novel to try. Each unique blend is a testament to Boba Bliss Cafe's commitment to push the boundaries of taste and presentation.
3. Seasonal Specials: Limited-Time Bubble Tea Offerings
While classics and unique blends have their charm, seasonal specials bring with them a sense of anticipation and excitement. Boba Bliss Cafe taps into the essence of each season, introducing drinks that perfectly embody the spirit of the times. Imagine sipping on a pumpkin spice boba as leaves fall around you, or cooling off with a mango cooler as summer's warmth envelops.
These limited-time offerings are more than just drinks; they're a celebration of the season's flavors and moods. And just like the seasons, they're fleeting, so savor them while they last!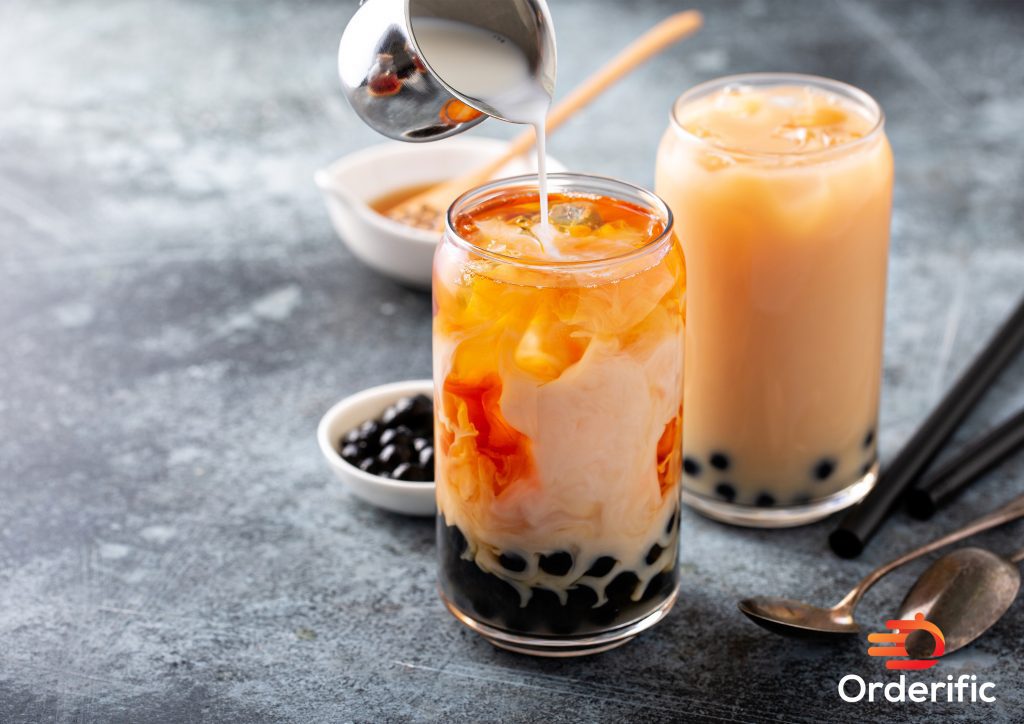 Quality Ingredients: What Makes Boba Bliss Cafe Stand Out
When it comes to creating an unforgettable boba experience, the magic lies in the ingredients. Boba Bliss Cafe understands this golden rule, choosing only the crème de la crème for its menu. The sourcing begins with hand-picking the finest tea leaves, ensuring a robust and aromatic base for every beverage. Complementing this are the seasonal fresh fruits that not only add a burst of natural sweetness but also an authentic taste that can't be replicated.
Moving away from the norm, this cafe ensures that no artificial flavors taint their beverages. Each drink is a testament to nature's bounty, and Boba Bliss Cafe's meticulous selection process. In an industry teeming with competition, it's this unyielding commitment to quality that truly makes Boba Bliss Cafe shine brighter than the rest. Every concoction isn't just a drink; it's a promise of purity and passion.
Aesthetic Ambiance: Enjoy Bubble Tea in Style at Boba Bliss Cafe
Step into Boba Bliss Cafe, and you'll immediately be enveloped by an ambiance that effortlessly blends chic modern aesthetics with the warm, inviting atmosphere of a cozy cafe. Each design element, from the sleek furniture to the minimalist decor, tells a story of contemporary elegance. However, it's the thoughtful touches like plush seating, ambient lighting, and walls adorned with art that evoke a sense of comfort.
One can't help but notice the Instagrammable nooks perfect for those candid shots with your favorite boba drink. Add to this the gentle strains of relaxing music in the background, setting the mood just right. It's evident that Boba Bliss Cafe isn't merely about serving exceptional bubble tea; it's about curating an entire experience, one where style and substance go hand in hand, ensuring every visit is memorable.
Boba Bliss Cafe: More Than Just Bubble Tea – Other Menu Offerings
Boba Bliss Cafe has solidified its reputation as a go-to spot for boba enthusiasts, but it doesn't stop there. Diving deep into their menu, patrons discover a tantalizing array of offerings that go beyond the iconic bubble tea. From satisfying your sweet tooth to appeasing those morning coffee cravings, the café has meticulously curated a menu that's diverse and delightful.
The range ensures that while boba may be the star, the supporting cast holds its own, tantalizing taste buds and ensuring a well-rounded culinary experience.
1. Snacks and Treats: Perfect Pairings for Your Bubble Tea
Sometimes, a drink alone won't do. That's where Boba Bliss Cafe's array of snacks and treats steps in. Picture this: sipping your favorite bubble tea while indulging in freshly baked cookies or perhaps enjoying a bowl of seasonally curated fresh fruits. The treats aren't just fillers; they're carefully chosen accompaniments designed to enhance and complement the boba experience, making every sip a tad bit more delightful.
2. Coffee and Espresso: For When You Need a Caffeine Boost
Bubble tea isn't the only brew served up at Boba Bliss Cafe. Recognizing the universal appeal of a good coffee, the cafe has brought in the renowned Stumptown coffee beans. Whether it's a robust espresso shot to kickstart the morning or a creamy latte to sip on a lazy afternoon, the coffee offerings stand as a testament to the cafe's commitment to quality and taste. Each brew promises not just a caffeine hit, but an entire coffee experience, tailor-made for the discerning palate.
3. Smoothies and Shakes: A Refreshing Alternative to Bubble Tea
While boba is the crowd favorite, sometimes one craves something a bit different. Enter the smoothies and shakes, a fusion of fresh ingredients whipped up to perfection. Imagine the creaminess of an avocado smoothie or the timeless joy of a strawberry shake, each serving as a refreshing alternative to your traditional tea. It's not just a beverage; it's a rejuvenating escape, especially when the sun blazes overhead.
4. Sandwiches and Wraps: Satisfy Your Hunger with a Savory Option
And then, there are those times when a drink, no matter how delightful, just isn't enough. Boba Bliss Cafe understands, offering an array of sandwiches and wraps to satiate those hunger pangs. Crafted with care and packed with flavor, options range from classic favorites to unique culinary concoctions.
Whether you're in for a light bite or a fulfilling meal, their savory menu ensures you leave with not just your thirst, but also your hunger, thoroughly quenched.
Conclusion
Boba Bliss Cafe transcends the realm of typical bubble tea outlets. It stands as a beacon, drawing in enthusiasts on a flavorful voyage that tantalizes and captivates. More than just a cafe, it's an inviting gathering spot, blending cultures and age groups.
Teenagers seeking a trendy sip, adults in search of a refreshing break, or friends looking for a cozy chat corner – all paths converge here. The essence of Boba Bliss Cafe lies not just in its drinks but in its ability to craft moments, brew memories, and create an atmosphere where everyone feels a touch of blissful belonging.
In case you want more content like this, visit Orderific right now!
FAQs
Can I customize my bubble tea order at Boba Bliss Cafe?
Absolutely! Boba Bliss Cafe prides itself on its flexibility, allowing guests to tailor their drink to their liking.
Does Boba Bliss Cafe offer vegan or dairy-free bubble tea options?
Yes, they offer a variety of plant-based milk alternatives to cater to all dietary needs, be it vegan, dairy-free or gluten-free.
What sets Boba Bliss Cafe apart from other bubble tea shops?
Their unwavering commitment to quality ingredients, innovative flavors, and an inviting ambiance makes them unique.
Can I order Boba Bliss Cafe's bubble tea for delivery or takeout?
Of course! Whether you want to savor it at home or on-the-go, they've got you covered, so you can enjoy wherever you want.
Is Boba Bliss Cafe a franchise or independently owned and operated?
Boba Bliss Cafe cherishes its independent spirit, ensuring a personal touch in all its operations.