Braised pork belly, a dish celebrated worldwide for its tantalizing flavors and melt-in-your-mouth texture, is a cornerstone of many culinary traditions. From the sweet and savory Dongpo Pork of China to the hearty Buta no Kakuni of Japan, each culture lends its unique spin to this deliciously versatile cut of meat.
Mastering the art of braising pork belly might seem daunting, but with a bit of patience, some simple techniques, and the right blend of ingredients, you too can turn this humble cut into a star attraction at your dining table. Our comprehensive guide provides clear, step-by-step instructions to ensure that every home cook can achieve a perfectly tender and flavorful pork belly.
What is Braised Pork Belly?
Braising is a time-honored cooking method that involves two primary steps: first, the food is seared at a high temperature, then it's finished in a covered pot at a lower temperature while sitting in some amount of liquid. The result is tender, flavorful meat, and pork belly is a prime candidate for this method. Its abundant fat content lends itself perfectly to slow cooking, as the heat gently renders the fat, creating a dish that's incredibly soft and succulent.
A pork belly is a boneless cut of meat from the belly of a pig. This fatty meat is popular in many international cuisines and is renowned for its rich flavor and tender texture when cooked properly. When braised, the pork belly becomes exceptionally tender, with the layers of fat melting into the meat, resulting in a melt-in-your-mouth delicacy that's intensely savory, slightly sweet, and utterly satisfying.
Choosing the Right Cut of Pork Belly
When selecting your pork belly cut, quality matters greatly. Look for a cut that has a good balance of lean meat and fat; an ideal piece should have distinct layers of each. Too much fat can result in a greasy dish, while too little can lead to a dry and less flavorful result. The meat should be pink and firm, with the fat being white or cream.
Another aspect to consider is the size of the pork belly. This cut is usually sold in large slabs that you can ask the butcher to cut into smaller pieces. The size you choose will depend on the number of people you're serving. A typical serving size is about 1/2 to 1 lb per person, so keep this in mind when purchasing. Remember, it shrinks considerably during cooking, so it's better to err on the side of too much rather than too little.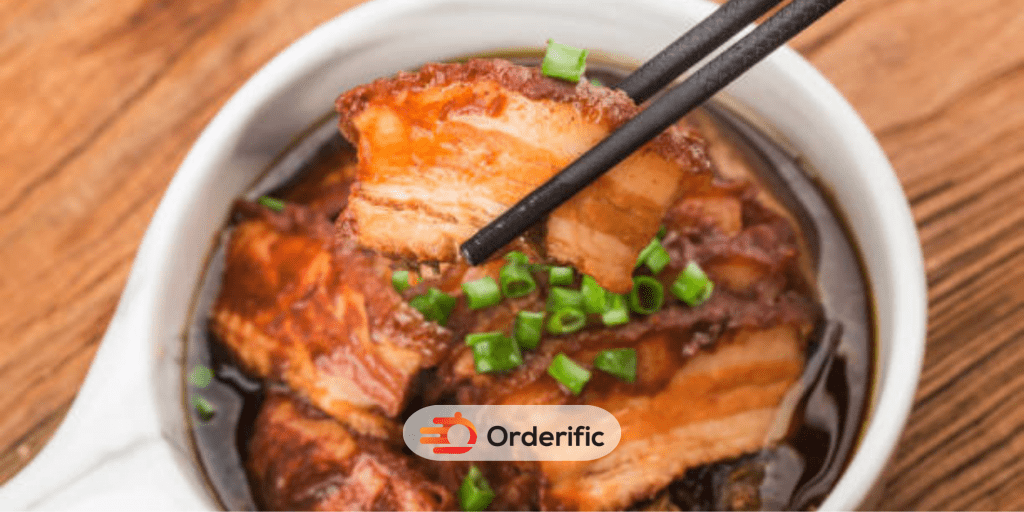 Preparing and Seasoning Pork Belly for Braising
Before you begin the braising process, it's important to prepare the pork belly properly. Start by rinsing the pork belly under cold water and pat it dry with a clean kitchen towel. If the skin is still attached, it's up to your personal preference whether to leave it on or remove it. Leaving the skin on can add a nice textural contrast while removing it makes the dish a bit less fatty. If you decide to leave the skin on, score it lightly with a sharp knife; this will allow the seasoning to penetrate more deeply and the fat to render more effectively.
The seasoning for braised pork belly can be as simple or as complex as your palate desires. At the very least, you'll want to generously season the pork belly with salt and pepper. For a deeper flavor profile, consider adding spices like star anise, cinnamon, or fennel seeds. Aromatics such as garlic, ginger, and onions can also be used to enhance the flavor. Some cooks like to marinate the pork belly overnight in a mixture of soy sauce, rice wine, and brown sugar for an Asian-inspired twist.
Braising Techniques and Cooking Tips
The actual process of braising begins with searing. Heat a bit of oil in a heavy-bottomed pot or Dutch oven over high heat, then add the pork belly, skin-side down if applicable. Sear all sides until they are beautifully browned; this process develops a rich depth of flavor due to the Maillard reaction. Once the pork belly is well-seared, remove it from the pot temporarily while you prepare the braising liquid.
The braising liquid is a crucial element of this cooking technique. The most basic version consists of a mix of broth and a flavorful acid like wine, beer, or vinegar. However, you can also add various seasonings to further enhance the flavor. Soy sauce, brown sugar, and even fruit juices can contribute to a deliciously complex braising liquid. Once you've prepared the liquid, return the pork belly to the pot, making sure it's partially submerged but not completely covered. Lower the heat, cover the pot, and let it simmer until the pork belly is fork-tender, which usually takes 2 to 3 hours. Patience is key here; a slow and low simmer will ensure a perfectly tender and flavorful pork belly.
Serving and Pairing Braised Pork Belly
Once the pork belly is cooked, carefully remove it from the pot and transfer it to a plate. Let it rest for 10 minutes before slicing into thick pieces. To achieve perfectly even slices, use a sharp knife and work with an almost saw-like motion.
It can be served as an entrée, in tacos or wraps, or simply as part of a larger spread. It pairs well with a variety of accompaniments, from crispy potatoes to creamy mashed root vegetables. Bright dishes like green beans or sautéed spinach make great complements, as do earthy mushrooms and fruits like pears or apples.
Typically Need the Following Ingredients
Now that you are familiar with the process and techniques of braising pork belly. Let's dive into the specific ingredients you'll need to create this mouthwatering dish. These ingredients have been carefully chosen to enhance the natural richness of the pork belly and add layers of complexity to the final dish. Here is the list of typical ingredients needed for a flavorful and succulent braised pork belly.
Pork belly: The star of the show, pork belly should be fatty and evenly marbled.
Soy sauce: A key flavor-builder, soy sauce adds a savory depth to the finished dish.
Sugar: A small amount of sugar adds sweetness and complexity to the braising liquid.
Rice wine or Shaoxing wine: Rice wine or Shaoxing wine adds an extra dimension of flavor.
Scallions: Scallions provide a subtle onion flavor and a hint of brightness.
Garlic: Garlic adds complexity and depth to the braising liquid.
Ginger: Ginger contributes an earthy, spicy warmth that perfectly complements pork belly.
Star anise: Star anise is used for its licorice.
Cinnamon stick: A whole cinnamon stick adds a hint of spicy warmth and complexity to the braising liquid.
Bay leaves: Bay leaves contribute an earthy flavor and aroma to the dish.
Water or chicken stock: Water or chicken stock is used to create the braising liquid.
Once you have all of your ingredients ready, it's time to start braising! With this guide as your roadmap, you'll be able to create a perfectly tender and flavorful pork belly that will delight your dinner guests. Enjoy!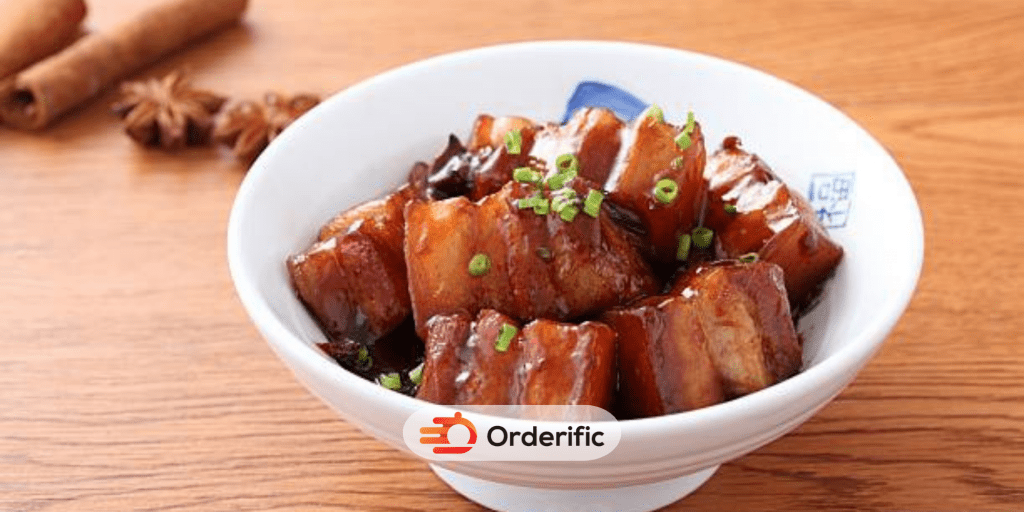 Conclusion
In conclusion, braised pork belly is a culinary treat that requires patience, the right techniques, and quality ingredients to perfect. While it might initially seem complicated, with careful attention to the cooking process, anyone can master this dish. So, you can create a restaurant-quality meal at home. This guide provides a detailed walkthrough of every step, from choosing a high-quality cut of pork belly, to correctly seasoning and braising it, to serving it with complementary sides, ensuring you're equipped to tackle this culinary project with confidence.
Dishes like braised pork belly highlight the transformative power of cooking. An inexpensive and humble cut of meat is transformed through the process of braising into a rich, tender, and incredibly flavorful dish that's sure to impress at any dining table. So, don't hesitate to give this recipe a try. Whether you're cooking for a special occasion or just trying to elevate your weeknight dinner game, braised pork belly is a dish that always delivers.
Click here for more flavorful and informative advice with Orderific. To start experiencing the great benefits Orderific can bring to your business, click here now. Try Orderific!
FAQs
What is the best cut of pork belly for braising?
The ideal cut for braising should have a good balance of lean meat and fat, with distinct layers of each.
How long does it take to braise pork belly?
Braising pork belly typically takes about 2 to 3 hours. The key is to let it simmer until the pork is fork-tender.
What are some popular seasonings for braised pork belly?
Common seasonings for braised pork belly include salt, pepper, star anise, cinnamon, garlic, ginger, scallions, and bay leaves.
Can braised pork belly be made in advance?
Yes, braised pork belly can be made in advance and stored in the refrigerator for up to 3 days. To reheat it, place it in a pot with some broth or water over low heat until warm.
What are some serving suggestions for braised pork belly?
Braised pork belly pairs well with a variety of accompaniments. For example crispy potatoes, mashed root vegetables, green beans, mushrooms, and fruits like pears or apples.