Step into the world of brewery promotion, where the aroma of freshly brewed craft beer meets innovative marketing strategies. Picture the lively chatter of happy customers at your event, their hands wrapped around a chilled mug of your brewery's finest. Feel the energy of a successful social media campaign as likes and comments pour in like a perfectly poured pint. Imagine the satisfaction of knowing your brewery is thriving thanks to savvy promotion ideas. Now, that's a taste of success. Ready to raise your glass to that? Dive into our 10 best brewery promotion strategies for 2023, designed to make your brewery the toast of the town. So, buckle up; it's going to be a bubbly ride!
What is a Brewery Promotion?
In essence, a brewery promotion is a creative marketing marvel. Let's paint a picture. Picture walking into a bustling brewery event. The air is filled with the sweet, malted aroma of craft beer. Laughter and banter echo off the brick walls. The promotion is at the heart of this sensory symphony, a clever strategy to draw the crowds in.
On social media, a promotion is just as vibrant. Posts brimming with tempting photos of frothy pints and glowing reviews from happy customers. Contests beckoning beer lovers to try their luck. Informative stories showcasing the brewing process, bringing the Brewers Association and craft beer enthusiasts together in a virtual toast.
Promotion ideas are as diverse as the beers on tap. The classic happy hour entices patrons with discounted drafts. The mug club rewards loyal customers with their piece of the brewery. Special events catered to bachelor and bachelorette parties, providing a unique backdrop for unforgettable celebrations.
What Should I Budget for My Brewery Promotion?
The vibrancy of a brewery promotion campaign can be likened to a tap pouring out a well-crafted beer with its frothy head and robust color. However, orchestrating a successful promotion requires a strategic blend of creativity and financial planning. The question resounds, 'What should I budget for my brewery promotion?'
In truth, the budget for your brewery promotion can be as varied as the flavors of your craft beer. It's a delicate balance, just like the perfect pint. Here are some factors to consider while drawing up your budget:
Marketing: Setting aside funds for a robust marketing campaign is crucial. This includes social media advertising, print media, and digital marketing. Aim for a presence that's as refreshing as a cold beer on a sunny day.
Events: Brewery events are a vibrant hub of laughter and camaraderie. Budgeting for these, be it a happy hour or bachelorette party, includes refreshments, entertainment, and possibly venue hire costs.
Mug Club: A mug club is a unique way to reward loyal customers. The costs of personalized mugs and potential beer discounts should be factored into your budget.
Great Beer Production: Never compromise on the quality of your craft beer. Allocate sufficient funds to source the best ingredients and maintain your brewing equipment.
Trade Show Participation: Trade shows are a valuable platform to showcase your brewery. Plan for the costs of travel, accommodation, and setting up a memorable stall.
In essence, a thriving brewery promotion is an investment. Just like brewing the perfect craft beer, it requires a mix of the right ingredients, patience, and passion. And remember, a well-planned promotion budget is your first step towards making your brewery the toast of the town.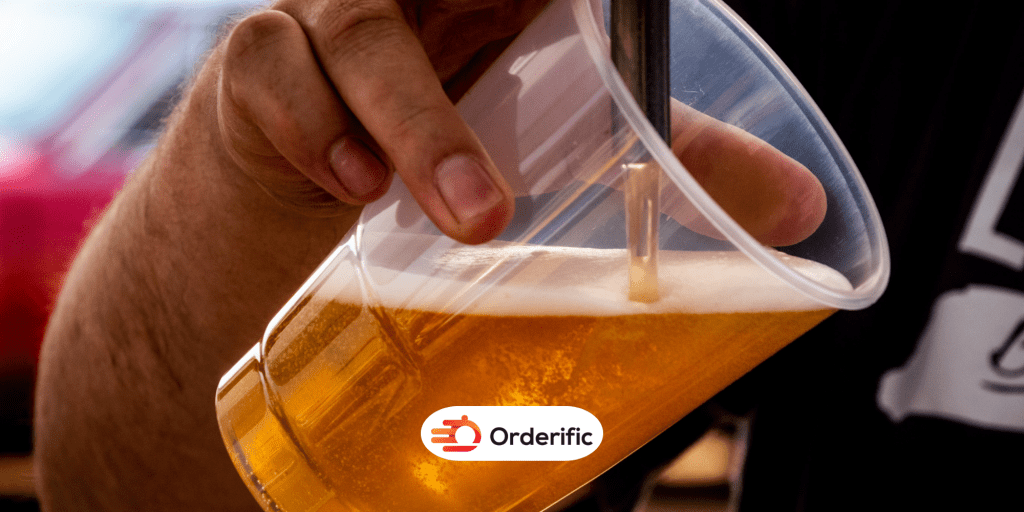 The 10 Best Brewery Promotion Ideas
Our list of the top 10 brewery promotion ideas offers a mix of traditional and innovative strategies for attracting new and loyal customers. These ideas include hosting themed events, using social media to its full potential, creating an exclusive mug club, participating in trade shows, and offering happy hour deals. Additionally, we explore the possibilities of collaborating with the Brewers Association, catering to bachelor and bachelorette parties, ensuring consistently excellent beer production, and leveraging the power of customer reviews. Each of these strategies, when implemented effectively, can enhance your brewery's visibility, reputation, and, of course, sales.
1. Social Media Contests
Step into the digital realm. Social media contests are the modern-day word-of-mouth, spreading the gospel of your great beer far and wide. Clicks and likes transform into foot traffic, driving the success of your craft brewery. Picture beer lovers tagging their friends on a post to win a free tasting session. Visualize the flurry of comments and the influx of new followers. It's not just a contest; it's a digital brewery event, bringing together a community of beer enthusiasts.
2. Brewery Tours
Next, journey through the heart of your brewery. A brewery tour isn't just about presenting your brewing process. It's an immersive experience, the scent of malted barley filling the air, the sound of bubbling brews, the sight of gleaming copper tanks. It's a story – your story. The story of how your craft beer is born, how it evolves from raw ingredients into the frothy pint that customers savor.
3. Happy Hour Specials
Behold the magic of the classic happy hour. The clock ticks down, and anticipation builds. Then, it's time. Discounts flow as freely as the beer from your taps, drawing in the after-work crowd and casual social drinkers. It's more than a promotion; it's a tradition. It is a tradition that turns an ordinary evening into an occasion, a reason to gather, share laughter, and make memories.
4. Mug Club Membership
Picture this: a club for the lovers of your craft beers. The Mug Club is a tangible symbol of belonging, a reward for their loyalty. Each member receives their mug, carefully engraved and proudly displayed. It's a statement that says, "You belong here. You are part of our story." And with each sip from their mug, they are.
5. Beer Tasting Events
Now, imagine an event dedicated to the art of tasting. A guided journey through your range of craft beers, exploring the nuances of each flavor and the subtleties of each aroma. It's an education, a celebration, a unique brewery event that appeals to novices and connoisseurs alike. It's not just about tasting beer; it's about understanding, appreciating, and experiencing it.
6. Collaboration Brews
A collaboration brew is a testament to unity. It's two breweries coming together, combining their skills, passion, and vision. The result? A unique and innovative craft beer that tells a story of partnership and creativity. It's a promotion that doesn't just attract customers; it commands attention.
7. Seasonal Specials
Every season brings the promise of change, and your brewery is no exception. Seasonal specials are an exciting feature, a chance to experiment with flavors and styles. It's the anticipation of what's next, the intrigue of the unknown. And when customers take their first sip of your seasonal brew, it's a revelation.
8. Themed Parties
There's something about a theme that captures the imagination. Themed parties offer an escape, a chance to be somewhere else. It's not just a brewery event; it's an adventure. Whether it's a 1920s speakeasy or a futuristic space bar, themed parties create unforgettable experiences. And unforgettable experiences bring customers back.
9. Sponsorship of Local Events
Embed your brewery in the heart of the community. Sponsor a local event to make your mark. It's not just about brand visibility; it's about forming connections, supporting causes, and being a part of something bigger. Brewery promotion enhances your image and endears you to your customers.
10. Brewery Merchandise
Lastly, let your customers take a piece of your brewery home. Brewery merchandise — T-shirts, caps, beer glasses — isn't just about profit. It symbolizes their connection to your brand, a token of their experiences. Every time they put on that T-shirt or drink from that glass, they're reminded of your brewery. They're reminded of the great beer. And they'll want to recreate that experience.
How to Measure the Effectiveness of a Brewery Promotion
Brewery promotion effectiveness is akin to the final tasting notes of a well-crafted brew, a critical determinant of long-term success. It's not just about counting foot traffic or likes on a social media post. It's a multi-faceted process, demanding insight, precision, and a keen understanding of your customer.
Engagement Metrics: Social media promotions offer a treasure trove of data. Pay heed to likes, shares, or comments on each post. Visualize beer enthusiasts chatting about your latest post, their excitement palpable even in the digital realm.
Sales Figures: Sales figures are the undeniable proof of the pudding. A robust increase in sales post-promotion is a clear signal of success. Imagine your brewery bustling with customers, glasses clinking, and cash registers ringing.
Customer Retention: A successful promotion creates loyal customers. Envision the smile on the face of a mug club member, returning week after week for their fill of craft beer.
Event Attendance: Strong turnout at your brewery events is another key indicator. Picture the laughter and camaraderie at a happy hour or a themed party, tangible evidence of effective promotion.
Customer Reviews: Glowing reviews from happy customers are the cherry on top of a successful promotion. Imagine the satisfaction of reading heartfelt words of praise, a testament to a job well done.
Merchandise Sales: Lastly, increased sales of brewery merchandise indicate a strong connection with your brand. Visualize a patron proudly donning a T-shirt with your brewery's logo, a walking advertisement of your success.
In essence, measuring the effectiveness of a brewery promotion is not a one-size-fits-all approach. It's the art of understanding and responding to your customer's needs. It's the science of analyzing data, identifying trends, and making informed decisions. A well-measured promotion is the secret ingredient to making your brewery the toast of the town.
Conclusion
In conclusion, employing the right mix of traditional and innovative brewery promotions can transform your craft beer venture into a bustling hub of beer enthusiasts. From the buzz of social media contests to the camaraderie at themed parties, each strategy offers a unique experience that appeals to different audiences. However, the true magic of a successful brewery promotion lies not just in the memorable events or the great beer. It's in the connections formed, the stories shared, and the sense of belonging fostered. It's in making your brewery not just a destination but a community. With this clear roadmap, 2023 holds promising prospects for your brewery. Finally, remember that tools like Orderific can help automate tasks for a better customer experience. For more information on Orderific, schedule a FREE DEMO today.
FAQs
How do breweries typically promote craft beers and engage with their target audience?
Breweries promote their craft beers through social media campaigns, on-site events, collaborations, merchandise, and targeted community sponsorships.
What marketing strategies effectively increase foot traffic to a brewery's taproom?
Effective marketing strategies include themed events, happy hours, brewery tours, mug club memberships, and social media contests.
How significant is social media presence for promoting breweries and their products?
Social media presence is crucial as it drives brand awareness, engagement, and traffic to the brewery, boosting sales and loyalty.
Can you share examples of successful brewery promotion campaigns or events?
Successful campaigns include Dogfish Head's 'Off-Centered Art Series' and New Belgium's 'Tour de Fat' cycling event.