Welcome to the world of brewing! It's a place where passion meets precision, and the key to success lies in the ingredients you use and the equipment you brew with. This guide is your map of the landscape of brewery suppliers, helping you navigate to the sources of top-notch brewing essentials.
Sourcing from reliable brewery suppliers ensures the consistency and quality of your brew. Whether it's the malt that forms the backbone of your beer, the hops that lend that signature aroma and bitterness, or the state-of-the-art equipment that makes the magic happen, each component plays a critical role. Let's embark on this journey towards brewing excellence together.
The Importance of Great Brewery Suppliers
In the brewing industry, the quality of your suppliers can make or break your business. A great supplier is not just a source for ingredients and equipment, but a partner in your brewery's success. They provide consistency, and quality, and ensure that your unique brews maintain their character batch after batch. When your suppliers are reliable, it allows you to focus on what's truly important – brewing magnificent beer.
Having the right brewery suppliers also means being privy to the latest innovations in ingredients and brewing technology. They can help you stay ahead of industry trends, offer insightful advice, and introduce you to new, exciting options that could take your brews to the next level. In essence, great suppliers are the unseen hands guiding your brewery toward excellence.
Essential Brewery Suppliers
Under the heading "Essential Brewery Suppliers," we delve into the heart of the matter. Here, we will introduce you to some of the most respected names in the brewing supply industry. These are the partners who can provide your brewery with the top-tier ingredients and cutting-edge equipment it needs to produce exceptional beer.
Food and Beverage Suppliers
First and foremost, let's talk about the most crucial ingredient in any beer – water. Your brewery's water supply is a critical element that can make or break your brews. This is why it's essential to have a reliable food and beverage supplier who can provide you with high-quality water suitable for brewing.
Next up are the malts and grains that give your beer its unique character. From base malts to specialty grains, a dependable food and beverage supplier can ensure you have access to a wide range of quality options.
Equipment Suppliers
Just as important as the ingredients are the equipment used to brew your beer. From milling and mashing to fermenting and bottling, each stage of the brewing process requires specialized equipment. Having a trustworthy equipment supplier means having access to top-of-the-line tools that can help you achieve consistent results.
Additionally, a good equipment supplier will also offer reliable maintenance and support services, ensuring that your brewing equipment stays in top condition and minimizing any production interruptions.
Menu Suppliers
Last but certainly not least, we have menu suppliers. These are the partners that help you showcase your beer and provide a memorable experience for your customers. From custom glassware to branded tap handles, having an excellent menu supplier can add that extra touch of professionalism and branding to your brewery.
Laundry Suppliers
While not directly related to brewing, laundry suppliers are essential for maintaining a clean and hygienic brewery. From uniforms to cleaning towels, having a reliable laundry supplier can ensure that your staff and equipment stay sparkling clean.
Repair Suppliers
Accidents happen, and equipment can break down. When this happens, it's vital to have a trusted repair supplier who can quickly fix the issue and get your brewery back up and running. Whether it's a small part or a major repair, having a reliable partner can save you time, money, and headaches.
Technology Suppliers
In today's digital age, technology plays a significant role in the brewing industry. From automated systems to data management software, having a reliable technology supplier can help you streamline your operations and make better-informed decisions.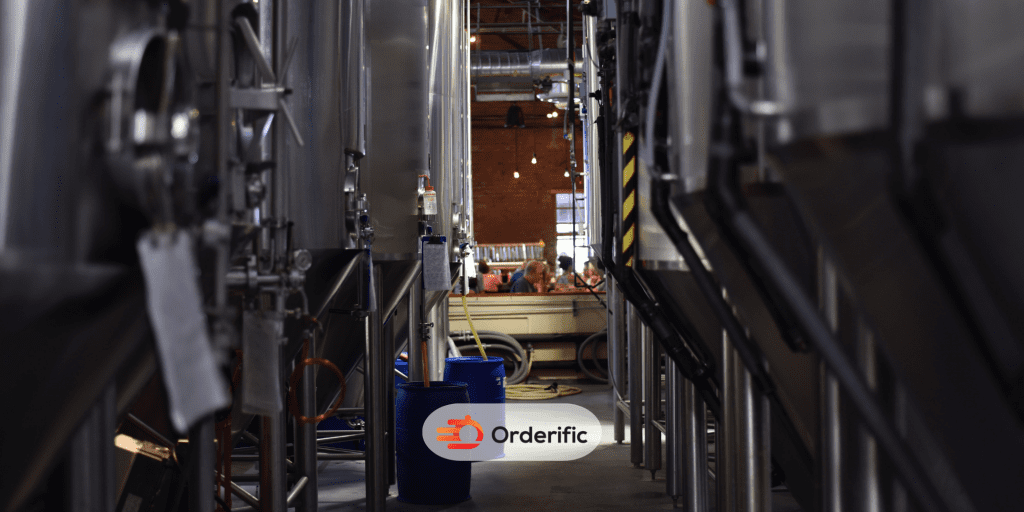 How to Find Brewery Suppliers
Embarking on the quest to find the ideal brewery suppliers may seem daunting, but fear not. This section will guide you toward discovering the best partners who can provide you with superior ingredients and state-of-the-art brewing equipment.
In your journey to brew the perfect pint, finding the right suppliers is a critical step. Let us assist you in this important quest, providing tips and strategies for locating dependable brewery suppliers who can help elevate your brew to new heights.
Online Directories and Marketplaces
The internet is a vast resource for sourcing brewery suppliers. Online directories and marketplaces, such as Alibaba, ThomasNet, and BrewBound, provide easy access to a wide range of suppliers in one place. These platforms allow you to browse supplier profiles, compare prices and services, and read reviews from other brewers.
Industry Associations and Trade Shows
Joining industry associations and attending trade shows is an excellent way to connect with other brewers and suppliers. These events provide a platform for networking, education, and discovering new products and services. Some notable beer industry associations include the Brewers Association, Master Brewers Association of the Americas, and the National Beer Wholesalers Association.
Cold-Calling and Prospecting
While it may seem old-fashioned, cold-calling and prospecting can still be effective in finding reliable brewery suppliers. Start by building a list of potential suppliers based on your needs and location, then reach out to them directly to inquire about their services and products. This method allows you to have direct communication with potential suppliers and get a feel for their level of knowledge and customer service.
Conclusion
In the dynamic world of brewing, aligning with the right suppliers can propel your brewery to greater heights. Reliable and knowledgeable suppliers not only provide you with top-quality ingredients and equipment, but they also contribute to the consistency, innovation, and overall success of your beer. They become vital partners in your journey, helping you navigate industry trends and ensuring that each batch of your brew maintains its unique character.
As we wrap up this guide, we hope that you are now equipped with the insights and strategies necessary to connect with top-tier brewery suppliers. Remember, the quest for brewing excellence is an ongoing journey, and choosing the right partners is a critical step. So, embark on this venture with confidence, trusting that the right suppliers are out there, ready to fuel your brewing success.
Click here for more flavorful and informative advice with Orderific. To start experiencing the great benefits Orderific can bring to your business, click here now. Try Orderific!
FAQs
What role do suppliers play in the success of breweries?
Suppliers provide consistency, quality, and access to the latest innovations in ingredients and brewing technology. They are vital partners who help breweries achieve excellence.
How can breweries find reliable and high-quality suppliers?
Breweries can find reliable suppliers through online directories and marketplaces, industry associations and trade shows, or by cold-calling and prospecting.
What types of products and services do brewery suppliers offer?
They offer a wide range of products and services, including ingredients such as malt and hops, equipment for brewing and packaging, and menu items like glassware and tap handles.
What are some considerations when selecting brewery suppliers?
Some considerations to keep in mind include the supplier's reputation and track record, the quality of their products and services, and their customer service and support offerings.
What should I look for in a good equipment supplier for my brewery?
A good equipment supplier for your brewery should provide high-quality, reliable, and durable equipment that meets your specific brewing needs.