Broccoli, the verdant vegetable adored by many, has a story beyond the dinner plate. It starts with a journey, from seed to harvest, intertwined with the changing seasons. Each season brings a shift in broccoli prices that can make restaurateurs scratch their heads. This blog will delve into the factors influencing these cost trends. Have you ever wondered why your favorite wood-fired oven dish has fluctuating prices? Or why your delicious pizza topping seems more expensive at different times of the year? It's not just about temperature or the fuel source. We'll explore how sourcing, seasonality, and more affect the cost of this crucial ingredient. Let this guide understanding broccoli prices and making more informed purchasing decisions. So, let's turn up the heat and get started!
Historic Broccoli Prices Trends
The tale of historic broccoli prices is as intriguing as a roller coaster ride. Remember January 2019, when broccoli prices reached their zenith. Restaurants paid a staggering average of $2.75 per pound for this nutritious green delight. Picture yourself in a bustling kitchen, the heat from the outdoor pizza oven adding to the drama, the crunch of the fresh broccoli echoing, and the changing prices creating a palpable tension.
Fast forward to a respite in December of the same year. Relief washed over restaurateurs as the price plummeted to a low of $1.52. Yes, you read that right, a refreshing dip welcomed by everyone – the chefs, the accountants, and especially the lovers of delicious pizza toppings.
As we span the scope of the past four years, we uncover an average cost trend hovering around $2.04. Although not as delightful as the lowest, this average offers some stability. Like the consistent temperature of a well-managed wood-fired oven, it provides a sense of predictability in the otherwise unpredictable world of broccoli prices.
These fluctuations are more than just numbers in the grand scheme of things. They're a testament to the dynamic nature of the market and the resilience of those who navigate it. They are, in essence, the story of the humble broccoli's journey from the farm to your plate.
Commodities Experts Weigh In on Broccoli Prices
To truly understand the fluctuations in broccoli prices, we've sought insights from commodities experts. Imagine this: highly skilled specialists huddled around a conference table, each with steaming coffee, passionately discussing broccoli prices. The aroma of freshly brewed coffee fills the room as they pore over charts and data.
These are people who live and breathe market trends. They study every shift, every dip and rise in the price of commodities, including our humble broccoli. Their expertise, borne out of years of experience, offers valuable insights into the otherwise complex world of agricultural produce prices. They're the unsung heroes of the culinary world, their tireless efforts ensuring that your favorite Neapolitan-style pizza topped with delicious broccoli remains affordable.
In their world, temperature, fuel source, and cooking surface matter as much as seasonality and sourcing. They analyze countless data points, from the ideal heat retention of home pizza ovens to the popularity of wood-fired pizza ovens. Their work is a dance between numbers and human stories, an intricate balance that shapes the cost of your favorite dishes. They make sense of the chaos, bringing predictability to the unpredictable world of broccoli prices. Their insights provide crucial guidance, allowing us to make informed decisions and understand the market's ebbs and flows.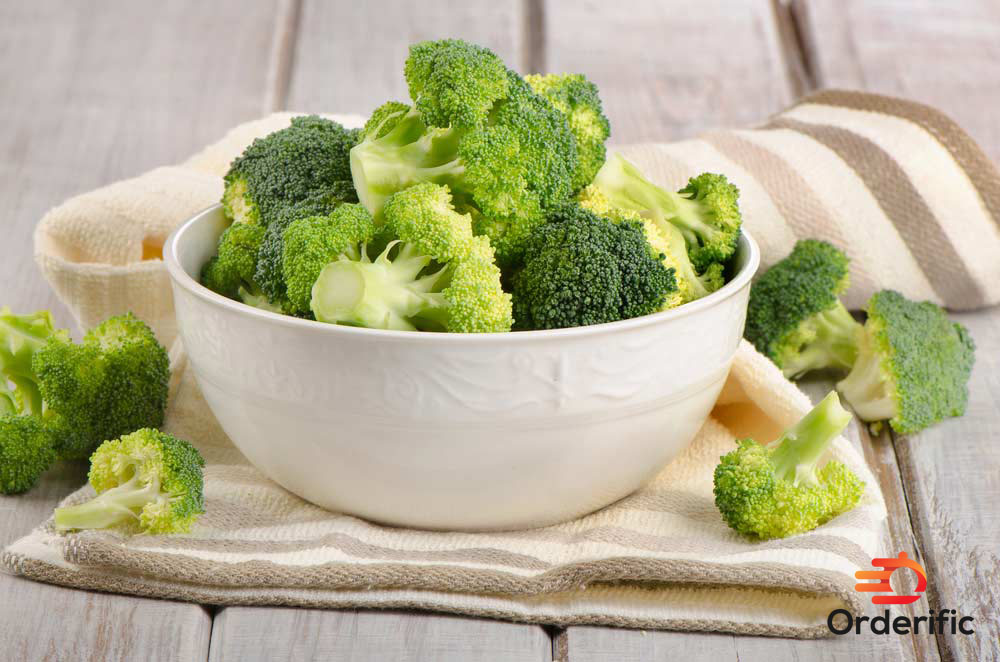 Broccoli Supply Chain for Restaurants
Picture this: A humble broccoli seed begins its journey in a vast farm's rich, sun-kissed soil. Under the watchful eyes of dedicated farmers, it grows into a vibrant, green gem brimming with nutrition. After countless sunrises and sunsets, the broccoli is harvested at its prime, ready for the next leg of the journey. Soon, it embarks on a voyage to a bustling wholesale market, cradled in the back of a cool, temperature-controlled truck.
Arriving at the market, it's selected by insightful buyers from restaurants who recognize its quality and potential. It's then swiftly packed and set off on its way again. This time, the destination is the restaurant's bustling kitchen, where it's received with open arms. Here, amidst the sizzle of the gas burner and the scent of wood-fired ovens, it's prepped with care.
The broccoli is washed, chopped, and then skillfully added to various dishes, from pies to Neapolitan-style pizzas. Through the heat retention of the oven, the broccoli transforms into a delicious pizza topping – the final delight of our green hero's journey. Thus, the broccoli supply chain, from farm to plate, becomes essential to your dining experience, ensuring that every bite you take is fresh, delicious, and worth the price.
Start Tracking Broccoli Prices Today
Stay ahead of the curve by tracking broccoli prices today. Imagine this – you're at the helm, navigating the dynamic landscape of fresh produce prices. With each click, you dive deeper into this sea of data, gaining valuable insights. The scent of freshly brewed coffee wafts around you as you pore over the current trends.
You're not alone on this journey. Our tools are your compass, guiding you through the complex world of broccoli prices. Feel the thrill of discovery as you uncover patterns, predict trends, and make informed decisions. Every chart, every graph, is a story waiting to unfold.
Harness the power of data to fuel your culinary creativity. No longer will you be at the mercy of unpredictable price changes. Instead, you will be the master of your domain, steering your restaurant to success.
Whether you're cooking up a storm in your outdoor pizza oven or crafting a delicious Neapolitan-style pizza, knowledge is power. Empower yourself with real-time insights into broccoli prices. So, why wait? Start tracking today and take control of your future.
Join the ranks of the savvy restaurateurs who have turned the tide in their favor. It's time to turn the heat up and cook up success!
Conclusion
Navigating the tumultuous seas of broccoli prices doesn't have to be daunting. With insights into historical trends and expert opinion, understanding the factors influencing broccoli prices, from seasonality to sourcing, becomes a smoother journey. This knowledge empowers you, the restaurateur, to offer consistent quality, from the sizzle of the gas burner to the delicious crunch of broccoli on Neapolitan-style pizza. The integration of Orderific streamlines this process further, automating tasks like order and payment taking, thus letting you focus on enhancing the customer experience. With Orderific, you gain more control over operations, increasing revenue and decreasing costs. Schedule a FREE DEMO today for more information on Orderific and how it can make life easier for restaurant owners and customers!
FAQs
How do factors like seasonality affect broccoli prices?
Seasonality impacts broccoli prices due to changes in supply and demand, weather conditions, and the cost of farming inputs.
Are there variations in broccoli prices between local and imported produce?
Yes, local produce typically costs less due to lower transport and importation costs than imported broccoli.
What are some creative recipes that use broccoli as a main ingredient?
Broccoli can be used in stir-fries, salads, pasta dishes, and pizzas and even made into a healthy, creamy soup.
How can consumers make informed choices during fluctuating broccoli prices?
Consumers can stay informed by monitoring market trends, understanding seasonal fluctuations, and exploring cost-effective yet nutritious alternatives.