Introduction
Welcome to the modern-day oasis of connectivity – the coffee shop, more than just a place to fix your caffeine. It's a community hub, a remote office, and a spot for the free flow of ideas. In today's world, not only does the aroma of freshly brewed coffee draw us into a cafe, but so does the indispensable promise of WiFi access. Be it catching up on social media, working on an important project, or just immersing in an online gaming session, an internet café serves as an inviting space for all. Accompanied by the temptation of fantastic coffee, specialty espresso, and a selection of delectable pastries, these attractive spaces are the go-to spots for many. Today, we'll explore five essential tips to optimize the network in a café with WiFi, ensuring you can enjoy your espresso and access your essential work emails seamlessly.
Why Offer Free Wifi In Your Cafe Of Coffee Shop?
1. Understand The Needs Of Your Customers
Free WiFi in your coffee shop attracts the creative niche of writers and digital nomads, and the everyday person seeking a pleasant environment to access social media or work. The combination of great coffee, specialty espresso, and delicious pastries creates the perfect ambiance for customers looking for a productive setting. An internet café, with its impelling vibe, is a community hotspot where individuals can relish the artisanal coffee experience while gaming, browsing, or even discussing their latest ideas. Understand your customers' needs – a quiet corner for work, a cozy nook for gaming, or a communal table for brainstorming sessions – and you'll make your café with WiFi an indispensable retreat.
2. Network Speed
Customers expect quick and efficient WiFi access in the high-speed internet age. The last thing anyone wants is to wait endlessly for a webpage to load while their coffee turns cold. Prioritize providing a high-speed internet connection in your café, ensuring customers can work, game, or browse without lag or interruption. A café with high-speed WiFi becomes a preferred choice, and promises repeat visits.
3. Equipment
The right equipment plays a pivotal role in maintaining a robust and seamless WiFi connection. Investing in quality routers and modems, and strategically placing them to avoid interference, could significantly enhance the overall WiFi performance in your cafe. Additionally, regular updates and maintenance of the equipment can prevent network issues, ensuring a smooth and efficient online experience for your customers. From work-related tasks to leisurely browsing, equipment can make all the difference in a cafe with WiFi.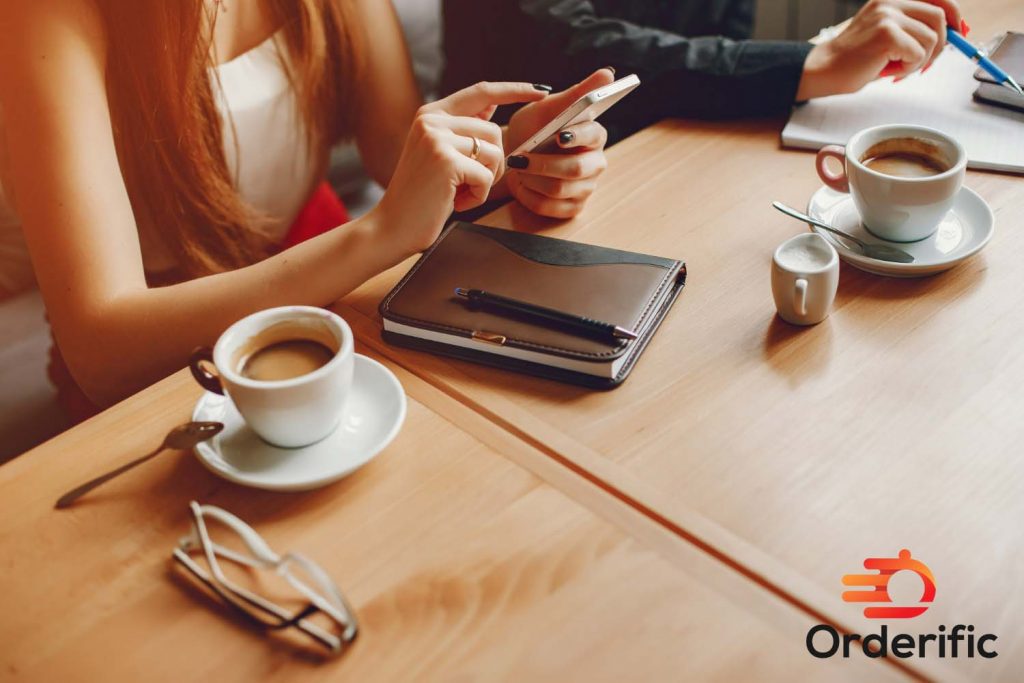 4. Security
In an era where data breaches are increasingly prevalent, providing a secure WiFi network is paramount. Ensure your customers can work, browse, or game with peace of mind by implementing robust security measures such as encryption, firewalls, and secure login processes. Security isn't merely an add-on, it's a necessity in any coffee shop with WiFi, giving your customers the confidence to access the internet freely and safely.
5. Where To Display Your Password
Having your WiFi password readily available and visible to customers is crucial. Create an environment where patrons don't have to keep asking staff for the password. Consider displaying it on a chalkboard, at the counter, or even on the receipt. Ensure the password is simple, yet secure, and easy to type. This small gesture can enhance the customer's experience, making your cafe a preferred choice for those seeking a comfortable space to work, browse, or relax while enjoying a coffee.
Conclusion
In conclusion, creating a café with robust WiFi access is more than just providing an internet connection. It's about understanding your customers' needs, ensuring speedy and secure connectivity, investing in quality equipment, and making the WiFi password readily accessible. When these factors come together, they create an environment conducive for work, gaming, browsing, or simply enjoying a cup of specialty espresso. The experience of enjoying your favorite brew in a comfortable, connected setting is one that is truly unrivaled. It's not just a café, it's a hub of connectivity and community. As we step into the future, let's reimagine and elevate the café experience, one WiFi connection at a time.
But, of course, creating this perfect environment requires the right tools. This is where Orderific comes in. Providing a seamless online ordering system for your café can elevate the customer experience, streamline your operations, and boost your profits. From inventory management to real-time reporting, Orderific covers all aspects of your café operations. Ready to revolutionize your café with WiFi? Schedule a demo with Orderific today. Let's brew success together!
FAQs
Are there any specific cafes known for offering free WiFi access to customers?
Yes, renowned chains like Starbucks and Costa Coffee are known for offering free WiFi access.
Can you recommend any cafes that have a cozy and welcoming atmosphere along with WiFi availability?
Sure, check out "The Wired Monk" or "Cafe Artigiano" for a cozy atmosphere with WiFi.
What are some common etiquettes or guidelines to follow when using WiFi in a cafe?
Be mindful of the cafe's busy hours, limit your usage during peak times, and always purchase something.
Are there any additional amenities or features that people often look for when seeking a cafe with WiFi?
Yes, power outlets, comfortable seating, and a quiet environment are often sought after in a cafe with WiFi.