If you own a café or coffee shop, providing free WiFi is an imperative part of the same, nowadays. Cafe With Wifi helps bring in more customers and lets them stay connected to the internet while they enjoy their coffee.
However, just providing the signal won't suffice. To create a successful and customer-friendly cafe with WiFi, it's essential to optimize your efforts and provide the best user experience. From reliable and secure connections to providing the password upfront, ensuring user privacy, offering power sockets and comfortable seating, and monitoring usage to ensure fair utilization, there are several critical tips to consider.
By implementing these network tips, you will observe a high influx of customers and showcase your high-quality service. Orderific takes a look at 5 Network Tips for a Cafe with WiFi, exclusively for you. Read more below.
1. Understand the needs of your customers
If you own a business like a café and provide free internet, it's super important to know what your customers want. Nowadays, having the internet is like having water or air – people need it. So, customers expect your café to have it. However, providing wifi alone is not enough to ensure customer satisfaction.
You must also consider other factors such as
Comfortable seating
Enough outlets, and
A friendly atmosphere
To get more people to come back and say nice things about your business online, just pay attention to what your customers want. Talk to them and make sure you're giving them what they need.
2. Network Speed: Your Guide to the Cafe With Wifi Experience
In today's fast-paced world, network speed is crucial. Slow internet connections can cause frustration and ultimately negative impacts on productivity. For businesses, particularly cafes with wifi, network speed is even more important because it can affect the customer's experience. No one wants to wait several minutes for a page to load when they are trying to work or enjoy their coffee.
Therefore, having a fast and reliable network connection is essential for cafes with wifi to keep their customers happy and satisfied. Customers will appreciate being able to work efficiently, stream videos without lagging or buffering, and browse the internet uninterrupted. Good network speed is a key ingredient in providing quality service to customers.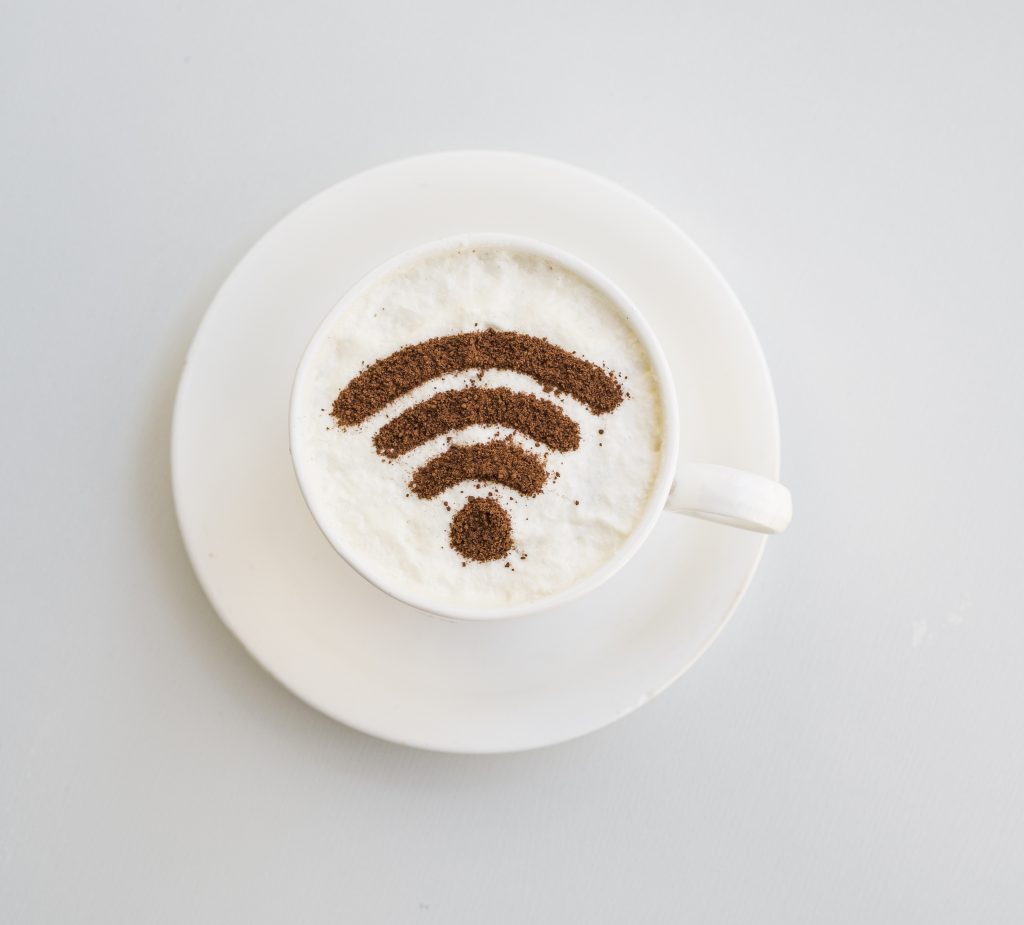 3. Equipment: What to Expect at a Cafe With Wifi"
Setting up a cafe with good wifi isn't just about putting in a router and calling it done. Equipment that enables good connectivity speeds and quality is key to creating a space that customers will love returning to. Because many people now work from places other than their homes, like cafes, cafe owners need to have the right stuff to make these folks happy. From quality routers to strong cables and network extenders, providing good wifi is an essential investment that will pay off in many ways, from happy customers to increase revenue.
Powerful networking routers: Ensure your cafe has powerful networking routers for a reliable and secure connection.
Strong signal amplifiers: Keep your customers connected with strong signal amplifiers that boost the range of your network.
Reliable Wi-Fi access points: Provide customers with a dependable WiFi experience by using reliable access points.
Firewalls: Firewalls are like strong shields for your WiFi. They stop bad people and dangers from getting into your network.
VPNs: Use virtual private networks (VPNs) to make sure customer info stays safe and private.
Network security devices: Make sure your network stays strong and safe by using strong security rules and tools.
4. Security at a Cafe With Wifi: Keeping Your Connection Safe
In today's digital world, we often go to cafes with free wifi without thinking much about it. But, there's a catch – these public wifi networks can be risky. It's important to protect your things online. To do that, you can:
1. Use a VPN. It helps keep your internet activities safe.
2. Be extra cautious when clicking on strange links or opening odd emails.
3. Always check that the safety features on your device are new and strong.
If you do these things, you can use free Wi-Fi without worrying too much about your safety on the internet.
5. Where to display your password
You've found that perfect cafe with wifi settled into a cosy corner with your laptop, and are now ready to get some work done. The last thing you want is to forget your password or keep typing it in wrong. But where should you display it? I know it might be tempting to write your password on a napkin or hide it under your keyboard, but that's not safe.
We've all accidentally left our notebooks with passwords lying around. Instead, consider putting it on your phone's lock screen or saving it in your browser's password manager. This way, it stays secure, and you don't have to stress about remembering it next time.
Display your cafe's wifi password in an easy-to-find place. You can post the password somewhere visible like near the cash register, on your website, or on social media.
Make sure to update your password regularly and let customers know when it changes. This will help keep your network secure and prevent anyone from abusing it.
Put up a sign letting customers know that they can ask you for the password at any time if they need access. This will make them feel more secure about using your cafe's wifi.
By utilizing these tips, you can ensure that your cafe has a secure and reliable wifi network that customers can enjoy. With the right set-up, you can create an inviting atmosphere with connected convenience that will keep your customers returning for more. So embrace all the possibilities and make sure to provide a quality connection experience for your cafe's wifi users!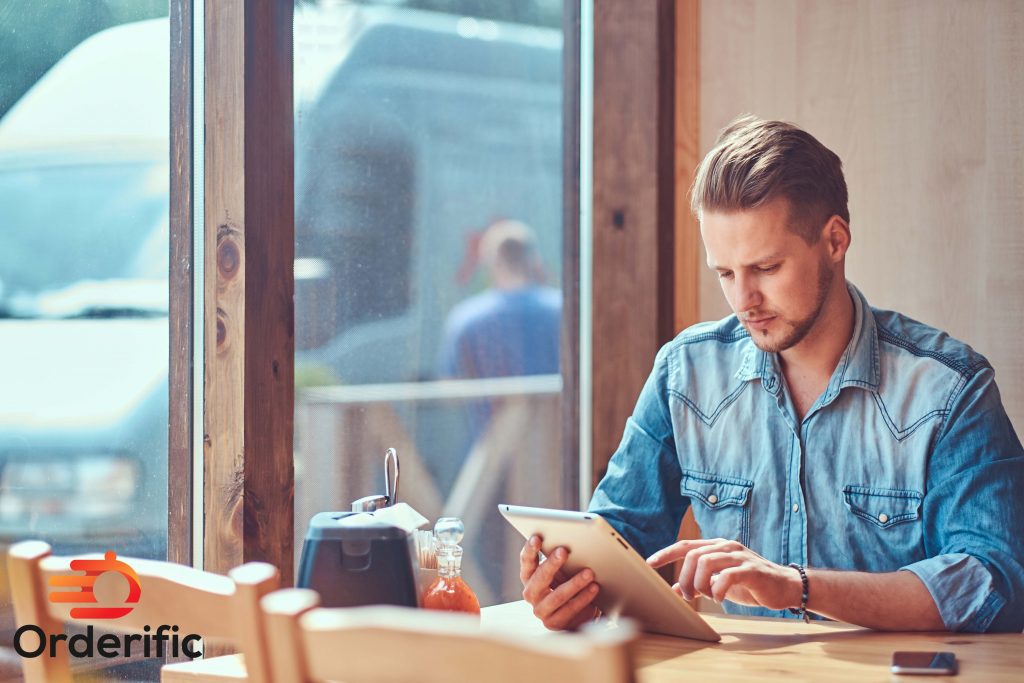 Winding Up!
As we reach the end of our discussion, it's worth considering where one might venture next. Perhaps a visit to a favourite café with reliable Wi-Fi, where work can flow alongside the enjoyment of a latte, is in order. The significance of discovering a comfortable space for both relaxation and productivity cannot be underestimated. Cafes that offer dependable internet connectivity are a true gift. Moreover, who can resist the delightful combination of the aroma of freshly brewed coffee and the scent of warm pastries? As we part ways, We encourage you to find your perfect spot to unwind and get creative. Maybe we'll even run into each other again over a cup of joe!
To discover more helpful content on topics like this, read more Orderific blogs!
FAQs
Are there any specific cafes known for offering free WiFi access to customers?
Yes, many cafes around the world offer free WiFi. For example, some well-known places like Starbucks and Costa Coffee offer customers an enjoyable atmosphere along with free WiFi access.
Can you recommend any cafes that have a cosy and welcoming atmosphere along with WiFi availability?
Absolutely! There are plenty of cafes with both a comfortable atmosphere and WiFi access. Some examples include Second Cup, Philz Coffee, and Tully's Coffee.
What are some common etiquettes or guidelines to follow when using WiFi in a cafe?
When you're using the cafe's WiFi, please be polite to others. Don't make a lot of noise with your device, don't spread out too much, and pay attention to what's happening around you.
Are there any additional amenities or features that people often look for when seeking a cafe with WiFi?
In addition to having good WiFi, customers also like it when a cafe has comfy seats, enough places to plug in their devices, and a nice selection of food and drinks. These things can make your cafe a nicer place for people to hang out and enjoy.