For years, culinary cinema has been a fixture of the movie industry. Providing us with immersive cinematic experiences combined with recipes and cooking techniques that tantalize our taste buds. Whether you're a novice cook or a kitchen virtuoso, there's something to be gained from watching these films. Although they are likely to make you hungry! Today we will take a look at some of the greatest chef movies out there so that you can get your fix of tasty masterpieces. From classics like 'Big Night' to more modern blockbusters like 'Chef,' prepare your taste buds for an adventure in culinary entertainment. It's time to savor the magic of culinary cinema!
The Art of Culinary Cinema: Exploring Chef Movies
In recent years, movies centered around chefs have captured the spotlight and garnered widespread appeal. This fusion of two beloved elements – the culinary world and the magic of cinema – creates an unforgettable cinematic experience. Beyond merely showcasing gastronomy, these films delve into the fervor and unwavering commitment underpinning extraordinary dishes' creation.
From Pixar's heartwarming tale of a determined rat's culinary aspirations in "Ratatouille" to Jon Favreau's riveting drama "Chef," the genre offers diverse narratives. These cinematic gems provide a peek into the intricacies of the culinary realm. They also offer a window into the passion and finesse required to craft delectable cuisine.
Unveiling the Masterpieces: Iconic Chef Movies
Julie & Julia: A Delectable Tale of Cooking and Blogging
Julie & Julia transcends its culinary and blogging themes. It weaves a heartwarming narrative of embracing passions and discovering fulfillment through unexpected avenues. We delve into Julie Powell's odyssey of meticulously preparing all 524 recipes from Julia Child's iconic work, "Mastering the Art of French Cooking," and chronicling her exploits online. The film becomes a poignant testament to unwavering determination and boundless creativity.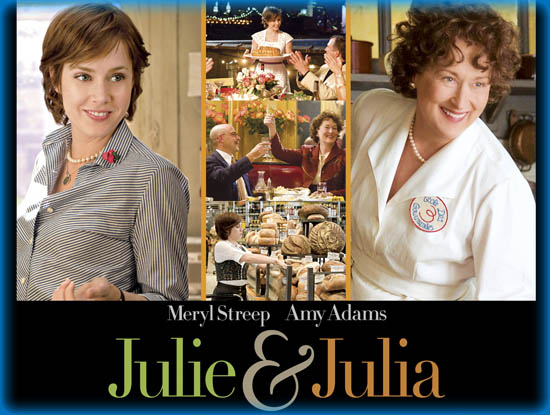 Alongside, it unearths the remarkable journey of Julia Child herself. Thus unraveling her path to becoming a revered culinary figure. It also offers profound insights into the trials and victories of pursuing a vocation in the gastronomic realm. In its entirety, Julie & Julia stands as a sumptuous delight. It is certain to captivate and gratify aficionados of fine cuisine and those who ardently chase their dreams.
Big Night: A Feast for the Senses and the Soul
A symphony of flavors and emotions reminiscent of the cinematic masterpiece — "Big Night". This Italian-American film unfolds a captivating narrative, chronicling the poignant journey of two immigrant brothers as they ardently pursue their version of the American dream through the conduit of an authentic Italian restaurant.
Big Night is more than just a movie. It is a sensorial voyage that awakens the taste buds and tugs at the heartstrings. It elicits a spectrum of emotions, leaving one with an insatiable yearning for delectable food and profound connection. This cinematic gem masterfully extols the virtues of love, dedication, and the profound impact of culinary craftsmanship.
Burnt: Redemption and Perfection on a Plate
Released in 2015, "Burnt" delves into the intricate realm of haute cuisine. It chronicles the redemptive odyssey of a head chef in relentless pursuit of culinary excellence. Beyond mere gastronomy, the film unveils the meticulous artistry of fine dining, where flavors intertwine with presentation and minutiae.
The characters in "Burnt" vividly portray the towering challenges and relentless pressure that accompany culinary virtuosity. A compelling choice for connoisseurs of the culinary arts and enthusiasts of triumph-against-odds narratives. The movie encapsulates the essence of the culinary world's splendor.
Stirring Emotions: Chef Movies with Heartfelt Stories
Babette's Feast: Nourishing Souls through Fine Dining
"Babette's Feast" transcends the confines of a mere extravagant dinner narrative. It unfolds as a testament to food's profound, nourishing essence. The film masterfully captures the allegorical depth of delicious food shared among cherished companions. With her culinary finesse, Babette, the gifted chef, crafts a sensory banquet and a banquet for the spirit. Against the backdrop of a modest Danish village, the grandeur of the repast stands in stark contrast, evoking an aura of enchantment and awe.
The audience bears witness to the diners' experience of the feast. A poignant reminder of food's harmonizing potency in forging connections and salving emotional scars. Through Babettes Feast, the art of gastronomy becomes a vehicle for profound transformation and delight. It is amplified by the act of communal indulgence.
Mostly Martha: Love, Loss, and the Healing Power of Food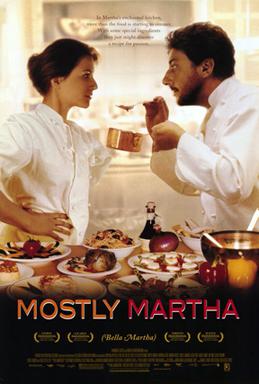 Mostly Martha is a heartwarming tale of love, loss, and the soothing power of food. This film follows the story of a talented chef named Martha, whose troubled personal life is affecting her ability to create culinary masterpieces in the kitchen. Martha's world is turned upside down when her boss hires a charming restaurant manager named Mario. Through their shared love of cooking and unexpected events in their personal lives, Martha and Mario form a unique bond that heals their emotional wounds. This film is a beautiful portrayal of how food has the ability to bring people together and mend broken hearts.
The Hundred-Foot Journey: A Fusion of Cultures and Flavors
"The Hundred-Foot Journey" stands as a culinary masterpiece. It is a delightful portrayal of the harmonious fusion of two distinct cultures through the art of cuisine. The film narrates the journey of the Kadam family as they leave behind India and seek a new life in a quaint village in France. This heartfelt narrative unfolds a tale of affection, zeal, and the pursuit of culinary greatness.
In an exquisite interplay, the Kadam family's traditional Indian recipes seamlessly meld with the refined elegance of French cuisine. They establish their restaurant just across the street from a renowned French culinary establishment. This convergence gives rise to an orchestra of unparalleled flavors and enticing aromas. Thus captivating patrons from both locales and weaving them into a shared experience.
Beyond the Kitchen: Chef Movies with a Twist
Jiro Dreams of Sushi: Pursuing Excellence in Sushi Artistry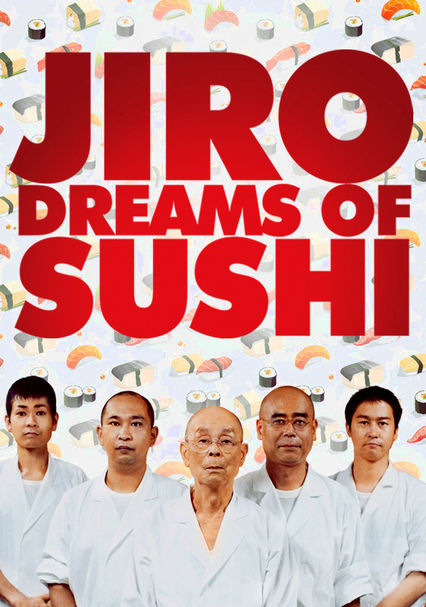 The art of crafting sushi is more than just preparing a delectable meal. It's a painstaking journey of devotion and diligence, requiring years to attain mastery. Jiro Ono, featured in the captivating documentary "Jiro Dreams of Sushi," stands as the epitome of this exquisite artistry. His unwavering commitment to his craft has garnered him the admiration of peers and patrons and elevated sushi-making to an art form.
Through countless iterations and tireless practice, Jiro has meticulously refined his techniques. Thus fashioning sushi that transcends mere sustenance and evolves into a profound encounter. His relentless pursuit of flawlessness serves as a wellspring of inspiration, radiating a profound affection for his vocation through every meticulously created piece of sushi. For those aspiring to ascend to the pinnacle of their own crafts, Jiro's narrative stands as a testament to the fruits born of persistence and devotion.
Chocolat: Temptations of a Chocolatier in a Conservative Town
The movie "Chocolat" explores themes of temptation and conservatism in a small French town. The story follows a talented chocolatier and her daughter as they move to the town and open a chocolate shop during Lent, a period of fasting and sacrifice in the Catholic tradition. The townspeople struggle between their desire for the delicious treats and their fear of breaking tradition. And the chocolatier's influence begins to change the town's attitudes towards pleasure and tradition. With stunning visuals and a talented cast, "Chocolat" is a heartwarming tale about the power of indulgence and acceptance in even the most conservative communities.
The Waitress: Baking Happiness with Every Pie
"Waitress" is a heartwarming film that is guaranteed to evoke feelings of happiness. The narrative revolves around Jenna, who finds solace in her exceptional baking skills. Thus using them not only to uplift her own spirits but also to bring joy to those around her. Amidst the challenges she faces in her life, Jenna discovers the therapeutic power of baking, which offers a comforting escape from her troubles. With each pie she creates, she infuses a part of her own contentment. Thus creating a tangible connection between her happiness and her delectable creations. The movie beautifully underscores the notion that even during life's most trying moments, a touch of sweetness can add a radiant glow.
Lights, Camera, Cook! Behind the Scenes of Chef Movies
The Role of Food Stylists: Making Dishes Look Irresistible
Often overlooked in the culinary realm, food stylists wield a unique and invaluable craft. While chefs masterfully craft delectable dishes through their inventive recipes, the food stylists elevate these creations to a higher plane. Their art lies in presenting these meals in a manner that not only tantalizes taste buds but also enchants the eyes.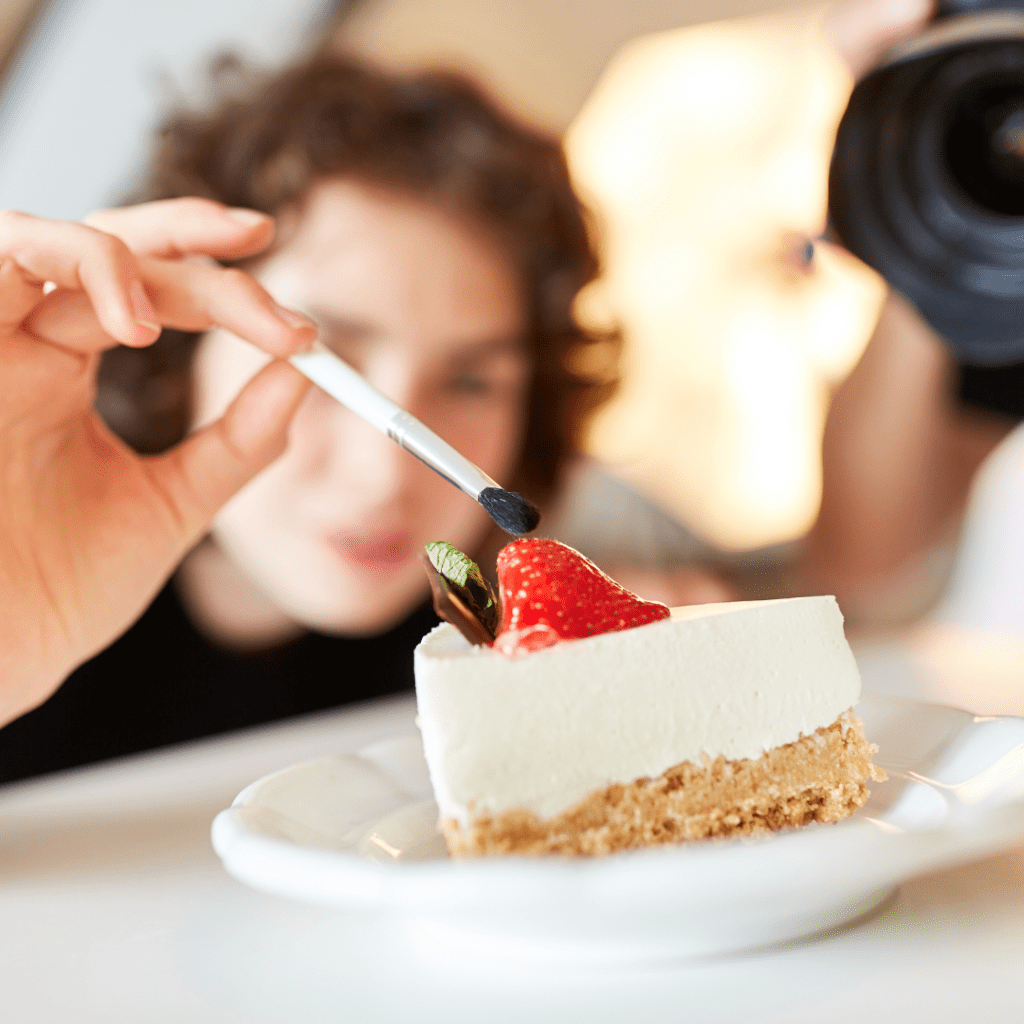 Operating across a spectrum of ingredients, from succulent vegetables to savory meats. Food stylists orchestrate their arrangement to compose visual symphonies. Employing an array of techniques, they transform dishes into irresistible visual narratives. These experts curate a flawless visage for each dish by adding artful garnishes, strategic camera angles, and even artifice in the form of faux ingredients.
The impact of food stylists' craftsmanship resonates deeply within the culinary landscape, catalyzing culinary exploration and fostering a newfound appreciation for nourishment. Their creative wizardry beckons individuals to venture into uncharted gastronomic territories, fostering a fresh perspective on food's allure.
From Recipe to Screenplay: Adapting Culinary Ideas for Film
The enchanting aromas and irresistible flavors of cuisine hold an allure onscreen that rivals their real-life appeal. Transforming culinary concepts into film presents a distinct challenge, yet it offers the potential for some of cinema's most visually captivating and emotionally gratifying moments. From the meticulous artistry of molecular gastronomy to the heartwarming simplicity of comfort dishes, each culinary creation harbors a narrative.
Filmmakers shoulder the responsibility of encapsulating these narratives into a screenplay that effectively conveys the sensory journey of food through visuals, sound, and dialogue. With the perfect blend of elements, a culinary movie has the power to leave audiences as content as if they've indulged in a lavish banquet.
Food Consultants in Film Making: Ensuring Authenticity in Culinary Scenes
Have you ever watched cooking movies or a chef show and found yourself distracted by an inaccurate depiction of food or culinary culture? That's where food consultants in filmmaking come in. These experts play a crucial role in ensuring authenticity in culinary scenes, helping filmmakers create more believable and engaging stories on screen. From selecting the right ingredients to perfecting plating and presentation, food consultants work closely with directors and actors to bring the story to life in a way that feels real. Thanks to their expertise, audiences can now enjoy a more immersive and enjoyable viewing experience, free from distracting inaccuracies and errors.
Nostalgia on a Plate: Chef Movies and Their Signature Dishes
Ratatouille: An Animated Adventure in Haute Cuisine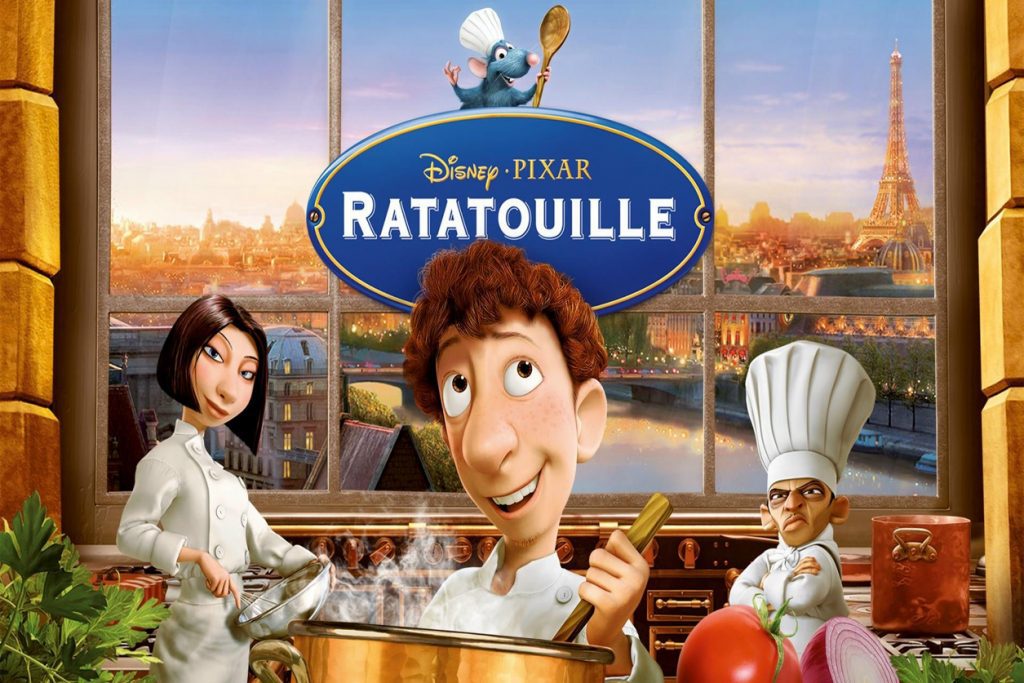 Ratatouille transcends the conventional animated adventure, evolving into a tantalizing symphony for both the eyes and the palate. This cinematic masterpiece invites you to traverse the realm of haute cuisine, where Remy, the exceptional protagonist, defies rodent norms with an unbridled culinary ardor. Through an unlikely alliance with a human chef, they concoct a tempest of flavors while steadfastly pursuing their aspirations. Beyond its endearing moments and unforeseen twists, Ratatouille's pièce de résistance lies in its ability to evoke cravings with its delectable visuals and dishes. Unsurprisingly, this creation has etched its name as a timeless gem in the realms of animation and gastronomy.
Like Water for Chocolate, the movie: Magical Realism Infused with Cooking
"Like Water for Chocolate" stands as a masterpiece of magical realism interwoven with the culinary arts. Its mesmerizing narrative showcases the potency of emotions and the mystical occurrences within everyday existence. The film takes us on an odyssey through Tita's life, a young woman constrained by her duty to care for her ailing mother, deftly unfurling how her culinary prowess evolves into a conduit for her desires and a medium to convey her sentiments.
Infused with magical realism, the movie imparts an enchanting dimension, transmuting cooking into an almost sacred endeavor. It's a tale encompassing love, heartache, fervor, and the profound emotions that cooking can unleash. The film beckons us into a realm where the senses are amplified, and the ordinary takes on an extraordinary, enchanting guise.
Eat Drink Man Woman: A Wholesome Family Feast
In the 1994 film "Eat Drink Man Woman," director Ang Lee tells a heartwarming story about food and family. Starring Si Hung Lung as Master Chu, an esteemed chef, the film follows three daughters and their widowed father as they navigate the changes in their individual lives and relationships. The family's love of food is constant throughout their interactions, particularly Master Chu's meticulously prepared feasts. The film showcases the beauty of food and hunger as a unifier, bringing together people from all walks of life, even in the most complicated of family dynamics. "Eat Drink Man Woman" is a poignant reminder of the power of food to connect us with one another and the importance of sharing meals with those we love.
A Flavorful Future: The Influence of Chef Movies on Culinary Culture
The enchanting craft of cooking has never failed to captivate audiences when portrayed on the grand stage of cinema. From the heartwarming tale of Ratatouille to the inspiring journey of Julie and Julia, films centered around chefs have left an indelible mark on culinary culture worldwide. These cinematic creations not only ignite the aspirations of budding chefs to pursue their dreams but also eloquently illustrate the artistry of cooking and the extraordinary metamorphosis of ordinary ingredients into exquisite masterpieces.
In these films, chefs emerge as instructors of innovative culinary techniques and heralds of novel flavors and ingredients, illuminating previously unexplored gastronomic territories. Furthermore, they shine a spotlight on the trials and tribulations intrinsic to the culinary realm, unveiling the arduous process that underlies the creation of each flawless dish. As testaments to the culinary world's challenges, these movies have seasoned the global cuisine landscape with their rich narratives and are poised to retain their palatable influence for times to come.
Wrapping Up!
Chef movies remain one of the most captivating genres of cinema, connecting viewers to the joys and struggles of cooking. Through their enthralling stories and intimately detailed characters, these films practice an artful combination of storytelling and gastronomy. From the simplicity of Burnt to the surrealism of Like Water for Chocolate, viewers can explore cultures, flavors, and cuisines on a big screen—a feat that remains remarkable even after decades.
While chef movies have inspired countless delicious dishes that fill tummies as well as evoke nostalgia, they have also sought to show us how generosity, ambition, excellence, and kindness are all integral ingredients when it comes to life in general. If you haven't seen any chef movies in a while, it may be time for another viewing session to explore the savory world of cooking.
And if you're looking for more information on cuisine-related content or food facts from around the world, then read more Orderific blogs for informative content.
FAQs
Q. What are chef movies?
Ans. Chef movies are films that revolve around cooking, chefs' lives, and culinary themes.
Q. Are chef movies based on real-life stories?
Ans. Some chef movies are inspired by real-life stories, while others are fictional.
Q. Which are some popular chef movies?
Ans. Popular chef movies include "Julie & Julia," "Ratatouille," and "Chef."
Q. Do chef movies focus solely on cooking?
Ans. Chef movies often explore culinary passions alongside personal journeys.
Q. Are there any animated chef movies?
Ans. Yes, "Ratatouille" is a notable animated chef movie.
Q. Are chef movies suitable for all audiences?
Ans. Chef movies vary in their suitability, with ratings ranging from family-friendly to mature audiences.