Chicken Burgers. Just the word can make your mouth water, thinking of the soft, juicy meat encased in a crisp bun with your favorite toppings. But did you know that you can enjoy this classic meal with a healthier twist?
We're talking about ground chicken burgers, the lighter, leaner cousin of the traditional beef burger.
This article will take you on a culinary journey exploring how to craft the perfect chicken burger, offering tips, tricks, and a delicious recipe to satisfy your burger cravings.
How Do You Make Burgers with Ground Chicken?
Creating mouthwatering burgers with ground chicken is an art, one that requires a balance of flavors and textures. First, you'll need high-quality ground chicken. Using ground chicken breast can make for a leaner burger.
If you're craving a juicier patty, go for ground chicken with a slightly higher fat content. For seasoning, try a delightful blend of garlic powder, onion powder, and pepper. To further enhance the flavor, a dash of Worcestershire sauce works wonders.
You'll need breadcrumbs to bind the chicken mixture and make the perfect chicken patties. Italian breadcrumbs and panko breadcrumbs work wonderfully, adding light to the chicken mixture.
Creating a tasty burger with ground chicken is challenging. Still, you'll be churning out these healthier alternatives with the right ingredients and techniques in no time.
Ingredients:
1 pound of ground chicken
1/2 cup of breadcrumbs (Italian or panko, based on your preference)
1/4 cup of finely chopped onion
Two cloves of garlic, minced
One teaspoon of Worcestershire sauce
1/2 teaspoon of garlic powder
1/2 teaspoon of onion powder
Salt and pepper to taste
Olive oil for cooking
Hamburger buns
Desired toppings (lettuce, tomato, cheese, red onion, mayonnaise, etc.)
Steps:
Prepare the ground chicken mixture:
Mix ground chicken, breadcrumbs, chopped onion, minced garlic, Worcestershire sauce, garlic powder, onion powder, salt, and pepper in a large bowl. Use your hands or a spoon to combine, being careful not to overmix, as it might make the burgers tough.
Shape the patties:
Divide the chicken mixture into four equal parts. Shape each portion into a patty, approximately 3/4 inch thick. Here's a nifty tip: Create a small indentation in the center of each patty using your thumb. This assists in maintaining their shape while they cook, preventing any excessive puffiness in the middle.
Cook the patties:
Preheat a grill or non-stick skillet over medium heat. If using a skillet, lightly drizzle with olive oil. Place the patties on the grill or skillet and cook until the internal temperature reaches 165°F (74°C), about 5-7 minutes per side, as measured by a meat thermometer.
Assemble the burgers:
When the patties are cooking, you can begin preparing the buns and toppings. Once the patties are finished, place them on the buns, add your preferred toppings, and your ground chicken burgers are ready to serve!
Keep in mind, seasoning is the secret to a succulent and savory chicken burger. Feel free to experiment with various spices or additions to match your palate. Whether it's a spicy kick or a tangy flair, you can personalize your ground chicken burger to suit your taste. Enjoy!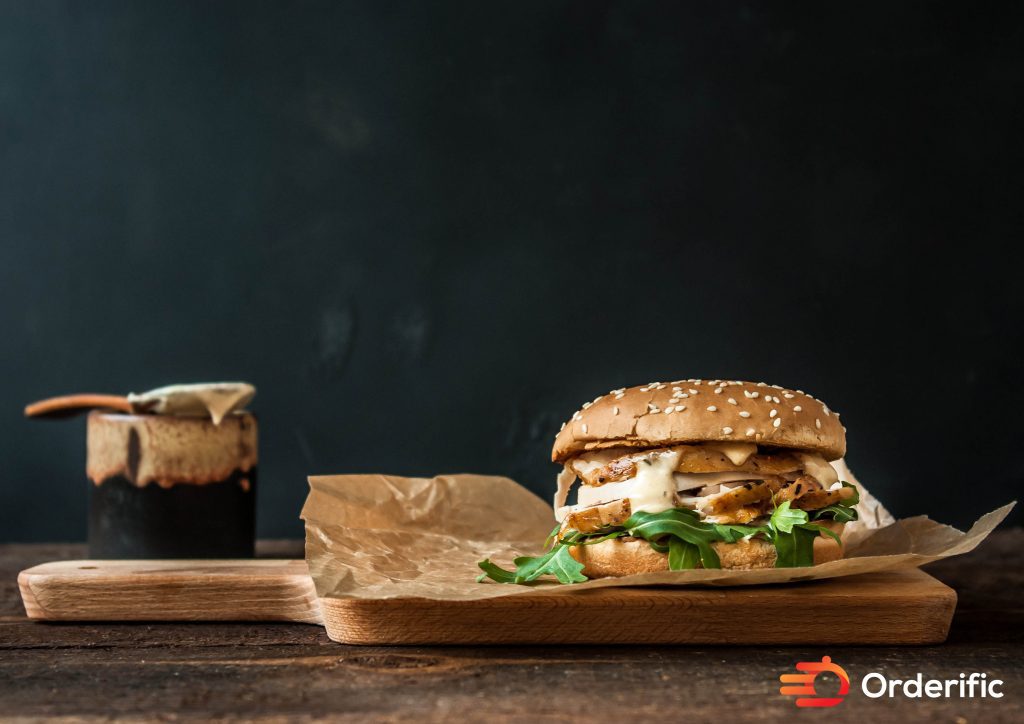 How Long Does it Take to Grill Chicken Burgers?
Grilling chicken burgers ideally requires maintaining juiciness while ensuring they're cooked thoroughly. Since chicken needs to be well-cooked and safe to eat, timing is crucial.
Remember, avoid frequently flipping the burgers or pressing down on them while grilling. These actions can lead to a loss of juices and a dry burger. Turning them only once ensures a juicy and evenly cooked burger. So, get your grill fired up and enjoy some deliciously grilled chicken burgers!
Well, it's crucial to ensure your chicken burgers are cooked thoroughly. Using a meat thermometer can greatly enhance your grilling experience. Cook your chicken burgers over medium heat until the internal temperature reaches 165°F (74°C). On average, this process should take approximately 5-7 minutes per side.
And voila! The chicken patties are ready for the final assembly. Toasted brioche buns or classic hamburger buns work great. Simply add some crisp lettuce, juicy tomato, flavorful red onion, and your preferred dressing—whether it's creamy mayo, tangy BBQ sauce, or even a dollop of Greek yogurt for a healthier twist.
Voila! You now have a beautifully crafted chicken burger ready to be devoured!
Tips and Tricks to Make The Best Grilled Ground Chicken Burgers
Creating the perfect ground chicken burger is a bit of an art, but with these tips and tricks up your sleeve, you'll be a master in no time:
Keep it cold:
Ground chicken can get a bit sticky and challenging to work with. Keep your chicken mixture chilled right until you're ready to grill. This helps the patties hold their shape better on the grill.
Mind the mix:
Be gentle when combining your chicken mixture. Overmixing can lead to tough burgers. Mix until the ingredients are just combined for the best results.
Patty perfection:
When shaping your patties, make them slightly larger than the bun since they shrink while cooking. Also, making a slight indentation in the middle of the patty will keep it from puffing up and helps it cook evenly.
Avoid flipping and squishing:
Please resist the urge to flip the burgers repeatedly or press down on them with a spatula while cooking. These actions can cause the juices to escape, leaving you with a dry burger.
Use a thermometer:
Chicken needs to be well-cooked to be safe to eat. Using a meat thermometer takes the guesswork out of grilling. The internal temperature should reach 165°F (74°C) to ensure the burger is cooked thoroughly.
Get creative with flavor:
Ground chicken is a relatively blank canvas. Feel free to experiment with different herbs, spices, and flavor add-ins.
Let it rest:
Allow your grilled burgers to rest for a few minutes before serving. This allows the juices to redistribute throughout the patty, making for a juicier burger.
Toast the buns:
Lightly toasting the buns on the grill adds a nice crunch and prevents the burger juices from making the bun soggy.
Dress it up:
Experiment with a variety of toppings and sauces. Everything from traditional lettuce and tomato to unique options like caramelized onions, coleslaw, or spicy mayo can add more flavor to your chicken burger.
With these tips in mind, grilling ground chicken burgers should be a breeze. Happy grilling!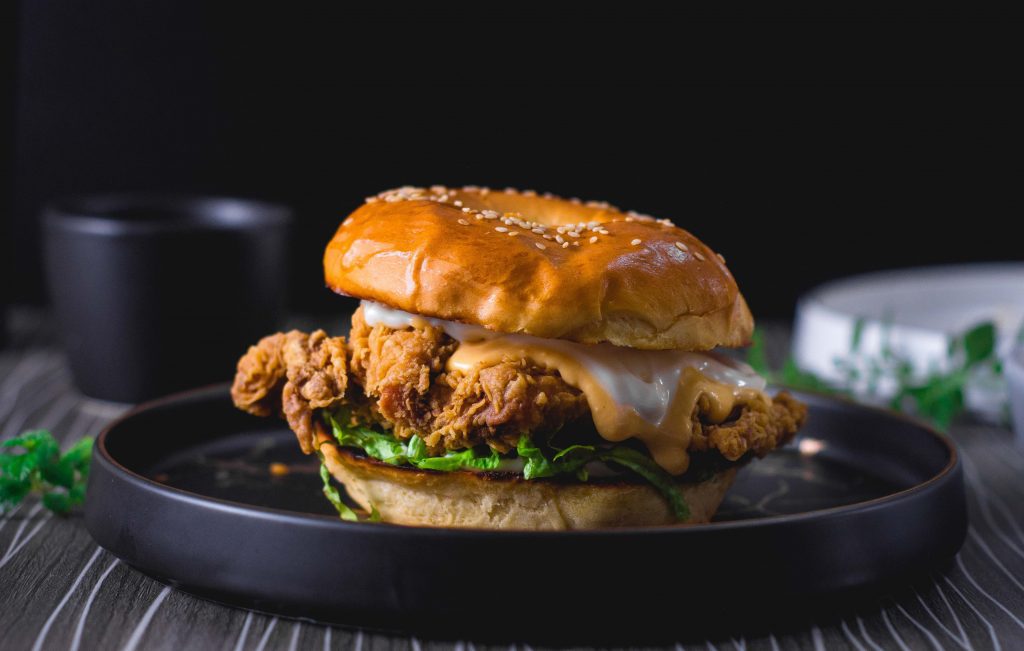 What To Serve with Homemade Chicken Burgers
A good side dish or two can take your homemade chicken burger meal from great to unforgettable. From classic sides to more innovative options, here's a list of delectable pairings that go well with chicken burgers:
Crispy Fries or Onion Rings: Chicken burgers, fries, or onion rings are a classic combo. The crisp, salty sides complement the juicy burger perfectly. You could also opt for sweet potato fries for a healthier twist.
Coleslaw: The creamy and tangy flavors of coleslaw can perfectly balance the savory taste of the chicken burger. Plus, it adds a delightful crunch to your meal.
Grilled Vegetables: Grilled veggies like bell pepper, zucchini, or corn on the cob make a healthy and delicious side that can be prepared right on the grill with your burgers.
Salad: A simple green salad with a vinaigrette dressing or a more substantial Greek salad can be a refreshing and light side dish.
Potato Salad: This creamy and hearty side dish can be an excellent companion to your chicken burgers.
Baked Beans: Baked beans, especially if they're a bit smoky or sweet, can pair wonderfully with the savory flavors of the burger.
Pickles: The tanginess of pickles can add a nice contrast to your chicken burgers. Plus, they're easy to serve on the side with virtually no prep needed.
Chips and Dip: A bowl of your favorite chunks with a dip – salsa, guacamole, or a creamy onion dip – can be a great, easy side for casual meals.
Fruit Salad: A colorful fruit salad can be a light, refreshing side dish, especially for a summer cookout. It adds a sweet note to your savory meal.
Choose one or two of these side dishes based on your preference, and you will have a satisfying meal!
Conclusion
Next time you're craving a burger, remember there's a healthier but equally tasty alternative waiting for you. Ground chicken burgers are a delightful twist on the traditional beef burger, offering a lighter option that doesn't skimp on flavor.
With the right ingredients and a few handy tips, you can create a juicy, mouthwatering chicken burger that's sure to impress.
In case you want more content like this, visit Orderific right now!
FAQs
What are some tasty and creative ways to season and flavor chicken burgers for a delicious twist on traditional beef burgers?
You can experiment with herbs and spices like cumin, paprika, or some fresh herbs like cilantro.
Can you recommend some healthy and lean ground chicken options that work well for making homemade chicken burgers?
Ground chicken breast is a lean option that works well. It has less fat than other cuts but still offers a great taste.
Are there any specific cooking techniques or tips for ensuring that chicken burgers are cooked thoroughly and remain juicy and flavorful?
Using a meat thermometer is the best way to ensure your chicken burgers are cooked thoroughly.
Can you suggest some flavorful and unique toppings or condiments that pair well with chicken burgers to elevate their taste?
Different kinds of cheese, caramelized onions, and unique sauces like spicy mayo or tangy tzatziki can elevate the taste of a chicken burger.