Every culinary enthusiast recognizes the immutable truth: a dish's magic isn't just about its recipe but is deep with the passion, age-old traditions, and pristine freshness of its ingredients. Chicken Maison stands as a shining testament to this belief. 
Their menu doesn't just serve food; it narrates tales of authentic flavors, celebrates the ardor for gourmet craftsmanship, and honors timeless culinary traditions. In an ever-evolving gastronomic landscape, brimming with eateries vying for attention, Chicken Maison's dedication to authenticity and quality sets it apart. 
A Flavorful Start: Appetizers and Soups
Embarking on a culinary voyage at Chicken Maison means beginning with a symphony of flavors that tantalize the taste buds and set the tone for what's to come. Appetizers and soups are more than just preludes; they're glimpses into the rich tapestry of flavors that define the essence of the place.
They introduce the palate to a universe of sensations, ranging from spicy kicks to creamy delights. Let's dive into this flavorful prelude that Chicken Maison expertly curates.
1. Start with a Bang: Spicy Chicken Wings
Nothing announces the beginning of a gastronomic adventure quite like Chicken Maison's spicy chicken wings. Marinated to perfection and fried to a golden hue, each wing offers a delightful crunch, followed by an explosion of spices that dance on the palate. Served with a side of creamy sauce, they're the perfect blend of heat and comfort.
2. A Classic Favorite: Creamy Tomato Soup
This isn't just soup; it's a comforting embrace in a bowl. The rich, velvety texture of tomatoes blended with herbs and a hint of garlic offers warmth and solace. Each spoonful is a reminder of home, nostalgia, and the simple joy that classic recipes bring.
3. A Twist on Tradition: Hummus Platter
The hummus platter is a testament to Chicken Maison's commitment to both authenticity and innovation. Smooth, rich hummus, drizzled with olive oil and garnished with parsley, pairs beautifully with warm pita bread. It's a medley of textures and flavors, offering both tradition and a contemporary twist in each bite.
4. A Seafood Delight: Clam Chowder Soup
Dive deep into the comforting world of seafood with this creamy clam chowder. Rich, hearty, and packed with the delicate flavors of clams, this soup is a lighthouse for seafood lovers. The addition of potatoes and onions creates a depth of flavor, making it a perfect start to any meal.
5. A Vegetarian Treat: Stuffed Grape Leaves
A treat for the senses, these grape leaves are meticulously stuffed with a mix of rice, spices, and herbs. Each bite offers a delightful play of tangy and savory, paying homage to the age-old traditions of Mediterranean cuisine. It's a dish that seamlessly marries health and flavor.
The Main Course: Chicken Maison Specialties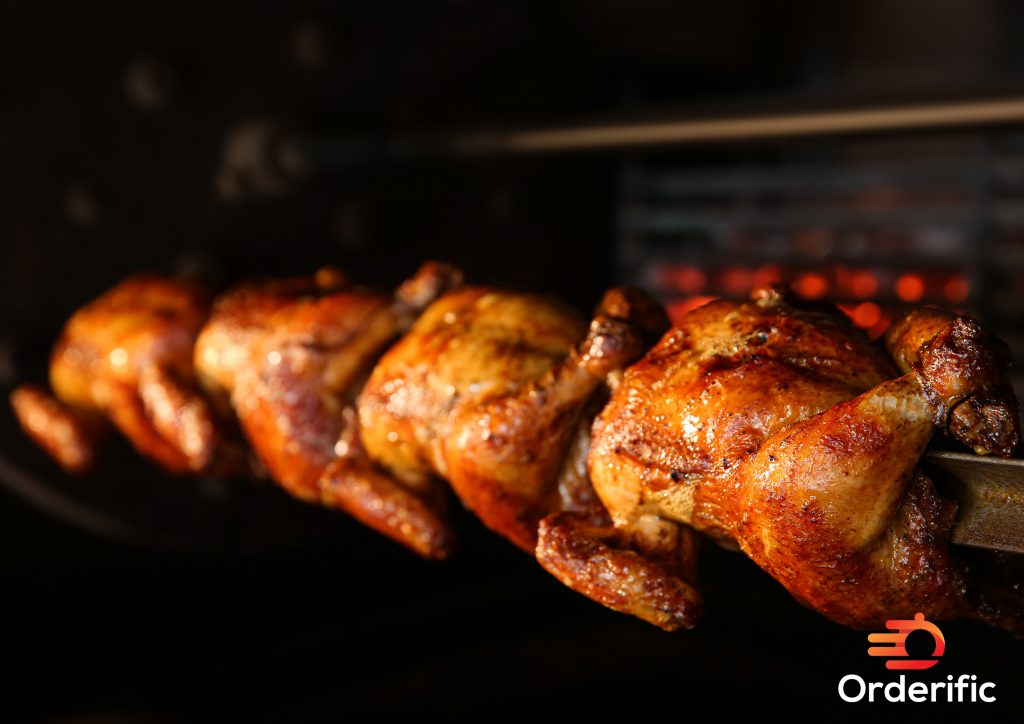 Diving into the main course at Chicken Maison is akin to a rich tapestry of flavors, traditions, and culinary artistry. Here, the dishes aren't just about satiating hunger; they're about embarking on a delectable journey through time and culture.
From the gentle turn of the rotisserie to the sizzling sounds from the grill, every dish is crafted with meticulous care, honoring the intricate balance of ingredients, textures, and flavors. Let's explore these specialties that truly make Chicken Maison a gastronomic landmark.
1. Bestseller: The Famous Rotisserie Chicken
At the heart of Chicken Maison's specialties lies their iconic rotisserie chicken. Slow-cooked to perfection, this dish is a blend of tender meat infused with herbs and spices, resulting in a symphony of flavors with every bite. It's a timeless classic, embodying the restaurant's commitment to tradition and quality.
2. A Mediterranean Delight: Chicken Kabob Plate
Transport yourself to the shores of the Mediterranean with the Chicken Kabob Plate. Tender chunks of chicken, marinated in a blend of lemon, garlic, and olive oil, are grilled to perfection. Served with rice and a side of fresh salad, it's a harmonious blend of flavors that speak of sun, sea, and zest.
3. A Spicy Kick: Cajun Chicken Pasta
For those who like to spice things up, the Cajun Chicken Pasta is a dream come true. Tender strips of chicken with fiery Cajun spices, are tossed with perfectly cooked pasta and a creamy sauce. Each forkful promises warmth, comfort, and a delightful kick that lingers.
4. A Healthy Alternative: Grilled Chicken Salad
For the health-conscious, the Grilled Chicken Salad is a beacon. Fresh, crisp lettuce, juicy tomatoes, and slivers of red onion come with perfectly grilled chicken pieces. Drizzled with a light dressing, this dish is a testament to the fact that healthy doesn't have to compromise on flavor.
5. A Hearty Meal: Chicken Pot Pie
Dive into nostalgia with the Chicken Pot Pie, a dish that evokes memories of home-cooked meals. Beneath its golden crust lies a world of creamy richness, with chunks of chicken, carrots, and peas enveloped in a savory sauce. It's comfort, warmth, and love served in a bowl.
Sides That Complement: Delicious Side Dishes
No meal is truly complete without the delightful accompaniments that complement and elevate the main dishes. At Chicken Maison, the side dishes are not mere afterthoughts; they are carefully curated masterpieces that add depth, contrast, and an extra layer of delight to the dining experience.
Crafted with precision and a deep understanding of flavors, these sides are the unsung heroes, ensuring every bite of the main dish is balanced, enriched, and enhanced. Let's delve into these exquisite accompaniments that complete the Chicken Maison dining symphony.
1. A Classic Pairing: Creamy Mashed Potatoes
The comforting embrace of creamy mashed potatoes is undeniably universal. At Chicken Maison, potatoes are whipped to perfection, infused with butter and a touch of cream, resulting in a velvety, smooth texture. It's a heartwarming side that effortlessly complements any main dish with its comforting presence.
2. A Refreshing Salad: Cucumber and Tomato Salad
A light and refreshing contrast to richer dishes, this salad combines the crispiness of fresh cucumbers with the juiciness of ripe tomatoes. Drizzled with a hint of extra virgin olive oil and seasoned just right, it's a vibrant medley that adds a touch of freshness to any meal.
3. A Savory Side: Garlic Fries
Golden and crispy on the outside, soft and fluffy inside, these fries are elevated with a generous toss in fragrant garlic and parsley. Every bite is a perfect combination of savory goodness and crunchy delight, making them an irresistible accompaniment to any dish.
4. A Healthy Option: Steamed Vegetables
Steamed to retain their natural colors, flavors, and nutrients, this side offers a medley of seasonal vegetables. Whether it's the sweetness of carrots, the earthiness of broccoli, or the snap of green beans, it's a side that adds both color and health to the plate.
5. A Comfort Food Favorite: Mac and Cheese
A dish that resonates with both the young and the young at heart, Chicken Maison's Mac and Cheese is a creamy dream. Perfectly cooked macaroni enveloped in a rich cheddar cheese sauce, it's a side dish that evokes warmth, nostalgia, and the simple joys of comfort food.
A Drink to Quench: Refreshing Beverage Options
Beyond the symphony of flavors in their main dishes and sides, Chicken Maison ensures that their patrons' thirst is quenched with an array of beverages, each tailored to enhance the dining experience. From classic refreshments to unique concoctions, the drink menu is a testament to the establishment's dedication to providing a comprehensive dining experience.
Whether you're looking to kick-start your day with a caffeine boost, cool down with a fruity delight, or simply relish a timeless favorite, the beverage options promise a fitting companion to your meal. Let's explore these thirst-quenchers.
1. A Cold Brew: Iced Coffee
For those who seek an invigorating jolt, the Iced Coffee is a perfect pick. Brewed to perfection and chilled to the right degree, each sip offers a harmonious balance of rich coffee flavors and the refreshing coolness of ice. It's an ideal wake-me-up or a mid-meal refresher.
2. A Classic Choice: Coca-Cola Fountain Drink
The iconic bubbles of Coca-Cola never fail to delight. As a fountain drink, it delivers that signature taste we've come to love over the years. A staple that complements any dish, it's a timeless choice for diners of all ages.
3. A Healthy Option: Freshly Squeezed Orange Juice
Nothing beats the zesty tang and natural sweetness of freshly squeezed orange juice. Brimming with vitamins and a vibrant citrusy flavor, this juice is both a healthful and flavorful option. It's sunshine in a glass, providing a refreshing cleanse to the palate.
4. A Sweet Treat: Strawberry Smoothie
Indulge in the luscious blend of ripe strawberries, a touch of yogurt, and a hint of honey. This smoothie is a delightful dance of flavors – tangy, sweet, and creamy all at once. Perfect for those who crave a fruity treat that doubles as a satisfying drink.
5. A Warm Beverage: Hot Chocolate
As you wrap your fingers around a mug of Chicken Maison's hot chocolate, you're not just holding a drink but a warm embrace. The velvety blend of rich cocoa, steamed milk, and a touch of sweetness makes it a comforting choice, ideal for winding down your meal or warming up on cooler days.
Conclusion
Chicken Maison transcends the mere concept of a restaurant; it's a culinary haven where each dish tells a story. Each bite is a testament to the rich traditions, meticulous craftsmanship, and the unwavering love poured into the creation of the menu. The ambiance, the aromas, and the flavors merge to offer an unparalleled experience.
It's not just a dining destination; it's a journey of flavors where everyone, from the exuberant child to the discerning adult, discovers a dish that not only satiates their hunger but also touches their soul, making them yearn for just one more bite.
In case you want more content like this, visit Orderific right now!
FAQs
What is Chicken Maison known for?
Celebrated for its commitment to freshness and authentic flavors, it's renowned for dishes that echo the heart of traditional cuisine.
Does Chicken Maison offer vegetarian options?
Absolutely! There's a range of dishes catering to vegetarian palates, ensuring everyone can indulge.
Does Chicken Maison use fresh ingredients?
Without a doubt! Freshness is at the core of their philosophy, ensuring every bite is a taste sensation.
Does Chicken Maison offer delivery services?
Yes, they ensure that their delightful dishes can be savored in the comfort of one's home, without having to visit them physically.
Does Chicken Maison have a loyalty program?
They value their regular patrons and have a program in place to reward their loyalty, bringing along many benefits.