Chicken Tikka Masala is a globally popular and flavorsome dish. It was first prepared in the 1960s by a Bangladeshi chef in Glasgow. This delicious meal consists of tender, marinated chicken pieces cooked in a rich, tomato-based sauce. 
The dish includes various spices, including garlic, ginger, pepper, fenugreek, and garam masala, resulting in a unique flavor. It is often served with rice, naan, or pita bread.
Chicken Tikka Masala has various recipes that cater to different tastes and cooking styles. One popular method is marinating the chicken in whole-milk yogurt and grilling or pan-frying the pieces before mixing it with the sauce. Doing so creates an authentic, homemade version of this classic curried dish.
Some believe it originated in India, while others claim it was first prepared in Scotland by a Bengali chef. Regardless of its origins, the dish is popular in Indian and British cuisine and enjoyed by millions worldwide.
What is Chicken Tikka Masala?
Tikka Masala is a popular dish made of roasted chicken pieces called Chicken Tikka, served with a creamy and spiced orange-colored sauce. It originates from Indian cuisine, but Indian cooks living in Great Britain made it famous. It's offered in restaurants worldwide as a main course. It's considered a must-have in both British and Indian cuisines.
To prepare Chicken Tikka Masala, first marinate boneless chicken in a mixture of spices and yogurt. Then, roast the marinated chicken in an oven or grill for a tender and smoky texture. Now, combine the chicken with a tasty tomato curry sauce infused with aromatic spices that give the dish a unique flavor. This delicious dish can be enjoyed with different accompaniments like rice, naan, or chapati. You can also vary the quantity of spices according to your taste.
Differences Between Dishes
Butter Chicken vs Chicken Tikka Masala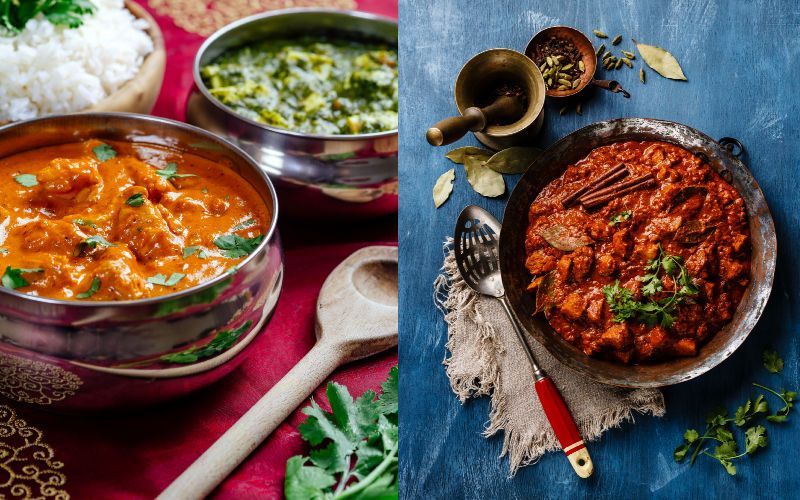 While both dishes are popular worldwide, there are slight differences between butter chicken (also known as chicken makhani) and chicken tikka masala preparation.
Butter chicken has originates in Indian cuisine and features a creamy sauce that includes butter and milk or sometimes coconut milk. The sauce is usually blended or pureed, giving it a smooth texture. Butter Chicken has a sweeter profile and is prepared using a creamy sauce enriched with butter.
On the other hand, chicken tikka masala is believed to have been invented in the UK in the 1960s. It has a chunkier tomato-based sauce as compared to butter chicken. The dish also contains a mix of spices, giving it a unique and slightly spicier taste. The sauce's texture in chicken tikka masala must be pureed for a less smooth and chunkier appearance.
Chicken Tikka vs Chicken Tikka Masala
These two dishes mainly differ in preparing the chicken and the accompanying sauce.
Chicken tikka is essentially boneless chicken marinated in yogurt and spices, then cooked in a tandoor (a traditional Indian clay oven) or on a grill. The result is tender and juicy chicken pieces with a slightly smoky flavor.
Unlike chicken tikka, chicken tikka masala involves adding grilled or tandoori-cooked chicken pieces to a tomato-based sauce containing various spices. This creates a richer, more complex flavor for the dish than chicken tikka's simple and subtle tastes.
In summary, while the primary ingredient of both chicken tikka and chicken tikka masala is marinated and grilled chicken, the addition of the spiced tomato sauce sets chicken tikka masala apart.
Ingredients:
Chicken breast or thighs
Yogurt or heavy cream
Garam masala: This aromatic spice blend is the secret behind the authentic taste of Chicken Tikka Masala.
Tomato sauce
Coconut milk
Lemon juice
Oil: Choose a neutral oil like vegetable or canola oil for cooking.
Chili powder: For a touch of heat and depth of flavor.
Ginger and Garlic: These aromatic powerhouses create a flavorful foundation for the masala sauce.
Various other spices and herbs: Ground cumin
Making Chicken Tikka Masala at Home
When preparing a delicious and flavorful Chicken Tikka Masala at home, there are two main steps for the best results.
Step I: Marinating the Chicken
The first step is marinating the chicken. Begin by using boneless, skinless chicken breast cut into 1-inch chunks. Prepare a marinade by combining plain yogurt, lemon juice, garlic, ginger, salt, ground cumin, garam masala, and paprika.
Coat the chicken pieces in the marinade and make sure they are well-covered. Allow it to marinate in the refrigerator for at least 20 minutes, or ideally overnight for the best flavor.
Step II: Cooking the Sauce and Chicken
Heat oil in a large skillet over medium heat to cook the sauce and chicken. Sauté onions, tomato paste, garlic, and freshly grated ginger. Sauté until fragrant and golden.
Once the spices have been added, gradually stir in tomato sauce and heavy cream, adding the spice levels per your preference.
Next, take the marinated chicken and grill it until thoroughly cooked. Then, add the cooked chicken to the prepared sauce and let it simmer for a few minutes, allowing the flavors to blend. You can pair this delicious Chicken Tikka Masala with steamed basmati rice for a perfect taste.
Now, enjoy your homemade Chicken Tikka Masala that rivals any restaurant preparation.
Tip: Keep your workspace clean and practice safe food-handling techniques during the entire process.
Instant Pot Chicken Tikka Masala
Instant Pot Chicken Tikka Masala is an easier way of enjoying this classic Indian dish at home. With an Instant Pot, you can get the same rich flavors and tender chicken as the traditional stovetop method faster and hassle free.
Marinate the chicken as instructed in the main recipe. Marinating the chicken overnight ensures the flavors are absorbed profoundly and helps to tenderize the meat. However, if time is limited, a minimum of 30 minutes of marination is recommended.
Set the Instant Pot to sauté mode and heat oil. Sear the marinated chicken pieces in batches, ensuring they are browned but not fully cooked. This process helps to lock in the flavors and create a beautiful appearance. Remove the chicken from the pot and set it aside.
To build a flavorful base, sauté onions, garlic, and ginger. Then, add tomato puree and aromatic spices like turmeric, cayenne pepper, smoked paprika, and garam masala.
Once the sauce has thickened slightly, add the seared chicken pieces to the Instant Pot. Pressure cook them for 5-10 minutes until they become tender and fully cooked.
Simmer for 5 more minutes. Stir well to combine. Adjust seasoning if needed. Garnish with fresh cilantro.
And serve your Instant Pot Chicken Tikka Masala piping hot with steamed rice or naan bread, or your favorite side dish. This crowd-pleasing recipe balances aromatic spices and creamy, savory flavors while keeping your chicken tender and moist.
Nutrition
Chicken Tikka Masala is a prevalent Indian dish. It features tender pieces of marinated chicken and a creamy tomato-based sauce bursting with flavor.
Chicken Tikka Masala is a protein-rich delight, boasting 56 grams per serving. This generous portion facilitates muscle growth and supports the optimal bodily function.
The amount of carbohydrates in Chicken Tikka Masala may differ depending on serving size, and the recipe used, typically averaging around 22 grams per portion. The dish also includes following contents per serving.
Dietary Fiber: 4.3 grams
Sugar: 14 grams
Sodium: 2.6 grams per serving
We all have unique dietary needs and preferences. That's why seeking guidance from a healthcare or nutrition professional is advisable. While it might not align perfectly with everyone's dietary goals, this incredibly flavorful dish can still be savored in moderation.
Breads that Go Well with Tikka Masala
Chicken Tikka Masala, a beloved Indian delicacy, comprises marinated chicken in a delectable spiced tomato sauce. A crucial aspect of relishing this dish lies in complementing it with the perfect bread. In the following section, we will explore various types of bread that harmonize exquisitely with Chicken Tikka Masala.
At the top of our list is the timeless Naan bread. This soft and fluffy flatbread is an essential component of Indian cuisine and flawlessly complements the exquisite flavors of Chicken Tikka Masala. Whether you're using it to scoop up the luscious sauce, soak in the delectable flavors, or wrap succulent chicken pieces, the naan offers a delightful taste experience.
Another suitable option is Tandoori Roti, a type of whole-wheat flatbread cooked in a traditional tandoor oven. Slightly thicker than naan, Tandoori Roti adds a rustic touch to the meal and holds up well to the saucy Chicken Tikka Masala. Its mild flavor works well, allowing the dish's flavors to shine.
Paratha, a layered and flaky flatbread often prepared with ghee or oil, is an indulgent choice for pairing with Tikka Masala. Its richness complements the dish's creaminess, offering a comforting and satisfying experience. Plain or stuffed varieties, such as Aloo Paratha or Gobi Paratha, are suitable for those wanting to type in their meal.
Lastly, consider Chapati or Roti, more straightforward, unleavened bread options. Similar in appearance to tortillas, Chapati and Roti are ideal for those looking for lighter or healthier options while still enjoying the Chicken Tikka Masala. These flatbreads are whole-wheat, making them a nutritious and low-fat choice to balance the dish's richness.
In conclusion, selecting bread to accompany Chicken Tikka Masala greatly enhances the dining experience. From classic naan to the healthier chapati, there's a perfect bread choice for every preference, ensuring the dish is enjoyed to the fullest.
Orderific's Features
Seamless Online Ordering: With Orderific, you can offer your customers a user-friendly and hassle-free online ordering experience. Whether they're craving Chicken Tikka Masala or any other delectable dish on your menu, they can easily place their orders from the comfort of their own homes or on the go.
Efficient Order Management: Orderific's intuitive platform streamlines your order management process, ensuring that you never miss a beat. Keep track of incoming orders, manage inventory, and efficiently process payments, all in one place. Say goodbye to manual order tracking and hello to streamlined operations.
Easy Customization: Do your customers have specific preferences or dietary requirements? With Orderific, you can effortlessly customize each order to meet their needs. From spice levels to ingredient substitutions, you have the flexibility to tailor every dish, including Chicken Tikka Masala, to your customers' preferences.
And remember, for all your restaurant's ordering needs, Orderific is here to support you. Schedule your free demo today and discover how our platform can enhance your ordering experience, streamline operations, offer customization options, and provide reliable support. Take your restaurant to the next level with Orderific!
And for restaurant owners seeking to optimize their operations, Orderific offers a solution that simplifies
the ordering process. Schedule a free demo today to discover how Orderific's features, including streamlined online ordering, efficient order management, easy customization, and dedicated customer support, can transform your business.
So, gather your ingredients, embrace the aromatic spices, and embark on a culinary adventure to create a memorable Chicken Tikka Masala that will have everyone asking for seconds. Enjoy the delicious journey!
Conclusion
The unique blend of flavors and spices in chicken tikka masala makes it a firm favorite among food enthusiasts across the globe.
As the demand for this dish increases, innovative platforms like Orderific allow people to explore popular recipes similar to chicken tikka masala and even order from the nearest restaurants.
In recent years, the growing food industry owes much to the convenience of accessing various cuisines. With platforms like Orderific, unlocking a world of culinary delights is just a few taps away. Discover nearby restaurants that serve your favorite dishes, venture into new recipes, and uncover diverse cuisines.
Treat yourself to an exquisite culinary journey like never before. Visit Orderific today to find the best nearby restaurants, explore new recipes, and satisfy your cravings with delicious and authentic meals. Happy eating!
Schedule a free demo today to discover how Orderific can revolutionize your restaurant's ordering process.
FAQs
Can I use an alternative to heavy cream?
A: If you want a lighter option, you can substitute heavy cream with Greek yogurt or coconut cream.
Can I make a vegetarian version of Chicken Tikka Masala?
A: Absolutely! You can substitute the chicken with paneer (Indian cottage cheese) or tofu to create a vegetarian version of Chicken Tikka Masala.
What are some variations of the traditional recipe?
Chicken Tikka Masala offers diverse options to suit various dietary preferences. While coconut milk can replace heavy cream, tofu provides a vegetarian substitute for chicken.
How do you serve Chicken Tikka Masala?
Chicken Tikka Masala is commonly enjoyed with fluffy basmati rice or alongside traditional Indian bread like naan or roti. It goes well with a delicious yogurt-based dish or a cool cucumber raita.
How long can you keep chicken butter masala in the fridge without loosing the taste?
Certainly! If stored correctly, Chicken Tikka Masala can be made ahead of time and kept in the refrigerator for 3–4 days. Interestingly, the flavors enhance after a day or two as the spices harmoniously fuse.