Welcome to the enticing world of chicken wings! Whether crispy from an air fryer, boldly spiced with buffalo sauce, or lovingly oven-baked, these savory delights offer a true feast for the senses. Each bite takes you on a gastronomic journey, from the crispy exterior to the succulent meat. Imagine the aroma of chicken wing sauce wafting from your kitchen. Picture the vibrant colors of the spicy buffalo wings and the golden-brown hues of the baked wings. Now, imagine the burst of flavor as you take that first bite. Grilled, fried, or baked, each chicken wing recipe is a culinary masterpiece. Perfect for a Super Bowl party or a casual dinner, these wings promise a finger-licking experience. Uncover the secrets to these irresistible flavor varieties, transform your kitchen into a gourmet haven, and satisfy your cravings with our guide to unforgettable chicken wings.
How to Make Baked Chicken Wings Crispy
Let's embark on a culinary adventure that culminates in crispy, baked chicken wings. Imagine the sound of the oven door closing, the anticipation building as the time ticks by.
Start with fresh chicken wings, their supple texture hinting at the succulent delight. Sprinkle a generous dash of baking powder, the secret ingredient that promises unparalleled crispiness. Add a touch of garlic powder, enhancing the chicken's natural flavor.
Preheat your oven, creating a warm haven for the wings.
Arrange the seasoned chicken wings on a baking sheet, each piece promising a crunch-filled bite.
Bake until golden brown. The aroma of freshly baked chicken wings fills your home, a testament to the culinary masterpiece.
Transfer the wings to a serving plate. The crispy exterior is a delightful contrast to the tender, juicy meat inside.
Buffalo sauce is the perfect partner for these baked chicken wings. Its bold, spicy flavor elevates the crispy wings, turning a simple meal into a feast.
For those craving a unique touch, consider Korean chicken wings. Infused with soy sauce, these wings are a delightful fusion of flavors.
Finally, remember the joy of eating. The sound of the first bite, the burst of flavors, the warmth spreading through your body—these are the memories that stick.
Whether it's a Super Bowl party or a weekday meal, these crispy, baked chicken wings will impress. So, put on that apron and transform your kitchen into a gourmet haven. After all, there's nothing quite like the satisfaction of a well-made dish.
How to Season Chicken Wings
The journey of seasoning chicken wings is an artistic endeavor, marinated in anticipation and served with a dash of culinary creativity. The process begins with choosing the freshest, plump chicken wings, their soft, supple texture whispering promises of a delectable feast.
Start with a clean, dry chicken wing. Its bare surface is a canvas, ready to soak up the flavors.
Reach for the garlic powder, a household staple known for its robust, earthy aroma. Sprinkle it generously, allowing this humble spice to work its magic.
The next stop on this flavor expedition is the sauce. It could be a fiery hot sauce you're after, or a tangy buffalo sauce is more to your liking. Drizzle it over the wings, ensuring every inch is coated in this liquid gold.
If an Asian twist is desired, a splash of soy sauce adds a savory, umami element. It's a delightful divergence from the norm, bringing the taste buds on a trip to the East.
A dusting of baking powder is the secret weapon for a crispy finish. It's the unexpected hero, transforming the wings into a crispy, golden delight.
Lastly, slow cook or air-fry these seasoned artisans. The cooking method is a personal preference, offering a different texture and flavor profile.
Once out of the heat, the seasoned chicken wings pose momentarily, their golden exterior glistening under the kitchen lights. The tantalizing smell fills the room, enveloping the senses in a warm, delicious embrace. The first bite is a culmination of this sensory journey. The crunch of the exterior, the tender chicken meat, the explosion of flavors – it's a symphony of sensations. Whether it's a Super Bowl party or a weekday dinner, these seasoned chicken wings are a testament to culinary prowess, a simple yet flavorful dish that leaves a lasting impression.
Sauces for Chicken Wings
A chicken wing is complete with a perfect sauce. Each sauce brings a unique personality, transforming an ordinary wing into an extraordinary feast. Consider the classic buffalo sauce, a fiery blend that awakens your taste buds. Its bold spice punches through, leaving your tongue tingling and craving more.
Next, let's dive into the realm of Korean chicken wings sauce. Infused with soy sauce, it's a delicious fusion of East and West. Each bite is a journey, taking you through sweet, salty, and spicy notes, all harmoniously coexisting.
For the adventurous, a spicy hot sauce offers an exhilarating challenge. Its heat, both intimidating and inviting, adds an unexpected kick to the chicken wings. Every mouthful is a fiery delight, a test of your spice tolerance.
You may prefer a mild but equally delightful alternative, such as a garlic-based sauce. The gentle, earthy aroma of garlic complements the wings, adding a subtle depth of flavor. It's a comforting, familiar taste, reminding you of home-cooked meals shared with loved ones.
Finally, remember the luxurious, creamy texture of blue cheese dip. It acts as a soothing balm, taming the heat of spicy wings and offering a delicious contrast.
In conclusion, the sauce completes the chicken wing experience. It's the final, crucial element that ties everything together, turning a simple chicken wing into a culinary masterpiece. Whether planning a Super Bowl party or cooking a weekday dinner, the proper sauce can elevate your chicken wings to the next level. So, explore these sauces and find your personal favorite.
What to Serve with Chicken Wings
Imagine a platter of chicken wings in front of you. Your taste buds are tingling, relishing the spicy, crispy delight. Yet, something needs to be added. The right accompaniment is the key to elevating this gastronomic experience. It's the melodic harmony that completes the symphony of flavors.
Celery and Carrot Sticks: Fresh, crunchy celery and carrot sticks are the traditional companions of chicken wings. Their crisp texture and refreshing taste provide a delightful contrast to the hot, spicy wings. They also add a vibrant pop of color to your plate.
Potato Wedges: Golden, crispy on the outside, and fluffy on the inside. Potato wedges are a hearty side for chicken wings. They act as the perfect sponge, soaking up the leftover sauce on the plate.
Blue Cheese Dip: This creamy, tangy dip is a match made in heaven for spicy buffalo wings. It offers a soothing, cool contrast to the heat of the wings, making each bite a perfect balance of flavors.
Coleslaw: A fresh, tangy coleslaw brings a zesty element to the meal. Its creaminess complements the crunchiness of the wings, and its bright flavors are a refreshing palate cleanser.
Corn on the Cob: Sweet, juicy corn on the cob is a beloved summertime favorite. Smothered in butter, it adds a sweet contrast to the spicy wings.
Biscuits: Fluffy, buttery biscuits stand out as a side dish. They are perfect for mopping up extra sauce and add a comforting, homemade touch to the meal.
The right side dish can transform your chicken wings from a simple snack to a full, satisfying meal. So, the next time you're planning a Super Bowl party or a casual dinner featuring chicken wings, remember these delicious accompaniments.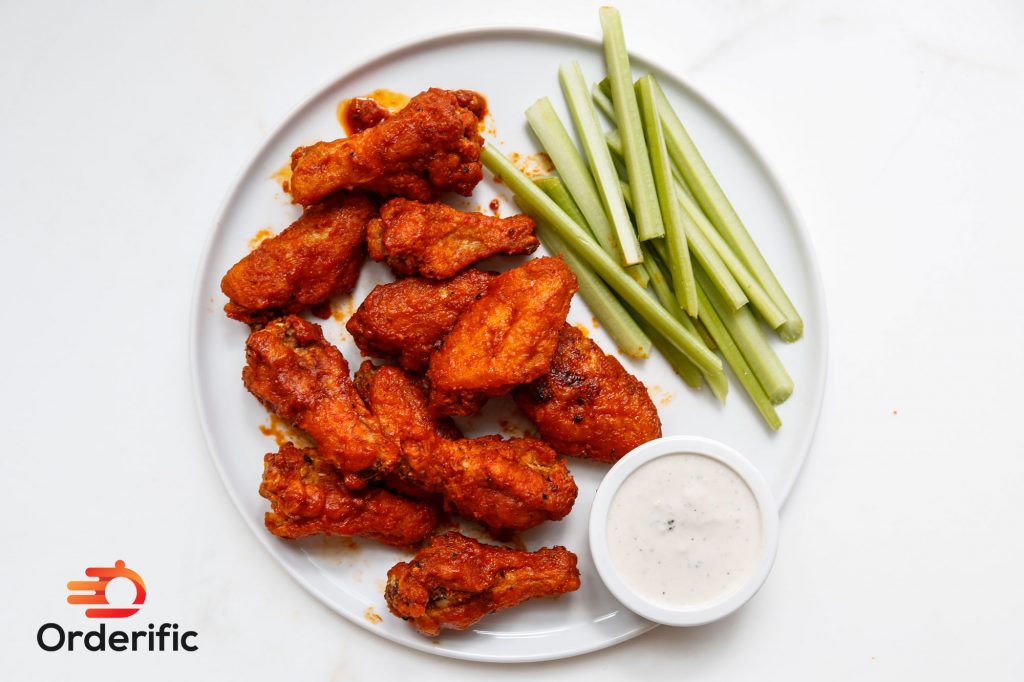 Chicken Wings: Grilled, Fried, or Baked
Grilled, fried, or baked, each method of cooking chicken wings promises a unique, unforgettable experience. Visualize the fiery dance of flames as you grill the wings. Feel the sizzle of the hot oil as you drop in the wings for frying. Picture the soft, comforting warmth of the oven as it envelops the wings, gently baking them to perfection.
For the grilled wings, think of a balmy summer evening. The scent of charcoal permeates the air, giving the wings an irresistible smoky flavor. Each bite celebrates the season, a reminder of sunny days and the joy of outdoor cooking.
Now, imagine the sizzle of a pan filled with hot oil. The wings are gently lowered in, their golden-brown crust forming almost instantly. Fried chicken wings are your ticket to a world of crunch and flavor. Their crispy exterior gives way to tender, juicy meat, promising a feast for your senses.
Baked chicken wings, conversely, paint a picture of a cozy winter evening. The oven hums softly as it works magic, transforming the wings into a delicate masterpiece. The air fills with the aroma of baking chicken, the promise of a comforting meal wafting through your home.
Each method of cooking chicken wings offers a unique sensory journey. Whether planning a Super Bowl party or a casual dinner, consider how you want your chicken wings. Grilled, fried, or baked – every option celebrates flavor and texture. So, let your taste buds guide you and embark on this culinary adventure.
The Secret to Crispy, Juicy Chicken Wings
The secret to crispy, juicy chicken wings lies in the artful balance of technique, seasoning, and temperature. Picture yourself in the kitchen, apron donned, ingredients scattered around with anticipation. First, consider the chicken wings themselves, plump and fresh, promising a delightful feast. Now, sprinkle a generous pinch of baking powder over them, a secret ingredient bestowing that sought-after crunch. Enveloped in this fine dust, the wings gleam under the kitchen light, ready for transformation.
Next, the oven beckons, its warm glow promising golden, crispy perfection. Preheat it just right, an essential step often overlooked. As the heat engulfs the wings, they change from a pale hue to a stunning golden brown. The scent of baking chicken wafts through the air, a sensory hint of the feast.
Midway through, a thought strikes – the sauce! Whether you prefer the fiery kick of buffalo or the umami-rich flavor of soy, it infuses the wings with a burst of flavor. Each wing, now coated in this liquid gold, glistens alluringly. The blend of heat, sauce, and seasoning works magic, ensuring each bite has a juicy flavor and crispy texture.
Finally, the moment of truth. The timer rings, heralding the arrival of the culinary masterpiece as you retrieve the wings, their golden exterior crackling alluringly. You take a bite, the crunch echoing in your ears. The taste, a harmonious blend of crispiness and juiciness, leaves you craving more. The secret to crispy, juicy chicken wings? It's part science, part art, and wholly delicious. It is a simple pleasure but one that leaves a lasting impression.
Exploring Flavorful Chicken Wings Sauces
Exploring the world of chicken wings sauces is akin to embarking on an epicurean adventure. Each sauce, unique in its character, transforms the humble chicken wing into a culinary delight. Imagine, for a moment, plunging a crispy wing into a pool of tangy buffalo sauce. Its fiery heat awakens your senses, beckoning them to an exciting feast.
Now, picture a velvety garlic sauce. This mild, earthy concoction adds a layer of comforting familiarity to the wings. Each bite resonates with the warmth of home, reminiscent of shared family meals.
For the daring, the spicy hot sauce is a thrill ride. Its blazing heat tingles on your lips, a bold challenge that leaves you yearning for more. This devilishly delightful sauce adds an adventurous twist to the otherwise familiar chicken wing experience.
In contrast, a creamy blue cheese dip offers a soothing respite. Its rich, luxurious texture melds with the spiciness of the wings, creating a symphony of flavors. Each mouthful is a harmonious blend of heat and coolness, a culinary ballet exhilarating you.
Lastly, envision a Korean chicken wings sauce. A fusion of soy sauce and unique spices, it's a testament to the culinary prowess of the East. This exotic sauce takes you on a flavor journey, with each bite discovering new and exhilarating tastes.
In conclusion, a perfect sauce completes the chicken wings experience. Its transformative power turns a simple wing into a gastronomic masterpiece, a testament to culinary creativity. So, delve into the world of chicken wings sauces. Your taste buds are in for an exciting adventure.
Conclusion
In the realm of culinary delights, chicken wings hold a special place. They are a testament to creativity and flavor, a platter that invites you to delve into a world of texture, taste, and tradition. Each wing, whether air-fried, buffalo, or baked, tells a story – a tale of spice, heat, and culinary prowess. As you bite into these unforgettable delights, your senses embark on a journey of discovery, basking in the symphony of flavors. At Orderific, we understand this gastronomic affair. Our integrated solutions enable restaurant owners to focus on crafting these culinary masterpieces while streamlining operations for a better user experience. So, as you savor the last morsel of your chicken wing, remember, it's not just a dish; it's a culinary experience. And for an even smoother journey, try Orderific. For more information, schedule a FREE DEMO today.
FAQs
What are some popular flavors and sauces for chicken wings?
Buffalo, Barbecue, Lemon Pepper, Teriyaki, and Garlic Parmesan are popular flavors. Blue cheese and ranch are my favorite dipping sauces.
How do chicken wings appeal to various taste preferences?
Chicken wings, with their variety of sauces and cooking methods, cater to diverse taste preferences, from spicy to savory.
What cooking methods are commonly used to achieve crispy chicken wings?
Frying, baking, and grilling are common methods to achieve crispy chicken wings. Each brings out a unique flavor profile.
How have chicken wings evolved into a beloved finger food?
Chicken wings have evolved through diverse cooking methods, inventive sauces, and global influences, appealing to various palates.