Welcome to the sweet, delightful realm of Chip City, where every bite of a cookie leads to a euphoric journey of flavors. In an era where gourmet cookie brands are popping up at every corner, Chip City has carved out its niche, promising and delivering impeccable taste with a side of heartwarming nostalgia. 
But what's the secret behind their melt-in-your-mouth perfection? Is it the carefully curated ingredients, the ingenious combinations, or the passion of its founders? Let's embark on this scrumptious adventure and find out!
Review: The Verdict on Chip City Cookies – Worth the Wait or Overhyped?
In the bustling lanes of New York, the name "Chip City" evokes diverse reactions. For some, it's a regular haunt, a place to satisfy cookie cravings, while for others, it's an intriguing new player in the competitive cookie segment.
The cookies, with their dense, moist centers and perfectly crispy edges, strike a balance that resonates with cookie connoisseurs and casual munchers alike.
The consensus? Chip City delivers not just cookies but experiences. Each flavor transports you, be it to a childhood memory or a dreamy culinary destination.
Exploring the Unique Factors that Set Chip City Cookies Apart
In a world awash with cookie options, from grandma's homemade classics to artisanal bakeshops, Chip City has managed to stand out from the crowd. But what makes these cookies the talk of towns, especially in bustling locations like New York? Let's delve into the factors that make Chip City a remarkable force in the cookie realm.
Craftsmanship at Its Finest:
Every Chip City cookie is more than just a baked good; it's a work of art. The meticulous attention to detail, from selecting the finest ingredients to the actual baking process, reflects the brand's commitment to culinary excellence. When you bite into one, you're experiencing the culmination of passion, skill, and innovation.
Flavor Diversity:
While many places stick to traditional recipes, Chip City isn't afraid to push the envelope. With flavors ranging from the classic chocolate chip to the exotic lemon berry, the brand keeps its menu dynamic. It's this spirit of innovation that ensures there's always something new to tickle your taste buds.
Engagement with the Community:
Chip City is not just about selling cookies; it's about building relationships. Periodic tasting sessions, where dedicated cookie enthusiasts can sample and vote on potential new flavors, foster a sense of belonging and inclusion, and the customers simply keep coming back for more.
The Business Ethos:
Rooted in principles like enlightened hospitality, Chip City goes beyond mere transactions. The emphasis is on curating memorable experiences, ensuring every visitor, whether a local or a tourist from far-off places like Daly City or Washington DC, feels treasured and valued. No one should feel excluded!
A Multi-Sensory Experience:
Chip City realizes that savoring a cookie is not just about taste. From the tantalizing aroma that greets you when you enter to the delightful crunch and gooey centers, every aspect is designed to create a symphony of sensory delights. Once you taste a Chip City cookie, your sweet tooth will never be the same again!
Transparency and Trust:
In an age where consumers are increasingly conscious of what they eat, Chip City maintains transparency. From revealing nutrition facts to sourcing sustainable ingredients, the brand prioritizes its patrons' health and trust. A sweet tooth doesn't have to be unhealthy, and you have to be aware of what you're eating.
Commitment to Freshness:
While many commercial outlets may store cookies for days, Chip City prides itself on its fresh offerings. Every cookie you get is baked the same day, ensuring you get nothing but the best in terms of flavor and texture.
In essence, Chip City isn't merely a place to grab a quick cookie. It's a destination where tradition marries innovation, where every bite tells a story, and where the love for cookies is celebrated daily.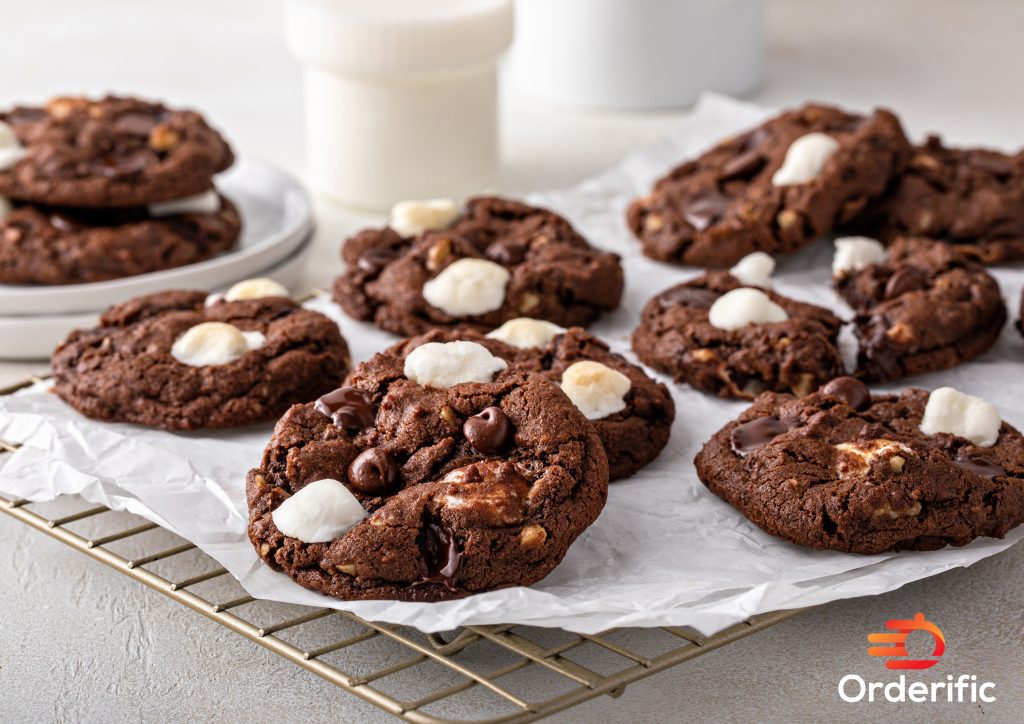 Cookie Lovers Unite: Are You the Perfect Chip City Cookie Stan?
It's one thing to love cookies, but do you find yourself daydreaming about the perfect balance of sweetness in the Chip City sugar cookie? Or perhaps you've set reminders for when a new flavor is set to launch?
If you've found yourself braving long queues, rain or shine, just to get your cookie fix, congratulations – you're a true Chip City Stan!
Craving without the Guilt: Calorie Breakdown of Chip City Cookies
When you walk past a Chip City store and the wafting aroma of freshly baked cookies beckons you, resisting the temptation can be a challenge. But in today's health-conscious era, many are wary about indulging, primarily because of calorie concerns. So, what if we told you it's possible to savor these treats without drowning in guilt? To help you make informed choices, let's break down the calorie content of some of Chip City's most popular offerings.
Classic Chocolate Chip:
Calories: 320
Breakdown: The foundation of any cookie establishment, this classic gets its calories primarily from chocolate chips and sugar. However, its delightful taste often justifies the indulgence.
Salted Caramel Bliss:
Calories: 340
Breakdown: This sweet-and-salty combo contains slightly more calories, courtesy of the luscious caramel swirls and the sprinkling of sea salt, which adds depth to its flavor.
Red Velvet Dream:
Calories: 310
Breakdown: The creamy texture and iconic red hue derive from the unique ingredients used, including cocoa and buttermilk, making it slightly leaner in the calorie department.
Birthday Cake Explosion:
Calories: 350
Breakdown: The joy of a birthday cake encapsulated in a cookie! The colorful sprinkles and sweet cream cheese icing contribute to its higher calorie count.
Peanut Butter Paradise:
Calories: 370
Breakdown: Given the nutrient-rich peanut butter as the main ingredient, this cookie has a tad more calories. Yet, it's also a source of protein and good fats, making it a somewhat wholesome treat.
Remember, while it's crucial to be aware of the calories you're consuming, it's equally vital to treat yourself occasionally. After all, isn't it said that a little bit of what you fancy does you good? Also, if you're keen on balancing out those cookie indulgences, pair them with healthier choices throughout the day or perhaps engage in a brisk walk around New York's picturesque streets.
However, it's always a good idea to remember that individual flavors, toppings, and size can alter the calorie content. It's always best to refer to the nutrition facts provided by Chip City or consult with the staff for the most accurate information.
Treat Yourself to These Five Delicious Chip City Favourites You're Sure to Love
A cookie isn't just a cookie, especially when it comes to the indulgent delights whipped up by Chip City. Each bite is an explosion of flavors, crafted meticulously with ingredients that speak quality.
If you're new to the delectable world of Chip City or just need a delicious refresher, here are five fan-favorites that have wooed cookie lovers far and wide:
Classic Chocolate Chip:
Taste Profile: The Classic Chocolate Chip is timeless. This cookie boasts gooey, melty chocolate morsels nestled within a golden, slightly crispy exterior. Every bite is a harmonious blend of sweetness and rich cocoa.
Perfect Pairing: Grab a glass of cold milk, and you're set for a classic treat.
Salted Caramel Bliss:
Taste Profile: As the name suggests, it's truly a blissful treat. Imagine velvety caramel swirled into cookie dough, and just when you think it can't get better, a sprinkle of sea salt takes the flavor profile to new heights.
Perfect Pairing: This cookie pairs beautifully with a cup of strong coffee, where the bitterness complements the cookie's sweetness.
Red Velvet Dream:
Taste Profile: Soft, chewy, and with a subtle hint of cocoa, the Red Velvet Dream is Chip City's ode to the popular cake. White chocolate chips punctuate the cookie, adding layers of flavor and texture.
Perfect Pairing: How about a dollop of cream cheese frosting on the side? Or perhaps a frothy cappuccino?
Birthday Cake Explosion:
Taste Profile: Why wait for your birthday? This cookie brings the party every day. With colorful sprinkles and a taste reminiscent of the finest birthday cake, it's a treat for both your eyes and palate.
Perfect Pairing: Vanilla ice cream or a cold glass of milk will elevate the celebration.
Peanut Butter Paradise:
Taste Profile: For those who adore the creamy richness of peanut butter, this is your paradise. Each cookie is dense, soft, and packed with that distinct peanut butter goodness, offering a nutty delight in every bite.
Perfect Pairing: Enjoy it with a hot chocolate or a glass of almond milk.
Winding Up!
Venturing through the landscape of Chip City, we've unearthed more than just cookies. We've discovered stories of passion, innovation, and an unwavering commitment to quality. From humble beginnings in New York to garnering a loyal customer base, Chip City epitomizes the sweet blend of dedication and culinary prowess.
So, the next time you spot a Chip City location, remember you're not just walking into a cookie shop. You're stepping into a world where every flavor tells a story.
In case you want more content like this, visit Orderific right now!
FAQs
Are Chip City Cookies available for nationwide shipping?
Yes, they cater to cookie lovers across the country.
Do Chip City Cookies offer gluten-free or vegan options?
They have a diverse menu catering to various dietary needs.
What is the shelf life of Chip City Cookies?
Typically, they remain fresh for up to a week when stored correctly.
Can I freeze Chip City Cookies for later consumption?
Absolutely, and they taste just as delightful when warmed.
Does Chip City offer any special discounts or promotions for bulk orders?
They often have offers, especially around festive seasons, so keep an eye out for those sweet deals!