Introduction
Adopting innovative technology in today's fast-paced restaurant industry is pivotal to successful business operations. One such technological breakthrough is the cloud-based Point of Sale (POS) system. This restaurant POS system, a significant upgrade from a traditional POS system, has revolutionized the way restaurants, from cozy eateries to buzzing food trucks, manage orders, process payments, and keep track of inventory. It has transformed the restaurant management sphere, offering robust solutions that are accessible, flexible, and significantly more efficient. Cloud-based restaurant POS platforms like Lightspeed Restaurant and Toast POS are leading the charge in this domain. The Cloud-based Restaurant Software enables restaurant owners to manage their operations seamlessly, from online ordering to inventory management. However, while the cloud-based variant offers myriad benefits, it also comes with its set of drawbacks. This article explores the pros and cons of embracing cloud-based restaurant solutions, providing a comprehensive perspective to guide your decision-making process.
Advantages:
1. You Can Choose Any Hardware
One of the top advantages of cloud-based restaurant software is its hardware flexibility. Unlike traditional POS systems that require specific, often expensive, hardware, cloud solutions are compatible with many devices. Whether you're using an iPad, a desktop computer, or a smartphone, you can effortlessly operate your POS system. This flexibility can lead to significant cost savings and convenience for restaurant owners, allowing them to choose hardware that best fits their budget and operational needs. It further simplifies the process of online ordering and inventory management, allowing for real-time updates and efficient operations.
2. Support Mobile Sales And Serve Customers Wherever They Are
Cloud-based restaurant systems excel when it comes to inventory management. They provide real-time tracking of restaurant inventory, down to the last ingredient, ensuring you never unexpectedly run out of stock. The system can automatically update stock levels as orders are placed, providing an accurate, up-to-the-minute picture of your inventory. This leads to smarter purchasing decisions, reduces waste, and increases operational efficiency. It also saves significant time that would otherwise be spent on manual stock checks and calculations, freeing up your staff to focus on delivering excellent customer service. However, it's important to remember that while these real-time updates are incredibly convenient, they also rely on a stable internet connection. In the event of connectivity issues, your access to up-to-date inventory data might be temporarily disrupted.
3. Pay With A Monthly Or Yearly Subscription
Another significant benefit of cloud-based restaurant software is its cost-effectiveness. Traditional restaurant POS systems typically involve hefty upfront costs for purchasing the hardware and software. In contrast, cloud-based solutions require no substantial initial investment. Instead, they operate on a subscription basis, allowing restaurants to pay a predictable monthly or yearly fee. This pricing model is particularly advantageous for small to medium-sized businesses, making high-end POS functionality accessible without breaking the bank. It also allows for greater financial flexibility, as restaurants can adjust their plan or provider as their needs and budgets change. However, over the long term, these ongoing subscription costs can add up, potentially even surpassing the one-time investment of a traditional POS system.
4. Keep Training And Maintenance Costs To A Minimum
Cloud-based restaurant software systems remarkably minimize the cost and time required for staff training and system maintenance. Unlike traditional restaurant POS systems, which often require specialized knowledge and extensive training, cloud-based solutions boast an intuitive and user-friendly interface. Your staff can quickly become familiar with the system's functionality, reducing the time spent on training. Moreover, since the software is updated automatically, you'll save on the expense and hassle of manual system maintenance. But keep in mind, the ease of use may vary from one software to another, and some may still require a learning curve.
5. Access Data Anytime, Anywhere
With a cloud-based restaurant system, accessibility is never an issue. Whether you're on a vacation in the Bahamas or just away from the restaurant, you can still monitor your business operations in real-time. These systems provide secure access to crucial data including sales figures, inventory status, and performance metrics, anytime and anywhere with an internet connection. You can conveniently keep track of your online ordering, and efficiently manage your restaurant POS system, allowing you to make informed decisions on the go. However, this also means that without internet access, you might be left in the dark, a potential downside to consider.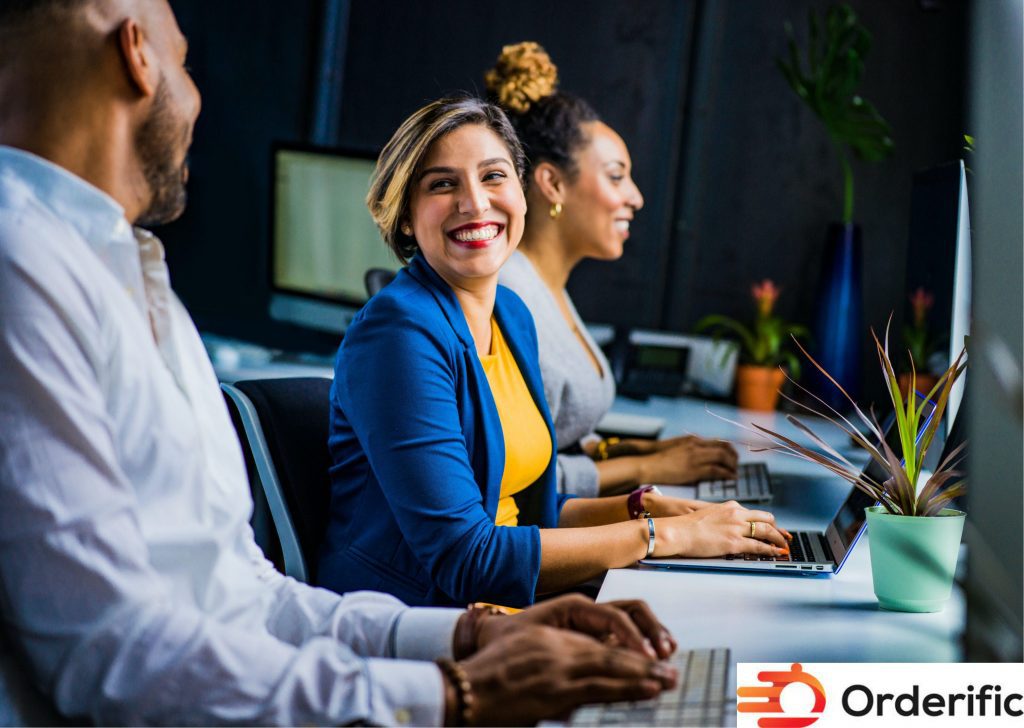 6. Always Use The Latest Version
The cloud-based restaurant POS system is always up-to-date. Unlike traditional systems that require manual updates, cloud-based solutions continuously update automatically, meaning users always have access to the latest features and improvements. This continuous updating saves restaurants time and effort in keeping their software relevant and efficient. It also ensures that the system is always at its peak performance, offering the best tools for inventory management, online ordering, and other vital operations. However, it's worth noting that depending on the software provider, these updates may come with additional costs or may require temporary system downtime, which could interrupt business operations.
7. You Can Flex And Grow Easily
Cloud-based restaurant systems are scalable, making them an excellent choice for growing businesses. As your restaurant expands – be it increasing your menu, extending your opening hours, or even launching new branches – your cloud-based POS system can adapt and grow with you. It provides the flexibility to add new features or increase system capacity as needed, without the need for significant hardware or software upgrades. Also, cloud-based systems can effortlessly handle higher volumes of online orders and inventory management tasks, effectively supporting your business growth. However, this scalability often comes at a cost, with increased subscription fees for higher usage levels or additional features.
8. Your Software Is Taken Care Of By The Provider
With cloud-based restaurant software, you can leave software management and maintenance to the provider. As part of their services, most providers handle regular software updates, security protocols, and system back-ups, ensuring that your restaurant POS system operates smoothly and securely. This, in turn, alleviates the need for in-house IT specialists, which can lead to significant cost savings. It also means that you can focus more on your core business operations, like online ordering and inventory management, and less on technical issues. However, while this may sound ideal, it's important to remember that the quality and reliability of the service will heavily depend on your provider. Thus, it's crucial to select a reputable provider that offers excellent customer support and guarantees high system uptime.
9. All Your Data Is Backed Up
One of the major advantages of cloud-based restaurant software is the automatic backup of your data. The software continuously saves your data in the cloud, ensuring that you do not lose any crucial information due to unexpected system failure, data corruption, or even human error. From online order history to inventory records, all data is securely stored and can be easily retrieved or restored as needed. This automatic backup provides you with peace of mind, knowing your essential business data is safe, secure, and accessible whenever required. However, it's important to note that data backup is dependent on a reliable internet connection and the quality of the cloud service provider. In case of an internet outage or a service disruption, access to your backup data could be temporarily unavailable.
Disadvantages:
1. Set Up Requires Connectivity
The first key disadvantage of cloud-based restaurant software is its reliance on a good internet connection. From the initial setup to daily operations like processing online orders and updating inventory management, everything needs a stable and strong internet connection. In areas where internet connectivity is unreliable or poor, this can pose a significant challenge. Restaurants in such locations may frequently encounter disruptions in their services, leading to operational inefficiencies and potential loss of business. Furthermore, any internet outage, even for a short time, can bring business operations to a standstill, causing considerable inconvenience and potential loss of revenue. Therefore, while cloud-based POS systems offer many advantages, their dependence on internet connectivity remains a critical drawback.
2. Customizations Are Different
Customization possibilities may differ significantly when it comes to cloud-based restaurant software. While many cloud POS systems offer a range of configurable features, the level of customization may not be as extensive as with traditional POS systems. These limitations could prevent restaurants from tailoring the software as per specific operational needs or preferences. For instance, specific workflows, reports, or features might not be completely customizable, potentially affecting the efficiency of your online ordering and inventory management processes. However, it's important to remember that customization capabilities can vary greatly between different cloud providers. Therefore, when choosing a cloud-based restaurant POS system, ensure it offers the flexibility you need for your restaurant operations.
3. You Have Limited Personal Support
While cloud-based restaurant software offers many benefits, it's important to note that personal support may be limited. Unlike traditional POS systems where you might have a dedicated support representative or an in-house IT team, with cloud-based systems, you're largely dependent on your provider's customer service. While most providers offer support via phone, email, or chat, you may not always get instant assistance, especially during peak times or for complex issues. This can potentially cause delays and disruptions in your operations, affecting areas like online ordering or inventory management. To mitigate this, it's crucial to choose a provider known for their reliable customer support.
Conclusion
In conclusion, adopting cloud-based restaurant software can significantly streamline operations, enhance efficiency, and provide substantial cost savings in the long run. With its features like real-time inventory management, efficient online ordering system, and automatic updates, it can revolutionize the way you run your restaurant. However, like any technology, it comes with its own set of challenges such as dependence on reliable internet connectivity and limitations in customization and personal support. Therefore, it's crucial to weigh these pros and cons before deciding to shift to a cloud-based solution. If you're keen to explore how these solutions can transform your restaurant operations, we invite you to book a demo with Orderific. Our experts will guide you through the features and benefits of our cloud-based restaurant system tailored to fit your specific needs.
FAQs
What is cloud-based restaurant software?
Cloud-based restaurant software is a digital solution that handles various restaurant operations, such as inventory management and online ordering, over the internet.
How does cloud-based restaurant software differ from traditional systems?
Cloud-based restaurant software operates online and offers real-time updates, while traditional systems require manual updates and are not accessible remotely.
Is my restaurant's data secure with cloud-based software?
Yes, cloud-based software typically provides robust data security measures.
Can I access cloud-based restaurant software from any device?
Yes, as long as you have an internet connection.
What are the key advantages of using cloud-based restaurant software?
The key advantages include improved efficiency, cost-effectiveness, and real-time data access from anywhere.