Introduction
When you step into a cocktail bar, one of the first things that catches your attention is the drinks, cocktail menu design. It's not just a simple list of available beverages; it's a carefully crafted representation of the bar's identity. The cocktail bar exudes its personality through each cocktail name, inviting you to explore mixed drinks that feature a dance of flavors, from the tartness of lemon and lime to the sweet allure of vermouth.
Each cocktail drink is not just about taste but an experience that starts when you scan the bar menu. The choice of font, the background of the banner, or even the use of templates can significantly influence a patron's selection. After all, we eat (or, in this case, drink) with our eyes first.
And it's not just an ordinary bar in San Diego where this attention to detail matters. Whether it's a special event or just a casual evening, the aesthetic appeal of the menu plays a vital role. From signature cocktails prepared by talented bartenders to wines and other alcoholic beverages, the menu is a canvas where art meets flavor.
How To Create A Cocktail Menu
Creating a compelling cocktail menu requires a balanced blend of creativity, understanding of your audience, and knowledge of your drinks. Start by listing the cocktails you want to highlight. Remember to incorporate a range of flavors and types: some fruity, some strong, some traditional, and some unique. It's essential to cater to diverse tastes.
Once you have your drink list, think about the design. Your menu should reflect the atmosphere of your venue. If your bar has a vintage speakeasy vibe, consider a template that brings out that old-world charm. You may want a sleek and minimalistic design for a modern, chic lounge.
Pay attention to the layout. Group drinks logically – it could be either by type, strength, or flavor profile. Make sure the text is clear and easy to read. Use engaging and mouthwatering descriptions for each cocktail. Moreover, include ingredients, but avoid listing every element – focusing on the key notes to keep it exciting and less overwhelming.
Remember, your cocktail menu is not just a list of drinks; it's a promotional tool and reflects your bar's character. It's the first point of interaction between your patrons and your offering, so make it count! You're not just mixing drinks; you're mixing art with flavor.
Example Of Cocktail Menu Design
Consider, for instance, the cocktail menu of the famed "Rum Trader" bar in Berlin. As you open the menu, the first thing you notice is the beautiful antique-style template. The parchment-colored background, combined with the classic, intricate font, immediately transports you back in time, reflecting the bar's vintage appeal.
The drinks are grouped by their primary spirit – rum, gin, vodka, and so on. This logical categorization allows patrons with a preference for a particular type of spirit to navigate the menu with ease. The menu also features a special section dedicated to the bar's unique concoctions, enticing adventurous patrons to try something new.
The Power Of Good Restaurant Menu Design
The influence of an effective restaurant menu design should not be underestimated. A well-designed menu does more than just list the drinks and their prices. It's an integral part of the dining or drinking experience that guides the customer's decisions, prompts them to try new items, and ultimately increases your sales. It's a silent salesperson, convincing and enticing patrons to try your best offerings.
The visual elements of a menu, like colors, typefaces, and the use of white space, create a certain ambiance and brand identity. For example, bright, bold colors and funky fonts might suggest a fun, energetic bar atmosphere, while a simplistic black and white template might evoke a more sophisticated, classy vibe.
Furthermore, strategic menu design involves understanding the psychology of your customers. Optical patterns, like placing signature drinks in specific areas of the menu where the customer's eyes naturally go, can boost sales of those items. Graphics and photos of delicious-looking cocktails can also captivate customers, although a balance has to be struck to avoid clutter.
In conclusion, an effective cocktail menu design is a harmonious blend of art, psychology, and marketing strategy. It's about creating a compelling narrative that tells the story of your bar and your drinks, inviting customers to embark on a delightful journey of flavors and experiences. Remember, your menu is a reflection of your bar's identity, so make it a good one!
How To Make A Cocktail Menu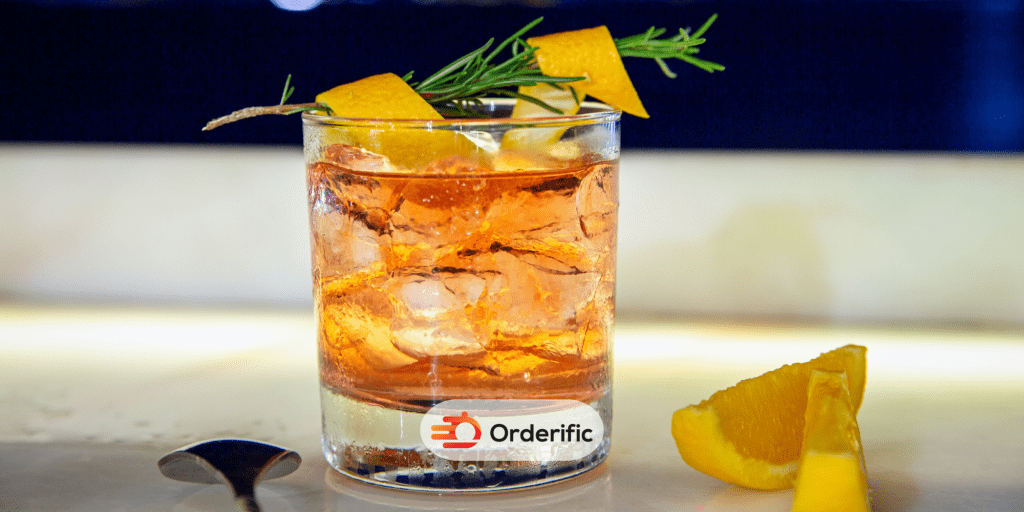 Write Out All Menu Items
First and foremost, write out all the drink items you plan to include on your cocktail menu. Start with the names of your cocktails, ensuring they resonate with your bar's branding. Remember, a catchy, creative name can pique your customers' interest and make a particular drink memorable. Next, list the main ingredients for each cocktail. Instead of providing a detailed recipe, focus on highlighting the key elements that give your drink its unique character. This not only intrigues your customers but also helps those with dietary restrictions or preferences.
Categorize Menu Items
Once you have your list of drinks, the next step is to categorize them in a manner that's intuitive to your patrons. You could group them by alcohol type, flavor profiles, or even the strength of the drink. For instance, a category for 'Refreshing Summer Sips' could house cocktails with a fruity and light profile, while 'Stiff Drinks' could include your strong, spirit-forward concoctions. This not only makes the menu easier to navigate but also adds an element of personality to your offerings.
Set Menu Prices
Setting the prices for your menu is a critical step that requires strategic thinking. You need to consider your cost of ingredients, desired profit margins, and what your target market is willing to pay. Strive to strike a balance between affordability for your patrons and profitability for your establishment. Remember, the perceived value of the drink should align with its price – a cocktail crafted with premium spirits can command a higher price than a more basic concoction.
Create Menu Description
Creating engaging descriptions for your menu items is a fine art that can greatly influence your patrons' choices. Your descriptions should be short, enticing, and most importantly, honest. Try to evoke the flavors and experience of each cocktail, highlighting unique ingredients or preparation methods. Remember, your aim is to whet your customers' appetite and pique their curiosity about each drink on your menu.
Restaurant Menu Templates
The template you choose for your cocktail menu can greatly influence the overall feel and aesthetic of your bar. A well-designed template will not only showcase your drinks in an attractive light but also communicate the personality of your establishment. That's why it's essential to select a template that aligns with your brand image.
Decide On A Menu Color Scheme
Your choice of color scheme is a crucial aspect of your cocktail menu design. The colors you choose can evoke specific emotions and create a particular atmosphere, complementing the flavors of the drinks you offer. For example, a tropical beach bar might opt for vibrant colors like aqua blue and sunny orange, evoking a sense of fun and relaxation. A high-end, sophisticated rooftop lounge might lean towards a monochrome or minimalist color palette, reflecting its elegance and exclusivity.
Design Your Restaurant Menu
Designing your restaurant menu involves incorporating all the above-stated elements into a cohesive representation of your bar's identity. From the selection of a fitting template to the adoption of a desirable color scheme, every detail contributes to the overall customer experience. In this step, consider the layout of your menu. Place your most popular or signature cocktails in prime locations, such as the top right or center, where they're likely to catch the customer's eye first. Use high-quality images sparingly to avoid cluttering your menu.
Cocktail Menu Photos
In the realm of cocktail menus, the adage "a picture is worth a thousand words" holds true. High-quality, enticing photos of your cocktails can play a pivotal role in influencing a patron's choice of drink. They provide a visual representation of what to expect, and when done right, can make your drinks appear irresistible.
Choose Menu Fonts, Spacing, And Composition
The choice of font, spacing, and composition also plays a crucial role in making your cocktail menu aesthetically pleasing and easy to navigate. Choose fonts that align with your bar's personality. For instance, a script font could complement a classic, elegant bar, whereas a bold, modern font might be more fitting for a trendy, urban hangout. Maintain consistent spacing throughout to ensure readability, and structure your composition to guide the customer's eye across the menu in an intuitive flow.
Select The Final Menu Layout
Selecting the final layout of your cocktail menu is a culmination of all the design elements you've chosen. This layout should offer a logical flow, guiding your patrons effortlessly through your selection of drinks. It's about striking a balance between a visually appealing presentation and easy-to-navigate design. Keep in mind, your menu's layout, like every aspect of its design, should reflect your bar's unique personality and brand identity.
Proofread And Print Your Menu
The final yet vital step in creating your cocktail menu is proofreading. Ensure all descriptions are accurate, spellings are correct, and there are no grammatical errors. This step not only reflects the overall professionalism of your establishment but also ensures clarity for your patrons. Once proofread, you're ready to print your menu! Choose a high-quality print material that complements your design and enhances durability, ensuring your menu can withstand frequent handling.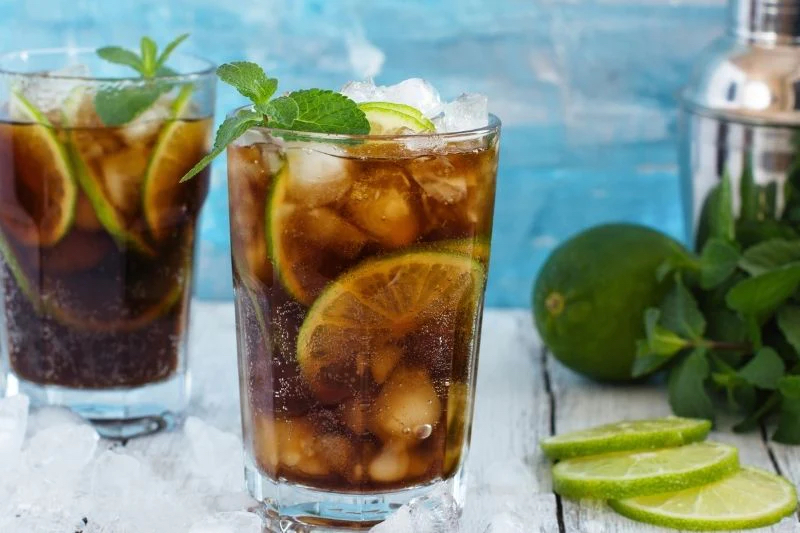 Conclusion
In conclusion, crafting an effective cocktail menu is an intriguing fusion of artistry, marketing strategy, and understanding of your patrons. It's about more than just listing your beverages — it's about telling the story of your bar, enticing your customers with a visual and textual portrayal of your offerings, and ultimately influencing their choices. From selecting a fitting template to choosing an appealing color scheme, from penning down enticing descriptions to setting strategic prices, every step contributes to creating a menu that not only showcases your drinks but also enhances the overall customer experience. Remember, your cocktail menu is an integral part of your bar's identity. So make it count. Now that you have the knowledge, it's the perfect time to elevate your bar's cocktail menu design. Ready to take the next step? Schedule a demo with Orderific today and let us show you how we can take your cocktail menu to the next level.
FAQs
What elements make a cocktail menu visually appealing and easy to navigate?
A visually appealing and easy-to-navigate cocktail menu combines a balanced layout, logical categorization, clear font, enticing photos, and a color scheme that aligns with the bar's brand.
How do cocktail menus reflect the atmosphere and theme of a bar?
Cocktail menus reflect the atmosphere and theme of a bar through their design elements like color scheme, font choice, and imagery, as well as the selection and presentation of the drinks.
Are there considerations for balancing classic cocktails with innovative creations?
Striking a balance involves featuring a mix of both, respecting tradition while also showcasing your bar's creativity.
How can a well-designed cocktail menu enhance the overall bar experience?
A well-designed cocktail menu can enhance the overall bar experience by setting the tone, influencing customers' choices, and highlighting the bar's unique offerings.