Embark on a caffeinated journey as we delve into the world of coffee kiosks, exploring how to bring the aroma and taste of freshly brewed coffee from the bean to your customer's cup. These petite establishments have become urban sanctuaries, offering weary travelers and rushed locals alike a chance to pause and rejuvenate. With every sip of their expertly brewed concoctions, moments of tranquility are savored. 
The ambiance, accentuated by the symphony of grinding beans and frothing milk, invites conversations, inspirations, and sometimes, simple reflections. But what alchemy unfolds behind those counters to offer such consistent allure?
Establishing such a kiosk, dedicated to the revered bean, requires a blend of passion, expertise, and a deep understanding of the urban coffee aficionado's ever-evolving palate. Join us on this journey, uncovering the secrets behind setting up these miniature caffeine havens.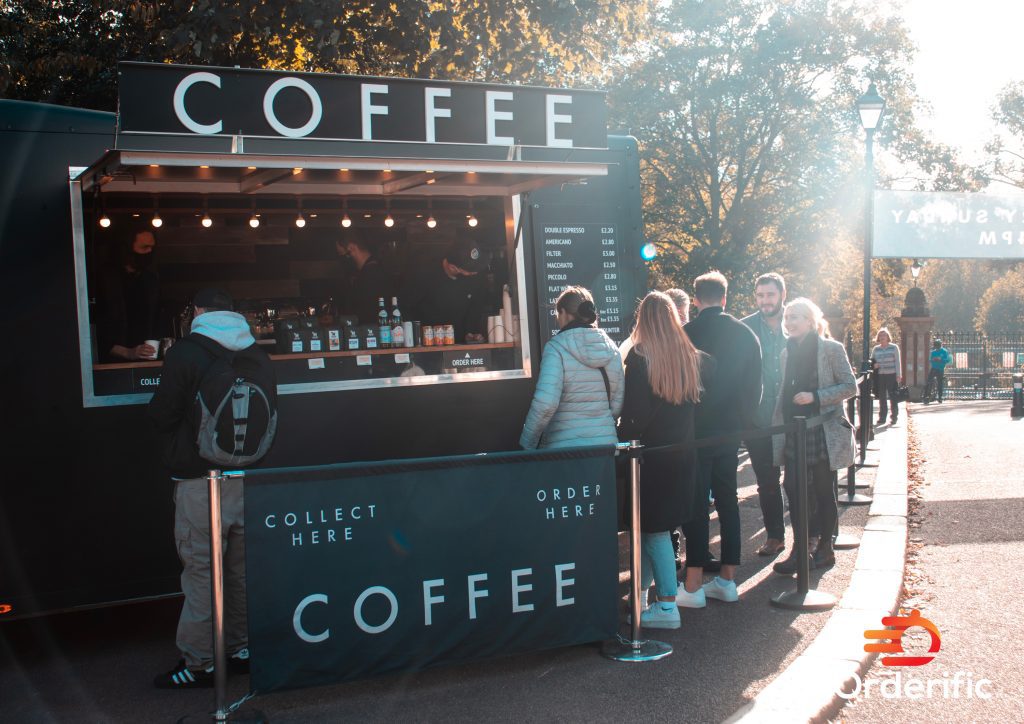 Introduction to Coffee Kiosk Business
The coffee business has evolved far beyond traditional cafes and coffee shops. Enter the coffee kiosk – a compact, efficient setup delivering the same caffeinated satisfaction.
A coffee kiosk is a specialty setup focusing primarily on coffee beverages and accompanying snacks, streamlining the experience for both the owner and the customer. Think of it as a mobile coffee cart, with the added advantage of being stationary, often set up in high-footfall areas like malls, stations, or public squares.
Planning Your Coffee Kiosk Business
Crafting a successful coffee kiosk business requires not just passion for coffee but a concrete plan that addresses every critical aspect of the venture. From understanding your market to laying down your financial foundations, every step should be meticulously planned. Here's a closer look:
Conducting Market Research
Identify Potential Locations: Begin by zeroing in on areas with substantial footfall. Think busy office districts, transport hubs, or near educational institutions where folks frequently look for their caffeine fix.
Survey Potential Customers: Before diving in, get to know your audience. What's their preferred coffee brew? Which snacks do they favor with their latte? Are they looking for artisanal coffee or quick convenience? Also, understanding their willingness to pay can help set the right price points.
Study Competitors: Observe other coffee ventures in your targeted area. Take note of their best sellers, their busy hours, and their shortcomings. Are there niches they aren't addressing, perhaps a unique coffee blend or a special treat? Finding gaps can give you an edge.
Creating a Business Plan
Financial Planning: Start with a clear budget. Factor in initial setup costs—like equipment and rental—plus recurring expenses such as inventory restocking, utilities, and salaries. Forecasting potential earnings against these will give you a clearer picture of profitability.
Marketing Strategy: Start creating a buzz well before your opening day. Use social media to tease your offerings, collaborate with influencers for shoutouts, and consider offering opening-day discounts or free samples. A loyalty program, punch cards, or a subscription model can keep customers coming back.
Vision and Mission: Beyond the beans and brews, what's your coffee kiosk's story? Why did you start it? What coffee experience do you want to offer? Clearly articulating this can help connect with customers on a deeper level and give them more reasons to choose you over competitors. It's not just about serving coffee; it's about creating a unique, memorable experience every time someone visits.
Setting Up Your Coffee Kiosk
Choosing the Right Location
Finding that perfect spot for your coffee kiosk can make all the difference between a venture that flourishes and one that fizzles out. Here are the elements you need to look at:
Foot Traffic: High footfall areas such as shopping malls, bustling office districts, university campuses, or transportation hubs like train stations and bus terminals make ideal locations. Here, people are often on the move and looking for quick refreshments.
Visibility: Your kiosk should be easily noticeable, even from afar. Whether it's by a brightly lit sign, a unique design, or an inviting display of pastries and coffee cups, ensuring that passersby can spot you easily can significantly boost spontaneous visits.
Accessibility: It's not just about foot traffic; it's also about how easy it is for someone to walk up to your kiosk. Consider factors like available parking for those driving by, proximity to popular local attractions, and the ease with which pedestrians can approach without obstructions.
Designing and Outfitting Your Kiosk
Crafting the perfect space for your coffee kiosk is part art, part science. Here's a roadmap to guide you:
Aesthetic Appeal: The design of your coffee kiosk should resonate with your brand's identity. Whether you're going for a rustic, artisanal look or a sleek, modern vibe, ensure that your design choices reflect the experience you wish to offer. It's not just about looking good—it's about creating a space where customers feel the essence of your brand.
Functionality: While aesthetics are vital, the functionality of your kiosk is paramount. There should be enough room for baristas to move around comfortably, areas dedicated to brewing and serving, and sufficient storage spaces. Consider the flow of service, from order placement to preparation to serving, ensuring it's smooth and efficient.
Essential Equipment: The heart of your kiosk is the equipment. Investing in high-quality machinery, like an espresso machine, is essential. But also think about other necessities: grinders for fresh coffee beans, refrigeration for cold beverages and dairy, storage solutions for beans and other supplies, and display cases for baked goods or snacks.
Sourcing and Roasting Coffee Beans
The soul of your coffee kiosk lies in the beans you choose. Their origin, type, and the way they're processed will define the flavor profile of every brew you serve. So, where do you start?
Understanding Coffee Bean Varieties
When you step into the world of coffee, you'll come across a vast range of beans. To simplify, here are some key differences:
Arabica vs. Robusta: These are the two primary species of coffee beans consumed worldwide. Arabica beans tend to have a wider taste range, varying from sweeter, more tangy tastes, to deep, wine-like flavors. They generally contain less caffeine compared to Robusta. Robusta, on the other hand, has a stronger, more bitter flavor, and can be easier to cultivate due to its resistance to pests. It's often less expensive than Arabica.
Single-origin vs. Blends: As the name suggests, single-origin coffee is sourced from one location, be it a particular country or even a single farm. These beans give a unique flavor that reflects the specific conditions of their growing region. Blends, however, are mixtures of beans from different places, crafted to create a balanced flavor, aroma, and acidity.
Sourcing High-Quality Coffee Beans
Quality beans are the backbone of any great coffee shop. Here's how you can ensure you're sourcing the best:
Direct Trade: One of the most ethical and quality-assuring methods of obtaining coffee beans is through direct trade. By building direct relationships with coffee farmers or cooperatives, you can bypass middlemen. This not only ensures that you get fresher beans but also that farmers receive a fair price for their produce. It's a win-win situation.
Quality over Quantity: It might be tempting to cut corners and go for cheaper beans, especially when setting up. However, compromising on quality will reflect in your brew. Prioritizing high-quality beans, even if they come at a higher price point, will ensure that your customers get to sip on a delicious, memorable cup of coffee every single time. After all, in the world of coffee, the nuances of flavor, aroma, and body can elevate a coffee experience from ordinary to exceptional.
Brewing Techniques and Methods
Crafting the perfect cup of coffee is an art as much as it is a science. The brewing method you choose, the grind size of the beans, and even the water temperature can significantly influence the final flavor profile. Let's explore this fascinating world in detail.
Understanding Coffee Brewing Science
Extraction Methods: The essence of brewing lies in the extraction of flavors from coffee grounds. But how do you achieve the right balance? Factors like grind size play a pivotal role; for instance, a fine grind is best for espresso, while a coarse one works wonders for French press. Temperature is another crucial element.
Balance of Ingredients: Much like a classic recipe, getting the coffee-to-water ratio right is crucial. Whether you're making a robust shot of espresso or a milder pour-over, ensuring you measure out your coffee and water will provide consistency. This guarantees that your customers know exactly what to expect with every cup they order.
Choosing the Right Brewing Method
From Espresso to Drip: Some coffee enthusiasts swear by the rich and potent espresso, while others prefer the smoothness of a drip coffee. Espresso involves forcing hot water through finely-ground coffee, resulting in a concentrated shot, while drip methods allow water to flow through the coffee grounds, gathering flavors along the way.
Experiment and Evolve: It's always a good idea to keep an ear to the ground. Listen to your customers, attend workshops, or even hold tasting sessions. Feedback is a treasure trove. It can help you tweak and refine your brewing techniques, ensuring you keep up with changing tastes and preferences while maintaining the soul of your coffee kiosk.
Creating a Menu and Serving Customers
Crafting an enticing coffee menu is more than just listing down drinks. It's about curating a selection that resonates with your target audience while also being true to your brand. Couple this with impeccable customer service, and you're on your way to being the talk of the town.
Developing a Coffee Menu
Classic to Contemporary: Begin with staples like the classic espresso, cappuccino, and americano. But don't stop there. Venture into the world of contemporary coffee concoctions. Think nitro cold brews, turmeric lattes, or even oat milk cappuccinos.
Seasonal Specials: Spice up your menu periodically by introducing seasonal drinks. For instance, a pumpkin spice latte in the fall, or a refreshing iced mint coffee in the summer. Not only does this give regulars something new to try, but it also taps into the vibes of the season or festive moods.
Providing Excellent Customer Service
Barista Training: A barista is the heart and soul of a coffee shop. They aren't just there to whip up delectable drinks but also to represent the brand. Comprehensive training ensures they not only make coffee to perfection but also understand the nuances of customer engagement. 
Quick Service: In today's fast-paced world, time is of the essence. While some customers might love a leisurely coffee, many are on the go. Ensuring a system that caters to quick orders, especially during peak hours, can make all the difference. It's about finding the right balance between speed and quality, ensuring neither is compromised.
Managing and Growing Your Coffee Kiosk Business
Embarking on the coffee kiosk journey is only the beginning. The true challenge, and indeed the thrill, lies in nurturing and expanding the venture. Success in this space is marked by a blend of traditional business acumen, an ear to the ground, and an eye for the future.
Engage and Evolve: A business is only as strong as its relationship with its clientele. Actively solicit feedback from your patrons. Be it through comment cards, online reviews, or face-to-face conversations, understand what's working and where there's room for improvement.
Market Effectively: In today's digital age, a strong online presence is paramount. Leverage social media platforms to showcase your offerings, share behind-the-scenes glimpses, and engage in interactive sessions. Platforms like Instagram, with its visual emphasis, can be especially effective for a coffee business.
Diversify Thoughtfully: While coffee might be your forte, don't be limited by it. Keep an eye on beverage trends. For instance, the rise in health consciousness has seen an uptick in demand for smoothies, herbal teas, and even kombucha. Test and trial new additions, and based on their success, integrate them into your main menu.
Conclusion
Embarking on the adventure of establishing a coffee kiosk is akin to brewing the perfect cup of coffee: it requires the right ingredients, precise timing, and a touch of love. From selecting the choicest coffee beans to mastering the nuances of brewing and serving, every step of this journey is infused with dedication and zeal.
Yes, the path is paved with challenges, from managing operations to wooing customers. However, the satisfaction of witnessing a smile on a patron's face as they take that first sip is unparalleled.
In case you want more content like this, visit Orderific right now!
FAQs
What is a coffee kiosk and how is it different from a coffee shop or café?
A coffee kiosk is a smaller, often standalone establishment primarily focused on selling coffee and related beverages.
What are the advantages and disadvantages of starting a coffee kiosk business?
Advantages: lower overhead costs, flexibility in location, and a streamlined business model. Disadvantages: limited seating, dependence on foot traffic, and weather-related challenges.
What kind of market research should I do before starting a coffee kiosk?
Understand your target audience's coffee preferences, survey potential locations for foot traffic, and study competitors in the vicinity.
How do I choose the right location for my coffee kiosk?
Opt for high-footfall areas with good visibility, accessibility, and complementing nearby businesses.
What kind of equipment and supplies do I need to start a coffee kiosk?
Key equipment: a coffee maker, espresso machine, grinders, storage units, and display cases. Supplies: coffee beans, milk, syrups, cups, and other beverage ingredients.
How do I source high-quality coffee beans for my kiosk?
Establish direct relationships with coffee farmers or reputable distributors, ensuring freshness and ethical sourcing.