It can be hard to know where to start if you're looking for a way to cozy up your coffee shop. From comfortable seating options and inviting ambiance to full-blown design makeovers – there are endless possibilities when it comes to decorating a coffee shop.
To simplify the process of choosing the perfect look for your business, we've compiled this list of 10 cute and creative coffee shop decor ideas! Whether you want something warm and rustic or modern and industrial, these ideas will give you lots of inspiring visuals that can help you craft the morning oasis of your dreams.
So let's get started – here are our top 10 picks for stylishly sprucing up any cafe!
1. Find Unique Coffee Shop Wall Decor
Coffee shops are known for their inviting atmosphere, crafted by cozy decor and the aroma of freshly brewed coffee. When it comes to the perfect ambiance, wall decor can make a huge impact. While you'll often see generic art pieces or trendy quotes lining the walls, why not shake things up with something truly unique?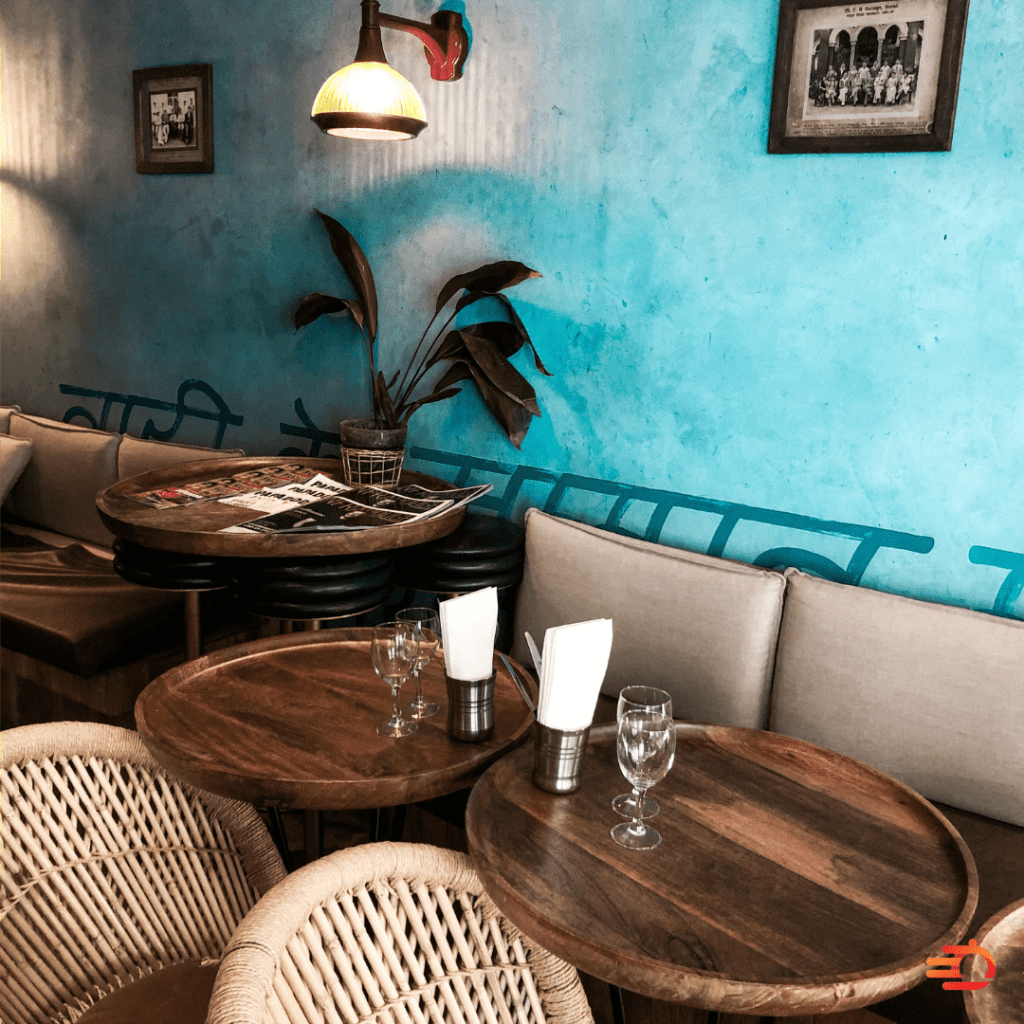 Whether it's embracing a vintage aesthetic with rustic signage and framed black-and-white photographs or embracing modernity with abstract art pieces and geometric designs, the key lies in selecting pieces that resonate with the coffee shop's theme and vibe.
Exploring local art galleries, commissioning local artists, or even engaging in upcycling projects to repurpose unconventional items can lead to the discovery of extraordinary decor that adds an element of charm and distinctiveness to the coffee shop, making it an irresistible destination for coffee enthusiasts and art aficionados alike.
So, get creative and add some personality to your coffee shop walls!
2. Paint the Walls or Create an Accent Wall
In the realm of coffee shop ambiance, the decision to paint the walls or create an accent wall holds the power to transform the entire space. The choice between these two design approaches depends on the establishment's vision and desired atmosphere.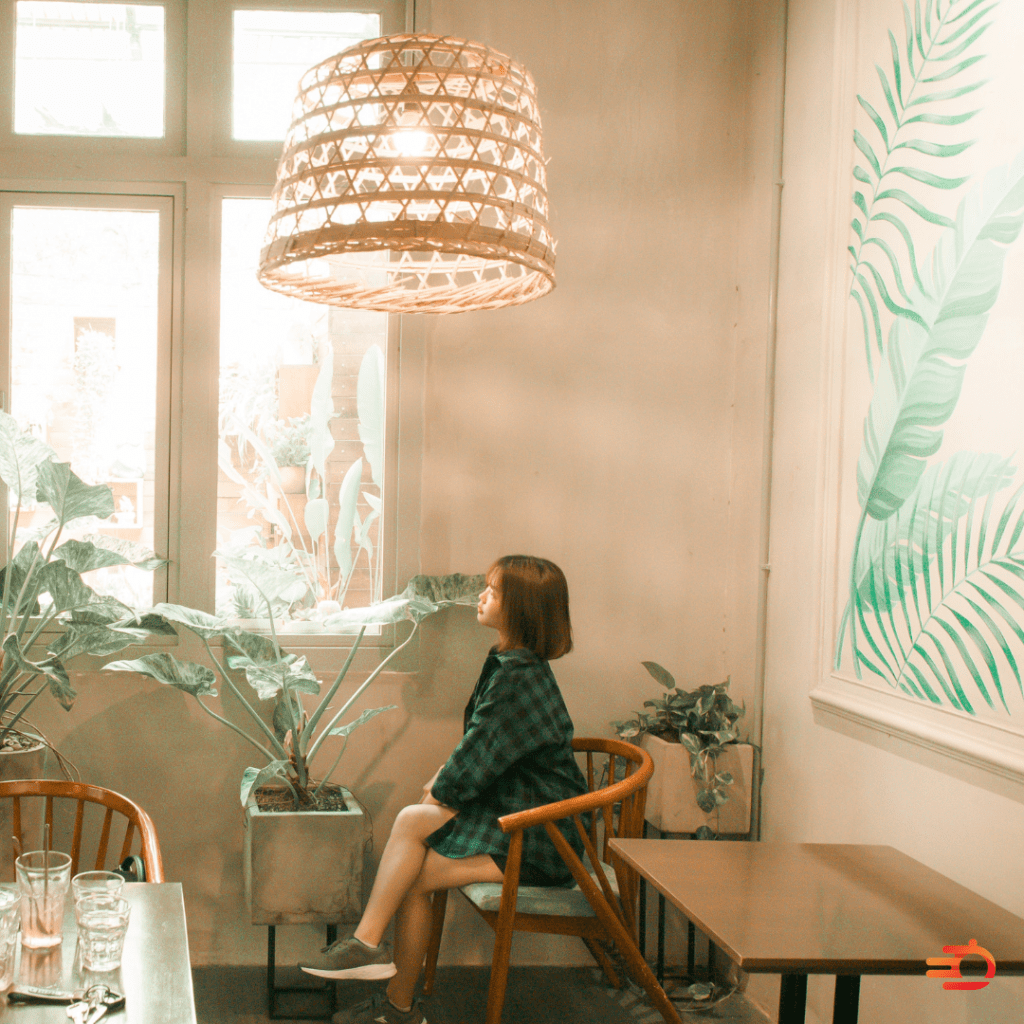 To establish a soothing, cohesive environment, a fresh coat of paint in warm, earthy tones can infuse the coffee shop with a welcoming aura.
On the other hand, an accent wall offers an opportunity for artistic expression and adds a captivating focal point.
A bold, vibrant hue or a striking mural can enliven the space, exuding creativity and uniqueness.
Whether opting for a subtle paint upgrade or an eye-catching accent wall, this design choice undoubtedly contributes to shaping the coffee shop's character, leaving a lasting impression on its cherished patrons.
3. Choose the Right Coffee Shop Lighting
Choosing the right coffee shop lighting is essential in creating the perfect ambiance for a cozy and inviting atmosphere. Lighting sets the mood and directly influences the overall experience of customers.
Soft, warm lighting can create a relaxing and intimate setting, encouraging patrons to linger and enjoy their coffee in comfort.
On the other hand, bright and well-distributed lighting can create a vibrant and energetic ambiance, ideal for a bustling coffee shop with a lively atmosphere. Balancing natural and artificial light sources is also crucial in achieving a harmonious blend of illumination.
Additionally, selecting energy-efficient lighting reduces operating costs and contributes to a sustainable and eco-friendly establishment.
Ultimately, the right coffee shop lighting enhances the overall aesthetic appeal, encourages customer satisfaction, and establishes a unique identity that keeps patrons coming back for more.
4. Create Unique Cafe Tabletops
Having unique cafe tabletops is of utmost importance in creating a memorable and delightful dining experience for customers. These distinctive tabletops not only serve as functional surfaces but also add character and charm to the overall ambiance of the cafe.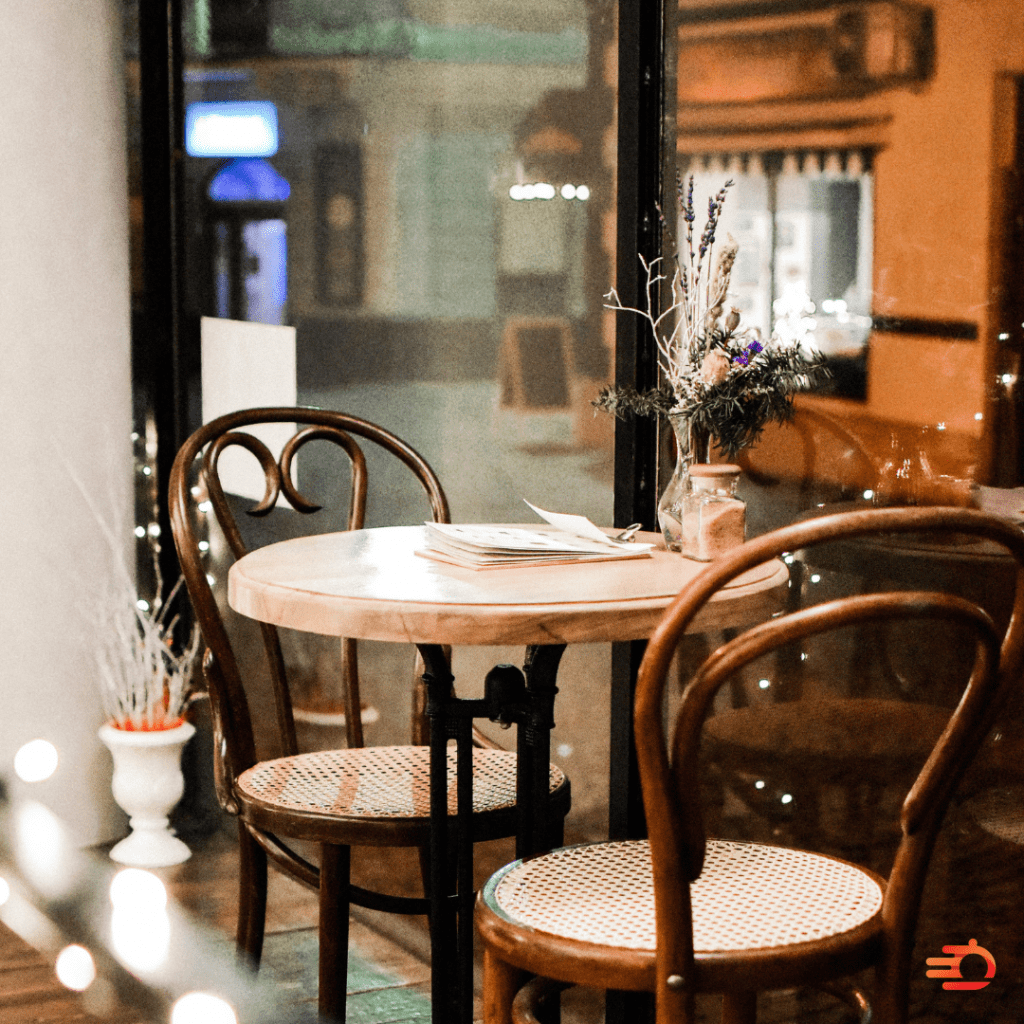 Cases can showcase their individuality and style by choosing tabletops with distinct designs, patterns, and materials, setting themselves apart from competitors.
Unique tabletops act as conversation starters, capturing the attention of patrons and sparking curiosity. They contribute to the establishment's brand identity, conveying a sense of creativity, care, and attention to detail.
Moreover, these exceptional tabletops enhance customers' comfort and enjoyment, providing a welcoming and visually appealing setting for them to savor their coffee, meals, or conversations with friends and family.
Investing in unique cafe tabletops is an opportunity for cafes to craft a lasting impression on their patrons, fostering loyalty and drawing new customers through the allure of a distinct and inviting atmosphere.
5. Get Vintage Coffee Shop Decor Secondhand
Vintage coffee shop decor holds immense importance in creating a cozy and nostalgic ambiance that attracts customers and leaves a lasting impression. The charm of vintage items, such as old-fashioned signage, retro furniture, and antique coffee-making equipment, adds character and uniqueness to the space.
It evokes a sense of warmth and comfort, inviting patrons to relax and savor their coffee experience.
Embracing vintage decor also aligns with sustainability values by reusing and repurposing items, reducing waste and environmental impact.
Choosing to buy secondhand instead of investing in expensive new equipment saves costs for the coffee shop owners. It contributes to a sustainable and eco-friendly approach in the coffee industry.
Ultimately, the combination of vintage decor and secondhand purchases fosters a charming and socially responsible coffee shop environment that appeals to both coffee enthusiasts and environmentally-conscious customers.
6. Keep the Pastry Case Pristine and Pretty
Maintaining the pastry case pristine and pretty in a coffee shop is of paramount importance as it serves as a captivating and enticing display that can significantly impact the overall customer experience.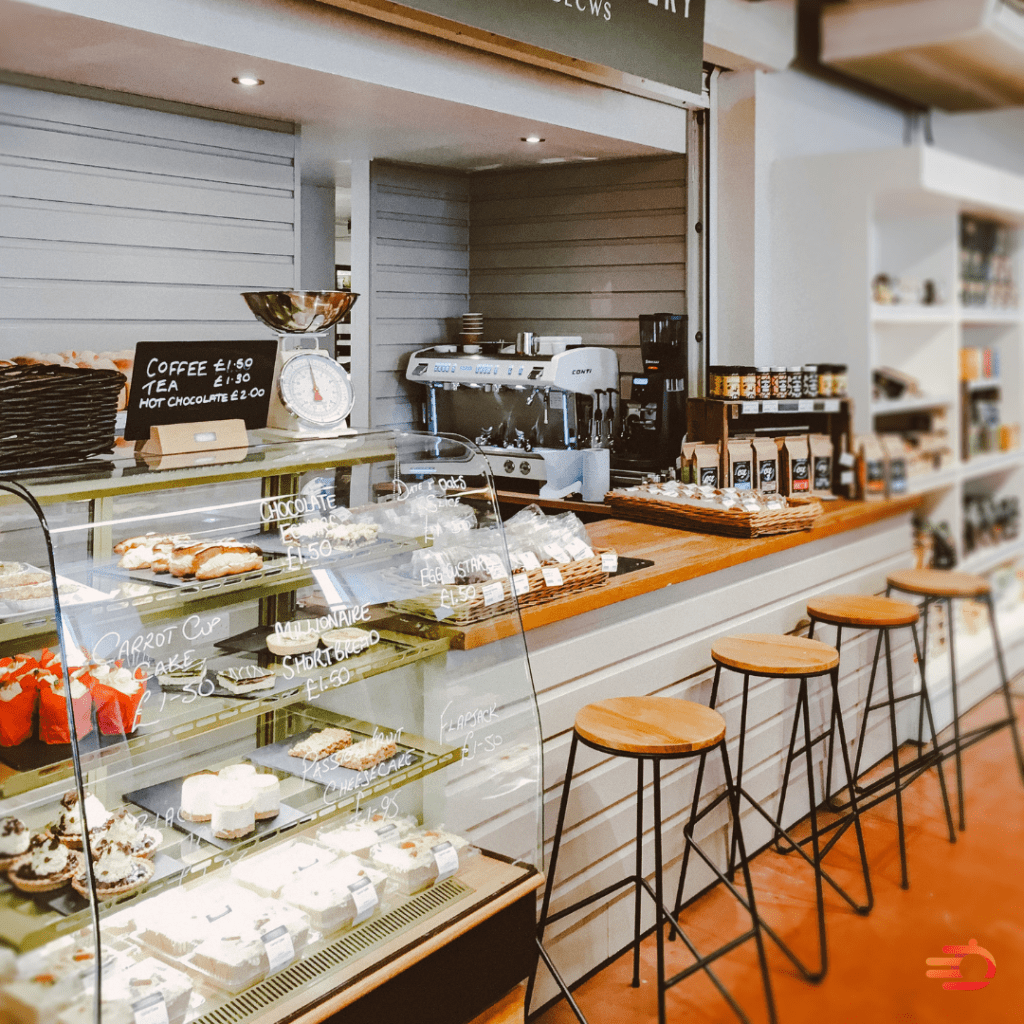 A visually appealing pastry case not only tempts customers to indulge in delicious treats but also reflects the coffee shop's commitment to quality and attention to detail.
A well-organized and hygienic display creates a positive first impression, leaving customers with a sense of trust in the establishment's cleanliness and professionalism.
Moreover, an aesthetically pleasing pastry case can act as a powerful marketing tool, attracting passersby and encouraging impulse purchases.
Regularly refreshing the display with fresh pastries showcases a commitment to freshness and variety, keeping customers excited about the offerings.
Ultimately, a pristine and pretty pastry case elevates the ambiance of the coffee shop, fostering a welcoming and delightful atmosphere that keeps patrons coming back for more delectable delights and memorable experiences.
7. Let Customers Experience Your Kitchen Decor
Having good kitchen decor at a coffee shop and strategically placing it so guests can see and experience the kitchen is paramount.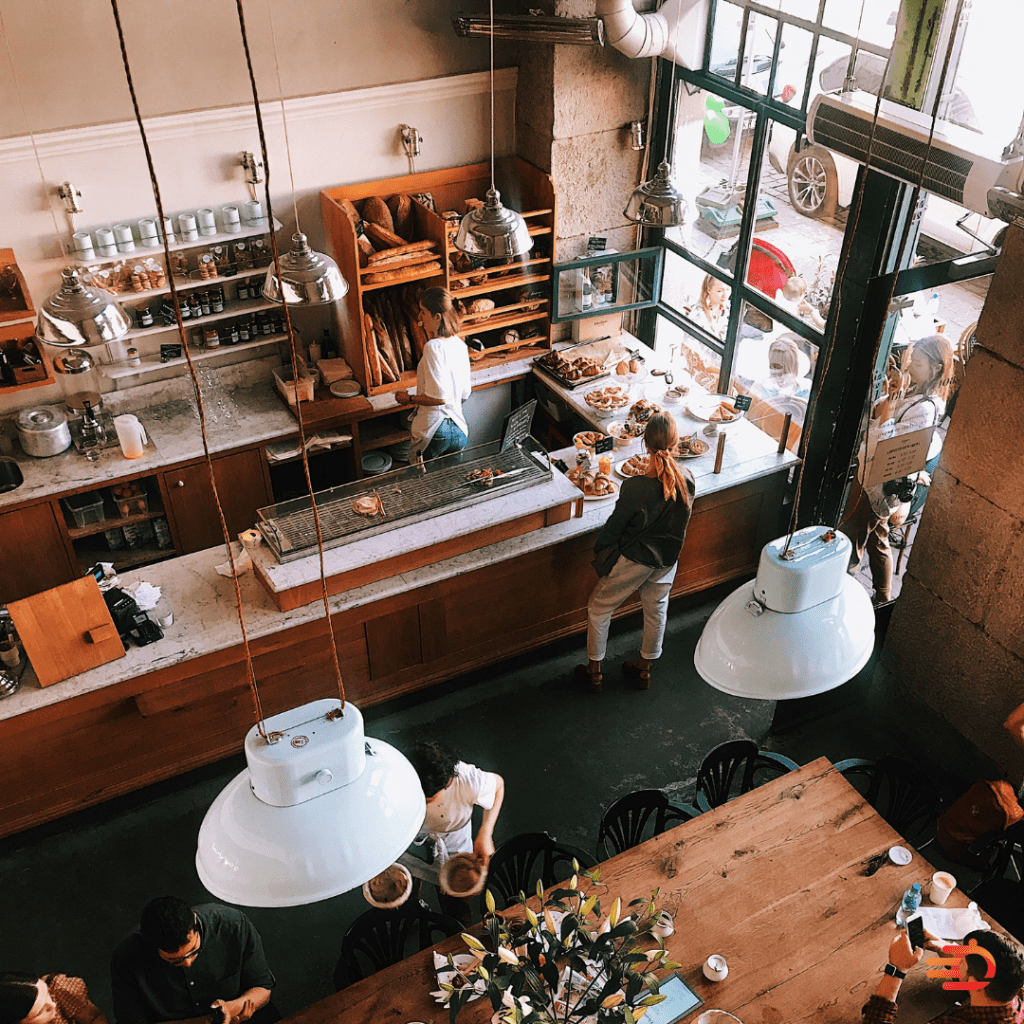 The kitchen serves as the beating heart of every coffee shop, where enchantment unfolds, and aromatic delights come to life. A thoughtfully crafted kitchen elevates the coffee shop's ambiance and fosters a genuine and transparent dining experience.
When customers witness the expertise of skilled baristas and talented chefs in action, a deep connection is forged between the guests and the meticulously crafted food and beverages. This transparency fosters trust and reassurance, knowing that the food and drinks are made with care and high-quality ingredients.
Additionally, it provides an element of entertainment and intrigue, turning the coffee shop visit into a memorable and immersive experience. Guests are more likely to feel engaged and invested in their choices when they can witness the behind-the-scenes artistry, leading to increased customer satisfaction and loyalty.
In conclusion, integrating excellent kitchen decor with visibility elevates the coffee shop's ambiance and reinforces a strong bond between customers and the delectable creations emerging from the bustling kitchen.
8. Build a Communal Bookshelf
Having a communal bookshelf in a coffee shop holds tremendous importance as it fosters a unique and enriching environment for patrons. Beyond simply providing a space to enjoy a cup of coffee, the presence of a bookshelf invites a diverse range of literary experiences and knowledge-sharing.
It becomes a gathering point for book enthusiasts, encouraging them to share their favorite reads and exchange thoughts on various literary works. This vibrant interaction among coffee shop visitors can cultivate a sense of community and intellectual curiosity.
Whether it's a local author's hidden gem or a classic masterpiece, the communal bookshelf adds depth to the coffee shop experience, inspiring patrons to discover new books and expand their horizons.
Moreover, it serves as a platform for promoting local talent, as aspiring writers can display their works for a broader audience.
A communal bookshelf ignites a passion for reading, encourages meaningful conversations, and transforms the coffee shop into a hub of creativity and knowledge exploration.
9. Source Unique and Comfortable Chairs
Sourcing unique and comfortable chairs for a coffee shop is of utmost importance as it directly impacts the overall ambiance and customer experience. In a competitive market where coffee shops abound, providing a distinct and inviting atmosphere is crucial to attracting and retaining patrons.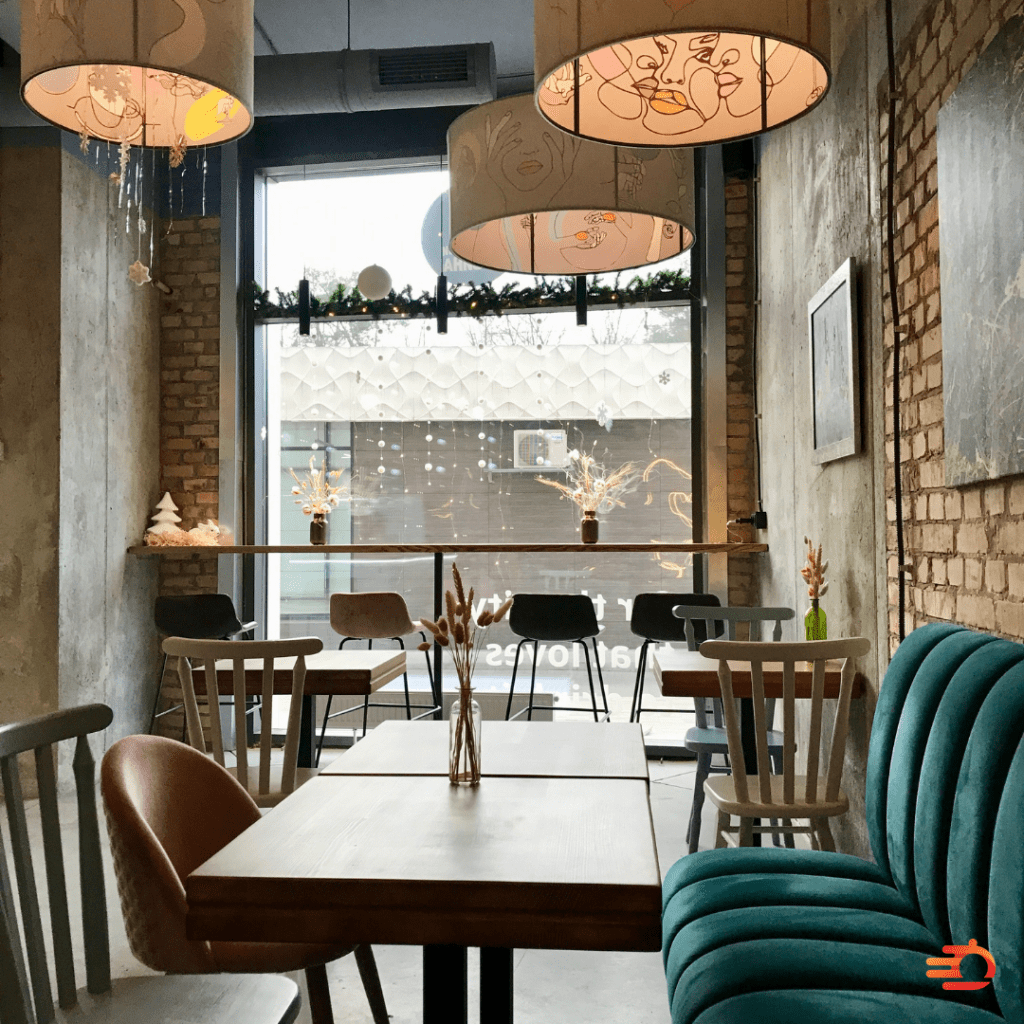 Unique chairs add a touch of personality and charm, setting the establishment apart from generic coffee chains.
Comfortable seating ensures that customers can relax and enjoy their coffee, promoting longer stays and encouraging repeat visits.
A well-designed chair also contributes to the overall aesthetics of the space, complementing the coffee shop's theme and enhancing the overall visual appeal.
By prioritizing both uniqueness and comfort, a coffee shop can create a memorable and pleasant environment, fostering a loyal customer base and leaving a lasting impression on visitors.
10. Beautiful Bathrooms in your Coffee Shop
Having beautiful bathrooms in a coffee shop is of paramount importance as it significantly enhances the overall customer experience and leaves a lasting impression on visitors.
Aesthetically pleasing bathrooms with thoughtful design elements create a sense of comfort and relaxation, providing a refreshing retreat for patrons amidst their bustling day.
Well-maintained and visually appealing bathrooms also reflect the coffee shop's commitment to hygiene and customer satisfaction. They can serve as a marketing tool, prompting customers to share positive experiences on social media platforms, which can attract new customers and foster a loyal clientele.
Furthermore, the meticulousness with which a coffee shop maintains a visually pleasing restroom is indicative of the same level of care and attention they dedicate to the excellence of their beverages and service.
Beautiful bathrooms become an integral part of the overall ambiance, contributing to a memorable and enjoyable coffee shop experience that encourages customers to return time and again.
Conclusion
To wrap up, making the right decor choices for your coffee shop can make all the difference in setting apart your business from others. Whether it's finding unique wall decor, painting the walls or creating an accent wall, choosing the right lighting, building a communal bookshelf, or sourcing unique and comfortable chairs, you'll be able to create an inviting atmosphere that customers will love. Remember the pastry case too; it should remain pristine and pretty too.
Of course, remember to let customers experience your coffee shop kitchen decor and make sure to have beautiful bathrooms as well. Ultimately, it's important to remember that when it comes to coffee shop decor ideas, options are available to create an atmosphere that reflects your personality.
If you're looking for more advice on topics related to the F&B Industry, be sure to check out additional Orderific blog posts!
FAQs
Q. What are the steps to design a coffee shop interior?
Ans. For designing a coffee shop interior, start by identifying your brand's personality, then select the color palette, furniture, lighting, layout and decor that aligns with this personality.
Q. What inspired your coffee shop idea?
Ans. The desire to create a community gathering place that combines the love for coffee with warm and inviting aesthetics inspired our coffee shop idea.
Q. How to decorate a new cafe on a budget?
Ans. To decorate a new café on a budget, consider thrift store finds for unique pieces, DIY decor projects, and repurposing existing furniture or materials.
Q. What type of ambiance should my coffee shop have?
Ans. Your coffee shop should have a welcoming ambiance that harmonizes with your brand identity and resonates with your target customers.
Q. What are some ideas to decorate my small cafe?
Ans. For small cafes, consider using mirrors to create an illusion of space, vertical storage solutions for a clutter-free environment, and light colors to make the space feel open and bright.
Q. How do I make a coffee shop unique?
Ans. To make a coffee shop unique, infuse your personal brand story in its decor, offer unique coffee blends and menu items, and provide exceptional customer service.