An inviting aroma wafts from a bustling coffee shop in the heart of urban life. The scent of freshly roasted beans entices passersby, hinting at the delightful experiences awaiting them on the Coffee Shop Menu. As the door swings open, your eyes dance across an elegantly designed menu. From classic brews to innovative blends, the possibilities seem endless.
Each item, meticulously crafted, tells a tale of flavor and passion. Every sip is an invitation, a journey traversing the world's coffee plantations. In essence, the menu is more than just a list. It's the soul of the coffee shop, reflecting its ethos of serving distinct tastes.
But how does one build such an enticing coffee shop menu? How do you strike the perfect balance between the familiar and the exotic? This write-up aims to guide you through the art of crafting your menu, from selecting the ideal beans to creating a symphony of flavors that cater to a wide palette. Welcome to the world of 'Beans, Blends & Brews'.
How to Create a Coffee Shop Menu
Crafting a compelling coffee shop menu is akin to composing a symphony. It begins with a defining note – the aroma of freshly brewed coffee, invigorating the senses. Next, the sight of an aesthetically designed menu featuring an array of beverages and treats seamlessly blends the familiar with the novel. The clinking sounds of cups and saucers harmonize with the comforting hum of conversation, laughter, and the hissing steam of an espresso machine. The touch of a warm cup, a tangible link to the exotic lands where those beans were harvested – the taste, a roller coaster ride of flavors, each sip offering its unique notes of bitterness, sweetness, or creaminess. This is your masterpiece, your symphony.
Now, let's dive into the components of this symphony.
Opening a Coffee Shop Checklist
Picture yourself strolling into your very own coffee shop. The aroma of freshly ground beans permeates the air, a testament to your dream's fruition. Each piece of furniture, each smiling staff member, and every ceramic mug on display embodies your hard work and vision. But what steps led to this moment?
Location Selection: The ideal spot for your coffee haven could be in a bustling urban farmhouse or a cozy corner in the heart of West Philly. Location choice is paramount.
Menu Planning: Strike the perfect balance between the familiar and the exotic. Choices range from a simple fried egg breakfast sandwich for takeout to an exquisite dish of huevos rancheros enjoyed on the patio.
Suppliers and Equipment: Source high-quality beans and reliable machinery. Precision and consistency in your brews are key.
Design and Atmosphere: Create a space that's more than just a brunch spot. It should be a refuge, a place to savor a waffle topped with whipped cream or devour the best brunch dish in town.
Staffing and Training: Your team should reflect your coffee shop's ethos. Whether serving up bacon pancakes or crafting the perfect avocado toast, your staff are the hands and hearts behind your venture.
Marketing Strategy: Become the talk of Church Hill or the original pancake house of your city. Your coffee shop menu isn't just an inventory; it's a story waiting to be told.
With this checklist, you're well on your way. Remember, every successful coffee shop started as a dream. They brewed, they conquered, and so will you. Time to wake up and smell the coffee!
Coffee Shop Menu Design Best Practices
Breathe in the warm, inviting aroma of a coffee shop. Your eyes are drawn towards a beautifully arranged menu, a visual symphony of choices calling to your taste buds. Each drink tells a story, each dish a delightful surprise. Imagine an espresso's rich, bold flavor or the comforting familiarity of a fried egg breakfast sandwich. This is the magic of a well-designed coffee shop menu. It's not just a list; it's an experience. Here are some best practices to harness that magic:
Balance of Familiar and Exotic: Blend the classic with the innovative. Offer a tranquil corner for those craving the comfort of a traditional pancake breakfast and an adventurous outing for the urban explorers pining for the thrill of a novel brunch dish.
Engage the Senses: Remember, your customers aren't just eating but experiencing. The rich scent of roasted coffee beans, the aesthetic presentation of a poached egg on avocado toast, and the comforting warmth of a cup on a cold morning all play into the dining experience.
Clever Use of Space: A cluttered menu can overwhelm. Be selective in your offerings. Prioritize quality over quantity, ensuring each item has its spotlight.
Visual Appeal: Make your menu a visual feast. An attractive layout with clear fonts and compelling images can pique interest and appetite.
Implementing these best practices can elevate your coffee shop menu from a simple list to an enticing narrative. It becomes the soul of your establishment, a harmonious blend of flavors and experiences. The result? A bustling coffee shop filled with the soft hum of conversation, the clinking of dishes, and the warm, comforting aroma of brewing coffee – a testament to your success.
How to Make a Coffee Shop Menu
As dawn breaks, the city stirs to life. A familiar, welcoming scent lingers in the crisp morning air. It's the tantalizing aroma of coffee wafting from a bustling establishment. This is your coffee shop, your dream brought to life through hard work and dedication. Each cup of coffee served each pastry presented, is a testament to your efforts. But all these elements are guided by a meticulously crafted, well-designed menu. So, how do you create the perfect coffee shop menu? Let's delve into this enchanting journey.
Step 1: Delving into the Bean World
Start your journey by sourcing your coffee beans. The quality of your coffee is intrinsically linked to the beans you use. Whether it's a robust, full-bodied variety from West Philly or a smooth, sweet selection from an urban farmhouse, your choice of beans sets the tone for your menu.
Step 2: A Symphony of Flavors
Next, explore the realm of flavors. The heart of your coffee shop menu is the selection of beverages you offer. Whether it's the simplicity of a black coffee, the richness of a mocha, or the innovation of a chili-infused latte, your menu should cater to a wide range of tastes.
Step 3: Complementing the Brew
Now, it's time to consider the perfect companions for your brews. Do you envision patrons enjoying a hearty bacon breakfast sandwich or savoring light avocado toast? Your coffee shop menu may feature cozy comfort food like pancakes and waffles or lean toward the exotic with offerings like huevos rancheros.
Step 4: Presentation Matters
Once you've curated your menu, it's time to think about design. A visually appealing menu enhances the customer experience. Use clear fonts, attractive images, and an organized layout to make your menu a pleasure.
Step 5: A Final Flourish
Finally, remember to add a personal touch. Whether it's a signature drink or a unique spin on a brunch dish, your flair can set your establishment apart. This could be the difference between being another brunch spot and becoming the best one in town.
Remember, your coffee shop menu is more than a list of offerings. It's a narrative representing your passion for coffee and food. Each item tells a story, inviting customers to become part of your journey. So, let your menu reflect your love for the craft, and watch your coffee shop come to life.
Restaurant Menu Templates
Visualize a digital canvas, a blank slate ready to be molded. This canvas is your restaurant menu template; the first encounter customers have with your culinary narrative. You paint a delectable picture with each item you list, arousing anticipation for the tastes to come.
From elegant fonts to captivating images, your menu embodies the spirit of your restaurant. A casual brunch spot might prefer a playful, vibrant template, showcasing that inviting avocado toast or the indulgent bacon-topped pancake. Meanwhile, a sophisticated urban farmhouse dining experience would lean towards a sleek, minimalist design, highlighting a refined dish like poached eggs or the exquisite huevos rancheros.
The template facilitates a delightful journey for the senses. The sight of your food, captured in compelling images, can almost be tasted. The crisp sound of a mimosa being poured, evoked by imaginative descriptions, rings in the ears. One can practically feel the traditional warmth of the original pancake house or the bustling energy of West Philly.
But remember, the template is more than a mere tool; it's a storyteller narrating your restaurant's tale. It breathes life into your menu, transforming it from a list of dishes into a sensory experience. Thus, with a suitable template, your restaurant menu can evolve into a stage for your culinary performances, narrating stories of flavor, culture, and passion.
So, as you embark on this creative journey, select a template that sings harmoniously with your restaurant's ethos. After all, the best menus don't just inform; they inspire.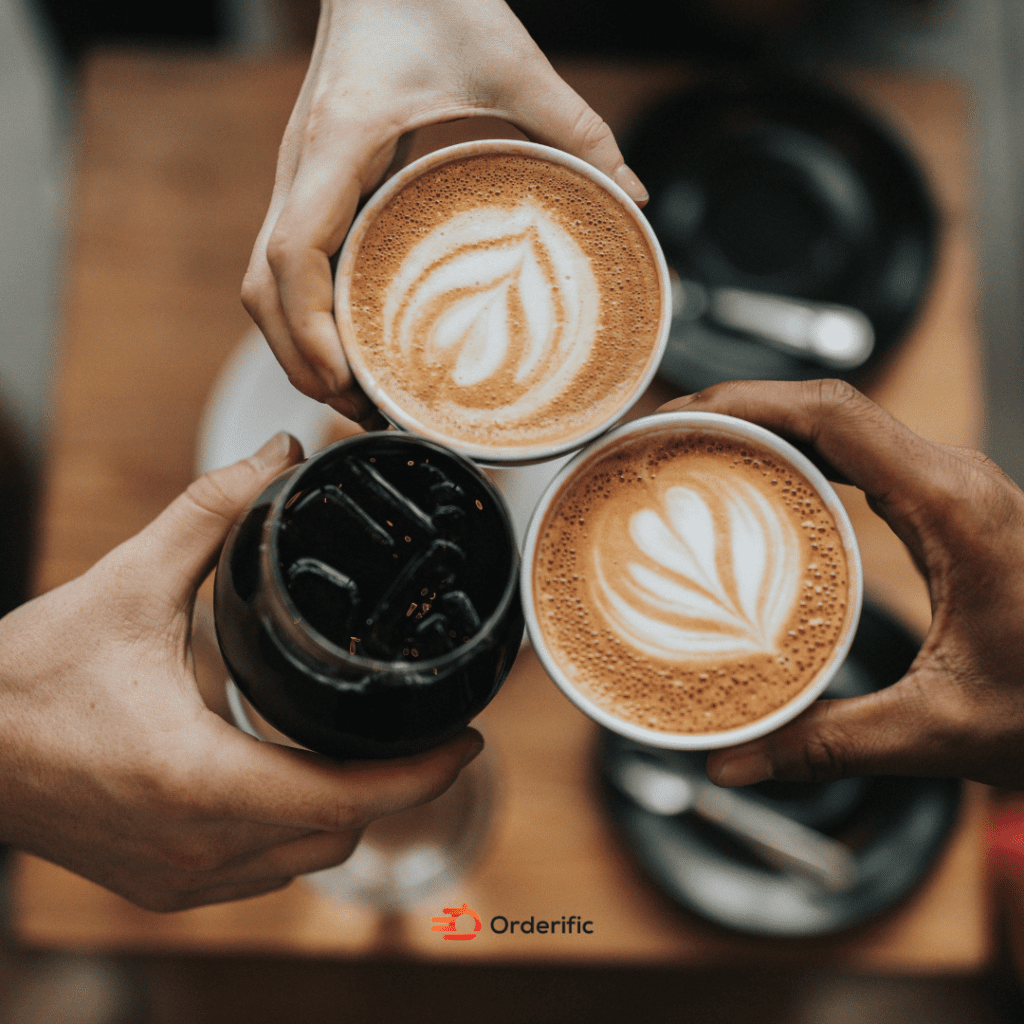 Examples of Coffee Shop Menus
A mere list of offerings? No. A coffee shop menu, when well-crafted, becomes a sensory journey, a delicious narrative. It's an art, an exquisite dance of words and images, tempting you to embark on a culinary adventure. Let's delve into some captivating examples:
The Urban Farmhouse: A haven for the health-conscious, this menu marries wholesome goodness with hearty flavors. Imagine sinking your teeth into a fresh avocado toast while sipping a detoxifying green smoothie. The simple yet elegant menu resonates with the cafe's organic and rustic feel.
West Philly's Brews: A coffee shop prides itself on its selection of artisanal brews. Their menu – a symphony of flavors. Each beverage tells a tale of passion and precision, from the bold, robust espresso to the innovative chili-infused latte.
The Original Pancake House: A classic brunch spot where the charm lies in the familiarity. The menu features traditional favorites, from the fluffy pancakes adorned with a dollop of whipped cream to a comforting fried egg breakfast sandwich.
The Fancy Biscuit: A menu that perfectly balances comfort and innovation. The ever-popular bacon breakfast sandwich and the exotic huevos rancheros are here. Each dish is a testament to the cafe's commitment to culinary creativity.
The Patio: A quaint cafe boasting an eclectic mix of dishes. The menu teems with delectable options, from the hearty hash browns to the light, yet fulfilling, poached egg on avocado toast.
These distinct and unique menus speak volumes about their respective coffee shops. They entice, allure, and beckon you to partake in a culinary experience beyond mere consumption. So, the next time you step into a coffee shop, pause and peruse the menu. You might discover a story waiting to be savored.
Conclusion
With our guide, creating your Coffee Shop Menu becomes a delightful journey. By engaging senses, you weave a narrative that beckons patrons to experience your café's unique flavors. Your menu, a symphony of enticing dishes and beverages, tells a story of your passion for coffee and culinary creativity. Remember, your success lies in balancing the familiar and the exotic. A well-crafted menu delights taste buds and creates a memorable experience. For an easier way to manage your coffee shop, consider using Orderific. It makes life easier for restaurant owners and customers by increasing revenue, decreasing operational costs, and improving user experience. Orderific is integrated with leading POS systems and payment partners worldwide. For more information on Orderific, schedule a FREE DEMO today.
FAQs
How do coffee shops curate their menu offerings?
Coffee shops curate their menus based on customer preferences, local tastes, seasonality, and the uniqueness of their brand.
What factors influence the selection of coffee bean varieties?
Taste preferences, cost, geographical origin, and supplier reliability influence the selection of coffee bean varieties.
Are there unique signature drinks that differentiate coffee shops?
Yes, unique signature drinks are often crafted to distinguish a coffee shop and provide a unique customer experience.
How important is variety and customization on a coffee shop menu?
Variety and customization are crucial in a coffee shop menu as they cater to diverse customer tastes and dietary needs.