Introduction
Welcome to the city that never sleeps, but always drinks coffee – New York City. Amidst the energizing buzz of New York lies a vibrant café culture, with some of the best coffee shops tucked away in the bustling streets of the West Village, the artistic corners of the East Village, and the lush greenery of Central Park.
Coffee in New York isn't just a beverage; it's an essential part of the day for every New Yorker. Whether it's a quick stop at La Colombe before a jaunt in Greenwich Village, a quiet afternoon with a book at Variety Coffee Roasters, or soaking up the ambiance at Stumptown Coffee Roaster in the heart of the city, there's a coffee shop for every taste and occasion.
In this guide, you'll find an eclectic mix of establishments, from the multi-location giants like Birch Coffee to unique gems like Sey Coffee and Felix Roasting Co. We've even included local favorites that have earned their place in the New York Times, such as Black Fox Coffee and Café Grumpy. You'll discover places that feel like a Midtown East luxury, spots that reflect the laid-back vibe of the Lower East Side, and cafes that exude the charm of the Upper East Side.
What Are The Best Coffee Shops In NYC?
1) Best For Working Remotely: Cafe Grumpy, Greenpoint
Cafe Grumpy in Greenpoint is a must-visit for digital nomads and remote workers in New York City. Famed for its robust brews and cozy ambiance, this café is perfect for those who crave quiet corners to focus on their work. With its speedy Wi-Fi and plenty of power outlets, Cafe Grumpy makes productivity a delightful experience. Pair your work sessions with their heavenly pastries and you've found your second home in the heart of the city.
2) Best For Speciality Coffee: Stumptown Coffee Roasters
Hailing from the Pacific Northwest, Stumptown Coffee Roasters has made a name for itself in the specialty coffee scene of New York City. This beloved coffee shop is celebrated for its dedication to quality, sourcing the best coffee beans from around the world and roasting them to perfection. Sip on their exquisite espresso or delight in their cold brew while enjoying the hip and welcoming vibe. Whether you're a discerning coffee connoisseur or simply looking for a great cup of joe, Stumptown is a must-visit.
3) Best-Designed Coffee Shop: Blue Bottle
Blue Bottle, recognized for its minimalist and contemporary design, is more than just a coffee shop. It's a visual and sensory experience. Nestled in Bryant Park, this spot blends coffee with a curated aesthetic that makes every visit feel like a calming retreat in the heart of New York City. Enjoy their signature pour-overs or New Orleans style cold brew, and immerse yourself in the tranquil ambiance that makes Blue Bottle a standout in the city's café scene.
4) Best Coffee Shop In The Financial District: Black Fox
Nestled amidst the hustle and bustle of the Financial District, Black Fox Coffee is the perfect oasis for coffee enthusiasts. Known for its extensive menu featuring brews from around the globe, this café is a haven for those seeking an exceptional coffee experience. With its sleek, modern decor providing a stark contrast to the historic surroundings, Black Fox offers a unique blend of contemporary and classic New York ambiance. It's the ideal spot for a quick coffee break amid the pressures of Wall Street, or a casual meeting in a stylish setting.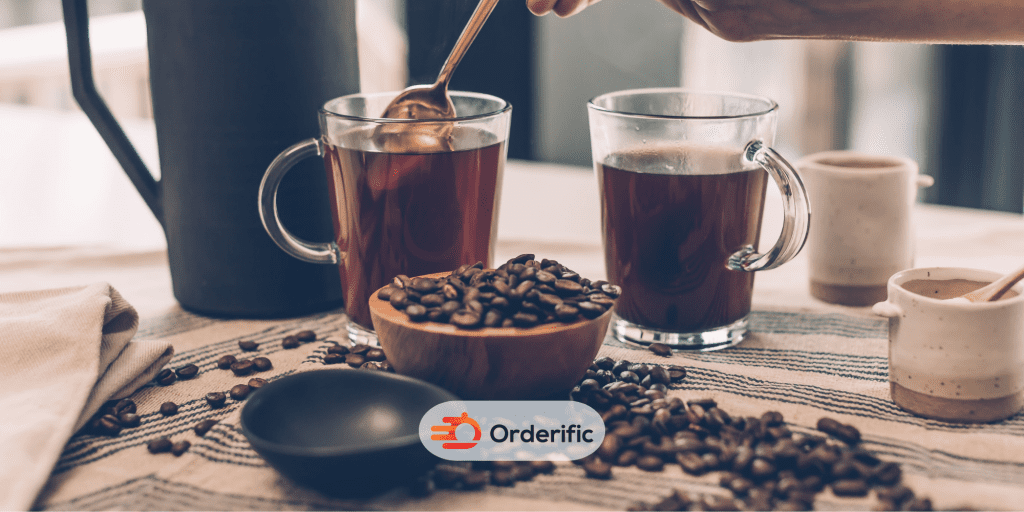 5) Best Nicaraguan Coffee: Cafe Integral
Cafe Integral is a beacon for those seeking an authentic taste of Nicaraguan coffee in the heart of New York City. This coffee shop stands out for its commitment to single-origin Nicaraguan beans, each cup showcasing the rich and diverse flavors of this Central American nation. With its warm, inviting ambiance and friendly baristas, Cafe Integral offers not only a distinctive coffee experience but also a taste of Nicaraguan hospitality right in NYC. It's the perfect spot for anyone looking to explore global coffee culture without stepping foot outside the Big Apple.
6) Best Place To Also Have Brunch: Vineapple Cafe
Vineapple Cafe is a Brooklyn favorite, known not just for its outstanding coffee but also for its delectable brunch offerings. This charming café is a wonderful place to start your day, savoring their artisanal brews alongside a variety of brunch dishes. With its cozy atmosphere, friendly staff, and a menu filled with delicious options like pastries, sandwiches, and salads, Vineapple Cafe is as much a brunch destination as it is a beloved coffee shop.
7) Best For On-The-Go Coffee: La Colombe
La Colombe is a titan in the New York City coffee scene, renowned for making excellent coffee accessible and quick for busy New Yorkers on the move. With several locations across the city, this coffee shop is a beacon for those in need of a quick caffeine fix without compromising on quality. Their draft lattes and cold brews are city-wide favorites, making La Colombe an essential stop for coffee lovers navigating the concrete jungle.
8) Best For Social Impact: Laughing Man Cafe (Tribeca)
Laughing Man Cafe in Tribeca isn't just about serving a great cup of coffee – it's about creating a positive impact. This café is the brainchild of actor Hugh Jackman and is dedicated to supporting coffee farmers globally. Each purchase made contributes towards education, community development, and fair trade, making every sip a part of a larger mission. With its stellar coffee and a commendable cause, Laughing Man Cafe is more than just a café – it's a movement.
9) Best For Getting a Pastry With Your Coffee: Fabrique Bakery
Fabrique Bakery is the go-to spot for those looking to pair a handcrafted pastry with their coffee. Hailing from Stockholm, this bakery and coffee shop offers a Scandinavian twist on the New York café scene. Renowned for its divine pastries, particularly the cardamom and cinnamon buns, Fabrique Bakery ensures each visit is a delightful treat. Furthermore, Their coffee, sourced from high-quality beans, is the perfect complement to their baked goods, Therefore, Making it a must-visit for those seeking a European café experience in the heart of New York City.
10) Best For Outdoor/ Indoor Seating: Irving Farm New York
Situated in the heart of the city, Irving Farm New York offers the best of both worlds with its spacious indoor and outdoor seating options. So, This coffee shop is a haven for those who love to enjoy their cup of joe in a relaxed setting. Whether you prefer to soak up the sun in their charming outdoor patio or find comfort in their cozy indoor space, Irving Farm New York ensures an accommodating coffee experience for all seasons. Furthermore, Its rustic yet modern decor, coupled with top-notch coffee, makes it an essential spot for coffee enthusiasts in New York City.
Conclusion
As we conclude our delicious tour of New York City's vibrant café culture, it's clear that the Big Apple offers an array of coffee experiences for every taste and occasion. Hence, From the bustling shops in the Financial District to the peaceful retreats in Bryant Park, each café has its unique charm and specialty. Whether you want to savor specialty brews, enjoy brunch with your cup of joe, or contribute to a social cause with every sip, the options are limitless. So, Exploring New York City's coffee scene is truly a journey that goes beyond the beverage, immersely deeply into the city's heartbeat and lifestyle.
However, why stop at exploration? So, Take your coffee love to the next level by ensuring your favourite coffee shop has the best technology to enhance your experience. Orderific is an advanced platform that helps businesses streamline their operations for optimal service. Furthermore, If your favourite café isn't using it yet, wouldn't it be great for them to offer an even better customer experience? Encourage them to book a demo with Orderific. Hence, With the right tech, your beloved coffee shop can serve you better, faster, and with greater efficiency. So, here's to better coffee days ahead in New York City!
FAQs
What are some popular coffee shops in New York?
Some popular coffee shops in New York include Cafe Grumpy, Stumptown Coffee Roasters, and Black Fox.
Where can I find the best espresso in the city?
Stumptown Coffee Roasters is renowned for its exceptional espresso.
Do New York coffee shops offer vegan and gluten-free options?
Yes, many coffee shops in New York offer vegan and gluten-free options.
Are there any historic or unique coffee shops to visit?
Yes, places like Cafe Grumpy and Stumptown Coffee Roasters offer a unique coffee experience.
Can I find coffee shops with cozy atmospheres for working or relaxing?
Absolutely, Cafe Grumpy and Vineapple Cafe are great for relaxing or working.