Introduction
Welcome to the nuanced world of getting work done in a coffee shop! The unique aroma of coffee beans, the soft hum of conversations, the clatter of dishes, and the occasional hum of the espresso machine might seem like distractions. It's a break from the monotony of your home office or the sterile cubicle at work. Imagine yourself nestled in a cozy corner of Boomtown Coffee in Houston or sipping a specialty coffee at the 2nd Cup Cafe in the bustling East Village of New York. Maybe you are at the Black Hole Coffee House trying out their popular espresso drink, or perhaps you've found a quiet spot in the Coffee Project with your laptop, ready to finish your work. Whether it's the comforting smell of coffee, the inviting ambiance of the café, or the perfect blend in your cup, the coffee house has become a thriving hub for productivity. So, let's delve into how to make the most of your coffee shop work experience. With the right approach, you'll soon find that these public spaces can be your secret weapon for productivity.
Work Remotely From A Coffee Shop: Tips For Success And Etiquette
1. Avoid Peak Periods
When entering the coffee house, avoid peak periods to find the right spot for your work. Take a moment to assess the place and choose a less noisy or crowded corner. Opt for a spot by the window, which offers an excellent view and provides a refreshing break from staring at your screen. Additionally, ensure easy access to a power outlet if you use a laptop or other electronic device. Remember, the cafe is a shared environment, so respect the space and the people around you.
2. Be Wary Of Public Wi-Fi
Another essential thing to consider is being wary of public wifi. While cafes often offer free wifi, it's crucial to exercise caution when connecting to these networks. Public wifi can be insecure and leave your personal information vulnerable to hackers. To protect your data, consider using a virtual private network (VPN) or your mobile network. Stay safe, and enjoy your time at your favorite coffee house!
3. Bring A Battery Backup
Always bring a battery backup when planning to work from a coffee house. Despite the best efforts of most cafes, access to power outlets can often be scarce, especially during busy hours. It's frustrating to have your laptop die in the middle of an important task. To avoid this inconvenience, bringing a fully-charged power bank or a spare laptop battery is wise. This extra preparation ensures your productivity won't get hampered and allows you to work uninterrupted for hours, enjoying the ambiance of your favorite cafe. Remember, the key to successful cafe working is self-sufficiency.
4. Intentionally Choose Where You Sit
Choosing where you sit in a coffee house can greatly influence your productivity. Whether you're a window gazer or a corner curmudgeon, choose a spot that suits your working style. Some people find inspiration in the bustling café scene, while others need a quieter nook away from the constant flow of coffee drinkers. Consider the lighting, noise levels, and proximity to high-traffic areas like the counter or entrance. But remember, it's a public space – so be flexible and considerate. You're part of a community in a coffee house, and everyone is there to enjoy the unique atmosphere while getting their work done or savoring their favorite brew.
5. Don't Bring Outside Food
Bringing outside food into a coffee shop is a common faux pas that should be avoided. Remember, cafes are businesses that rely on their food and beverage sales to stay afloat. It's disrespectful to consume food from elsewhere while occupying their space and using their Wi-Fi. Plus, your brought-in lunch might carry strong scents that could interfere with the aroma and ambiance that the coffee house aims to maintain. Above all, supporting the café by purchasing their offerings not only helps keep the business running but also allows you to discover new flavors and specialties. So next time, leave your lunch box at home and indulge in the café's menu. Not only is it polite, but it's also part of the joy of the coffee shop experience.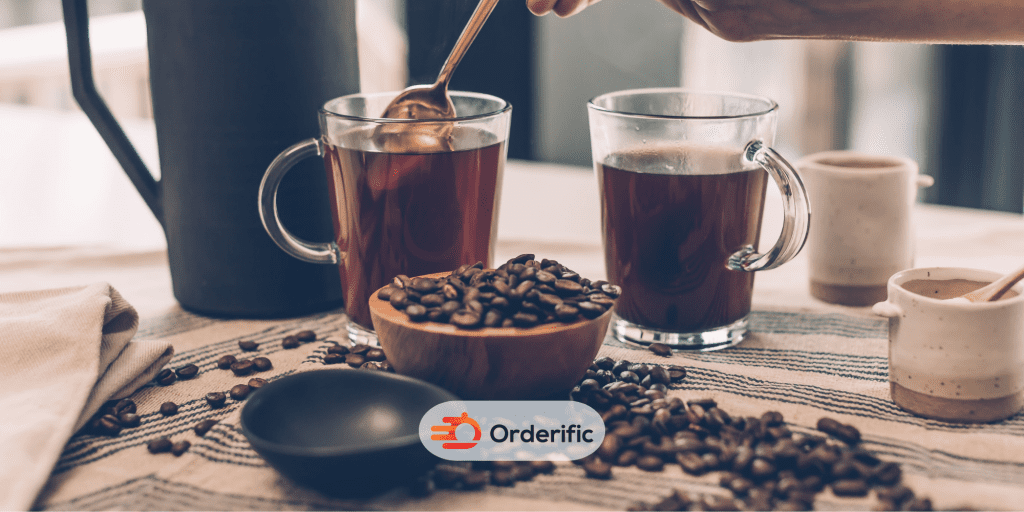 6. Engage With Others—With Limitations
Engaging with others in a coffee house environment can be a delicate balance. While it's one of the many benefits of working in a public space, it's important to establish some limitations. Perhaps a casual chat with a fellow patron can provide a refreshing break, or a quick networking opportunity might arise unexpectedly. However, it's essential to remember that you're there primarily to get work done. Avoid long, drawn-out conversations that could disrupt your productivity or disturb others around you. Always be mindful of social cues – if someone is engrossed in their work or wearing headphones, it's best not to intrude. The key is to strike a balance between being social and maintaining your focus. Enjoy the camaraderie of the café, but remember your goal: to work effectively in this cozy, caffeinated environment.
7. Leave On A Good Note
End your coffee house work session on a positive note. Ensure you clear your workspace, disposing of any trash or used coffee cups and leaving the area as clean as you found it. Return any moved furniture to its original place and be courteous to both the staff and fellow patrons. If you've had a productive day, consider leaving a tip as a token of appreciation for the café's ambiance that helped fuel your productivity. Remember, how you leave impacts how welcome you'll be the next time you decide to work from this coffee house. Leave a good impression, and you'll always have a comfortable, welcoming spot to get work done.
8. Move Your Meeting
While coffee houses can provide the ideal ambiance for casual business discussions or brainstorming sessions, it's important to keep in mind that these spaces are shared with other patrons. Prolonged meetings may not be suitable in a bustling cafe environment. Instead, consider moving longer meetings to designated meeting spaces, co-working venues, or virtual platforms. This respects the shared environment and ensures that everyone can enjoy the unique atmosphere of the coffee house. If a quick chat over a cup of joe is all that's needed, by all means, enjoy the cafe's vibe. However, for something more formal or lengthy, remember to 'Move Your Meeting' to a more appropriate setting.
9. Order Several Times
When you're planning to work for extended periods at your favorite coffee house, it's considerate to order multiple times. Remember, cafes are businesses too, and using their space for long hours while only purchasing a single cup of coffee doesn't support them. Try to order something every couple of hours, whether it's a refill of your coffee, a snack, or a meal. This not only validates your prolonged stay but also allows you to relish the café's delicious offerings. It's a win-win situation – you get to enjoy the ambiance and the culinary delights while financially contributing to your chosen workspace, helping ensure that the coffee house stays a vibrant and thriving hub.
10. Share The Space
A crucial component of working successfully in a coffee house is understanding the importance of sharing the space. Remember, a coffee shop is a public place, and the space you occupy is also desired by others. Ensure you're not spreading out your work materials across a four-seater table when a two-seater would suffice. Avoid hogging seats during busy hours, and be ready to share your table if needed. Also, keep your phone conversations low, use headphones while listening to audio or video content, and generally respect the café's ambiance and the rights of other patrons. After all, everyone is there to enjoy the coffee house setting, get work done, and savor their favorite brew. Embracing a mindful and respectful attitude enhances not only your experience but also that of others in the café.
11. Tip Well And Often
One of the key etiquette rules to remember when working at a coffee house is to tip well and often. These establishments are service businesses, and the baristas and staff work hard to ensure that the environment is pleasant and conducive to your productivity. A tip is not just a gratuity for good service, but also a gesture of appreciation for the ambiance, the care taken in preparing your beverage, and the warm, welcoming space provided for your work. Regular tipping, especially when you're occupying a table for long hours, is a great way to support the staff and the café. Always remember, your relationship with the café is symbiotic – while it provides you with a conducive workspace, you contribute to its sustainability. So, next time you enjoy that perfectly brewed coffee while settling down to work, remember to tip well and show your appreciation.
Enhance Your Productivity When You're Working From A Cafe
Working in a coffee house has become a popular trend for remote workers and freelancers, thanks to the cozy and lively atmosphere these spaces provide. It is, however, important to adhere to some guidelines to ensure a successful and respectful coffee shop working experience. Steer clear of overcrowded periods and secure a good spot, preferably near a power outlet. Be cautious with public Wi-Fi due to potential security risks and consider carrying a battery backup. Mindfully pick your seat and avoid bringing food from outside. While engaging with others can be refreshing, remember to maintain your focus. Leave your workspace clean after use and consider moving prolonged meetings to more suitable venues. If you're working for extended periods, make several purchases to support the café's business. Share the space respectfully, and don't forget to tip well to show your appreciation for the service. With these tips, you can make the most of your coffee shop work experience and contribute positively to the coffee house environment.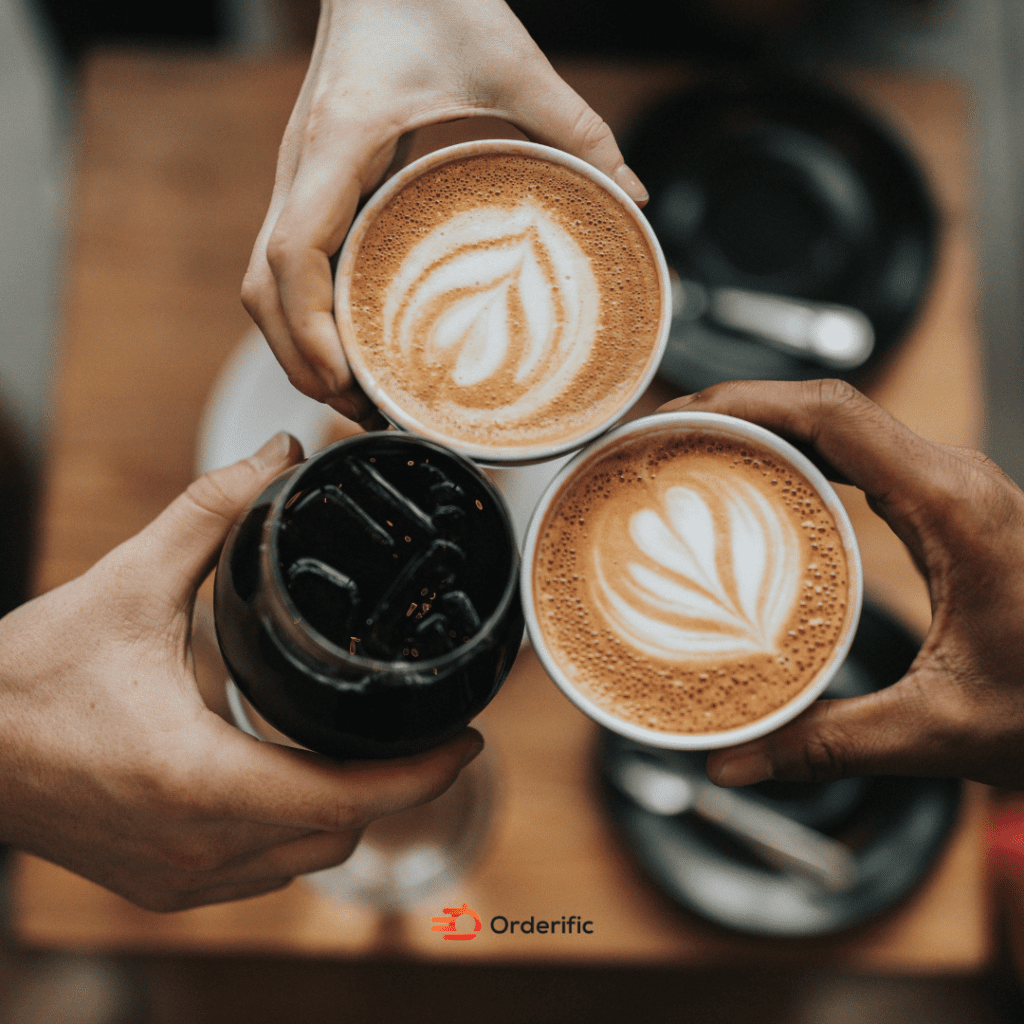 Conclusion
In conclusion, working from a coffee shop is more than just a change of scenery. It's an experience that blends productivity with the aroma of freshly brewed coffee. Following our guide ensures that you can make the most out of this unique work environment. From finding the right spot and respecting the ambiance, to engaging mindfully with others and showing your appreciation through regular orders and tips, you can make the coffee house your go-to spot for productivity.
Interested in making your coffee shop visits even more seamless? Discover Orderific, a platform designed to enhance your café experience. Schedule a demo today and see how it could revolutionize the way you order your favorite brew! Schedule a Demo
FAQs
Is working at a coffee shop a productive option?
Yes, it can be highly productive if managed well.
How can I find coffee shops with good work environments?
Use online review platforms, local listings, or word-of-mouth recommendations to find coffee shops with good work environments.
Are there any etiquette tips for working in a coffee shop?
Yes, be respectful of the shared space, make regular purchases, and tip well.
Is it necessary to make a purchase when working at a coffee shop?
Yes, it's generally expected to make a purchase when using a coffee shop as a workspace.
What are the advantages of working in a coffee shop compared to other places?
Working in a coffee shop can offer a unique, dynamic atmosphere, opportunities for networking, and a change in your regular work environment.