Welcome to the bustling universe of coffee and beverage-centric food trucks. As the sun peeks over the horizon, imagine the aroma of freshly ground coffee beans wafting through the air. Perched on wheels, these mobile cafes are a haven for espresso enthusiasts and casual drinkers. In these compact kitchens, unique concoctions come to life, from rich, creamy lattes adorned with a swirl of whipped cream to refreshing lemonade garnished with a slice of fresh fruit. On the menu, too, are food items: a snack, a breakfast sandwich, or even a lunch option to complement your drink. So, why wait? Embark on this journey with us, and let's explore the innovative brews that quench thirsts on the go, one food truck at a time.
The Rise of Coffee and Drink-Centric Food Trucks
In recent years, a delightful trend has emerged. Coffee and drink-centric food trucks are on the rise, infusing our streets with a unique charm. Picture yourself on a bustling city street, the hum of a busy day unfolding around you. Then, like a beacon, a food truck pulls up. Its vibrant colors and quirky design capture your attention instantly.
Immediately, the aroma of freshly brewed coffee tickles your senses. It's a compelling blend of espresso, chocolate, and a hint of lemonade, a symphony of scents contributing to the atmosphere. These mobile cafes have taken the age-old love for beverages, coupled it with innovation, and presented it in a convenient portable package.
As you approach, you notice the extensive drink menu. It offers an array of drinks, from frothy lattes adorned with whipped cream to refreshing bottled beverages for the health-conscious. The vibrancy of fresh fruit-infused drinks, the richness of hot chocolate, and the refreshing kick of cold brew – you're spoilt for choice.
And it's not just about drinks. These coffee trucks double as food trucks, offering mouth-watering menu items. From a breakfast sandwich, perfect with a morning coffee, to a hearty lunch of chorizo and black beans, there's something for every palate.
In essence, coffee and drink-centric food trucks are more than just businesses on wheels. They are a testament to creativity, a celebration of beverages, and, most importantly, an ode to the human spirit's resilience and adaptability. So the next time you see one, remember it is more than just a truck; it's a story on wheels.
Crafting Unique Beverage Menus
The artistry of curating unique beverage menus is evident in every coffee truck. Imagine, as your eyes hover over the menu, the anticipation building. You're enticed by aromatic espresso drinks, comforting hot chocolates, and the refreshing zing of freshly squeezed lemonade. Each glass, carefully crafted, tells its tale.
The process begins with selecting high-quality ingredients. Think of chocolate, dark and decadent, melting into the heat of espresso, or the tangy pop of fresh fruit adding a summery twist to iced tea. It's these carefully considered details that create a symphony of flavors in every cup.
Next, imagine the creativity that goes into each drink. You might find the boldness of cold brew coffee leveled out with creamy milk or the surprising kick of chili in a chocolate drink. Surprise adds to the allure, making each sip an adventure.
Remember the accompanying snacks, too. Picture the simple pleasure of a breakfast sandwich, eggs, cheese, and tomato held together by toasted bread or the satisfying crunch of fries. These menu items complement the drinks, providing a balanced and fulfilling experience.
Finally, the magic lies in the presentation. Drinks are served with flair, lattes boasting intricate designs in foamy milk, and beers poured from draft, bubbly and fresh. It's these small touches that transform a simple beverage into a memorable moment.
In the end, the unique drink menus of these coffee trucks are not just lists of beverages. Instead, they are a testament to the art of brewing, the joy of tasting, and the satisfaction of savoring a perfectly balanced drink.
Signature Coffee Creations: Coffee Trucks
The world of ordinary brews is left behind when you delve into the innovative spectrum of signature coffee creations. These are no casual concoctions. Every sip is an extraordinary journey, a blend of familiar and avant-garde. Craft beer lovers, too, find solace in the unique drafts offered.
Imagine the first sip. Your taste buds awaken to the bold flavor of espresso artfully merged with unexpected ingredients. Peanuts lend a nutty twist to your latte or a hint of chili that sets your hot chocolate apart. Even the humble lemonade gets a makeover, infused with fresh flavors like pineapple or orange.
It's not just about taste, though. The aroma takes center stage as well. The scent of coffee beans, the hint of vanilla, and the whiff of cocoa mingle in the air, creating an intoxicating olfactory symphony. And let's remember the visual appeal. Your latte arrives topped with frothy milk skillfully manipulated into beautiful designs. The sight is as pleasing as the taste.
Furthermore, these creations form harmonious pairs with food items. A chicken sandwich for lunch or a breakfast of eggs and cheese. Every combination is carefully curated, ensuring a delightful culinary experience.
So, next time you spot a coffee truck, remember it promises more than a beverage. It's an invitation to embark on a sensory adventure, a chance to taste something extraordinary. In the realm of signature coffee creations, the ordinary is irrelevant. The special is the norm.
Artisanal Drinks: Elevating Mobile Beverage Offerings
Artisanal drinks, the crowning jewels of mobile beverage offerings, elevate the coffee truck experience to an unprecedented level. Imagine the excitement of discovering a new flavor, a drink crafted with expertise, passion, and a hint of flair. The rich taste of craft beer, the refreshing tang of lime-infused lemonade, or the smooth texture of a well-brewed espresso entices your palate.
Every sip is a revelation, a captivating blend of flavors that tells a story. The sweetness of pineapple in your cold brew adds a tropical twist, while the unexpected crunch of pickle in your Bloody Mary surprises and delights. And let's remember the comforting familiarity of hot chocolate, made extraordinary with a dash of spice or a dollop of whipped cream.
As you relish these flavors, your senses are further engaged by the enticing aroma wafting from the truck. The fragrant blend of coffee, citrus, and a touch of cinnamon adds to the allure, creating an unforgettable olfactory experience. Meanwhile, the visual aesthetics are just as impressive. Your drink arrives, a feast for the eyes and the taste buds, with colorful garnishes and elegant presentation.
Moreover, these artisanal drinks are not enjoyed in isolation. They pair harmoniously with various food items, from a hearty chorizo sandwich to a light, fresh lettuce salad. Each pairing is thoughtfully curated, providing a complete gastronomic experience.
In essence, the world of artisanal drinks reflects the creativity, innovation, and heart that goes into the mobile beverage industry. It's more than just quenching your thirst; it's about embarking on a delightful sensory journey.
Tapping into Trends: Specialized Drink Options
Today's beverage landscape is ever-evolving, and food trucks swiftly tap into these drink trends. Picture a crisp autumn morning. A food truck greets you, the aroma of fresh coffee mingling with the cool air. Immediately, you sense the innovative spirit pulsing through the mobile café. The menu, replete with specialized drink options, catches your eye. From the refreshing cold brew, enhanced with a touch of zesty lime, to the comforting warmth of hot chocolate laced with cinnamon, the choices are exhilarating.
Take a moment. Allow the fragrant blend of aromas to transport you to a world of sensory delight. Feel the smooth, cold condensation of bottled water in your hand or the gentle heat radiating from a hot drink. Listen to the light fizz of a freshly cracked beer or the soft hum of the espresso machine. It's a symphony for your senses.
And there's more. Each drink, meticulously crafted and presented, pairs wonderfully with snack options. Imagine biting into a gooey grilled cheese sandwich, an excellent companion to your tomato soup-flavored beverage. Or, consider a refreshing iced tea, cutting through the richness of a peanut butter-loaded hot dog. Each pairing is a unique gastronomic adventure.
In essence, these specialized drink options represent more than the current trends. They testify to the food truck industry's adaptability and creativity, keeping pace with consumer preferences and delivering extraordinary experiences. One visit and your perception of mobile beverages will be forever changed.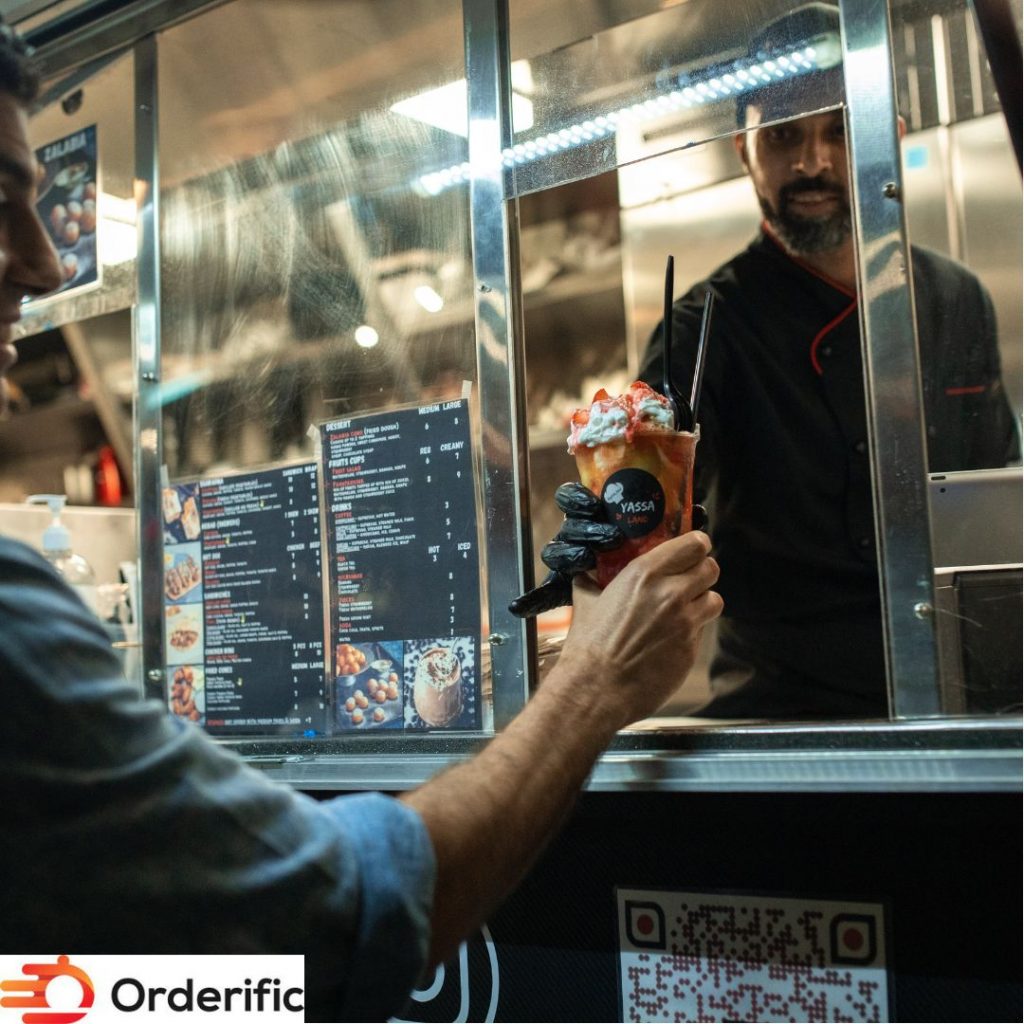 Navigating Mobile Beverage Logistics
Behind the scenes, the world of mobile beverages is a complex labyrinth of logistics. The first step, sourcing, is of utmost importance. Picture the vibrant marketplace, brimming with fresh produce – ripe tomatoes, tangy limes, and sweet oranges. These ingredients, handpicked with care, contribute to the beverages' distinct flavors.
Next, consider the preparation, where skill meets passion. Amidst the clatter of utensils, a symphony of flavors unfolds. The aroma of coffee beans grinding, the sizzle of chorizo, and the gentle fizz of a cold beer – it's a sensory delight.
Then, there's the challenge of space management. Inside the compact truck, every inch matters. Like a well-orchestrated dance, everything has its place. Draft beer dispensers stand proudly next to espresso machines, while fresh fruits sit neatly arranged, awaiting their turn.
Efficient service, too, plays a crucial role. As customers line up, the air buzzes with anticipation. The barista's deft hands pour hot water into the coffee, and the server's warm smile greets each customer. This seamless interaction enhances the overall experience, making every visit memorable.
Lastly, but crucially, is cleanliness. Surfaces are wiped clean, utensils washed, and waste disposed of responsibly. This meticulous attention to hygiene ensures the integrity of each drink and snack served.
In essence, navigating the logistics of mobile beverages is akin to conducting an orchestra, where each element plays a crucial role in creating a symphony of flavors, aromas, and experiences. When you next visit a food truck, appreciate the unseen efforts that go into quenching your thirst and satisfying your appetite.
Marketing and Building a Loyal Following for Food Truck
As we delve into marketing and building a loyal following for food trucks, imagine the vibrant scene. The food truck, colorfully adorned, is buzzing with activity. First, your senses are captivated by the irresistible aroma of expertly brewed coffee. Next, the tempting sight of appetizing snacks grabs your attention. You're immediately drawn in, a testament to the power of well-executed marketing.
In today's digital age, social media plays a crucial role. Food trucks harness the power of Instagram, Facebook, and Twitter, showcasing their unique offerings. Engaging photos, witty captions, and real-time updates transform followers into regular patrons. These platforms serve as a canvas, painting a vivid picture of the food truck's personality.
Then, location is essential. Food trucks strategically position themselves in bustling areas, becoming an integral part of the local landscape. Over time, the car becomes a familiar and beloved sight, a constant companion in the rush of daily life.
Interactive events add another layer to the marketing mix. Think pop-up collaborations, brewing workshops, or themed days. These experiences foster a sense of community, turning customers into passionate advocates.
Finally, the human touch. Friendly service, personal interactions, and a genuine love for the craft shine through. The result? Loyal customers who return not just for the beverages but for the entire experience.
In essence, marketing a food truck goes beyond simply promoting a product. It's about creating connections, sharing stories, and building a community around the love for quality beverages and food.
The Future of Mobile Beverage Industry: Innovations and Trends
The future of the mobile beverage industry looks exceptionally bright, fueled by endless innovation and emerging trends. Picture this: A self-sustaining food truck powered entirely by renewable energy. Just imagine savoring an espresso brewed using solar power. Indeed, sustainability is becoming a key player, with trucks embracing eco-friendly practices.
Next, consider the rise of tech integration. Contactless ordering, digital menus, and real-time location updates are becoming the norm. Not only do these advancements streamline operations, but they also heighten the customer experience.
Simultaneously, we see an exploration of novel flavors. Imagine sipping on a lavender-infused iced tea or a turmeric latte, an unexpected burst of flavors tantalizing your palate. These inventive concoctions are a testament to the industry's creativity, capturing consumers' curiosity and taste buds.
Furthermore, particular dietary preferences are being embraced. Vegan, gluten-free, or low-sugar – there's something for everyone. So, whether you're craving a dairy-free hot chocolate or a keto-friendly smoothie, rest assured you will find your perfect match.
Lastly, collaborations are gaining momentum. Food trucks partner with local farmers, artisanal bakeries, and craft breweries. This synergy enriches the menu, infusing it with local flavors and a sense of community.
Conclusion
In conclusion, the vibrant world of beverages on the move, particularly coffee trucks, offers a sensory voyage beyond the ordinary. As you navigate menus brimming with innovative drinks, each sip reveals a symphony of flavors, expertly crafted with love and precision. The enticing aroma of brewed coffee, the visual delight of a beautifully presented drink, and the soul-warming taste of a perfect brew create an unforgettable experience. Beyond the beverages, coffee trucks serve as a testament to the dynamic blend of creativity, quality, and passion that defines the industry. Orderific is here to elevate this experience even further. Automating manual tasks like order and payment taking allows you to focus more on delighting your customers with extraordinary drinks and unparalleled service. For more information on Orderific, schedule a FREE DEMO today.
FAQs
What Are Coffee Trucks and Drink-Centric Food Trucks?
Coffee and drink-centric food trucks are mobile cafes offering a variety of beverages, often paired with complementary food items.
What Types of Beverages Do These Trucks Typically Serve?
These trucks typically serve various beverages, from artisanal coffee and unique tea blends to craft beers and creative cocktails.
How Do I Find Coffee Trucks and Drink-Centric Food Trucks Near Me?
You can find local food trucks through food truck locator apps, local food truck events, or social media platforms.
Are These Trucks Limited to Coffee and Soft Drinks, or Do They Offer More?
These trucks offer a variety of beverages, including artisanal coffees, unique teas, craft beers, cocktails, and, often, innovative drink creations.
What Sets Coffee Trucks and Drink-Centric Food Trucks Apart from Traditional Cafes?
Coffee and drink-centric food trucks offer mobility, innovative beverages, and a unique, ever-changing dining experience that traditional cafes can't match.