Welcome to the digital era, where bars aren't just about chilled beers and soft lighting anymore. Imagine walking into a bar where your favorite drink is already waiting, thanks to your connected smartphone. With high-speed internet and the power of IoT, the bar scene in the United States is becoming more sophisticated and efficient. Affordable connectivity programs are transforming how bars operate, enabling a new level of customer service while offsetting labor shortages. From streamlining inventory management to offering personalized services, IoT is reimagining bar operations. As a participating provider in the digital revolution, let's delve deeper into the possibilities of integrating IoT in bar operations. Here's to connectivity, cheers!
Five Ways to Streamline Your Bar Operations
The bar scene is evolving, with technology and innovation driving forces behind streamlining operations. The romanticism of a neon-lit bar with an extensive menu and bartenders mixing up a cocktail storm is giving way to a new, optimized experience. The following are five ways to streamline your bar operations:
Reduce Your Menu
Simplicity reigns supreme in the hustle and bustle of a buzzing bar environment. Reducing your menu is a strategic move that can elevate your customer experience. Imagine a more focused selection, each drink crafted to perfection, capturing the essence of your bar's unique atmosphere. It's a move that caters to your customer's tastes and resonates with your brand's identity. With fewer options, your bartenders can master their mixology skills, creating unparalleled precision and flair for each cocktail.
As part of the affordable connectivity program, your bar can leverage the internet service to curate a digitized menu. This move not only declutters the physical space but also offers a seamless ordering experience for the tech-savvy, eligible household of millennials. An online menu can easily be updated to reflect the bar's dynamic offerings, enticing patrons with the latest concoctions.
A reduced menu is not about limiting choices. Instead, it's about offering various drinks that speak volumes about your bar's ethos. It's about connecting over a glass of vintage wine or a mug of locally brewed beer. It's about fostering ecological connectivity beyond serving drinks—it's about creating an experience, an ambiance, and a memory that will bring customers back time and again. So, lift your spirits, streamline your operations, and embrace the power of connectivity. Cheers to a more straightforward yet more enriching bar experience!
Batch Your Cocktails
In this fast-paced, digital world, efficiency is paramount. Batching your cocktails can be a game-changer for your bar operations. Imagine the beauty and convenience of walking into your bar and witnessing rows of pre-made cocktails, each with its unique blend of flavors. Batching cocktails is about more than just speed and convenience. Still, it also gives your bartenders the luxury of time to interact with patrons, improving that human touch that makes a bar experience unique.
With an affordable connectivity program, you can use high-speed internet to explore new cocktail recipes and mixology techniques. Combine this with your creativity and the unique tastes of your clientele to create an exciting range of pre-made cocktails. Batching cocktails also ensures consistency, so every patron can enjoy the same taste and quality, regardless of which bartender is on duty.
The IoT revolution also opens the possibility of smart fridges and IoT-enabled storage solutions. These provide real-time updates on inventory levels, ensuring your bar never runs out of those must-have ingredients. Plus, for the more adventurous, why not explore cocktail recipes from around the globe? With connectivity, you're no longer restricted to local tastes and trends.
Batching cocktails is more than just a strategy for efficiency. It's about enhancing the bar experience for your patrons and staff. It's about embracing the power of connectivity to create a bar that's efficient, vibrant, and always ready to serve unforgettable experiences. So, here's a toast to connectivity, efficiency, and a bar experience unlike any other!
Cross-Train Your Staff
Cross-training your staff is the third pillar of streamlining your bar operations. Imagine a cohesive team where everyone is equipped with the necessary skills to handle multiple roles. This approach strengthens your operations and fosters a sense of unity among your staff. Participating in the affordable connectivity program allows you to utilize online resources and high-speed internet to facilitate training sessions. These can encompass everything from mixology secrets and customer service techniques to savvy salesmanship.
Let's picture this: you're having a busy night at your bar. The crowd is humming, the glasses are clinking, and the atmosphere is electric. Suddenly, your star bartender is indisposed. Cross-training allows another team member to enter, ensuring the cocktail magic continues seamlessly.
Cross-training nurtures versatility in your staff, a key asset in today's dynamic bar scene. Moreover, it instills a sense of pride and ownership, inspiring your team to deliver unparalleled service to your patrons. In the process, the bar experience is transformed from a transaction to a tapestry of unforgettable moments. It's the ultimate embodiment of ecological connectivity, where each element of your bar operation flows harmoniously.
Ultimately, cross-training is about empowering your team and enhancing your operations. It's about creating a resilient, adaptable bar and always ready to serve with a smile as we embrace the power of connectivity and the promise of IoT.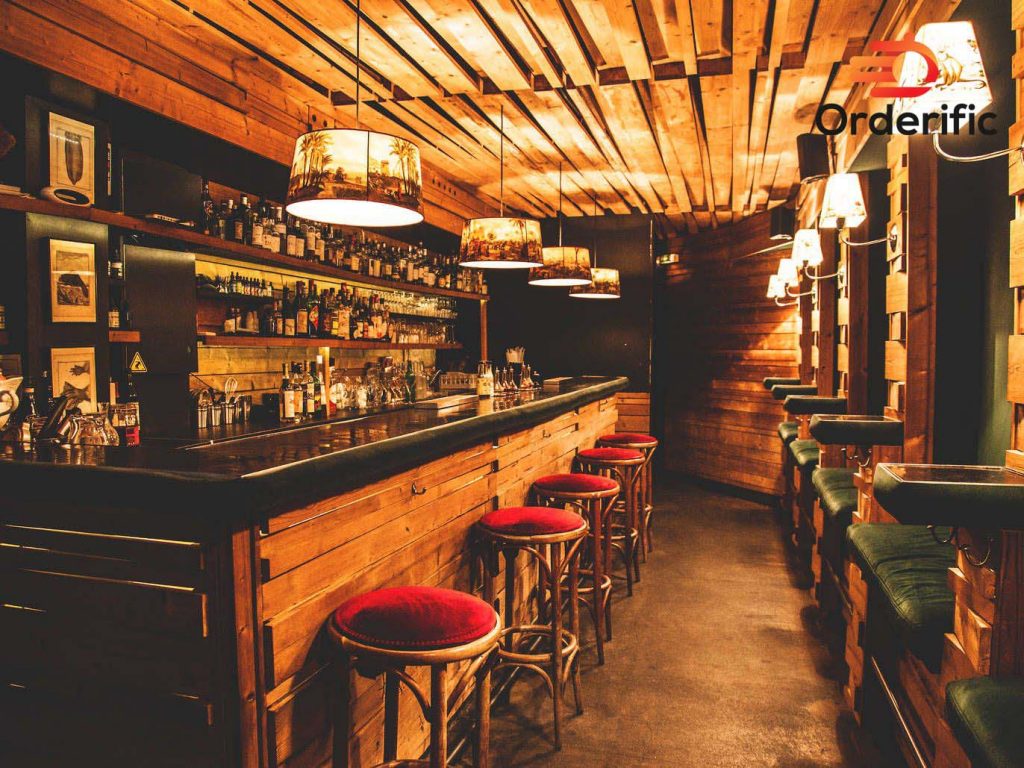 Zero-Step Bartending
Zero-Step Bartending, the fourth pillar of streamlining your operations, is a vision of efficiency and elegance. Picture this scenario: the bar is buzzing, the music's pumping and the patrons are abuzz with cheerful chatter. Suddenly, a drink order is placed. Instead of the bartender fumbling with bottles and shakers, an IoT-enabled device springs into action. The device swiftly concocts the desired cocktail with a high-speed internet connection, pouring it with robotic precision into a waiting glass: no wasted movements, no spills, just a flawless execution in seconds.
This represents the future of bar operations made possible by the affordable connectivity program. It's a vision where every eligible household can enjoy their favorite drinks, served with machine-like consistency. However, the human touch is preserved in this high-tech environment. On the contrary, it is enhanced. Freed from routine tasks, bartenders can now focus on interacting with patrons. They can share a joke, offer a sympathetic ear, or provide a warm smile that can turn a good night into a great one.
Moreover, this high-tech approach extends beyond the bar counter. With an IP address for every IoT device, inventory management becomes a breeze. Real-time updates on stock levels ensure you always have your patrons' favorite spirits. This is the power of zero-step bartending. It's not just about efficiency; it's about creating an enriching bar experience powered by connectivity. In this digital era, the bar scene is no longer just about serving drinks; it's about serving memories. So, here's a toast to a future where technology and tradition blend seamlessly, bringing forth an era of zero-step bartending.
Leverage Technology
The final, but certainly not the least, pillar for streamlining your bar operations is to leverage technology. Picture a bar humming with the vibrancy of life, where every element – from ordering to delivery – is seamlessly automated. This is the power of technology, transforming the traditional bar scene across the United States.
IoT devices powered by high-speed internet services permeate every corner of the bar. From voice-controlled music systems to touchless ordering platforms, the bar is teeming with innovation. As part of the affordable connectivity program, the participating provider ensures that every eligible household experiences this digital revolution. A single IP address connects multiple devices, adding efficiency and providing smooth operations.
But amidst this high-tech environment, human interaction finds a unique space. Staff have time for a quick chat, a shared laugh, or a comforting word. Mundane tasks no longer tie them down but are free to enhance the customer experience. This is where ecological connectivity merges with interpersonal connectivity.
Moreover, technology continues beyond enhancing the customer experience. It extends to inventory management, waste reduction, and cost control. Real-time data from IoT devices offer insights into consumption patterns, helping the bar make informed decisions.
Yet, leveraging technology is about more than efficiency and profit. It's about creating memorable experiences and fostering a sense of connection in an increasingly digital world. So, here's a toast to technology – its power, potential, and promise for a more connected future. Cheers!
Conclusion
In Conclusion, connectivity emerges as a catalyst for transformation. It transcends mere transactional interactions, intertwining efficiency, personalization, and seamless operation. As we raise our glasses to this digital revolution, Orderific emerges as a beacon of innovation. Committed to facilitating increased revenue, decreased operational costs, and elevating user experience, Orderific streamlines manual tasks, allowing bars to focus on fostering memorable experiences. Harnessing the power of connectivity, it inspires a more seamless, engaging, and humanized bar scene. Infused with the world's leading POS systems and payment partners, it's a tribute to the promise of a connected future where technology and tradition blend harmoniously. Schedule a FREE DEMO today for a firsthand experience of Orderific's transformative capabilities. Cheers to connectivity and the end of bar operations!
FAQs
How does enhanced connectivity impact the Internet of Things (IoT) and smart devices?
Enhanced connectivity boosts IoT and smart devices' efficiency, facilitating real-time data exchange, remote control, and automation in bar operations.
What role does connectivity play in shaping the future of technology and communication?
Connectivity is crucial in enabling real-time communication, facilitating IoT advancements, and driving the future of technology.
What are the potential security and privacy concerns related to increased connectivity?
Increased connectivity escalates privacy concerns, with data breaches and unauthorized access being significant security threats.
How can businesses leverage connectivity to create more efficient and interconnected processes?
Businesses can leverage connectivity to automate processes, streamline operations, enhance communication, and improve real-time decision-making.