Imagine breezing through your weekly grocery run with just a tap. Thanks to NFC (Near Field Communication) technology, that's our reality. With NFC mobile wallets, the supermarket experience is faster, safer, and effortless. Remember those long queues at checkout counters? They're a relic of the past. We can quickly pay with our trusty mobile device or contactless card. Sound like magic? It's real, and it's revolutionizing retail transactions. As these contactless payments take hold, the future is clear: cashless, cardless, and incredibly convenient. Let's explore this digital wallet phenomenon and see how it's shaping our supermarket experiences. We'll also delve into Google Pay, Apple Pay, and other significant players in this transformative wave. So, ready to tap into the future? Let's go.
What are NFC Mobile Payments?
NFC Mobile Payments, often called contactless payments, are the rising stars in retail transactions. Imagine, for a moment, standing at the busy checkout counter of your local supermarket. Instead of rummaging through your wallet or purse for that elusive debit or credit card, you casually reach for your mobile device.
A quick tap on the POS terminal, a friendly beep, and presto – your transaction is complete! No swiping, no pin, just a seamless digital handshake between your phone and the payment machine. This is the magic of NFC mobile wallets such as Google Pay, Apple Pay, and Samsung Pay.
It's not just the speed that's impressive, but the security as well. Every contactless payment with your mobile wallet is encrypted, protecting sensitive financial information from potential threats. It's like having a personal bodyguard for your money, always on duty, constantly vigilant.
What's more, these nifty payment apps also offer many other features. With just a few taps, you can track your spending, save digital receipts, and even send money to friends and family. While the convenience of contactless pay is undeniable, the sense of control and security truly sets NFC mobile payments apart.
So, the next time you're in line at the supermarket, why not try? After all, with NFC mobile wallets, the future of retail is in your hands.
How do NFC Mobile Payments Work?
NFC Mobile Payments, intriguing in their simplicity, work like a symphony of technology. Picture this: a simple tap of your mobile device against a Point-of-Sale (POS) terminal, and you're done. Remember the annoying clatter of coins, the fussing with crumpled bills, or the dreaded swoosh of a declined card? With NFC, those are echoes from a bygone era.
Here's how it works. Armed with an NFC chip, your mobile device communicates with the POS terminal. It's like two friends sharing secrets, but in this case, the secret is your payment information. Don't fret, though; it's perfectly safe. Each transaction is unique and encrypted for your protection. Every purchase has its special language, understood only by your phone and the terminal.
Now picture this: you're at your favorite supermarket, basket full. Instead of reaching for your wallet, you get for your phone. With a swift tap, a melodic beep completes the transaction. Your grocery list has transformed into bags full of fresh produce, and you've barely missed a beat in your podcast. It's an experience that's as seamless as it is efficient, thanks to the marvels of NFC mobile payments.
So, whether you're an Apple Pay enthusiast, a Google Pay devotee, or a Samsung Pay aficionado, it's time to embrace contactless payments. The future has arrived on the wings of NFC, revolutionizing the retail landscape one swift tap at a time. Experience it for yourself, and you'll never look back.
Addressing Safety Concerns with Mobile Payments
When it comes to mobile payments, one might understandably harbor safety concerns. After all, it involves our hard-earned money. But here's the good news: mobile wallet firms have addressed these concerns with exceptional acumen.
Enter the world of encryption and tokenization. In this secure realm, your sensitive card information never leaves your phone. Instead, every transaction involves a unique, encrypted token. This token is a jumbled-up representation of your card, decipherable only by your bank. It's like handing over a coded note instead of your actual card.
What does this mean for you? Imagine standing at the supermarket checkout, your cart brimming with groceries. As you tap your phone to the terminal, you feel a light vibration – payment made. But not just made, made securely. No card information was shared just a cryptic token. A sigh of relief escapes you, replaced by a confident smile. NFC Mobile Payments have just made your shopping experience safer.
In the unlikely event of your phone going missing, there's no need to panic. Use the 'Find My Device' service for Google Wallet or Apple Pay users or 'Find My Mobile' for Samsung Pay users. You can effortlessly lock your device, secure your mobile wallet, and keep your money safe. In contactless payments, safety is not just a promise; it's a guarantee.
NFC Mobile Payments aren't just about convenience. They're about creating a secure retail environment where every tap brings peace of mind. Remember this the next time you're at the supermarket checkout – with mobile wallets; safety is just a tap away.
Other Reasons to Consider Contactless Payments
Imagine standing in a bustling supermarket. The air is filled with the soft rustle of food packages and the distant hum of conversations. Your basket is brimming with groceries, ready for checkout. But instead of reaching for the worn-out leather wallet, you instinctively get for your mobile device. Such is the appeal of contactless payments, a captivating blend of technology and convenience. But there's much more to these NFC mobile payments than meets the eye. These features may tip the scale in their favor:
Effortless Tracking: With contactless payments, every transaction gets logged in real-time. Say goodbye to crumpled receipts. Track your spending habits digitally right on your mobile payment app.
Rewarding Experience: Who doesn't love rewards? Mobile wallets often come with in-built reward systems. Earn points with each tap and redeem them later for exciting perks.
Universal Acceptance: Whether it's a corner store or a supermarket chain, NFC payments are gaining acceptance everywhere. The world is moving towards a cashless future, and NFC mobile wallets are leading the charge.
Eco-Friendly: In a world striving for sustainability, every small step counts. Digital receipts mean less paper waste, making contactless payments an eco-friendly choice.
So, there you are, standing in the checkout line. The faint scent of fresh produce is in the air. The soft vibration of your phone in hand signals a successful payment. The line moves forward, but you're already on your way out, grinning at the checkout clerk. You've just experienced the future of retail. With contactless payments, the future is indeed a tap away.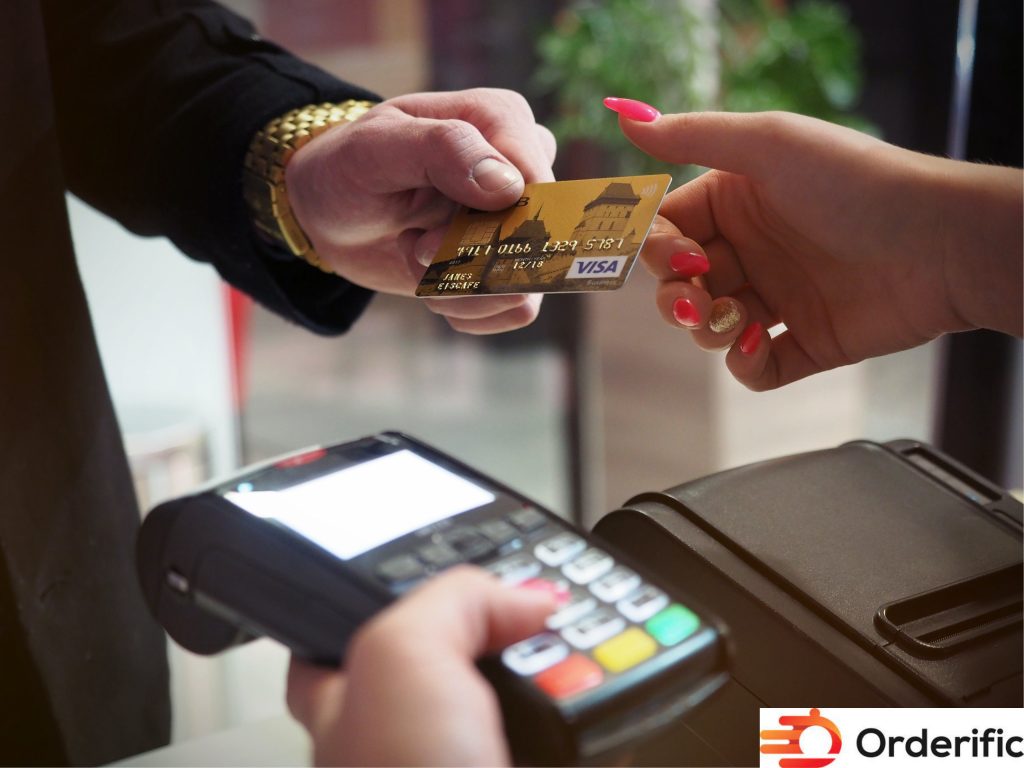 How Can Merchants Implement NFC Mobile Payments?
For merchants, the transition to NFC mobile payments is a daunting task. But, in reality, implementation is a breeze. Picture this: a sleek, new Point-of-Sale (POS) terminal perched at your checkout counter. It gleams under the store lights, ready for action.
This is your first step towards accepting contactless payments. These modern terminals are equipped with NFC technology, enabling them to communicate with mobile wallets. It's as simple as plug-and-play. You plug in the device, follow the setup instructions, and voila!
Your store is ready to accept Google Pay, Apple Pay, and other NFC mobile payment apps. But it doesn't stop there. As a merchant, you are vital in promoting this digital payment method. It starts with a small sign indicating, "Contactless Payments accepted here."
This little nudge encourages customers to try out NFC transactions. Furthermore, a quick demonstration can familiarize your customers with this new, seamless payment processing method. Remember, it takes two to tango. As you usher your store into the future of retail, your customers will join you in this exciting journey.
Merchants will realize that adopting NFC mobile payments is not just a technical upgrade. It's an invitation to participate in the future of retail, where transactions are swift, secure, and amazingly elegant. So, brace yourself for the contactless wave sweeping over the retail landscape. It's easy, it's fast, and it's right at your fingertips.
The Seamless Experience of Contactless Payments
Imagine a crowded supermarket, the familiar hum of chatter, and the scent of fresh produce. You reach the checkout counter, your heart beating in rhythm with the beep of scanned items. Then, swiftly, your hand reaches for your mobile device. It's done with a flash of the screen and a soft chime. You've made a contactless payment.
This isn't a scene from a sci-fi movie. It's the beauty of NFC mobile wallets in action. You don't need to fumble for cash or swipe a card. Just a simple tap, and like magic, payment is made. Every transaction, whether with Google Pay, Apple Pay, or Samsung Pay, is an effortless waltz between your phone and the payment terminal.
Encrypted for your safety, each digital handshake is unique. This ensures your financial information stays secure, allowing you to shop with complete peace of mind. And there's more to it. With contactless pay, every expenditure is recorded, providing an instant snapshot of your spending habits.
The next time you're in line at the supermarket, pause momentarily. Listen to the gentle rustle of shopping bags, the soft hum of conversation, and the distant clink of coins. Now, look at your mobile device. In its silent glow lies the future of retail, a world of seamless transactions all at your fingertips. So go ahead and experience the magic of NFC mobile payments. It's not just a payment method; it's a revolution in your pocket.
Conclusion
The future of supermarket transactions is here, spelled in three letters: NFC. Contactless payments, facilitated by mobile wallets like Google Pay or Apple Pay, have transformed retail, making checkouts a breeze. Imagine the serenity of standing in line, your senses filled with the rustle of shopping bags and the soft hum of conversations. As your turn comes, you tap your phone on the terminal – payment made. The beauty of contactless payments is a perfect blend of technology and convenience. The hassle of handling cash and cards is now a memory. With NFC mobile wallets, the future isn't just at your doorstep – it's in your hands. So why wait? Embrace this revolution now. For a seamless integration with POS systems, consider Orderific. To automate manual tasks like order and payment taking and to customize your customer experience with valuable data, schedule a FREE DEMO today with Orderific. The future isn't just promising; it's tapping away!
FAQs
What advantages do contactless payments offer over traditional cash or card transactions?
Contactless payments offer enhanced speed, convenience, safety, real-time tracking of expenses, and an overall seamless shopping experience.
How does NFC technology facilitate contactless payments, and what devices support it?
NFC technology enables contactless payments by wirelessly transmitting payment data. Most smartphones and smartwatches support it.
Discuss the security measures to protect users when making payments through mobile wallets.
Mobile wallets secure payments via tokenization and encryption, ensuring the safe transmission of your payment data. Devices can be remotely locked, too.
In what ways have contactless payment options impacted consumer behavior and payment preferences?
Contactless payment options have made consumers value convenience, speed, and security, shifting preferences towards digital payments.