Introduction
Welcome to the future of dining – a world where contactless technology has reshaped the restaurant industry, making mobile app ordering, contactless payment, and delivery more streamlined. Contactless Restaurant Operations your favorite restaurants now offer contactless dining. Guests walk in, scan a QR code to access a digital menu, place an order, and make a contactless payment through their mobile phones.
This new contactless ordering system is more comprehensive than dining in. Contactless delivery, where your ordered food is safely dropped at your door, is another aspect of this transformation. For customers, this means enhanced convenience and safety; for restaurant owners, it's an opportunity to improve efficiency and the customer experience. So, whether you're a diner seeking a seamless meal or a restaurant owner looking to adapt to the digital age, the era of contactless is here to revolutionize how we perceive dining, ordering, and delivery.
What Is Contactless Dining?
As a concept, contactless dining encapsulates the utilization of contactless technology to enhance the overall dining experience. It's not just about food; it's about integrating technology to revolutionize the entire journey, from ordering to payment and delivery. The heart of contactless dining lies in the digital menu. Restaurants now provide a contactless menu that customers can access with a quick scan of a QR code using their mobile phones.
This approach is about convenience and creating a safer dining environment in the current pandemic era. The digital menu, accessible via a mobile app, allows customers to browse the food options, make selections, and place orders without physical contact. From the restaurant owner's perspective, this contactless ordering system enhances the customer experience and improves operational efficiency.
After placing the order, the next step is payment. Contactless payment methods, such as digital wallets like Google Pay, eliminate the need for physical interaction with the payment terminal.
Contactless Ordering Benefits
It was leaping contactless operations to reward consumers and restaurants with various benefits. For diners, it promises a frictionless and efficient dining experience. Everything from browsing the menu to paying the bill is handled digitally, expediting the process and freeing you from waiting for a server or standing in a queue. Contactless dining offers a significant advantage for those concerned about health and safety – a high priority in today's world. Minimizing physical interactions greatly reduces the risk of pathogen transmission, creating a safer dining environment for everyone involved.
For restaurant owners, the value of moving to a contactless system is twofold. First, it enhances operational efficiency. Digital orders directly uploaded to the kitchen reduce misunderstandings and speed up the order-to-delivery process. Second, it enhances customer experience. The faster, smoother service and improved safety measures with contactless dining can significantly enhance customer satisfaction and loyalty. The invaluable data collected through these systems provides insights into customer behavior and preferences, which can be utilized for further enhancements.
1) Better Order Accuracy
One of the most significant advantages of contactless ordering is the improved order accuracy it facilitates. In traditional restaurant scenarios, errors can easily occur due to misunderstood verbal instructions or miscommunication. With digital ordering, these issues are largely mitigated. Customers input their orders directly into the system, effectively eliminating the middleman and reducing the chances of errors. Detailed digital menus allow customers to specify their preferences and customizations, ensuring that their meal is prepared exactly to their liking. This accuracy not only enhances the dining experience for the customer but also streamlines operations for the restaurant, saving time and resources that would otherwise be spent rectifying mistakes.
2) Safer
Less Face-To-Face
Interaction is a crucial aspect of contactless dining, drastically reducing potential risks associated with physical interactions. Traditional dining often involves numerous face-to-face interactions, from communicating your order to a server, to handling physical menus, and exchanging cash or cards for payment. With contactless dining, these interactions are significantly minimized. Orders are placed electronically, menus are accessed digitally, and payments are made via mobile devices – all without any need for direct human contact. This reduction in face-to-face interaction is not only more efficient, but also significantly safer in the context of health crises like the COVID-19 pandemic. This form of dining provides peace of mind for customers, knowing they can enjoy a meal while minimizing potential exposure to health risks.
Less Surfaces
Another essential aspect of contactless dining safety is the reduced need to touch common surfaces. Traditional dining experiences often involve handling physical menus, cash, or card machines – all items that frequently come into contact with multiple people, thereby increasing the risk of germ transmission. This concern is virtually eliminated with contactless dining. Digital menus replace physical ones, mobile payments eliminate the need for cash or card handling, and even the process of ordering is done individually on personal devices. By drastically reducing the number of touched surfaces, contactless dining provides an added layer of safety, further cementing its place as the future of the restaurant industry.
Less Fraud
One often overlooked benefit of contactless dining is the reduction in fraud. Unlike traditional payment methods, such as credit cards and cash, contactless payments provide a higher level of security. With advanced encryption techniques, each transaction generates a unique code, making it challenging for fraudsters to access sensitive information. Additionally, the absence of a physical card eliminates the risk of cloning or theft. This enhanced security not only protects customers but also builds trust and enhances the dining experience.
3) Bigger Checks
Embracing contactless dining operations can boost restaurant revenue by offering convenience and improving the customer experience. Digital menus allow restaurants to showcase their offerings with enticing images and descriptions, encouraging customers to try new dishes or add extras. The freedom to browse and order at their own pace, without waiting in line or relying on a server, can lead to larger orders. Streamlined contactless payments also contribute to increased spending, as customers are less conscious of the amount they're spending. Contactless dining enhances customer experience, operational efficiency, and revenue for restaurant owners.
4) More Productive Staff
The transition to contactless dining has a profound impact on restaurant staff, optimizing their productivity and enhancing their roles. In a traditional dining setting, staff members spend a significant portion of their time on tasks like taking orders, processing payments, and rectifying mistakes. However, with contactless operations, these tasks are automated, freeing up staff to focus on other important aspects of restaurant operations such as quality control, customer service, and cleanliness. This shift in responsibilities improves staff productivity and job satisfaction. Quicker table turnovers due to efficient ordering and payment systems can result in serving more customers and boosting overall restaurant performance. The integration of contactless technology into the restaurant sector benefits customers, owners, and staff, creating a win-win situation for all parties involved.
5) Faster Turnover
Faster turnover is a major incentive for restaurants to adopt contactless dining. Traditional dining procedures often involve long wait times for customers as they peruse physical menus, wait for their order to be taken, and finally, for the food to be prepared and served. Payment processes can further extend these wait times. Contactless dining, with its digital ordering and payment systems, speeds up these procedures significantly. Not only does this lead to better customer satisfaction as patrons enjoy swift, efficient service, but it also allows restaurants to serve more customers within the same period. Additionally, the quick clearing of tables post meal expedites the process of welcoming new diners. The faster turnover not only increases service efficiency but also improves the restaurant's profitability, making contactless dining a lucrative option for businesses.
6) Lower Staff Costs
Another key benefit of transitioning to contactless dining is the potential for lower staff costs. With traditional restaurant operations, a significant portion of the budget is allocated to staffing – from hosts and servers to cashiers. When a restaurant adopts a system where orders and payments are handled digitally, the requirement for a large waitstaff is reduced. This doesn't necessarily mean job losses, but rather a shift in roles. Staff can be reallocated to focus on enhancing the customer dining experience, maintaining cleanliness, and ensuring smooth operations. This optimization and redistribution of workforce can lead to a significant reduction in staffing costs, making restaurant operations more cost-effective. All the while, it can potentially improve service quality and customer satisfaction, as staff can focus more on the customers' needs and less on administrative tasks.
Setting Up Contactless Dining In Your Restaurant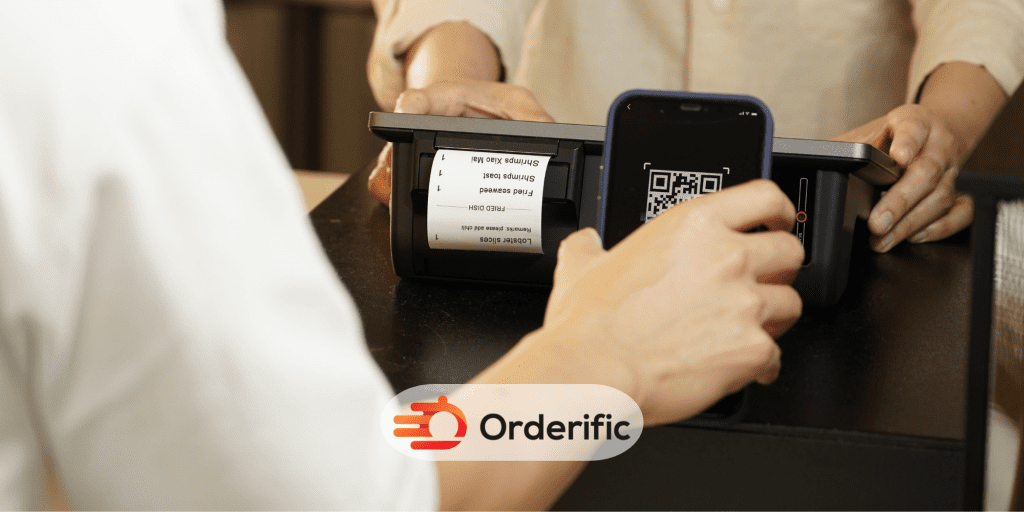 1) Find An Integrated POS
The first step in setting up contactless dining in your restaurant involves finding an integrated Point-Of-Sale (POS) system. POS systems have evolved to be more than just cash registers, they are now comprehensive platforms that manage orders, payments, and even inventory. An integrated POS system can seamlessly communicate with your customers' mobile devices, your kitchen's order management system, and your digital payment platforms. It forms the backbone of your contactless dining infrastructure, enabling smooth and efficient operations. When choosing a POS system for contactless dining, look for one that is user-friendly, reliable, and equipped with features that match your restaurant's unique needs. This could include table-side ordering capabilities, inventory tracking, and customer relationship management.
2) Create An Online Menu
The next crucial step in setting up contactless dining in your restaurant is creating an online menu. An online menu should be easily accessible and navigable, providing detailed descriptions of each menu item, including any options for customization. Additionally, consider incorporating high-quality photos of your dishes to further entice your customers. Ensure that your online menu is optimized for mobile devices. As most customers will be accessing it from their smartphones or tablets. Remember, your online menu is often the first impression customers have of your restaurant, so make it count.
3) Create QR Codes
Creating QR codes is an essential step in implementing contactless dining in your restaurant. These convenient, scannable codes can be placed on dining tables. Allowing customers with a smartphone to quickly access your digital menu, place an order, or even make a payment. Designing your QR codes to be visually appealing and consistent with your branding can enhance the overall aesthetic of your restaurant. Moreover, it's crucial to ensure that your QR codes always lead to the most updated version of your online menu or payment gateway, providing customers with a seamless, hassle-free experience. Remember, simplicity and efficiency are key factors in the success of contactless dining, and QR codes play a pivotal role in achieving that.
4) Integrate Contactless Payment
Integrating contactless payment options into your restaurant operation is a vital step for the transition to contactless dining. Various mobile payment platforms and digital wallets, such as Apple Pay, Google Pay, and Samsung Pay, offer customers a secure and convenient way to handle their bill. These contactless payment methods reduce the need for physical cash exchanges or card swipes. Keeping the transaction process seamless and efficient. Additionally, many of these platforms provide options for tipping, helping maintain the gratuity culture while going contactless. In setting up these options, it's important to choose reliable, user-friendly platforms that customers are likely to use and trust. Remember to train your staff on these technologies to ensure they can assist customers if needed. Ultimately, the integration of contactless payment is an investment towards enhancing the safety, efficiency, and customer satisfaction in your restaurant.
Conclusion
In the evolving landscape of the restaurant industry, contactless dining is becoming the new normal. This shift, propelled by technological advancements and changing customer expectations. Presents a unique opportunity for restaurants to redefine their operations for enhanced safety, efficiency, and profitability. Contactless dining minimizes physical interactions and surface touchpoints, while maximizing staff productivity, customer spending, and overall service speed. It also offers unique advantages such as lower staffing costs and higher security against fraud.
The journey to contactless dining begins with finding an integrated POS system. Creating an enticing online menu, designing accessible QR codes, and integrating reliable contactless payment options. By embracing these transformative changes, restaurants can future-proof their operations. Delivering a dining experience that is not only safe and efficient but also enjoyable and memorable for customers. If you're ready to explore the remarkable benefits of contactless dining for your restaurant, book a demo with Orderific today. Let us show you how our innovative solutions can help streamline your operations and elevate your customer experience in the contactless era.
FAQs
What are Contactless Restaurant Operations?
Contactless Restaurant Operations are systems that allow customers to order, dine, and pay without physical interaction, typically through digital menus and payments.
How do Contactless Restaurant Operations enhance safety?
They reduce physical touchpoints and interactions, minimizing the risk of virus transmission.
Can I still receive personalized service with Contactless Restaurant Operations?
Yes, staff can focus more on customer service in a contactless operation.
What technologies are typically involved in Contactless Restaurant Operations?
Contactless Restaurant Operations typically involve technologies like digital menus, QR codes, POS systems, and mobile payment platforms.