Have you ever paused to think about the whirlwind of activity that happens behind the closed doors of a restaurant kitchen? Amidst the calm ambiance of the dining area, there exists a dynamic world, often referred to as "the line." In this bustling epicenter, chefs and cooks work tirelessly, ensuring each dish, whether it's a juicy steak or the freshest vegetables, is simply perfection in cooking on the line. 
But this isn't just routine cooking; it's a refined art. An art that demands an impeccable blend of accuracy, swiftness, and an innate passion for tantalizing taste buds. It's where culinary dreams come alive, one plate at a time.
Cooking on the Line: An Inside Look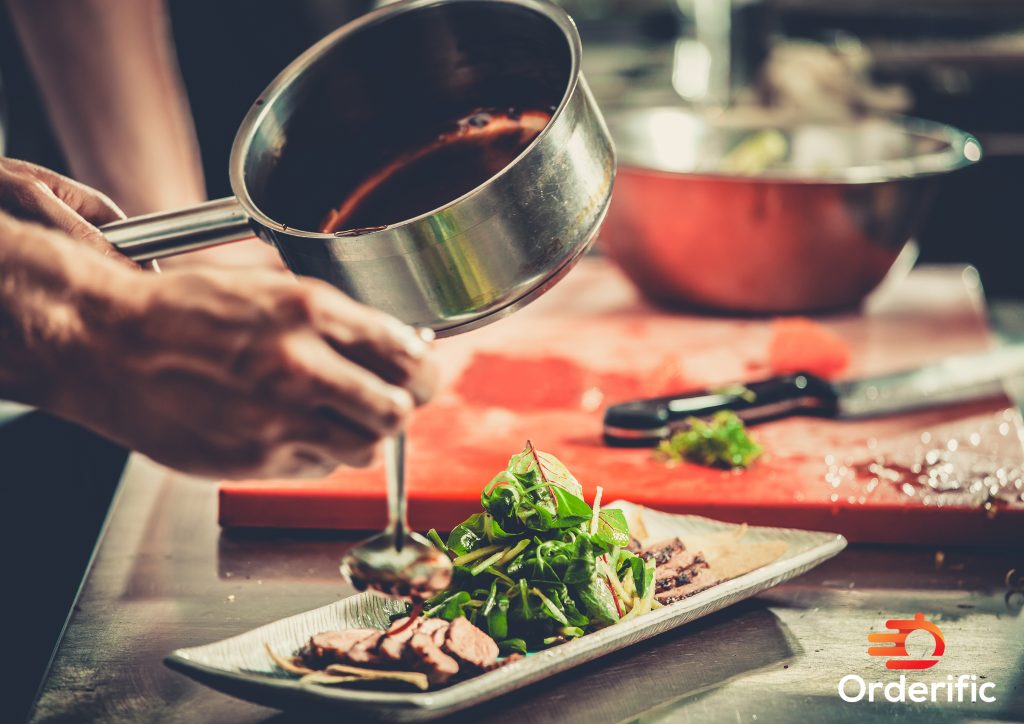 Stepping into the world of a line cook is like diving headfirst into a symphony of flavors, aromas, and orchestrated movements. This environment, buzzing with energy, is where culinary dreams become reality. The clang of pans, the sizzle of a grill, and the rhythmic chopping of knives set the beat. As diners savor each bite and lose themselves in leisurely chats, the kitchen is a whirlwind of activity.
From the meticulous hands of the prep cooks, expertly slicing and dicing, to the skillful line chefs orchestrating each dish's assembly, every movement is purposeful and precise. It's a harmonious chaos, a seamless collaboration, ensuring that each dish that leaves the kitchen is a masterpiece. Within these walls, teamwork isn't just valued—it's essential, with each member contributing to the grand spectacle of gastronomic artistry.
Skills and Techniques for Cooking on the Line
Every successful restaurant thrives on a combination of ambiance, service, and, most crucially, the quality of its food. This quality emanates from the line—a bustling, energetic arena in the kitchen where precision, technique, and culinary prowess come to the fore.
Mastering the craft of cooking on the line isn't just about following recipes. It involves a mix of foundational skills, in-depth knowledge of ingredients, and an understanding of how to harmonize flavors. It's where culinary science meets art.
1. Knife Skills and Preparation Techniques
The knife is an extension of a chef's hand. Beyond just chopping and slicing, mastering knife skills means ensuring uniformity in cuts, which affects cooking times and presentation. Proper preparation sets the pace for the service. Techniques like julienning vegetables or deboning a fish efficiently can significantly affect the dish's final outcome and a kitchen's efficiency during the rush hours.
2. Cooking Methods and Temperature Control
In the realm of cooking, heat is a transformative agent. It's not just about setting a stove to a specific temperature. It's about knowing when to sear, sauté, boil, or simmer. Different dishes demand varied cooking techniques, and understanding the nuanced differences between them is pivotal.
Whether it's the gentle bubbling of a slow-cooked stew or the high heat required for a perfect steak sear, control is key. Mastery over temperature ensures that every dish retains its intended texture, flavor, and aesthetic appeal.
3. Understanding Flavor Profiles and Seasoning
Every ingredient has its own symphony of flavors, and knowing how to harness and harmonize these is the essence of culinary artistry. Seasoning is more than just salt and pepper—it's the delicate balance of spices, herbs, and other elements that elevate a dish.
An understanding of flavor profiles entails knowing which ingredients complement each other and which contrasts can create a delightful surprise on the palate. Whether it's the tang of a lemon zest in a dessert or the earthiness of a truffle in a risotto, it's this knowledge that turns a meal into an experience.
Challenges and Rewards of Cooking on the Line
A restaurant kitchen thrums with an energy unlike any other place. It's a cacophony of sizzling pans, urgent shouts, and the rhythmic chop of knives. While it appears chaotic, there's a method to this madness.
For those at the helm of this chaos, particularly on the line, every day brings its own set of challenges and rewards. From the palpable pressure of rush hours to the joy of a dish well-executed, the life of those cooking on the line is a roller coaster of emotions, hurdles, and moments of pure satisfaction.
1. Handling Stress and Pressure in the Kitchen
In the confines of the kitchen, the heat is literal and metaphorical. Orders flood in, tickets pile up, and the line cook stands at the intersection, ensuring every dish is perfect. This environment demands resilience, quick thinking, and an ability to adapt.
Amidst this, maintaining food quality, safety, and timely delivery requires incredible mental fortitude and impeccable organizational skills. Every moment is a test of a chef's training, temperament, and talent.
2. The Satisfaction of Creating Delicious Dishes
Amidst the challenges, there's a reward that keeps every chef coming back: the thrill of creation. There's an unmatched joy in watching raw ingredients transform into a gastronomic masterpiece.
When a dish receives rave reviews or when a regular customer returns just for that "signature flavor," it's not just a testament to the chef's skills, but also to the passion and love poured into every culinary creation. It's these moments that make all the stress worthwhile.
3. Advancing Your Career in the Culinary Industry
Starting on the line is often the first step in the labyrinthine journey of the culinary world. With every dish prepared, there's a lesson learned, a skill honed. Over time, line cooks who showcase diligence, creativity, and a commitment to the craft might find opportunities to rise – be it as a sous chef, a head chef, or even opening their own restaurant someday.
The kitchen, with all its challenges, also offers ample avenues for growth, making every day an opportunity to not just cook, but also to build one's future in the industry.
Behind the Scenes: A Day in the Life of a Line Cook
Every plate of food that graces a diner's table is a testament to the tireless efforts and dedication of the kitchen staff, with line cooks being the unsung heroes behind the scenes. Their day unfolds like a well-rehearsed play, with each act demanding precision, focus, and a deep love for the culinary arts.
From pre-service preparations to the climax of dinner rush and the denouement of winding down, here's an intimate glimpse into a line cook's day.
1. Preparing for Service: Setting Up the Line
As the sun rises, the line cook's day begins. Before the restaurant doors even open, the line is a flurry of activity. Ingredients are checked for freshness, equipment is calibrated, and mise en place — everything in its place — becomes the mantra. Each station is meticulously organized, ensuring that when the orders start rolling in, every tool and ingredient is within arm's reach.
2. During Service: Managing Orders and Timing
The dinner bell rings, and the kitchen erupts. Tickets start pouring in, and the line cook is in their element. It's a balancing act of juggling multiple orders, ensuring each dish is cooked to perfection and sent out in tandem with the rest of the table's orders.
Timing is critical; a perfectly seared steak can become overcooked in a matter of minutes. Amid the chaos, the line cook remains the picture of concentration, orchestrating the symphony of flavors.
3. Post-Service: Cleaning and Preparing for the Next Day
As the final orders are plated and the kitchen lights dim, the line cook's day is far from over. It's time for cleaning, restocking, and prepping for the next service. Every utensil is washed, countertops are scrubbed clean, and inventory is checked. This ritual ensures a smooth service the next day. Tired but fulfilled, the line cook knows the stage is set for another performance tomorrow.
Tips and Advice for Aspiring Line Cooks
As with any profession, breaking into the culinary world as a line cook demands more than just a passion for food. It's a blend of relentless dedication, skill honing, and a pinch of sage advice to guide the way. As an aspiring chef, standing out in a bustling kitchen brimming with talent can be challenging.
But with the right approach, you can carve a niche for yourself. Here's a collection of golden nuggets of advice to set you on the path to success.
1. Building Your Culinary Skills and Knowledge
A chef is an eternal student. The culinary world is vast, and there's always something new to learn. Start with the basics: mastering knife techniques, understanding flavor combinations, and familiarizing yourself with various cooking methods. Continuous learning, be it through formal culinary education or hands-on experience, is key to evolving in the kitchen.
2. Finding the Right Kitchen and Mentor
Not all kitchens are created equal. It's vital to find an environment that fosters growth and aligns with your culinary aspirations. Look for places that value training and mentorship. Having a seasoned chef guide you, share their experiences, and provide feedback can make all the difference in refining your skills and avoiding rookie mistakes.
3. Navigating the Demands of the Industry
The kitchen can be both a rewarding and demanding place. It's an industry known for its long hours, high pressure, and fast pace. Mental and physical stamina are crucial. Prioritize self-care, understand the importance of teamwork, and remember to keep the passion burning. Networking and staying updated with industry trends can also give you an edge in this ever-evolving field.
Conclusion
The exhilarating realm of cooking on the line is a captivating blend of artistry, determination, and sheer grit. Each dish that gracefully makes its way to the table is a culmination of countless hours of practice, meticulous attention to detail, and an undying passion for the culinary arts.
The heartbeats, sweat, and soul of the line cooks are encapsulated in every flavor you taste. So, as you indulge in a gastronomic delight at your favorite restaurant, take a moment to appreciate the symphony of efforts and the maestros orchestrating it behind the curtain.
In case you want more content like this, visit Orderific right now!
FAQs
What's the distinction between a chef and a line cook?
A chef oversees the kitchen, creates dishes, while a line cook prepares specific dishes or parts of dishes.
How do line cooks handle a bustling kitchen's pace and pressure?
Through teamwork, preparation, and effective communication. They simply work as one to come up with the best results.
What challenges are frequently faced by line cooks?
Managing time, ensuring consistency, and handling high-pressure situations. The challenges are many, the solutions are few.
How can aspiring line cooks enhance their careers and gain experience?
Through continuous learning, mentorship, and diversifying their culinary experiences. They need to be on the move at all times.
What's a line cook's typical work schedule?
Often long hours, including nights, weekends, and holidays. There is no pattern to it, as the schedule keeps evolving.
What role does the sous chef play in cooking on the line?
They act as the bridge between the executive chef and the line cooks, ensuring the chef's vision is executed perfectly.