Introduction
Welcome to the magical world of counter service restaurants, an integral part of the dining experience at the Walt Disney World Resort, including the bustling streets of Hollywood Studios and the exotic corners of the Animal Kingdom. Counter-service restaurants, also known as quick-service restaurants, offer an innovative dining twist that combines the speed of fast food with the quality of a full-service restaurant. From the flavorful sandwiches at Columbia Harbour House to the delightful cookies at various Disney park locations, the counter service model enhances the guest experience by providing a quick, efficient, and enjoyable dining option. Whether you're exploring the world showcase at Epcot or grabbing lunch at Woody's Lunch Box in the Magic Kingdom, counter-service restaurants are a unique and appealing part of the food and restaurant industry's landscape. So, read on to discover how these restaurants can revolutionize your next visit to Walt Disney World.
What Is A Counter Service Restaurant?
In the heart of Walt Disney World, the allure of counter service restaurants brings a unique, delightful twist to the dining experience. From the Magic Kingdom's Woody's Lunch Box to the Animal Kingdom Lodge, guests can savor the taste of quick yet quality meals in a fast-paced environment. Counter service, also known as prompt service, bridges the gap between fast food and full-service restaurants. This dining model enables the Walt Disney Company to serve a vast array of food options, from mouth-watering sandwiches to delicious cookies, quicker and more efficiently.
At Hollywood Studios, counter service takes center stage. Whether you're sampling scrumptious offerings from Ronto Roasters or grabbing a quick bite at the food truck, these dining establishments provide a seamless experience without sacrificing the magic of Disney. The counter-service model thrives in bustling theme parks, where time is of the essence. With quick service, guests can explore attractions like the World Showcase or the Docking Bay without worrying about long waits for their meals.
The counter service restaurant concept extends beyond Disney, with New York's fast-casual restaurants and Tokyo Disney Resort adopting similar models. From the Columbia Harbour House to the Polite Pig, restaurant owners see an opportunity to revolutionize the food industry by providing quick, quality dining that caters to modern, time-conscious customers. The phenomenon of counter-service restaurants truly showcases the evolution of the restaurant industry, making dining a more enjoyable and efficient experience for guests.
What Are Some Examples Of Counter Service Restaurants?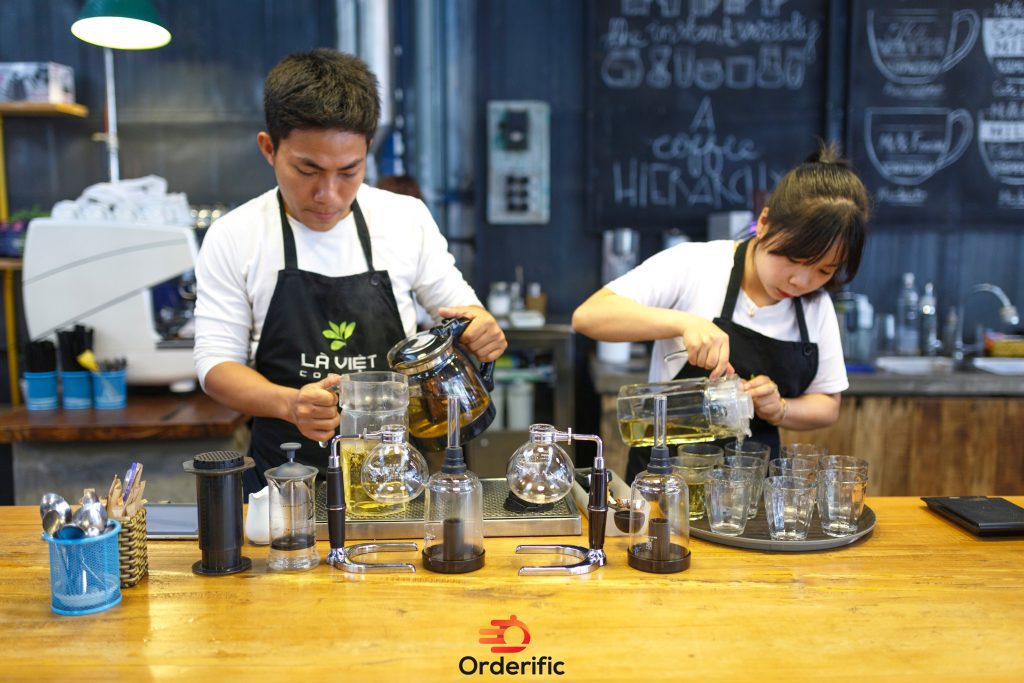 The world of counter-service restaurants is diverse, with excellent examples across Disney parks. In Walt Disney World, the Magic Kingdom hosts notable establishments like 'Woody's Lunch Box', providing quick, quality dining to guests. 'Columbia Harbour House' is another excellent quick-service restaurant known for its delicious sandwiches. At Hollywood Studios, Ronto Roasters offers mouth-watering food options that guests can quickly grab and enjoy while exploring the park.
Counter service also thrives at the Animal Kingdom and the Animal Kingdom Lodge, where various food choices await guests. The counter service model, bridging the gap between fast food and table service, is also popular at Tokyo Disney Resort. It allows for efficient service without sacrificing the dining experience's quality.
This model extends beyond Disney, with fast-casual restaurants in New York adopting it. The focus is on providing a rapid yet satisfying dining experience. In this context, cookies have become a favorite go-to snack at many of these establishments, adding a sweet note to the meal.
The counter-service model is revolutionizing the restaurant industry. By prioritizing speed and quality, restaurant owners cater to the modern, time-conscious customer. Whether you're at a bustling theme park like the Walt Disney World Resort or a fast-paced city like New York, counter-service restaurants offer an innovative, efficient, and enjoyable dining alternative.
These establishments prioritize the guest experience, ensuring that personal information is handled securely during online ordering. Through this, they maintain the magic and wonder that Disney parks are famous for while providing an efficient service that enhances every visit.
Benefits Of Counter Service
Lower Labor Costs
One of the most significant benefits of counter service restaurants is the reduction in labor costs. Traditional, full-service restaurants require a large staff, including waiters, busboys, and hosts, to operate efficiently. In contrast, counter service models streamline the process. Customers order their food directly at the counter, eliminating the need for wait staff. Furthermore, patrons typically clear their tables after dining, reducing the need for bus personnel. This simplified service model leads to substantial savings in labor costs, making the counter service model financially advantageous for restaurant owners. Nevertheless, the quality of the food and the overall dining experience remains high, ensuring that guests continue to enjoy their meals in a timely, efficient manner.
Faster Service
The speed and efficiency of counter service restaurants significantly enhance the dining experience. This model is designed to provide high-quality meals in significantly less time than traditional restaurants. Customers order their food at a counter, and it's typically ready for pick-up within minutes, making it a perfect choice for those on a tight schedule. For instance, guests exploring Disney parks can quickly grab a delicious sandwich or cookie and continue with their adventures without wasting precious time waiting for their orders. This quick service model also effectively manages high customer traffic during peak times, serving more guests and ensuring customer satisfaction. So whether you're in the fast-paced streets of New York or exploring the magic of Walt Disney World, counter service restaurants provide a swift and efficient dining solution that enhances your experience.
More Upselling Opportunities
Counter service restaurants provide ample opportunities for upselling, thereby increasing profits. Unlike traditional dining, where a server might suggest additional items, in a counter service scenario, appealing display boards or digital menus do the upselling. By showcasing scrumptious add-ons or combo deals, like a sandwich and cookie combo, restaurants can entice customers to purchase more than they initially intended. This not only leads to higher sales but also enhances the guest's dining experience by offering them value for their money. Furthermore, technology can be harnessed to suggest personalized add-ons based on past orders, making the upselling more effective. Overall, the counter service model effortlessly combines the appeal of fast service and quality food, while also opening doors for profitable upselling.
Drawbacks Of Counter Service
Less Personal Dining Experience
While counter service restaurants provide speed and efficiency, they may lack the personal touch that characterizes full-service dining. Guests may miss the customary interaction with waitstaff, which includes personalized meal suggestions, attentive service, and a sense of hospitality. This reduced personal contact could make the dining experience feel less intimate and unique, particularly for guests who value a traditional, full-service dining environment.
Limited Menu Options
Counter service restaurants, while efficient, tend to offer limited menu options compared to full-service establishments. Given the emphasis on quick turnaround and serving large volumes of customers, the range of food presented is often streamlined. While this ensures faster service and quality consistency, it might deter guests who seek a wide variety of dishes or specialized menu items like gourmet meals or exotic cuisine.
Smaller Check Sizes
While counter service restaurants offer swift and efficient service, they often lead to smaller check sizes compared to full-service dining establishments. The fast, easy in-and-out model means guests are less likely to order extras like appetizers, desserts, or additional beverages. Although upselling can mitigate this to some extent, check sizes in counter service establishments generally tend to be smaller, potentially impacting overall profitability.
Conclusion
In summary, counter service restaurants provide a unique blend of speed, efficiency, and quality that revolutionizes the dining experience. From the bustling streets of Walt Disney World to the busy sidewalks of New York, this model caters to the needs of the modern, time-conscious customer. Despite some drawbacks such as a less personal dining experience, limited menu options, and smaller check sizes, the benefits such as lower labor costs, faster service, and increased upselling opportunities make it an appealing option for many. Whether you're grabbing a quick sandwich or savoring a delightful cookie, counter service restaurants ensure that your dining experience is swift, satisfying, and memorable.
To learn more about how you can integrate and benefit from the counter service model in your restaurant business, we invite you to book a demo with Orderific. Our team would be more than happy to demonstrate how our solutions can enhance your operations and elevate your guest's dining experience.
FAQs
How do counter service restaurants differ from traditional dining?
Counter service restaurants differ from traditional dining by offering faster service, a simplified menu, and a self-service format, unlike traditional dining table service and wider menu choices.
What are the advantages of counter service restaurants for customers and owners?
For customers, counter service restaurants offer speed, efficiency, and a casual dining environment. For owners, they provide lower labor costs and quicker turnarounds.
Is counter service suitable for all types of cuisine?
While counter service can accommodate a variety of cuisines, it is most effective for food that can be prepared and served quickly.
What can customers expect at a counter service restaurant?
Customers can expect a quick, efficient dining experience with a limited but quality menu.
How can restaurant owners maximize counter service benefits for success?
Restaurant owners can maximize benefits by focusing on quick, quality food preparation, efficient operations, and effective upselling strategies.