Step into the enticing realm of crepas, where a delightful array of flavors beckons your taste buds! Prepare for a culinary escapade, dear connoisseur, filled with mouthwatering delights. With their exquisitely crafted layers and endless potential, crepas have captivated the imaginations and taste buds of gastronomy enthusiasts from around the globe.
Whether you prefer the savory or the sweet, they have something extraordinary to offer. They are a perfect choice for any occasion.
What Are Crepas?
Crepas, or crepes as they are commonly referred to, are delectable and thin pancakes hailing from France. "Thin pancakes" in French, they are formed using a basic batter of flour, eggs, milk, and a touch of salt. Versatility to transition effortlessly from a savory treat to an irresistible dessert is the magic part.
Crepas opens culinary possibilities, allowing you to unlea.sh creativity with many fillings and toppings. Indulge in sweet delights like velvety whipped cream, juicy strawberries, and heavenly Nutella. Perhaps you prefer exquisite combinations of gooey cheese, earthy mushrooms, and caramelized onions..
Not only are they incredibly versatile, but they also demand minimal kitchen prowess, making them a superb option for effortlessly delightful meals.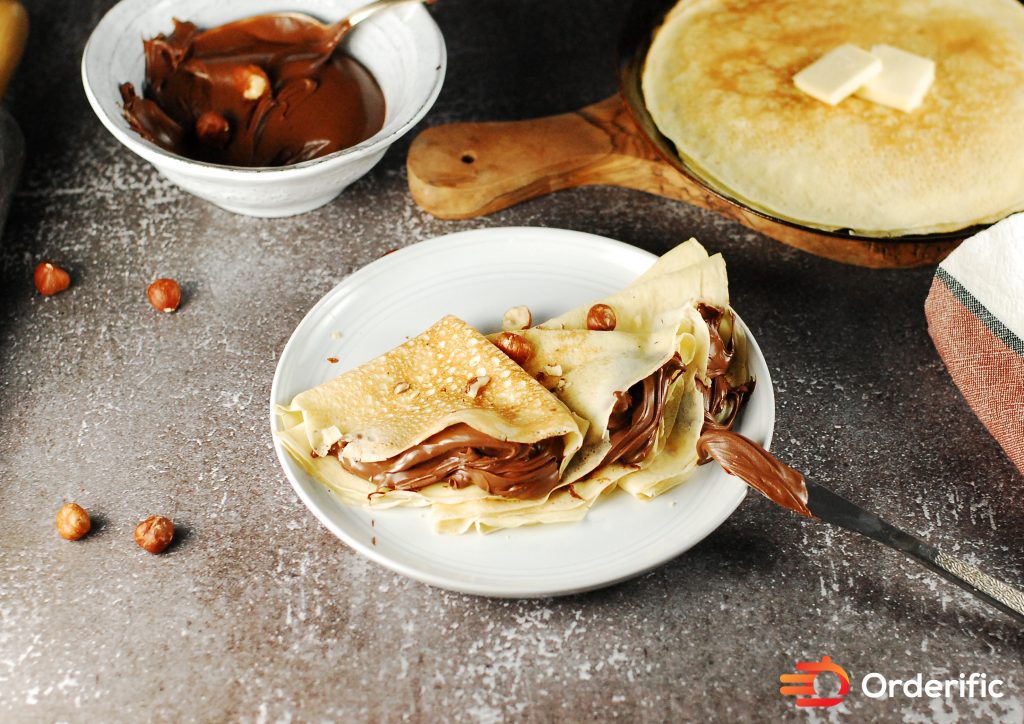 Do Crepas Taste Good?
Whether crepas taste good is answered with a resounding "Absolutely!" Crepas have a velvety texture that perfectly complements their delightful blend of flavors. Appealing to various tastes, they promise an exquisite delight for those seeking something sweet. Surrender to the irresistible medley of velvety smooth whipped cream, succulent strawberries, and a delicate dusting of powdered sugar.
On the other hand, savory lovers can indulge in fillings like earthy mushrooms, rich cheese, and sautéed onions, creating a mouthwatering explosion of taste with every bite.
The Perfect Food For Any Occasion
Crepas are fascinating due to their incredible versatility, making them an excellent option for any occasion. From a delicious morning meal to kickstart your day to a delectable treat that beautifully satisfies your sweet cravings, they have all bases covered.
Picture this: a relaxed weekend brunch with your pals, where you indulge in delightful sweet crepas crowned with lusciously whipped cream, succulent strawberries, and a luxurious pour of heavenly chocolate sauce. It's pure bliss! Savory crepas filled with melted cheese, sautéed mushrooms, and caramelized onions create a warm and inviting dish for a cozy dinner gathering. You can even enjoy crepas as a delightful snack, lightly sprinkled with powdered sugar or cinnamon.
How Would You Describe Crepas?
Describing crepas is akin to attempting to capture the essence of a beautiful sunrise in words – it's an experience that transcends language. Imagine a delicate, delectable pancake, golden-brown and topped with your preferred indulgence. Take your pick from a velvety chocolate mousse, a medley of fresh fruits, or a savory combination of cheese and mushrooms. Every mouthful is a sensory journey that leaves you yearning for another delightful bite.
Crepas embody the perfect blend of delicate texture and indulgent flavors. The soft and velvety pancake gracefully melts with each delectable mouthful, revealing exquisite flavors tantalizing your taste buds. Immerse yourself in the harmonious blend of luscious whipped cream and juicy strawberries, harmonizing with the robust savoriness of sautéed mushrooms and gooey melted cheese, forging an experience that will linger in your memory.
A Taste Of France
While crepas have origins in France, their popularity has transcended borders and cultures, finding a place in the hearts and menus of restaurants worldwide. In Mexico, the art of crepas has been lovingly embraced, leading to unique variations like "crepas culichi" and "crepas catin." These adaptations showcase the culinary creativity and fusion that make the world of crepas a delightful adventure for food enthusiasts.
In France, crepas are celebrated as a beloved and traditional part of the culinary heritage. From cozy cafes to bustling restaurants, you'll find crepas gracing menus as both sweet and savory options. Whether served as a delightful breakfast treat or as an elegant dessert, crepas hold a special place in the hearts of the French people, symbolizing warmth, comfort, and shared moments of indulgence.
Do Crepas And Pancakes Taste The Same?
As a connoisseur of culinary delights, you may wonder how crepas differ from traditional pancakes. While both involve a batter cooked on a grill, the key distinction lies in the thickness and ingredients. Crepas stand out for their fragile texture when compared to regular pancakes. The batter used in crepas contains less butter and sugar, resulting in a more delicate and lighter taste.
Pancakes, conversely, have gained a well-deserved reputation as a cherished breakfast favorite in various cultures. Appreciated for their delightful fluffy texture and satisfying thickness, these delicious delights are frequently enjoyed with a generous pour of maple syrup or a dollop of creamy butter. In contrast, crepas boast a delicate and almost translucent appearance, allowing the flavorful fillings to take center stage.
Breakfast Options
Crepas are a culinary delight that goes beyond their exquisite flavor. Their simplicity in preparation adds to their appeal, making them a quick and delightful breakfast option. Creating the perfect crepas requires a few essential ingredients combined effortlessly to form a smooth and velvety batter.
Heat a non-stick skillet to medium heat.
Add a touch of melted butter to ensure the crepas don't stick.
Pour a delicate layer of batter onto the skillet, giving it a gentle swirl to create a luscious crepe evenly.
Allow the edges to turn a golden brown beautifully, then flip and cook the other side until it reaches the same delightful hue.
The result? An exquisite and adaptable base, eagerly awaiting to be embraced by a medley of fun flavors.
Imagine a luscious spread of Nutella, a handful of perfectly sliced bananas, and a dollop of freshly whipped cream nestled within for a timeless morning treat.
To add an enticing crispness, generously sprinkle some chopped pecans or granola on the surface.
If savory temptations call, a filling of sautéed mushrooms, shredded cheese, and a dash of cracked pepper creates an incredibly satisfying breakfast sensation.
Conclusion
In the gastronomic journey of crepas, we've explored the delectable world of these thin and versatile delights. From their origins in France to their embrace of different cultures, crepas have become a symbol of culinary creativity and a treat for all occasions. Whether you savor them with sweet or savory fillings, they have a special place in the hearts of food enthusiasts, delivering moments of pure delight with every bite.
In case you want more content like this, visit Orderific right now!
FAQs
Q: Are Crepas Meant To Be Sweet?
Crepas offer a world of culinary possibilities, transcending the boundaries of sweetness and savoriness. Embrace their versatility by indulging in a multitude of fillings.
Q: Can You Eat Crepas Like Pancakes?
Yes, crepas can be eaten like pancakes. However, they are thinner and lighter than traditional pancakes, making them a unique and delightful culinary experience.
Q: Are Crepas French?
Crepas originated in France, where they have been cherished for centuries as a culinary delight.