Introduction
In the constantly evolving business landscape, mastering the art of customer service is critical for success. A robust and reliable customer feedback tool, such as Orderific, can serve as a game-changer, allowing businesses to effectively gauge customer satisfaction, understand customer needs, and improve their overall customer experience. By leveraging tools like surveys and online reviews, companies can capture valuable customer insights. These insights can enhance product offerings, improve customer support, and ultimately drive customer success. Tools such as the net promoter score can help identify promoters, passives, and detractors, providing a comprehensive view of your customer retention strategy. This guide will explore the extensive potential of gathering and implementing feedback using Orderific to create a seamless feedback loop and catalyze your business growth.
6 Effective Ways To Gather Customer Feedback
Orderific, a leading customer feedback tool, enables businesses to gather valuable customer insights.
This is achieved through surveys and online reviews.
The feedback collected helps enhance the customer experience and improve customer satisfaction.
Businesses can fine-tune their customer service based on client feedback, improving customer satisfaction scores.
A robust feedback loop, fostered by Orderific, leads to improved customer retention.
Orderific gathers and implements customer feedback, enabling a seamless customer journey.
What Is Customer Feedback?
Customer feedback, a critical component of customer success, shapes a business's offerings and customer service. By utilizing a customer feedback tool like Orderific, businesses can collect valuable insights through surveys and online reviews. This feedback collection method helps companies better understand customer needs and enhance customer experience.
Customer feedback often provides an accurate reflection of customer satisfaction. By analyzing this feedback, businesses can identify areas of strength and weakness, allowing them to optimize their services. Negative feedback can be particularly insightful, revealing key areas that need attention. Moreover, customer feedback helps determine the net promoter score (NPS), a crucial metric that indicates customer loyalty.
With Orderific, a feedback loop is created where the collected feedback is implemented, enhancing customer service and elevating the customer satisfaction score. This process improves customer support and bolsters customer retention, as businesses can proactively address and mitigate issues raised in the feedback.
Types Of Customer Feedback You Should Be Collecting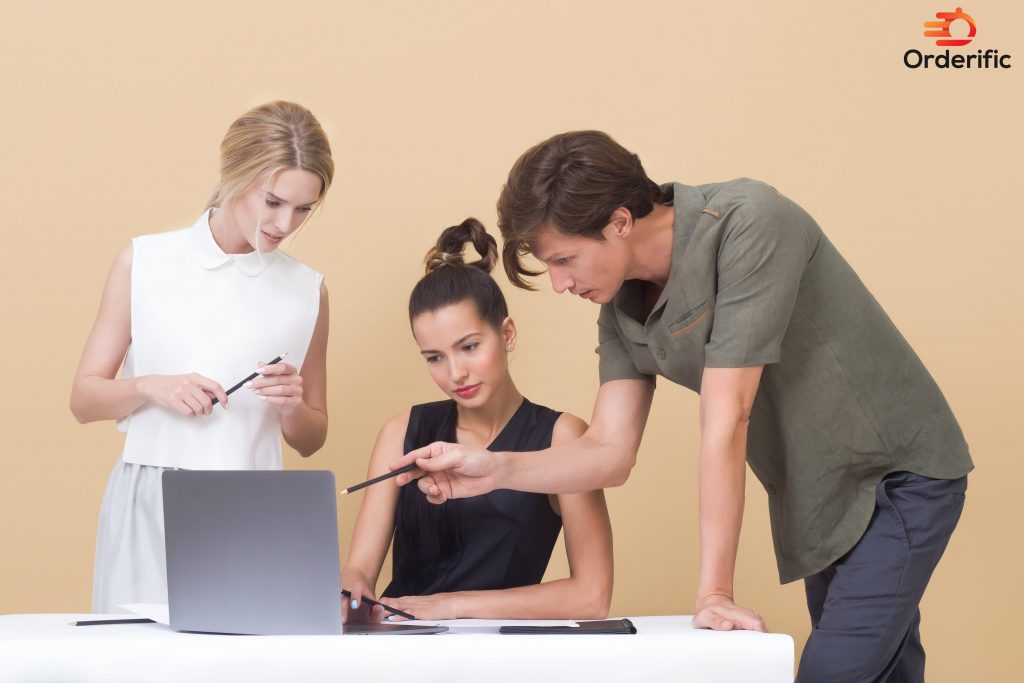 1. Product Feedback
Product feedback is invaluable for businesses aiming to provide superior offerings. It involves collecting opinions from customers about a specific product or service. This feedback can provide insights into what features customers love, what could be improved, or what might be missing. It can be gathered through various channels such as online reviews, surveys, or social media. Orderific makes collecting product feedback straightforward and efficient. By understanding customer perceptions and experiences with your product, you can create targeted adjustments to enhance its value and appeal. Whether improving an existing feature or introducing a new one based on customer suggestions, product feedback helps pave the way for continuous innovation and customer satisfaction.
2. Customer Service Feedback
Customer service feedback is crucial in understanding how effectively your team engages with and supports your customers. This type of feedback can shed light on the strengths and weaknesses of your support team and provide insights into potential areas for improvement. Through Orderific, you can conduct customer service surveys to help identify gaps in your customer service. Customers' experiences, pain points, and the efficiency of the problem-solving process can all be evaluated. Addressing these issues promptly increases customer satisfaction and loyalty, boosting your net promoter score. Remember, a satisfied customer is loyal, and dedication can lead to more positive online reviews and customer success.
3. Customer Satisfaction Feedback
Customer Satisfaction Feedback is a direct measure of how well your business meets customer expectations. It takes into account various facets of the customer experience, including product quality, customer service, and overall value. This feedback can be gathered through surveys, online reviews, or direct communication. With Orderific, you can easily collect and analyze this feedback, ensuring that customers are satisfied and their needs are met. Importantly, a high level of customer satisfaction can lead to an increase in your net promoter score, signifying a greater likelihood of customer loyalty and recommendation. Thus, Customer Satisfaction Feedback is crucial for businesses, helping them to retain customers, attract new ones, and drive overall success.
4. Complaints
Complaints, although seemingly negative, offer a goldmine of information for businesses. They provide an opportunity to understand the pain points of customers and rectify potential issues. With Orderific, complaints can be effectively managed and processed, turning a negative scenario into a customer success story. By addressing complaints head-on and offering quick and effective solutions, businesses can foster loyalty and improve their net promoter score. Moreover, responding to and resolving complaints can also influence online reviews positively, showcasing your commitment to customer satisfaction. In essence, complaints are a valuable form of feedback that allows businesses to continuously improve and succeed.
5. Feature Requests
Feature requests are a critical type of customer feedback as they present direct suggestions from customers on how to improve your products or services. By implementing these requests, businesses can boost customer satisfaction and improve their online reviews. Orderific, with its sophisticated feedback analysis system, can seamlessly manage and prioritize these feature requests, helping businesses to innovate and evolve their offerings in line with expectations. With the right attention and response, feature requests can lead to product enhancements that drive increased customer success and a higher net promoter score.
6. Sales Feedback
Sales feedback is critically important as it provides insights directly from the frontline of your business. This can highlight the strengths and weaknesses of your products or services from a sales perspective, and provide valuable input on customers' preferences and purchasing behavior. With Orderific, you can collect and analyze sales feedback, using this information to refine your sales strategies, tailor your marketing efforts, and improve your product offerings. This type of feedback can ultimately lead to increased success and improved online reviews, both of which play key roles in enhancing your net promoter score. In essence, sales feedback offers an opportunity to understand your customers better and deliver a product or service that truly meets their needs and expectations.
Conclusion
In summation, the importance of capturing and acting on customer feedback can't be overstated. Feedback serves as the compass guiding your business in the right direction. Tools like Orderific enable businesses to collect and analyze feedback efficiently, providing valuable insights into online reviews and opinions. They allow you to tap into the heart of customer success strategies, by understanding your net promoter scores and discerning between promoters, passives, and detractors. Whether it's product feedback, service feedback, or handling complaints and feature requests, every piece of information shapes the success story of your business. Managing this myriad of feedback effectively can ultimately lead to enhanced satisfaction, retention, and growth. Ready to embark on this journey of deciphering customer feedback and driving success? Schedule a demo with Orderific today and uncover the power of customer insights for your business growth journey.
FAQs
How does Orderific facilitate the collection and management of customer feedback?
Orderific streamlines the collection and management of customer feedback provided through intuitive surveys, real-time analytics, and customizable feedback forms.
What are the benefits of utilizing customer feedback through Orderific for cafes and restaurants?
Orderific can help enhance service quality and menu offerings based on customers' preferences and feedback.
Can cafes tailor feedback forms and surveys to suit their unique needs and customer base?
Yes, Orderific allows for the complete customization of feedback forms and surveys to cater to unique business needs.
How can cafes effectively use the insights gained from customer feedback to improve their services and offerings?
Cafes can use insights to refine menu items, enhance customer service, and improve overall customer experience.
What steps should cafes take to successfully implement customer feedback mechanisms using Orderific?
Cafes should first understand their business needs, customize their feedback forms, analyze the data, and then implement changes based on customers.