When you think of food trucks, what comes to mind? Aromatic scents wafted through the air, the sizzle of fresh ingredients and a vibrant community gathered in shared enjoyment. Customer reviews and feedback are the secret ingredients to success in this bustling atmosphere. They are the compass guiding your culinary journey, transforming passing patrons into loyal fans. Picture this: someone finds your food truck online, lured in by glowing reviews. Just one bite of your signature dish, a moment amplified by positive feedback, and another satisfied customer joins your fan base. In this digital age, managing your online reputation is paramount. So, let's delve into the world of reviews, feedback, and online reputation, exploring their power in driving food truck growth. Buckle up, folks. It's time to turn your food truck into a gastronomic hotspot.
Why Customer Reviews and Feedback Matter for Food Trucks
Though bustling and alive with the sizzle of delicious meals, food trucks face a unique challenge. Their mobility, an advantage in flexibility, often turns into a test of navigability for potential customers. In this maze of options, customer reviews and feedback emerge as the lighthouse guiding prospective diners toward your food truck. Here's why:
Online Visibility: Google, the modern-day map, places establishments with positive reviews higher on its search results. A mouth-watering review pulls in the crowd, making your food truck an easy find in the digital landscape.
Credibility and Trust: Prospective customers trust peer reviews. A flurry of positive feedback solidifies your food truck's reputation, turning a potential customer into a happy one.
Word-of-Mouth Marketing: A satisfied customer is a brand ambassador in disguise. An online review serves as a powerful recommendation passed along the digital grapevine.
Continuous Improvement: No dish is perfect, and there's always room for innovation. Negative reviews, though harsh, provide invaluable insights for improvisation. By addressing these issues, you improve your offerings and show dedication to customer satisfaction.
Customer Engagement: Responding to reviews fosters a personal connection with customers. This interaction humanizes your brand, making your food truck more than a mobile eatery.
In this digital age, every customer review narrates a part of your food truck's story. It's a chronicle of your commitment to gastronomic perfection, an exhibition of your adaptability, and a testament to the vibrant community you serve. So, encourage your patrons to drop a review, turn negative feedback into a learning opportunity, and let your online reputation pave the way for your food truck's growth.
Harnessing the Power of Online Reviews
In the vibrant world of food trucks, online reviews hold immense power. Picture this. It's a balmy summer evening. The air is alive with the sizzle of grilling, the murmur of contented patrons, and the hum of online chatter. Your food truck, bathed in the soft glow of hanging lanterns, becomes a beacon for gastronomes navigating the digital maze. A new customer, lured in by glowing online reviews, steps up to the counter. 
Their first bite, an orchestra of flavors, unfolds in tandem with the heartwarming reviews they've read. The crunch of fresh lettuce, the velvety warmth of melted cheese, the tangy zest of your secret sauce – it's all there, just as your happy customers proclaimed in their feedback. Your dedication to culinary perfection, reflected in every positive review, becomes a tangible experience.
The story continues, though. Negative reviews, initially a sting, transform into opportunities for growth. You tweak the recipe, address the feedback, and improve your service. Suddenly, the negative fades away, replaced by an outpouring of appreciation for your swift improvements. Every review and feedback adds another layer to your brand story.
So, step into the dance of online reputation management, embracing every review as a step towards growth. After all, your food truck's success story is written one review at a time.
Turning Feedback into Business Insights
In the bustling food truck industry, customer feedback is the secret spice, transforming good into extraordinary. Imagine this. A customer suggestion sparks an idea. Suddenly, your classic cheeseburger gets a twist, the addition of tangy, homemade pickle relish. Nervous excitement bubbles as you debut the new addition, your heart racing with anticipation.
Reviews start trickling in. A wave of approval washes over you, and your risk paid off in the form of customer delight. Negative feedback, once a bitter pill, now catalyzes continuous improvement. A complaint about long waiting times has you brainstorming. The solution? An efficient, new serving system, cutting wait times in half. Your customers' satisfaction soars, and so does your confidence.
Feedback, thus, becomes an invaluable tool in your arsenal, guiding your journey towards gastronomic excellence. It's the compass leading you toward creative innovation and improved customer service. Each review, each piece of feedback, becomes a valuable insight, fueling your food truck's growth. So, embrace the power of customer feedback, turning it into business insights that steer your food truck toward success.
Feedback-Driven Growth Strategies
In the world of food truck entrepreneurship, the rhythm of success is orchestrated by a symphony of customer feedback. Picture this: Each review, each suggestion, and each critique serves as a stepping stone, paving the culinary path toward gastronomic excellence. These feedback-driven growth strategies, seemingly simple, hold the power to transform a humble food truck into the talk of the town.
Here's how it works:
Leveraging Feedback for Business Expansion: Feedback paves the way for growth. A suggestion for more vegan options could spark a new menu, drawing in a crowd of happy, health-conscious customers.
Incorporating Customer Suggestions and Ideas: Have you ever noticed a recurring request for spicy fries? Combining customer ideas satisfies their cravings and keeps your menu innovative and fresh.
Measuring the ROI of Feedback-Driven Changes: Changes based on feedback are tangible proof of your dedication to customer satisfaction. Measuring the resultant increase in footfall and sales paints a clear picture of the value of feedback.
Customer feedback is your secret weapon, sharpening your edge in the vibrant food truck landscape. It's your guidebook to customer wants, your navigator through the sea of competition, and, most importantly, your catalyst for growth. So, equip yourself with the power of feedback and watch your food truck journey toward unparalleled success.
Turning Negative Reviews into Positive Changes
In the culinary sphere, negative reviews often feel like a punch in the gut. However, consider them as opportunities, not setbacks. For example, when a discontented customer expresses dissatisfaction about your spicy salsa, it stings. Yet, this critique illuminates a path towards rectification.
So, you get to work tweaking the recipe. You reduce the chilies, add a dash of tangy lime, and introduce a hint of sweet corn. The result? A balanced, multi-layered salsa that delights the palate.
Next, you address the issue online, expressing gratitude for the feedback and informing about the changes made. This gesture, small but significant, leaves a positive impact. It demonstrates your commitment to customer satisfaction and your willingness to improve. Suddenly, the negative review transforms, becoming a testament to your dedication and resilience.
In this digital world, remember, every online interaction shapes your reputation. You showcase your brand's resilience and adaptability by turning negative reviews into positive changes. This transformative journey, spurred by negative feedback, strengthens your online reputation and enhances customer trust.
Ultimately, negative reviews serve a dual purpose. They drive growth, pushing you to innovate and improve. Simultaneously, they foster a stronger connection with your patrons, transforming them into your most ardent supporters. Thus, once a source of dread, negative reviews become stepping stones to gastronomic success. Embrace this journey, and let it fuel your food truck's growth story.
Using Social Media to Amplify Customer Feedback
In the bustling digital marketplace, social media is a potent amplifier for customer feedback. Picture this: A satisfied customer posts a rave review about your mouth-watering tacos on their Facebook page. Instantly, their network of friends, acquaintances, and followers are introduced to your food truck. A single positive feedback, echoed across the vast digital landscape, reaches an audience far beyond your immediate locality.
Simultaneously, with its visually-driven platform, Instagram becomes the canvas for your culinary artistry. A beautifully captured photo of your signature dish, paired with a glowing review, garners likes and shares. It enthralls the senses, from the tempting sight of your delicacies to the imagined aroma and taste. The allure of these images, coupled with authentic customer testimonials, propels your online visibility.
Then, there's Twitter. It amplifies real-time customer feedback and is a hub for concise, real-time communication. A delighted diner's tweet about your excellent service becomes a recommendation, retweeted, and favored by a diverse audience. Prospective customers, intrigued by the positive feedback, are guided towards your food truck.
However, social media isn't just about amplification; it's also about interaction. Responding to reviews, acknowledging suggestions, and thanking customers for feedback add a human touch to your online persona. This interaction enhances your brand's authenticity and approachability, strengthening your rapport with your digital audience.
In essence, social media transforms customer feedback into a powerful amplifier, broadcasting your food truck's reputation across the digital landscape. By harnessing this medium, you can enhance your online visibility, engage with your audience, and drive your food truck's growth. So, embrace the power of social media and let customer feedback resonate louder than ever.
Effective Online Reputation Management Strategies
Navigating the digital landscape, effective online reputation management emerges as a critical strategy for your food truck business. Picture this: the ding of a new review notification, the anticipation-filled pause before you read it, and the subsequent wave of emotions. Every positive or negative review forms a chapter in your online reputation story.
Firstly, committing to transparency is paramount. Respond honestly and promptly to both praise and criticism. Your dedicated response to a negative review can turn a disgruntled customer into a loyal patron. This honesty, mirrored online, enhances your reputation, fostering trust and credibility.
Secondly, encourage customer feedback. Regularly soliciting reviews displays a genuine commitment to customer satisfaction. Moreover, it increases the likelihood of positive reviews, boosting your online reputation.
Thirdly, consistency is key. Regularly monitoring your online presence across platforms ensures that no feedback is missed. By staying engaged, you signal your active involvement in the customer experience.
Lastly, turn feedback into action. Implement changes based on constructive criticism, showcasing your dedication to continuous improvement. This action-oriented approach amplifies your reputation, transforming you into a customer-driven brand.
Managing your online reputation is a nuanced dance of transparency, consistency, and feedback-driven action. This dance shapes your food truck's digital persona and fuels your growth. So, step onto the dance floor of online reputation management and let the rhythm of customer feedback guide your moves.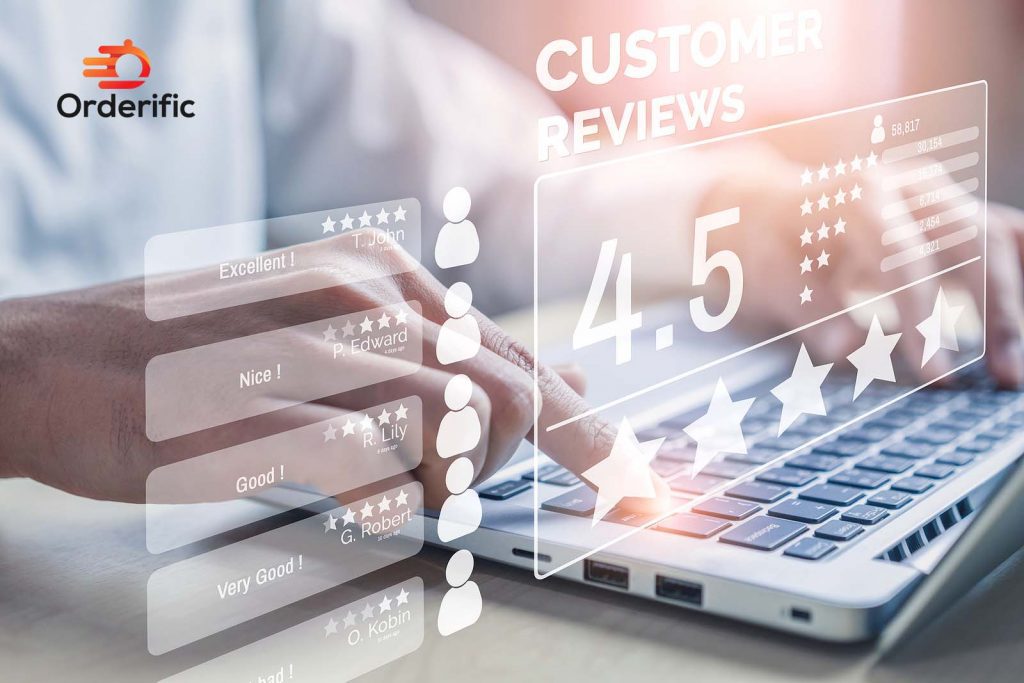 Creating a Feedback-Forward Culture for Your Food Truck Business
Creating a feedback-forward culture within your food truck business isn't merely a strategy; it's an immersive, transformative journey. Imagine it. It's a radiant dawn, with new ideas sparked by valuable customer feedback illuminating your path. The air around your food truck buzzes, not just with the aroma of simmering sauces and grilling patties but also with the promise of continuous improvement. The very essence of your food truck thrives on this feedback, creating a dynamic, ever-evolving culinary experience.
The first step? Encouraging feedback. Ask your customers how they liked the new vegan wrap or the revamped salsa. Their thoughts, suggestions, and critiques become the ingredients to your success recipe. This approach demonstrates your commitment to customer satisfaction and strengthens your relationship with your patrons. After all, a feedback-forward culture thrives on open, authentic communication.
Next, implement changes based on this feedback. Adjust the seasoning, introduce new side dishes, or speed up the serving process. Each change and improvement is a testament to your dedication to your customers' taste buds and overall experience.
Finally, celebrate feedback. Cherish each review of each piece of advice as a stepping stone towards gastronomic excellence. Encourage your team to embrace feedback and instill a continuous improvement mentality. This culture, this commitment to feedback, becomes the lifeblood of your food truck business.
In essence, a feedback-forward culture marries your culinary passion with the desires of your customers. It's a dance of improvements and adaptations driven by your patrons' voices. So, embrace this culture, let it guide your culinary journey, and watch as your food truck business flourishes.
Harnessing the Power of Online Review Platforms for Your Food Truck Business
In the digital era, online review platforms are significant for your food truck venture. Imagine this: many reviews, brimming with praise, criticism, and suggestions, beckoning you. Each offers invaluable insight, acting as the signpost guiding your food truck toward success.
Yelp, Google Reviews, and TripAdvisor – these platforms echo the voices of your customers, resonating across the digital expanse. Indeed, the importance of these platforms cannot be overstated. With each interaction, a new window to your business opens, inviting prospective customers to savor the delightful experience you offer.
But the journey doesn't stop there. Responding to each review, you breathe life into your online presence. A thank you note here, an apology there – each response adds a warm, human touch, fostering a bond with your customers.
Moreover, each star rating, each word of appreciation, and each suggestion enhances your visibility. The more reviews, the brighter your food truck shines on the digital landscape, attracting more food enthusiasts.
So, harness the immense potential of these online review platforms. Let these digital stages echo your customers' feedback symphony, paving your food truck's path toward unparalleled success.
Conclusion
In the vibrant, bustling world of food trucks, customer reviews and feedback serve as a potent fuel, powering the journey towards success. Each review paints a vivid story, the crunch of fresh ingredients, the sizzle of perfect seasoning, narrating your commitment to culinary excellence. Each piece of feedback, negative or positive, becomes a beacon, guiding you toward improvement and innovation. In the digital landscape, these customer interactions shape your online reputation, echoing across social media platforms and online review sites. The result? Increased visibility, an engaged customer base, and a fortified online presence. Embracing this power of feedback, Orderific streamlines your operations, focusing on enhancing customer experiences. For food truck entrepreneurs, customer reviews and feedback don't just matter; they are the lifeblood of growth. Discover the transformative power of Orderific today and embrace a future driven by customer satisfaction. For more information, schedule a FREE DEMO today.
FAQs
What are the trends for growth in the food truck industry?
Significant trends for growth in the food truck industry include embracing technology, diversifying menu options, and prioritizing sustainability.
What factors influence customer satisfaction with the food truck?
Factors influencing customer satisfaction include food quality, speed, customer service, menu variety, and hygiene standards.
What consumer trends make food trucks successful?
Consumer trends contributing to food truck success include demand for unique, ethnic cuisines and increased preference for on-the-go meals.
Why customer feedback is important for food truck growth?
Customer feedback directs improvement innovation and offers valuable insights into customer preferences, directly impacting food truck growth.
How do we use customer feedback for food truck growth?
Use feedback to refine menus, improve service, drive innovation, enhance customer experience, and shape your online reputation.