In today's digital world, data privacy and cybersecurity have become paramount, especially in industries like supermarket management systems. Think about it. Every swipe of your loyalty card, every item scanned, and every online order you place leaves a digital footprint. This wealth of data, if left unprotected, could lead to breaches, unauthorized access, and loss of personal information. Therefore, a robust data protection strategy incorporating advanced encryption standards is more than just necessary. However, data privacy isn't a standalone entity; it's an integral part of the larger cybersecurity framework. From symmetric encryption to key management, every aspect is crucial in safeguarding sensitive data. Welcome to the intricate world of data security in supermarket management systems.
The Intricacies of Data Privacy and Cybersecurity
Have you ever wondered about the delicate dance between data privacy and cybersecurity? It's akin to an elegant ballet, each step seamlessly weaving into the next, creating a beautiful, secure masterpiece. Each time you select a bunch of bananas from the supermarket shelf, your choice gets logged. Imagine that even this seemingly insignificant action can leave a trace, a piece of sensitive information, ready for pickup. 
Data privacy steps in here, like a reliable cloak, masking and shielding your information from prying eyes. It's the invisible barrier protecting your details while you carry out your routine grocery shopping. But here's the catch – data privacy isn't a lone warrior. It's part of a more enormous, robust army known as cybersecurity.
Like a vigilant guardian, cybersecurity stands tall against potential threats, rebuffing cyber attacks with deft precision. It employs an array of tools, such as advanced encryption and key management techniques, to fortify the fortress of data security. Each aspect contributes to this grand defense mechanism, from symmetric encryption to transport layer security.
However, remember that data breaches can happen. Even with a stringent cybersecurity framework, unauthorized access can still occur. It's a stark reminder of the perpetual tug-of-war between data protection and cyber threats. Yet, it's also a testament to the resilience and evolution of data security measures. So, the next time you swipe your loyalty card, remember the intricate ballet of data privacy and cybersecurity that safeguards your information.
How Poor Data Privacy Can Lead to Security Breaches
Poor data privacy practices are like a crack in the dam – small but potentially catastrophic. Just like how water seeps in through the tiniest of gaps, cyber threats can exploit minor lapses in data protection. Each unnoticed instance of data masking negligence is an open invitation for unauthorized access.
Imagine your data, like your home address or credit card number, left unencrypted. It's akin to leaving your front door open while you're away. Cyber attackers, like opportunistic burglars, are always looking for easy targets. Your unencrypted personal information could be their next bullseye.
Here's where data encryption techniques, both symmetric and asymmetric, come into play. They secure your data by transforming it into an unintelligible format. The original data can be accessed only using a correct decryption key, much like using the right key to unlock a door. 
Yet, not all keys are safe. Poor key management can lead to keys falling into the wrong hands and a data breach. PCI DSS standards, which are stringent security measures, are crucial in such scenarios. Compliance with these standards ensures that your sensitive data stays safe and secure.
So, remember, poor data privacy is not an isolated issue. It's a ticking time bomb that can lead to significant cybersecurity breaches. It underlines the need for robust data protection measures, from encryption to key management. After all, better safe than sorry.
The Impact of Cybersecurity Breaches on Organizations and Individuals
Imagine the calm before the storm – a seemingly ordinary day at a bustling supermarket. Shoppers are walking through the aisles, employees are restocking shelves, and the cash registers are chiming with each transaction. Suddenly, the tranquility shatters. A cyber attack hits, and the entire system goes haywire.
Reputation Damage: When a cybersecurity breach strikes, it's not just the system that breaks down; the company's reputation takes a massive hit, too. Customers, shaken by violating their personal information, might choose to shop elsewhere. The trust painstakingly built over the years crumbles instantly, leaving a trail of wary customers.
Financial Loss: The financial implications of a data breach can be enormous. Fines for non-compliance with data protection regulations like PCI DSS can pile up. Add to that the cost of rectifying the breach, not to mention potential lawsuits from affected customers.
Operational Disruption: A cybersecurity breach can bring operations to a standstill. Sales transactions get disrupted, inventory management goes out of sync, and data loss can cause significant confusion.
Individual Impact: On an individual level, a data breach can lead to identity theft and financial loss. Plus, the distress caused by the invasion of personal privacy can be considerable.
With the increasing sophistication of cyber threats, the emphasis on advanced encryption, data masking, and strict adherence to data protection standards has never been greater. The dance between data privacy and cybersecurity continues, a never-ending ballet serving as the frontline defense against cyber attacks. When you swipe your loyalty card, it's a gentle reminder of the silent warrior safeguarding your information.
The Legal and Ethical Implications of Failing to Protect Data Privacy
Imagine the sense of betrayal, the infuriating feeling of violation that washes over you when you realize your data, your privacy, has been compromised. The legal and ethical implications of failing to protect data privacy are profound and far-reaching. They extend beyond the borders of the digital realm, seeping into the very fabric of our society.
Consider first the legal consequences. Infractions of data protection laws, such as non-compliance with PCI DSS standards or breaches of the Data Privacy Act, can lead to hefty fines. These penalties are designed not simply as punitive measures but as a stern warning to other organizations.
Equally significant are the ethical repercussions. Failing to protect sensitive data goes against the fundamental principle of respecting an individual's right to privacy. It's akin to peeping through the keyhole into someone's personal life, a gross violation of trust.
Ethics and legality intertwine in this intricate dance of data privacy and cybersecurity. Each step, each move, has far-reaching consequences that can ripple through an organization and reverberate amongst its customers. Each aspect plays a pivotal role in ensuring data privacy, from the encryption of personal information to strict adherence to cybersecurity measures and key management.
Thus, embedding robust data privacy practices in supermarket management systems cannot be overstated. The onus is on businesses to remain committed to protecting their customers' data, remaining vigilant custodians of the trust placed in them. After all, the cost of failing to protect data privacy extends far beyond monetary fines; it can result in an irreparable breach of trust and immeasurable damage to reputation.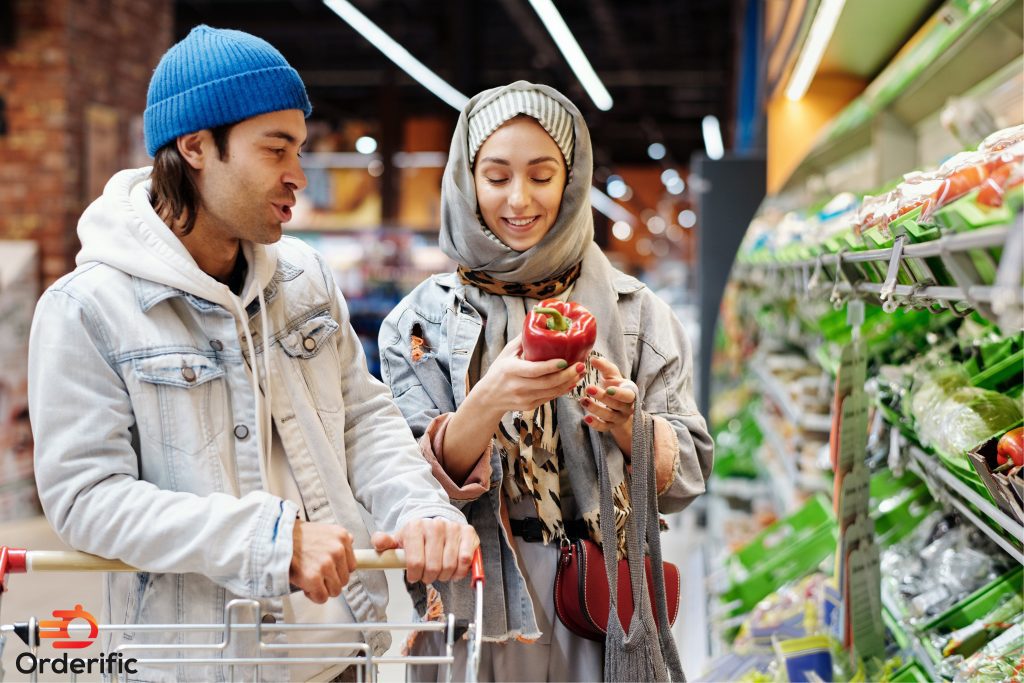 Best Practices for Ensuring Data Privacy in Cybersecurity
Ensuring data privacy in cybersecurity is akin to navigating a dense, digital forest. It's a complex yet necessary choreography of steps, each crucial in maintaining sensitive data's sanctity. Over time, certain practices have been recognized as effective in ensuring data privacy.
Embrace Encryption: Consider this the stalwart shield of your data, transforming it into an unreadable script. Encryption, whether symmetric or asymmetric, effectively deters unauthorized access, securing your personal information.
Robust Key Management: Keys are the guardians of encrypted data, allowing or denying access. However, keys can be as vulnerable as the data they protect. Therefore, a robust key management strategy ensures the keys stay in the right hands.
Compliance with PCI DSS: Compliance isn't merely a legal requirement but a proactive defense strategy. Adhering to the PCI DSS standards ensures that data privacy measures meet the industry standards, thereby fortifying the defense shield.
Regular Security Audits: Consider this a regular health check-up for your data. Regular security audits identify potential vulnerabilities and provide opportunities for timely mitigation.
Promote Data Masking: Data masking is the art of concealment, a discreet veil protecting sensitive data. By transforming data into a fictitious yet functional format, it ensures data privacy without hampering its usability.
Strict Access Control Measures: This is akin to an exclusive guest list for a party; control measures prevent unauthorized access by defining who gets access to what data.
Educate and Train Staff: Every member plays a part in this intricate dance of data privacy and cybersecurity. Regular training of staff ensures they are aware of the latest threats and defensive strategies.
For anyone dabbling in the realm of data privacy and cybersecurity, these practices are indispensable. They form the foundation of a robust defense structure, ensuring the dance continues unhindered, keeping the malicious prying eyes at bay.
The Imperative Dance of Data Privacy and Cybersecurity
The dance between data privacy and cybersecurity is a paradoxical fusion of rigidity and fluidity, a complex waltz of protocols and measures. Each carefully planned yet adaptable step mirrors the ever-changing landscape of cyber threats. One moment, the dancers move in perfect harmony, guided by encryption keys, data masking, and strict access control measures, casting a spell of impenetrable security.
The next moment, they adapt, shifting their stance to match the evolving rhythm of cyber threats. The dance floor, symbolic of the digital realm, is fraught with potential breaches, unauthorized access points, and ever-present cyber attackers lurking in the shadows. Yet, our dancers continue performing, armed with their robust key management systems and PCI DSS compliance.
The music, a symphony of codes and algorithms, underscores the seriousness of the task. Yet, there is a gentleness to their steps, a subtleness to their moves that radiates a sense of calm and assurance. This dance isn't just a spectacle. It is a silent testament to the resilience and evolution of data security measures, a beacon of hope in the cyber realm.
So, the next time you swipe your loyalty card or select your favorite cereal off the supermarket shelf, take a moment to appreciate the intricate ballet of data privacy and cybersecurity. Remember, behind every transaction, every scan, and every click, there is an elaborate dance that ensures your data's safety and peace of mind.
Conclusion
The intricate dance of data privacy and cybersecurity holds center stage in the vibrant digital symphony of supermarket management systems. Each step, a testament to the power of encryption and the resilience of cybersecurity, reflects Orderific's commitment to making life easier for restaurant owners and customers alike. As we navigate this dynamic landscape, our focus remains steadfast — upholding the sanctity of your data and ensuring a seamless shopping experience. As the dance persists, so does our mission to increase revenue, decrease operational costs, and enhance user experience. Orderific, integrated with leading POS systems and payment partners, remains your reliable partner. For a more personal insight into the world of Orderific, we invite you to schedule a FREE DEMO today. Experience the transformative power of our services, designed with your success in mind.
FAQs
Why is data privacy a growing concern for individuals and businesses in the digital age?
Data privacy is critical due to rising cyber threats, potential identity theft, financial losses, and business reputational damage.
Describe the role of encryption in safeguarding sensitive data and maintaining cybersecurity.
Encryption transforms sensitive data into an unreadable format, deterring unauthorized access and thus safeguarding data privacy.
What are the common data privacy and security threats, and how can they be mitigated?
Common threats include cyber attacks, data breaches, and phishing. Mitigation includes encryption, robust key management, and regular security audits.
How can organizations balance the need for data security with the convenience of data accessibility in their operations?
Organizations can balance this by implementing strict access control measures and data encryption, ensuring security and accessibility.