In the bustling world of food and hospitality, a takeout menu can be your secret weapon to satiate the appetite of your customers on the go. But, designing a tempting takeout menu is more than just squeezing your restaurant's full menu onto a portable pamphlet. It's about strategizing, choosing the right dishes, and presenting them in a manner that makes your customers' mouths water even before they've placed an order.
A great takeout menu design functions as a powerful marketing tool, creating a memorable image of your culinary prowess in the customer's mind. The secret recipe to a successful takeout menu lies in understanding your audience, choosing dishes that travel well, and crafting descriptions that create a sensory experience. Read on to learn how you can create a takeout menu that's not just informative, but irresistibly tempting too!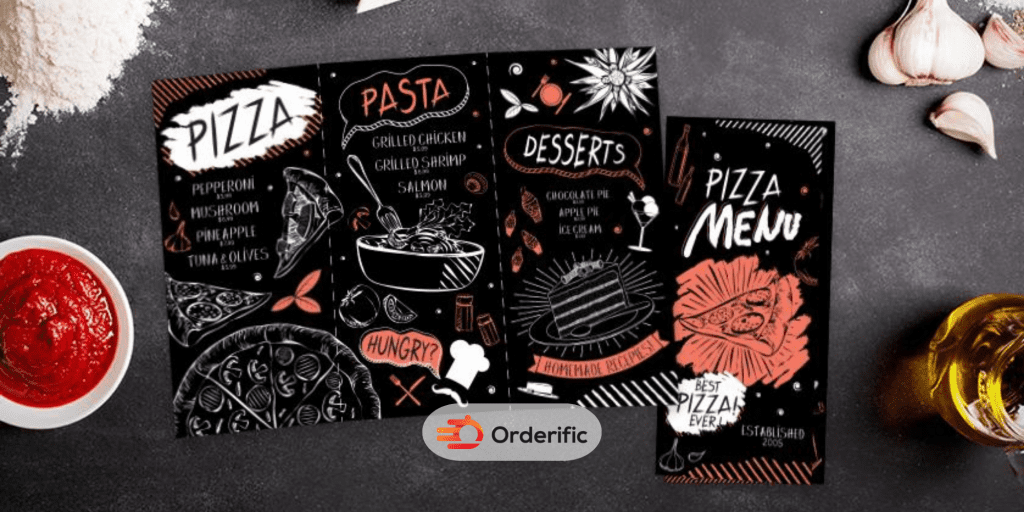 How to Create a Takeout Menu
When creating your takeout menu, start by considering your customers. Who are they? What do they like? From busy professionals looking for a quick lunch, families craving a hearty dinner, or health-conscious individuals seeking nutritious options, understanding your customer base is crucial. Build your menu around the preferences of your patrons, considering their dining habits, dietary restrictions, and favored flavors.
The next step is to select dishes that retain their taste and texture during transit. While your restaurant's signature risotto might be a crowd favorite, it might not hold up well in a takeaway box. Opt for recipes that maintain their integrity even after a considerable amount of time, ensuring your customers can savor your food as if they were dining in your restaurant. Consider including a mix of appetizers, mains, and desserts that offer variety while guaranteeing delectable taste and presentation.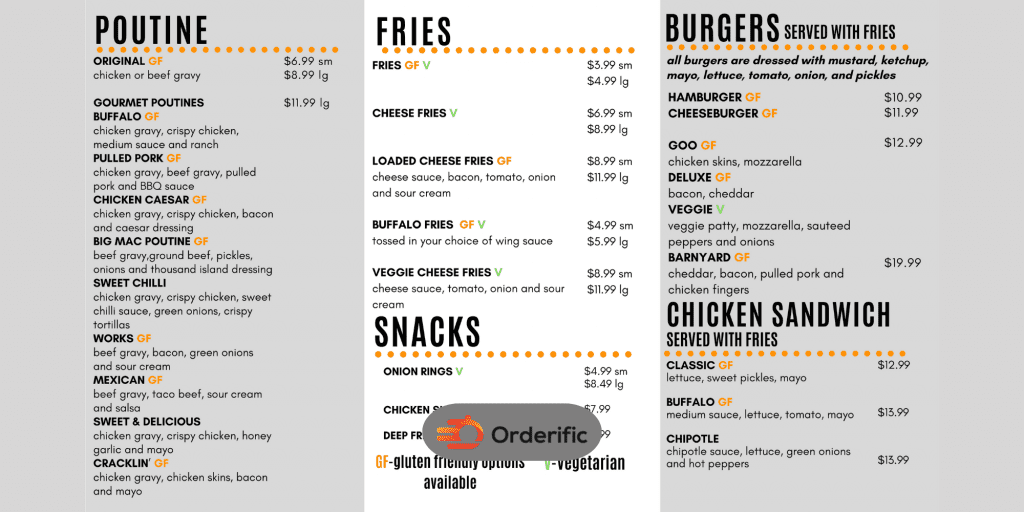 The Power of Good Menu Design
Now that you have your dishes chosen, it's time to put them together in an irresistible display. Good menu design is all about creating a visual feast for the eyes that enhances the dining experience. Start by choosing a color scheme that reflects your brand and sets the tone for your cuisine. Use high-quality images of your dishes to entice customers, and don't be afraid to incorporate visual cues that highlight your restaurant's unique ambiance.
The placement of dishes on the menu is equally important. Studies have shown that customers' eyes tend to gravitate toward the top right corner of a menu. So it's a great spot for featuring your most popular or highest-priced items. Use descriptive and enticing language when describing each dish, using sensory words like "crispy," "juicy," or "creamy" to create a mouthwatering experience for your customers.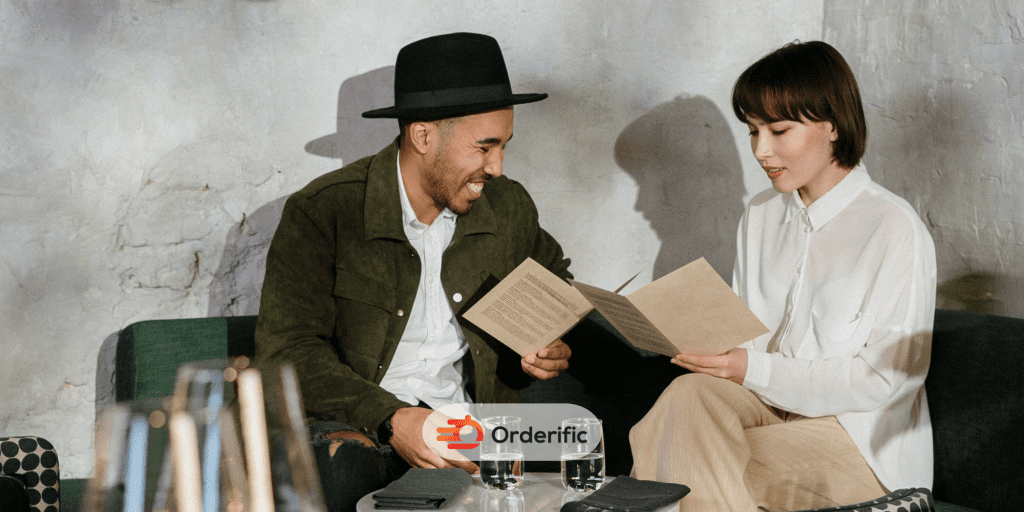 How to Make a Takeout Menu
When it comes to creating an enticing takeout menu, there are key elements to consider to ensure that your customers feel enticed to place an order. From intelligently categorizing your dishes to optimizing the use of pictures and persuasive descriptions, each aspect plays a significant role in tempting the taste buds of your customers.
Write Out All Menu Items: Start by listing all the dishes that your restaurant offers, including appetizers, mains, and even drinks. A comprehensive list will help you organize your menu in a way that makes it easier for customers to navigate.
Categorize Menu Items: Organize your menu into categories, such as "starters," "mains," and "desserts." This will help customers easily find what they're looking for and create a sense of structure.
Set Menu Prices: Pricing is a crucial element of your takeout menu. Consider the cost of ingredients, portion sizes, and market prices to set prices that satisfy both you and your customers.
Create Menu Descriptions: A well-crafted description can make all the difference in enticing a customer. Use descriptive and appetizing language to showcase your dishes and create a sensory experience for customers.
Decide on a Menu Color Scheme: Choose a color scheme that reflects your brand and creates a visually appealing menu. Consider using high-quality images of your dishes to enhance the design.
Design your Takeout Menu: Once you have all the elements in place, it's time to put them together and design your takeout menu. Consider using a professional graphic designer or online templates for a polished and visually appealing menu.
Think about Photos: Photos can be a powerful tool in enticing customers. Use high-quality images of your dishes to showcase their presentation and entice customers.
Choose Menu Fonts, Spacing, and Composition: The font, spacing, and overall composition of your menu play a critical role in making it visually appealing. Choose easy-to-read fonts and leave enough space between items for a clean and organized layout.
Select the Final Menu Layout: Before finalizing your menu, ensure that all the elements are cohesive and visually appealing. Consider getting feedback from others to make any necessary adjustments.
Proofread and Print Your Menus: Before your menu goes into circulation, proofread it carefully to ensure there are no typos or errors. Once everything checks out, print your menus on high-quality paper for a professional and polished look.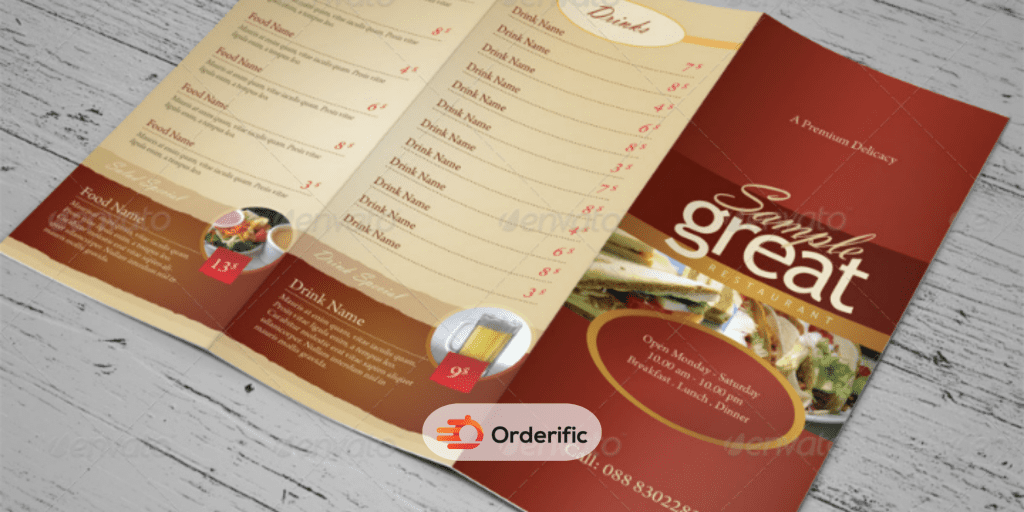 Conclusion
Crafting a tempting takeout menu is a skillful blend of strategic dish selection, persuasive descriptions, and an attractive design layout. It serves as a direct reflection of your restaurant's brand and culinary prowess. When done right, it can transform a simple takeout experience into a tantalizing journey of flavors, tempting your customers to revisit time and again. Remember, your menu is more than just a list of dishes. It's a powerful marketing tool that can entice customers, boost your sales, and elevate your restaurant's reputation.
In conclusion, creating a tempting takeout menu requires careful thought and planning. From considering your customers' preferences and selecting dishes that travel well, to crafting mouth-watering descriptions and designing an appealing layout, every detail matters. Follow these guidelines to offer your patrons a menu that not only informs. But also tantalizes their taste buds, making every takeaway experience from your restaurant a memorable one.
Click here for more insightful and informative advice with Orderific. To start experiencing the great benefits Orderific can bring to your business, click here now. Try Orderific!
FAQs
What elements should be prioritized when designing a takeout menu?
Some key elements are understanding your audience, choosing dishes that travel well, creating an attractive layout, and using persuasive language.
How can a takeout menu effectively communicate offerings to customers?
It can effectively communicate offerings to customers by categorizing dishes, using descriptive language and appealing images, and organizing the layout in a clear and easy-to-read manner.
What role does visual appeal play in a successful takeout menu?
Visual appeal is crucial in a successful takeout menu as it can entice customers and create a memorable image of your restaurant's brand and dishes.
What design strategies can encourage customers to order takeout?
It is include highlighting popular or high-priced items, incorporating eye-catching images, and using descriptive language to create a sensory experience.
How important is the selection of the right dishes for a takeout menu?
The chosen dishes should not only resonate with your customers' tastes and preferences. They also need to retain their quality, taste, and presentation during transit.